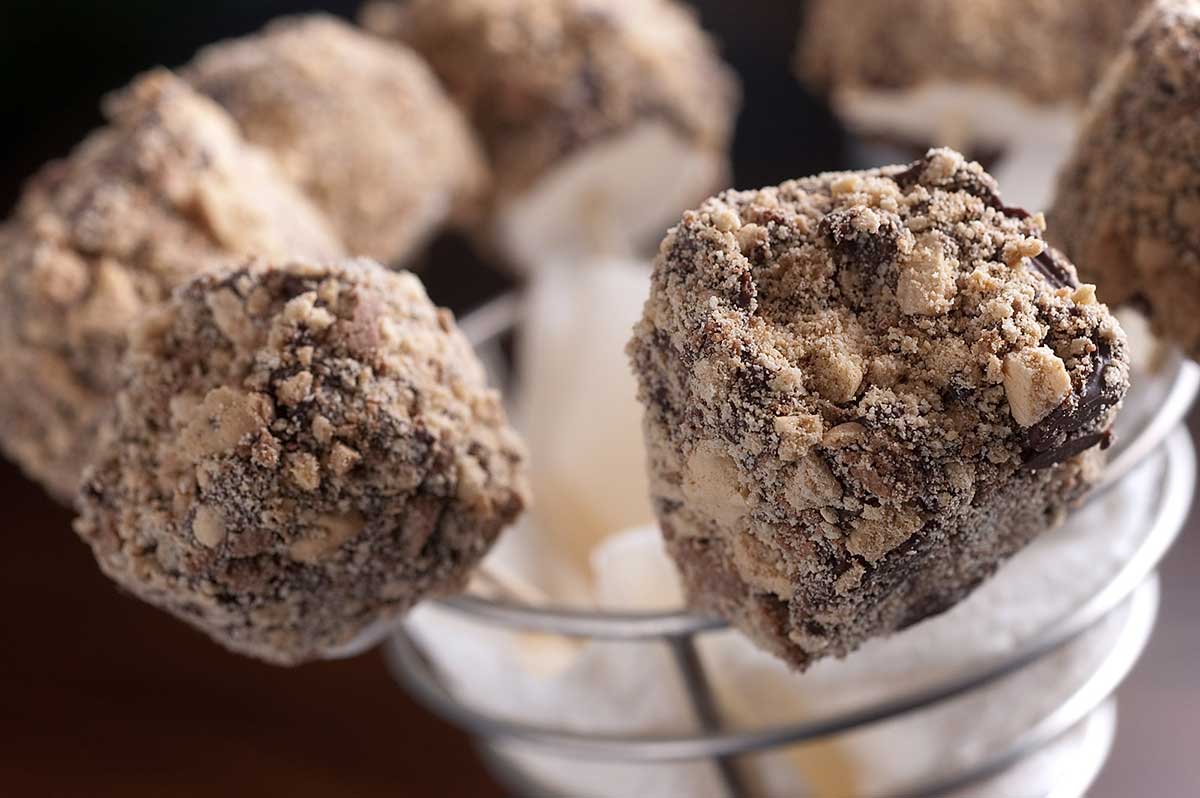 S'more Skewer Bites
So apparently last week was national S'more day. I don't know about you but I had absolutely no idea. If I had known, I would've shared these little gems with you then. But since I missed the official day, I'll just have to share them with you now. They have all the chocolatey, marsmallow-y, graham cracker-y goodness of s'mores, but you can enjoy it in one bite. You don't even need a campfire.
These were actually inspired by a trip to the Melting Pot. I remember liking the cheese fondue well enough. I remember not liking the meat or seafood fondue at all, not a fan of boiling meats I guess. I remember, however, absolutely, loving, the dessert chocolate fondue. It came with all kinds of things to dip in it like strawberries, bananas and graham cracker covered marshmallows. These are a take on that but instead of dipping the graham cracker covered marshmallows in chocolate, I dip marshmallows in chocolate and then coat them in graham crackers. And to be completely honest, I'm pretty sure it doesn't get much better than chocolate covered marshmallows. Except chocolate covered marshmallows with a sweet graham cracker crust.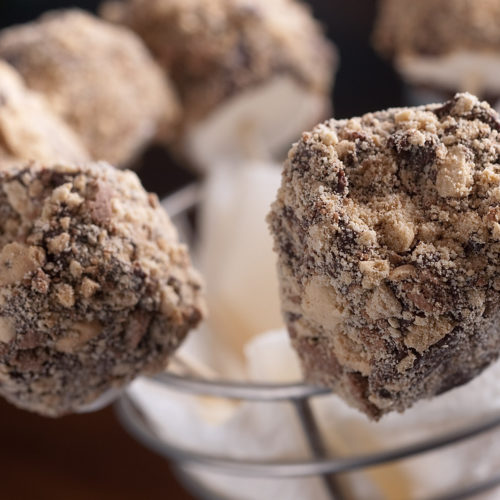 S'more Skewer Bites
Nothing beats chocolate covered marshmallows. Except chocolate covered marshmallows with graham cracker crust.
Ingredients:
10 - 12

jumbo marshmallows

8

ounces

semi-sweet chocolate

1

cup

crushed graham crackers
Line a baking sheet with parchment paper.

Place the marshmallows on skewers. Place graham crackers on a plate or other flat surface.

Place chocolate in a double broiler and cook over low heat until melted. Remove from heat.

Dip skewered marshmallows into melted chocolate. Make sure to coat all sides.

Roll the chocolate dipped marshmallows in the crushed graham crackers. Transfer to prepared baking sheet. Chill in the refrigerator until chocolate hardens.

Allow to come to room temperature 5 minutes before serving.
Keywords:
chocolate, chocolate covered marshmallows, dessert, Food, graham cracker, kid friendly food, marshmallows, Recipe, smore, snack, sweet, treat