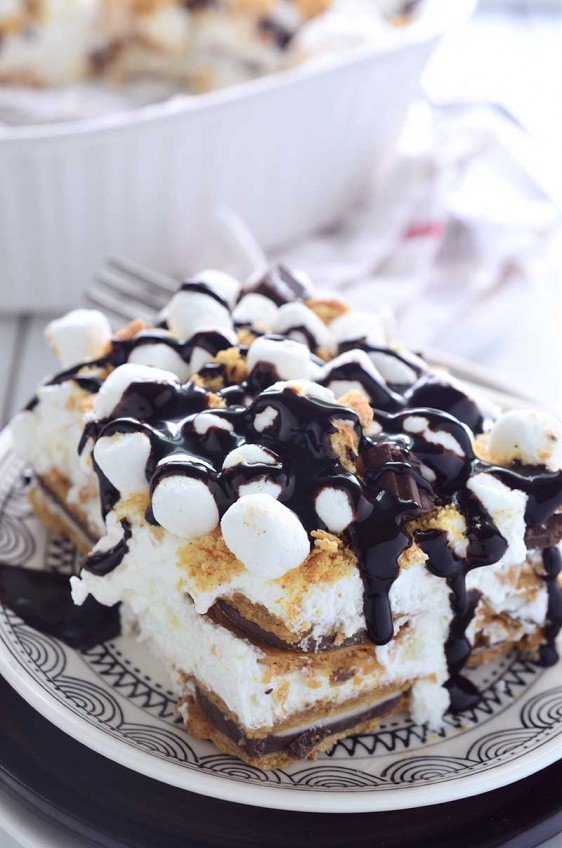 S'mores Oreo Icebox Cake
This S'mores Oreo Icebox Cake (or S'moreo if you will) is hands down THEE dessert that you need to be making this summer. It's no bake and has a total of 7 ingredients. With about 10 minutes of prep time and a night in the fridge, you are on your way to a decadent no bake dessert that is bound to be the hit of all of your summer BBQs.
It's been pretty hot here in Seattle, by PNW standards anyway. And if all the Facebook posts of my friends living in Arizona is any indication, other parts of the country are downright miserable. I know that when it's that hot cooking is the last thing on anyone's mind but sweets usually still are. That is when no bake desserts come in handy. No bake desserts like this S'mores Oreo Icebox Cake.
I have made a few icebox cakes before. It is actually one of my favorite summer time desserts to make (along with this epic dessert). And now I've decided to create one an icebox cake that incorporates another one of my favorite summer desserts: S'mores.
I introduce to you the S'mores Oreo Icebox Cake.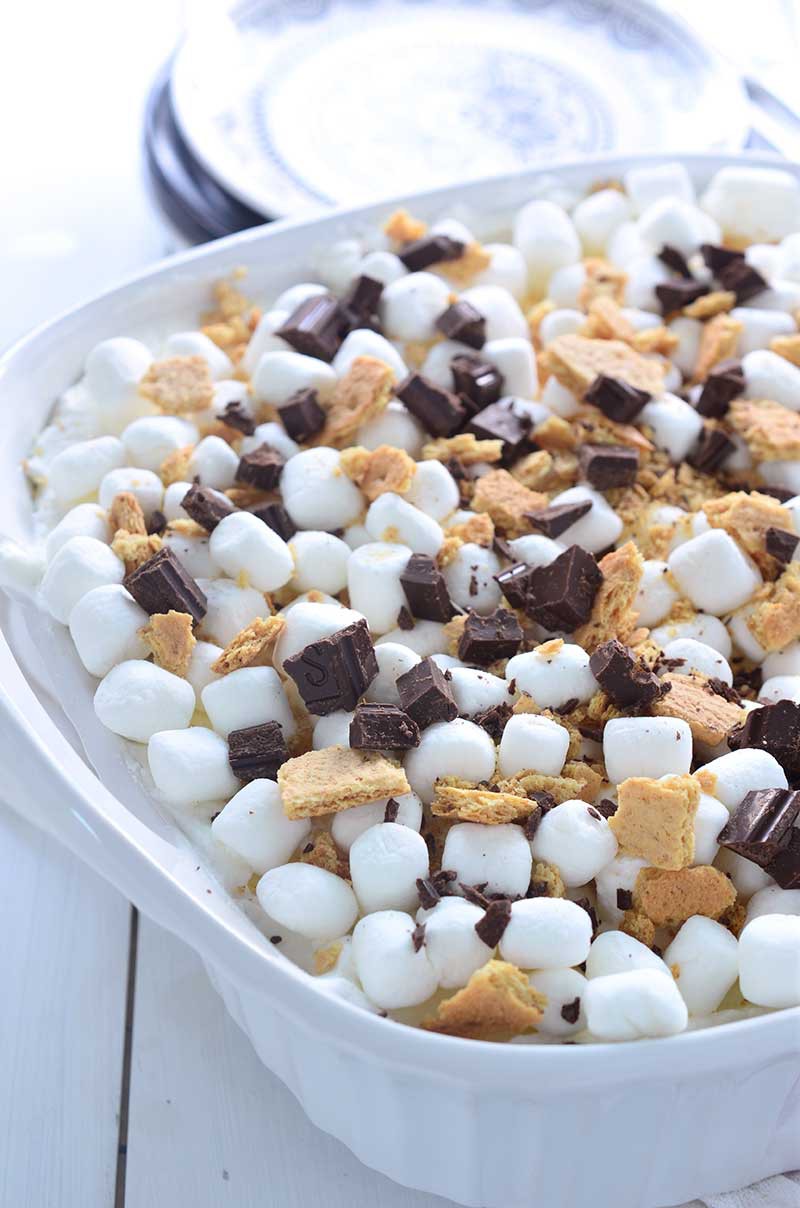 In addition to the S'mores Oreos, I wanted to add even more s'mores flare. To do that I added some mini-marshmallows, chopped dark chocolate, crumbled graham crackers and dark chocolate syrup on top. It really brought the whole "S'more" aspect of the dessert together. If you happen to have a kitchen blowtorch (which I don't) I think using that to toast the top of the marshmallows would take this S'mores Oreo Icebox Cake to the next level.
One last note: As hard as it was, I refrigerated this baby for 24 hours before digging in. I know it seems like a long time but it really does give the cookies the chance to become all soft and cake like. That being said, if you want the cookies to have a bit of crunch to them you could dig in after eight or so hours. It's up to you :)

S'mores Oreo Icebox Cake Recipe
Ingredients:
2 cups heavy whipping cream
3 - 4 tablespoons powdered sugar
30- 32 S'mores Oreo Cookies
2 cups mini marshmallows
1/2 cup graham cracker crumbles
1/2 cup chopped dark chocolate pieces
chocolate syrup
Instructions
1
Combine whipping cream and 3 tablespoons of powdered sugar in a the bowl of a stand mixer with the whisk attached. Whip at medium speed until stiff peaks form. Taste, if it needed fold in remaining powdered sugar

2
Line an 8 x 8 dish with S'more Oreo Cookies. Break cookies if needed to ensure the bottom is covered.

3
Spoon half of whipped cream over the top. Layer remaining cookies on top. Spread remaining half of whipped cream over the the top. Cover and refrigerate for at least 8 hours if you want the cookies to still have some crunch. 24 if you want the cookies soft and cake like.

4
Remove from refrigerator top with mini marshmallows, graham cracker crumbs and dark chocolate pieces. Slice and drizzle with chocolate syrup. Serve.