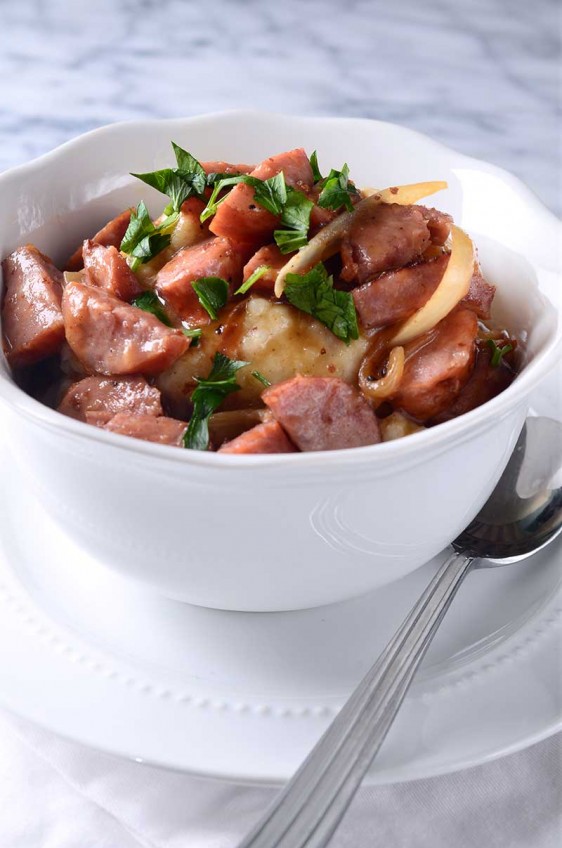 Smothered Kielbasa and Onions with Smashed Red Potatoes
Hi, friends! I'm back! And I'm back with some stick to your ribs, warm your tummy, send you into a food coma goodness.
I fully intended to take all of Thanksgiving week off of blogging. I wanted to spend the time with my family. Enjoy the holiday. Take a break. And I did just that. It was a great holiday. I made a delicious turkey dinner for my little family, we watched the Seahawks win and enjoyed each other's company. We woke up to snow on Saturday and went to pick out our tree. It was was a wonderful time.
Then came Saturday night and I felt the little tickle in my throat. Then came the sneeze. And I knew, I knew it was coming.
I was getting a cold.
What I didn't know was that it was going to knock my little family out for the next week.
Luckily Preston hasn't gotten much more then a cough, but the rest of us? Bad news bears.
Seriously, I haven't been that sick in a long time. Achy. Sore throat. Cough. It was miserable. Oh and I can't take any of the good stuff medicine wise because I am nursing so I lived on soup, OJ, throat lozenges and saltines.
And Kellan, my poor little dude, just when I thought we were out of the woods, his cold turned into pneumonia.
Yeah, it's been a rough go around here for the last week. But after his first few doses of antibiotics, he's feeling better. Ryan and I can finally taste food again and we're all on the mend. This means that I can get back into the kitchen and back to sharing my favorite creations with you. Up first is this Smothered Kielbasa and Onions with Smashed Red Potatoes.
Kielbasa, potatoes and onions has always been one of my go-to weeknight meals because it's so easy. This time I've kicked things up by simmering the kielbasa and onions in gravy and spooning the whole thing over some smashed red potatoes. It is perfect for weeknight dinners and cool winter days. It is the epitome of comfort food, friends. Trust me.
Smothered Kielbasa and Onions with Smashed Red Potatoes
Kielbasa and onions smothered in gravy and spooned over creamy smashed red potatoes AKA the epitome of comfort food.
Smothered Kielbasa and Onions Ingredients:
Smashed Red Potatoes Ingredients:
Bring a large pot of water to boil. Add in potatoes and cook until fork tender. Drain.

While potatoes are cooking, heat olive oil in a skillet over medium heat. Cook onions until they soften, about 5 minutes. Add in garlic and kielbasa. Cook until the kielbasa is warmed through and starts to brown.

Sprinkle flour over the top and mix well. Cook 1 minute. Slowly whisk in 1 1/2 cups beef broth. If gravy is too thick add remaining 1/2 cup beef broth. Reduce heat to simmer while you prepare the potatoes.

After the you drain the potatoes, add butter, milk and sour cream to the pan. Use a potato masher to smash the potatoes. Season to taste with salt and pepper.

Scoop potatoes into a bowl. Spoon kielbasa and onion gravy over the top. Garnish with parsley if desired. Serve hot.
Keywords:
comfort food, gravy, kielbasa, mashed potatoes, sausage