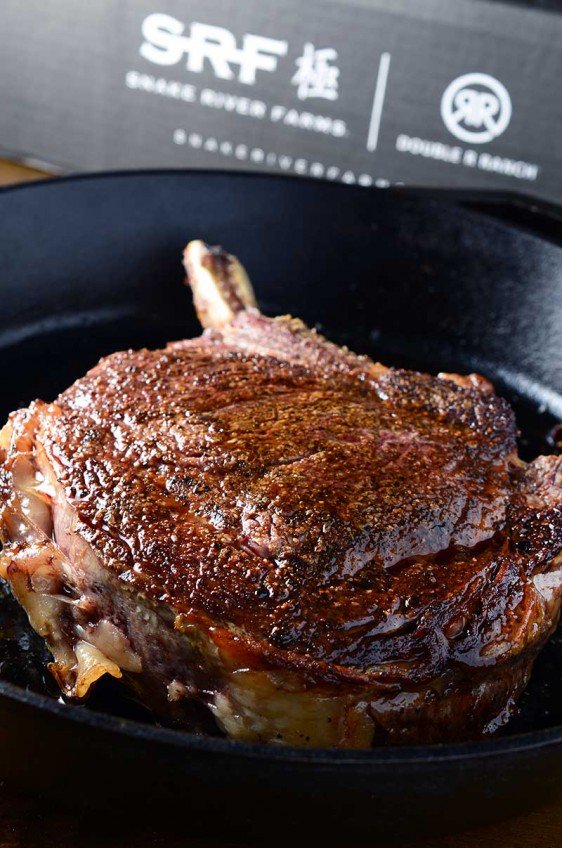 Snake River Farms Ribeye and Gift Review
Father's day is coming up. Just over a week away. And it's a big one in our house. It's the first Father's Day that we will all be together as a family of four. Last year, we spent Father's Day visiting Preston in the NICU so Ryan didn't get the to spend the whole day with both of his boys. This year he will and I am so thankful. And because it's such a big Father's Day this year, I couldn't be more excited that the nice folks at Snake River Farms sent me their new "Father's Day Gifts" Bundle to try out. The perfect early Father's Day gift for Ryan :)
When I was contacted by Snake River Farms to review this bundle, I was beyond happy. I used to work for the corporate office of a local steak house here in Seattle that serves Snake River Farms Steaks so I knew just how amazing they were before the box even arrived. They are the most tender, flavorful steaks I've ever eaten.
It has been a few years now since I worked for the company and I haven't been able to get back to the steak house so, needless to say, when the bundle arrived on my doorstep I was beyond excited to see what was included.
When I first opened the box, I was delighted to see the simple, classy packaging. It definitely fits the "I'm a special gift" bill without being overstated. A total plus for most dads.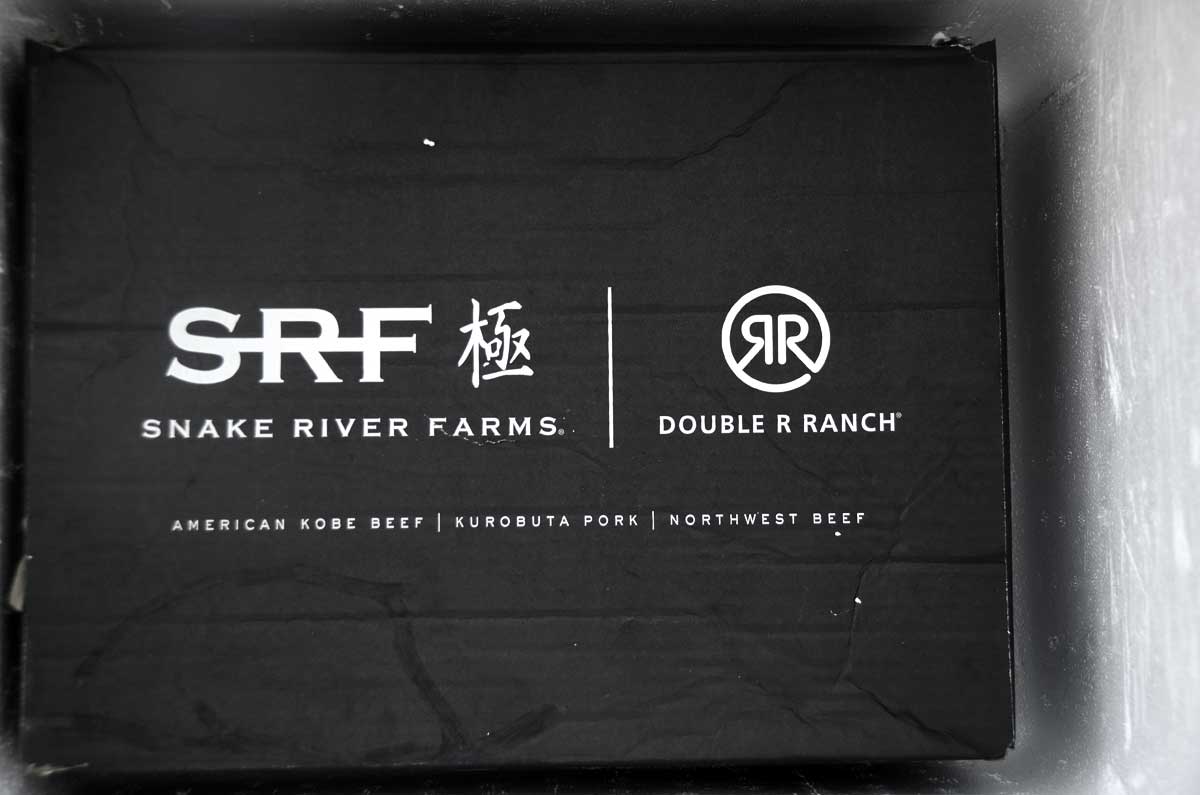 Inside the box, though, that is where the real beauty is. This gift bundle includes:
*2 Kurobuta bacon-wrapped filet mignon   
*2 American Kobe ribeye filets
*1 HUGE bone-ribeye (2+ pounds) AKA the Cowboy Chop
*2 top sirloin filets
*1 jar of Espresso Brava Sea Salt
Holy cow right (Hah! See what I did there)? What Dad wouldn't love this for Father's Day? Each steak is hand cut by a master butcher and aged 28 days for improved flavor and texture. Each steak comes frozen and individually packaged and it didn't take long to thaw in my refrigerator. The whole bundle usually retails for $232 but is on sale through mid June for $199. So, yes, it is a splurge. But it is totally worth it.  Trust me.
Exhibit A: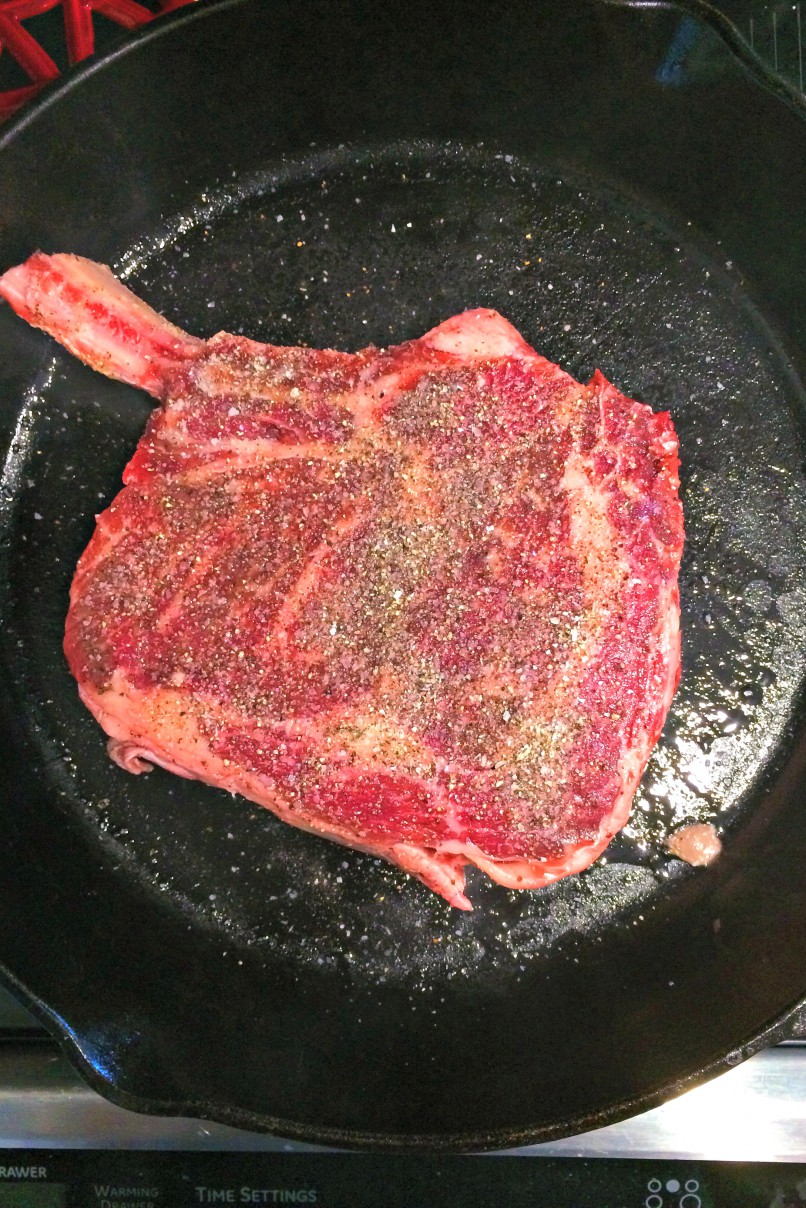 This is the HUGE bone-in ribeye that came in the box. For perspective, that is my 12 inch cast iron skillet that the ribeye is cooking in. That is some serious steak perfection right there, friends. And while, the box did come with some Espresso Brava Sea Salt, I wanted to taste the meat without any other flavor so I simply used salt and pepper. I also used the recommended "steak house" cooking method that is in the Snake River Farms preparation guide. It is the same method I used when I made my Seared Steaks with Balsamic Red Spring Onions where you sear the steak in a hot cast iron skillet and then finish it in the oven. It worked beautifully for this. Not too complicated, just pure beef deliciousness. As Ryan and I were eating it we kept saying, "This is SO good". Not the most descriptive, I know, but we were too busy eating to come up with any more words.
But seriously guys, this steak is so flavorful. So tender. It doesn't need steak sauce. It doesn't need hot sauce. Just a simple sprinkle of salt and pepper then seared to a perfect medium rare and you'll be eating one of the best steaks you've ever eaten. I promise.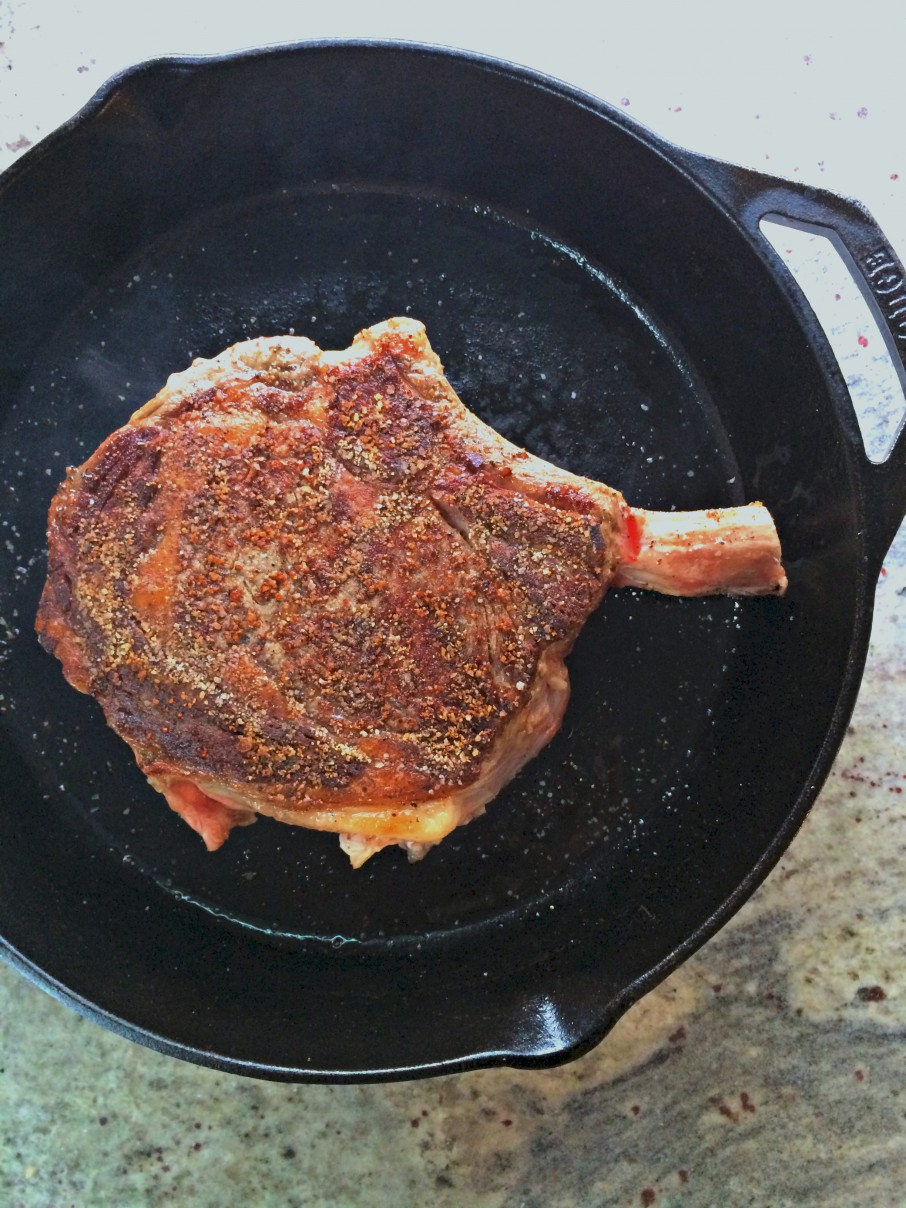 Now, we already cooked the bone-in ribeye so we won't be enjoying that for Father's Day but you can bet your bottom dollar that we will be enjoying the Kobe ribeye filets. And if your dad is a steak lover, you are going to want to order him this gift bundle too. And then maybe on Father's day offer to cook him this ribeye and hope he shares :)
Special Offer:  Send your favorite Dad (or yourself!) one of these Father's Day gifts and you'll get free shipping by using the code: TAPFSS15.  
This is a sponsored conversation written by me on behalf of Snake River Farms/Double R Ranch. The opinions and text are all mine.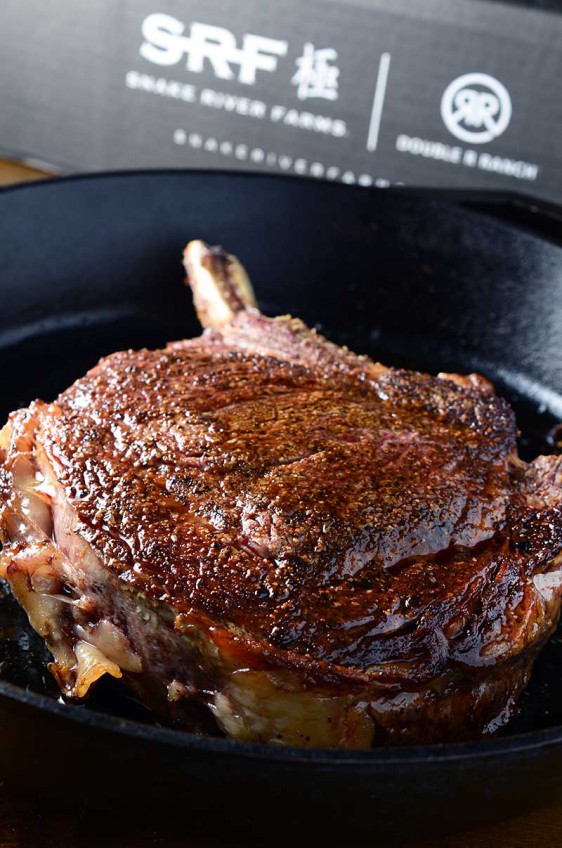 Snake River Farms Ribeye and Gift Review
A review of the Snake River Farms Father's Day Gifts Bundle.
Ingredients:
1

2 - 2 1/2 pound bone in Snake River Farms Ribeye

Kosher Salt

Fresh cracked black pepper
Preheat oven to 350 degrees.

Heat a cast iron skillet over medium high heat.

Liberally season both sides of the steak with salt and pepper.

Place steaks in skillet and sear for 1 - 2 minutes on each side. The steak with come away from the pan easily when ready.

Transfer steak, in skillet, to preheated oven. Cook 15 minutes for medium rare. Remove from oven, tent loosely with foil and allow to rest for 10 minutes. Slice and serve.
Keywords:
father's day, snake river farms, steak