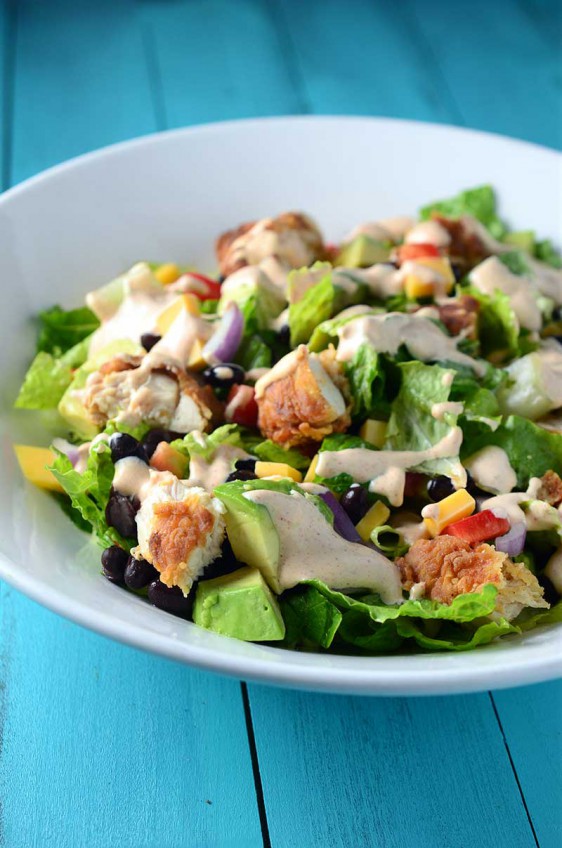 Southwest Crispy Chicken Chopped Salad
Every once in a while I crave a big ol' salad. One that has all kinds of goodies in it. Big salads are great for lunch or dinner. And they can be made in a million and one different ways. So last week when the craving struck, I decided to make a southwestern style version for dinner with crispy chicken, avocado, cheddar cheese, black beans, bell pepper and onion all tossed in a creamy chipotle lime dressing. And it totally hit the spot.
I am always a huge fan of crispy chicken in salads. Sure grilled chicken is good but crispy chicken is just so…crispy. It adds a nice texture in the salad. Yes, it does take a little bit more time, especially in this salad because you do need to marinate it a couple of hours, but believe me it is totally worth it.
I am also a huge fan of the flavors of chipotle and lime. I think they pair so well together. The chipotle is spicy. The lime citrusy. Mixed together with a little sour cream and mayo and they make a fantastic creamy dressing with a little kick.
For all of the other ingredients in this salad, I just threw in what I had that fit the southwestern feel I wanted. That is what is great about big salads, you can add in or take out anything that suits your fancy.
Want a little more spice? Substitute pepper jack cheese for the cheddar.
Want a touch more sweetness? Add some corn.
Want a little more crunch? Add some tortilla chips.
Don't like avocado? You crazy person.
I kid, I kid. But you get my point, big salads are versatile, filling and scrumptious, especially this one :)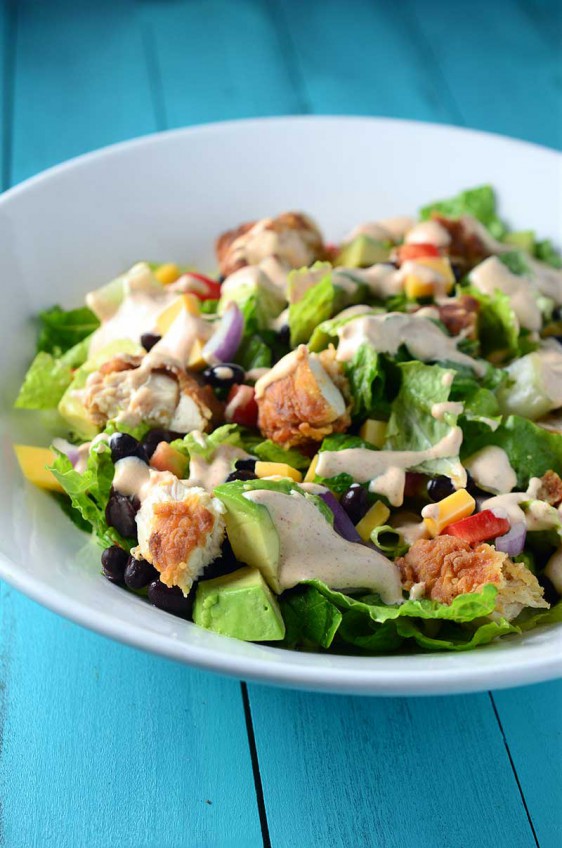 Southwest Crispy Chicken Chopped Salad
A hearty salad chock-full of crispy chicken, cheddar cheese, black beans and avocado.
Crispy Chicken Chopped Salad Ingredients:
Chipotle Lime Dressing Ingredients:
1/4

cup

sour cream

1/4

cup

mayonnaise

1

tablespoon

distilled white vinegar

1

tablespoon

lime juice

1/2

teaspoon

chipotle powder

1/2

teaspoon

garlic powder

1/2

teaspoon

onion powder

1/2

teaspoon

salt

1/4

teaspoon

cumin

1/4

teaspoon

lime zest
Make a marinade for the chicken. Whisk together vinegar, 1 teaspoon garlic powder, 1 teaspoon salt, 1/2 teaspoon chili powder and 1/2 teaspoon cumin. Pour mixture over the chicken tenderloins and toss to coat. Cover and refrigerate for at least 2 hours.

Make the dressing by whisking all ingredients together in a bowl. Cover and refrigerate for at least 30 minutes.

Combine flour, remaining 1/2 teaspoon garlic and 1/2 teaspoon salt together in a resealable bag. In a bowl whisk egg and milk together.

Heat 1/2 inch of oil in a skillet over medium heat.

Place the chicken tenderloins in the flour. Shake to coat. Remove from bag, shake off excess flour and dip chicken tenderloins into egg/milk mixture. Return egg dipped chicken to flour and shake to coat once more.

Sprinkle a little flour in the oil and if it sizzles begin frying the chicken, in batches until golden brown and cooked through, about 3 minutes per side. Transfer to a paper towel lined plate. Sprinkle with salt.

Combine remaining salad ingredients together in a large bowl.

Chop chicken into bite size pieces and add to salad. If you prefer, you can also leave the tenders in whole pieces. Drizzle dressing over the top, toss and serve.
Keywords:
chicken, fried chicken, salad