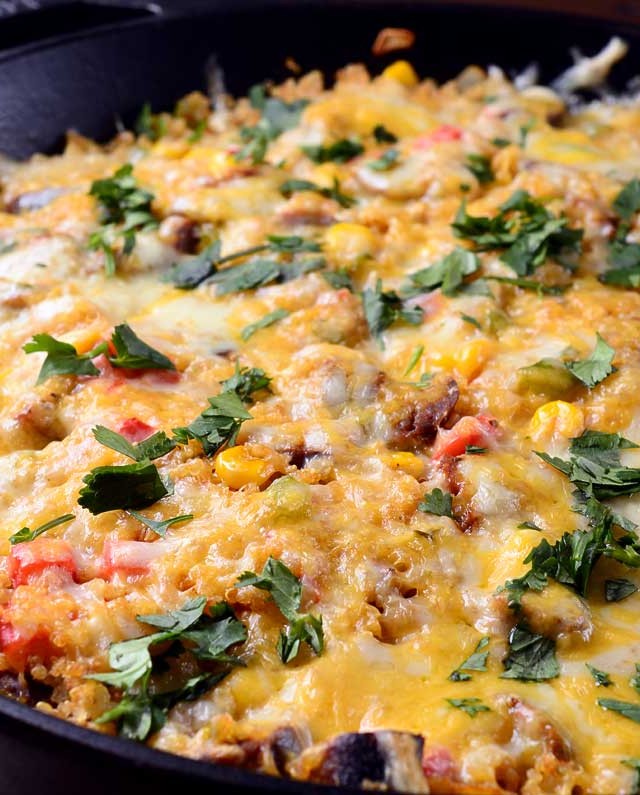 Southwestern Quinoa Casserole
Yesterday I asked on the Life's Ambrosia Facebook Page which people would prefer seeing today: a sweet treat or a quinoa casserole. I fully expected everyone to say sweet treat. Because let's be honest, sweets usually win out. But as you can see, based on today's post, the quinoa casserole was the clear victor. I'm kind of happy that it was because I've been wanting to share this ever since I made it last week. It's loaded with quinoa, veggies and chicken sausage and is topped with two different kinds of cheese. It's quick, easy to make and perfect for weeknight dinners. Especially dinners during this Spwinter that many people are experiencing.
The weather has been absolutely gorgeous the last couple of days in Seattle. I mean gorgeous. Yesterday it hit 70 degrees as I was headed out to pick up Ryan from work. 70! In MARCH! It was glorious.
I'm just going to pretend that the weather forecast for today and the next 10 days isn't for rain.
Just as I'm sure those of you who are still getting snow are just closing your blinds and pretending it's not there. Sure it's pretty…in December. Or January. But not in Spring.
But I suppose there is one good thing about the cool weather: it's still casserole weather. Which means it's still the perfect time to make this casserole. And with all of the southwestern flavors it certainly makes me think of sunshine and warm weather.
It'll be here soon. Right?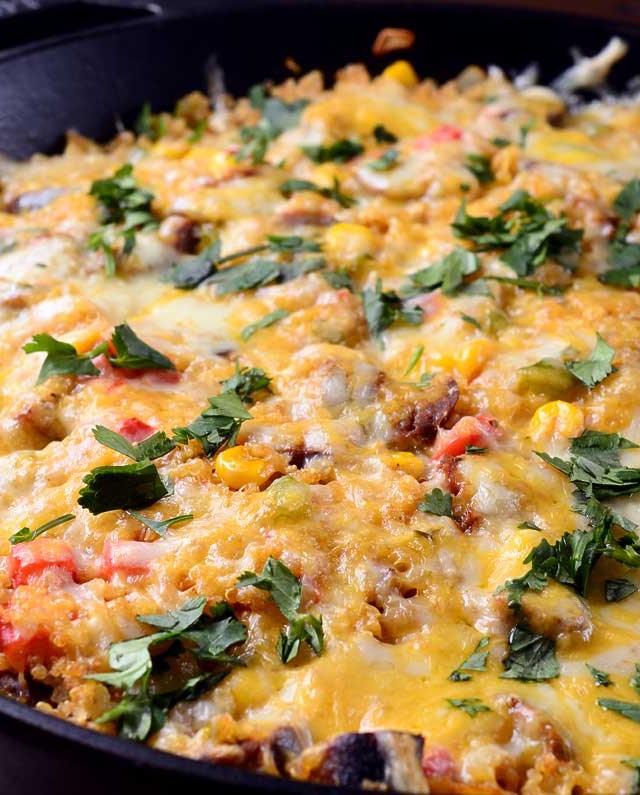 Southwestern Quinoa Casserole
A cheesy quinoa casserole loaded with veggies and chicken sausage. Perfect for weeknight meals.
Ingredients:
1

cup

quinoa

rinsed

5

chicken chipotle sausages

1

tablespoon

olive oil

1

green bell pepper

stems and seeds removed, diced

1

red bell pepper

stems and seeds removed, diced

1

onion

diced

2

cloves

garlic

minced

1

cup

frozen corn

1

teaspoon

cumin

1/2

teaspoon

chili powder

3/4

teaspoon

salt

1

cup

shredded pepper jack cheese

1

cup

shredded medium cheddar cheese

1/4

cup

chopped fresh cilantro
Preheat oven to 350 degrees.

Cook quinoa according to package directions.

Cook sausages until cooked through. Remove from heat. Allow to cool slightly and dice.

In a large oven proof skillet, heat olive oil. Add in diced bell peppers, onions and garlic. Cook just until softened. Add in the corn and diced sausages. Cook just until the corn is warmed through, about 3 minutes. Stir in quinoa, cumin, chili powder and salt. Mix well.

Mix the pepper jack and cheddar cheeses together. Sprinkle over the top of the casserole. Bake in preheated oven until the casserole is bubbly and the cheese has melted, about 15 minutes. Sprinkle with chopped cilantro. Serve.
Note: I used chipotle chicken sausages in this recipe because my grocery store carries them. If you cannot find them, 12 ounces of chorizo would be a perfect substitute.
Enjoy!
Keywords:
casserole, dinner, entree, quinoa