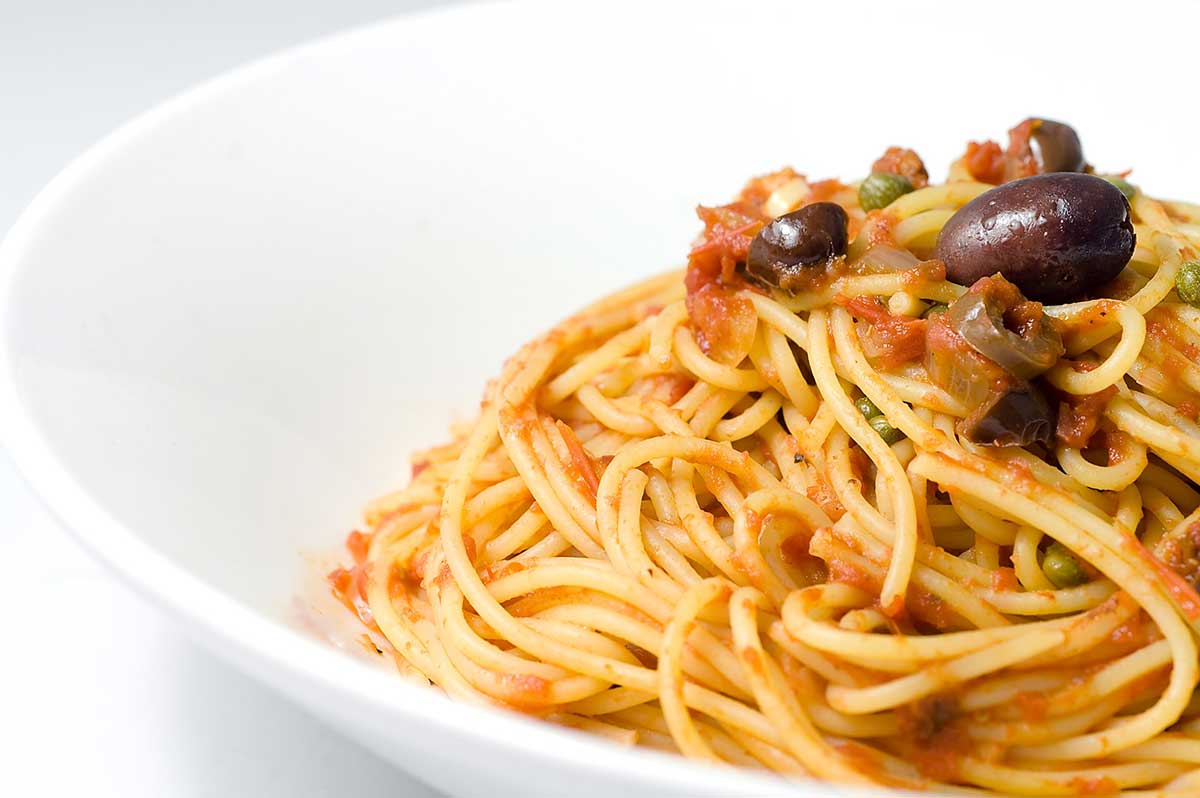 Spaghetti Puttanesca
I thought I would step away from comforting Thanksgiving food for today and turn to a different kind of comfort food: pasta. Spaghetti Puttanesca to be exact. Legend has it that this spicy, salty pasta was a favorite of, to use the family friendly term, "ladies of the night". Apparently these "ladies" found the inexpensive ingredients and quick preparation an easy meal to make for their "friends". And while I can't vouch for their chosen line of work, if the story of how this pasta sauce originated is true, their taste in pasta sauces is pretty good. After all this sauce incorporates some pretty yummy things like tomatoes, capers, crushed red pepper, kalamata olives and anchovies. Yes, I said anchovies, but trust me, in this sauce you will love them.
To be honest, my first experience with anchovies was not very pleasant. It all started one night when I was craving pizza. I called our local pizza place and ordered their pizza loaded with all kinds of ingredients like pepperoni, sausage, mushrooms, onions and peppers. Basically everything, including anchovies. As I waited for the delivery man, I actually found myself rather excited at the fact that I ordered a pizza with anchovies. I thought I was being daring and adventurous.  When I heard the knock at my door I rushed downstairs threw it open and wooooooooosh I was suddenly blasted with a smell of anchovies and not in a good way. After I signed the receipt and tipped the delivery man a little extra for having to deal with the smell, I shut the door and walked upstairs feeling a little uneasy at the prospect of what I was about to eat. But I did just wait 30 minutes and paid for it so I might as well. I took the first bite and yup, it tasted exactly like it smelled, fishy. And I couldn't just pick them off. The taste and scent lingered. We ended up throwing out the pizza and eating a couple of PB & J's. Thus concluded my first experience with anchovies.
You may be wondering why I am telling you how bad anchovies are when I am sharing a recipe that has them as an ingredient. Well because as bad as they may have been on that pizza, when they are sauteed in butter and olive oil until they dissolve they add a wonderful salty background flavor to pasta sauce. And combined with capers, kalamata olives and crushed red peppers they help make this particular pasta sauce one of my favorites.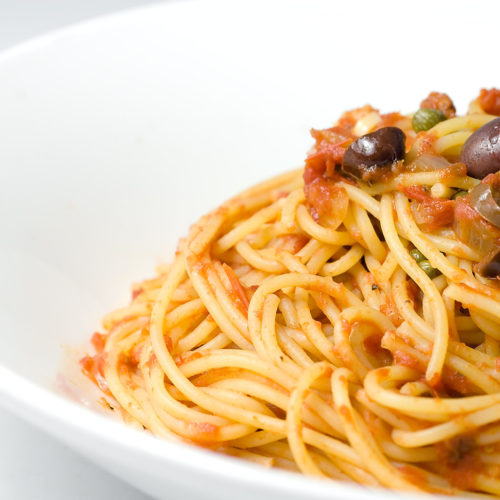 Spaghetti Puttanesca
A hearty pasta sauce with tomatoes, capers, crushed red pepper, kalamata olives and anchovies.
Ingredients:
1

tablespoon

olive oil

1

tablespoon

butter

1/2

medium onion

diced

5

anchovy fillets

finely chopped

5

cloves

garlic

chopped

1/2 -1

teaspoon

crushed red peppers

1

28 ounce can crushed tomatoes

2

tablespoons

capers

1/2

cup

chopped kalamata olives

fresh cracked pepper and kosher salt

1

pound

dried spaghetti

Parmesan cheese

optional
In a large skillet heat butter and olive oil over medium heat. Once butter has melted add onion, anchovies, garlic and crushed red peppers. Cook for 5-7 minutes or until onions are translucent and anchovies are dissolved.

Pour in crushed tomatoes. Stir in capers and kalamata olives. Season to taste with salt and pepper. Reduce heat to low and simmer for at least 30 minutes to let the flavors mingle.

About 15 minutes before you would like to serve dinner, bring a large pot of water to a boil. Cook pasta according to package directions. Strain completely.

Toss strained pasta in sauce. Sprinkle with Parmesan and serve immediately.
As much as you may want to lick the plate clean, I find that Herbed Garlic Bread is a much more dinner table friendly way to soak up the leftover sauce. Enjoy!
Keywords:
anchovies, butter, capers, crushed red pepper, crushed tomatoes, dried pasta, dried spaghetti, entree, Food, garlic, italian, olive oil, onions, pasta, Recipe, red peppers, spaghetti, spicy, tomato sauce, tomatoes