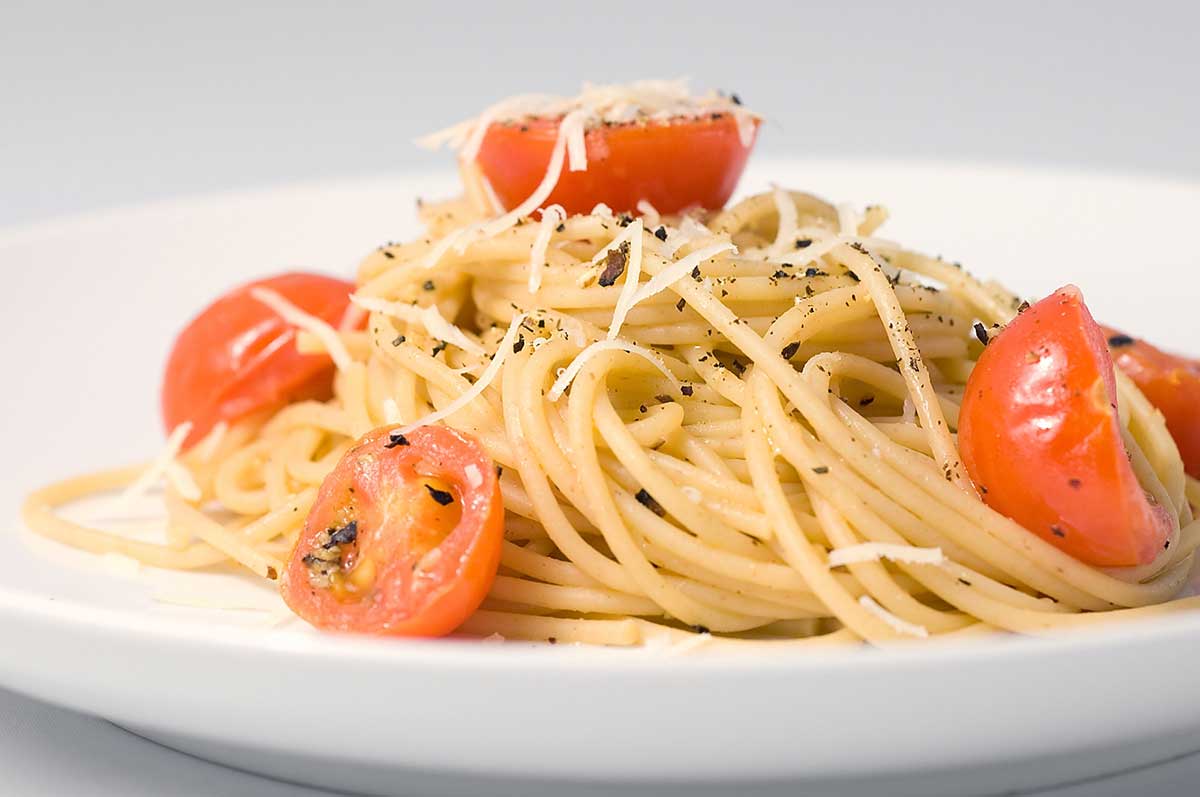 Spaghetti with Pecorino Romano, Pepper and Tomatoes
Believe it or not it has actually been quite nice here in Seattle for the last few days. The sun has been shining, the sky blue and the temperatures have been in the low 70s, darn near perfect in my opinion. When the weather gets like this I remember that summer is upon us and I start searching for recipes that are simple and light. This pasta recipe is just that.  Multi-grain spaghetti is cooked to al dente and tossed with coarsely cracked black pepper, cherry tomatoes and freshly grated Pecorino Romano cheese.
Despite the rising popularity of using multi-grain or whole wheat pasta over the last few years, I am just now realizing how delicious it is and wondering why I never started using it before. It has a heartier and more rustic taste then regular pasta and paired nicely with the ingredients in this recipe. If you are not a fan of multi-grain pasta feel free to substitute regular spaghetti instead.
Spaghetti with Pecorino Romano, Pepper and Tomatoes Recipe
Ingredients:
1 (14.5 ounce) package multi-grain pasta
1 tablespoon olive oil
1 teaspoon coarsely ground black pepper
3 cups halved cherry tomatoes
1/2 cup finely grated pecorino romano cheese, plus more for garnish
kosher salt
Instructions
1
Bring 4 quarts of water to a boil. Cook according to package directions. Strain pasta but reserve 1/2 cup of the water.

2
Heat olive oil in a large skillet over medium heat, add pepper. Cook 1 minute. Add tomatoes cook 30 seconds.

3
Pour reserved pasta water into the skillet. Return pasta to the skillet, sprinkle with 1/2 cup pecorino romano cheese. Toss continually until cheese melts. Add kosher salt if desired. Cook 3 minutes, the water should absorb. Sprinkle with a little more cheese and serve.
Notes
Sitting on our patio with a glass of wine, this pasta in front of me and my husband next to me was the perfect end to a beautiful day. Enjoy!