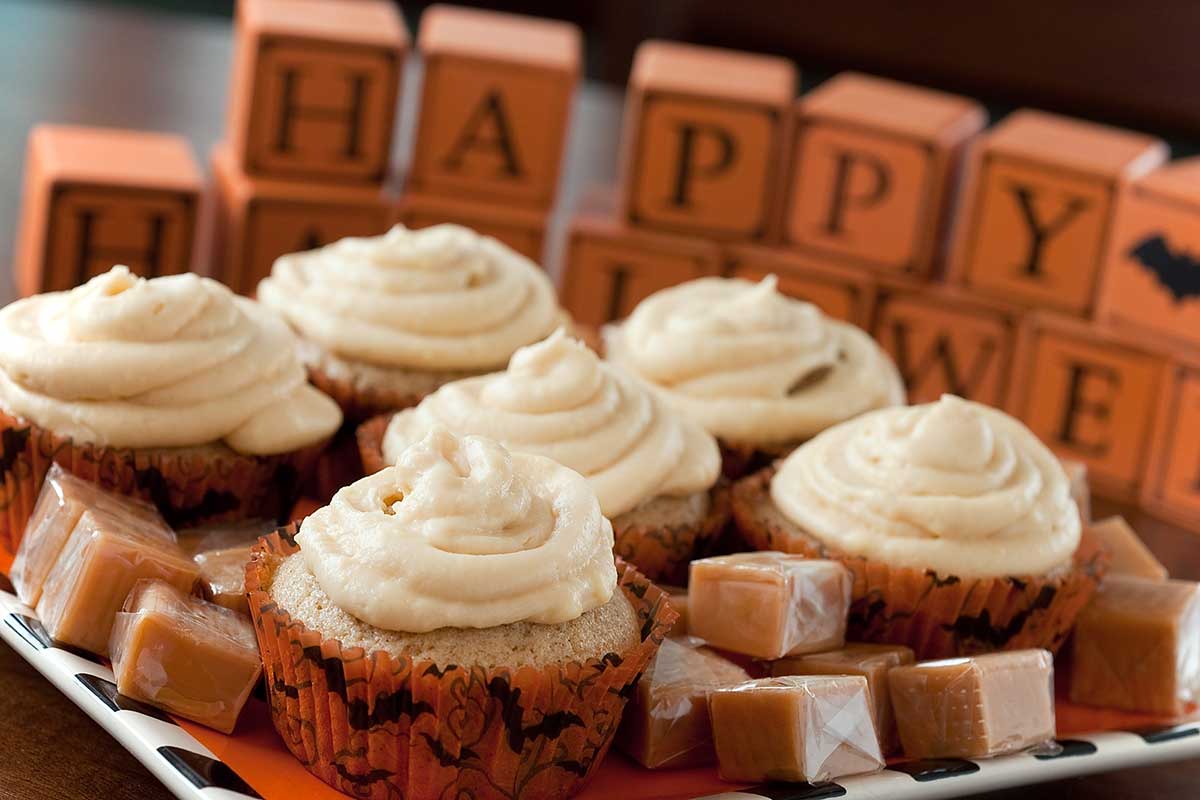 Spiced Cupcakes with Caramel Frosting
Can you believe that Halloween is already this Sunday? It came out of know where. But everywhere you look there are bags of candy, costumes and treats like caramel apples. Speaking of caramel apples, they were the inspiration for these cupcakes. They have all of the spices that we think of when we think of our favorite fall treats: cinnamon, cloves and nutmeg. Oh and not to mention delectably smooth, creamy sweet caramel frosting.
I am not sure if I mentioned it or not but my birthday was a couple of weeks ago. The big  27. I am also not sure if I mentioned this, but Ryan tends to spoil me. This birthday was no exception. You see, he bought me a Kitchen Aid. A bright, shiny, candy apple red one to be more exact. I've named her Bessie. Hey people can name their cars, why not their kitchen appliances? Right? right?
After she was named, I could not think of a better way to welcome Bessie into my kitchen then to make these cupcakes. These sweet, perfectly moist, simply decadent cupcakes perfect for your Halloween celebrations.
Oh and despite my absolute love of my new friend, fear not, if you don't have a kitchen aid these can easily be made with a hand mixer.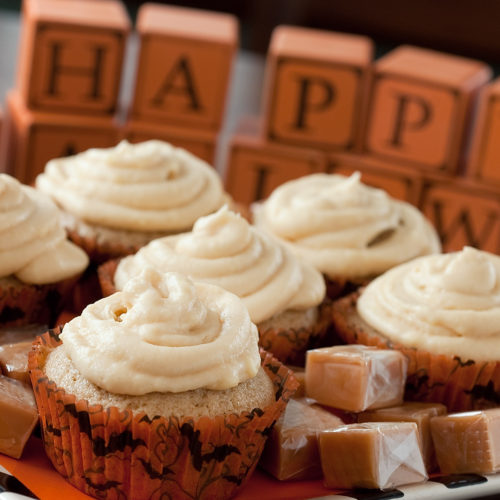 Spiced Cupcakes with Caramel Frosting
Inspired by everyone's favorite fall treat Candy Apple's these spiced cupcakes are topped with creamy caramel frosting.
Spiced Cupcakes Ingredients:
1/2

cup

butter

room temperature

2/3

cups

granulated sugar

2

large eggs

1

large egg white

1

teaspoon

vanilla extract

1 1/2

cups

flour

1 1/2

teaspoon

baking powder

1/4

teaspoon

salt

1

teaspoon

ground cinnamon

1/2

teaspoon

ground nutmeg

1/4

teaspoon

ground cloves

1/4

cup

milk
Caramel Frosting Ingredients:
2 1/2

cups

powdered sugar

4

tablespoons

unsalted butter

1

teaspoon

vanilla

2

tablespoons

caramel sauce

2 - 3

tablespoons

milk
Preheat oven to 350 degrees.

Beat sugar and butter until well combined. Add eggs and egg white one at a time. Add vanilla.

In another bowl sift together flour, baking powder, salt, cinnamon, cloves and nutmeg. Add 1/2 of the flour mixture to the sugar mixture. Stir in milk. Add remaining flour mixture. Beat until smooth.

Place cupcake liners in a cupcake pan. Fill each liner 2/3 of the way full.

Bake for 15-20 minutes or until a toothpick inserted in the cupcake comes out with just a few crumbs on it. I find that if it is too clean, my cupcakes come out dry.

Remove from oven and allow to cool.

While cupcakes are cooling make your frosting by beating together sugar and butter until smooth. Add in vanilla, caramel and 2 tablespoons of milk. Beat until stiff and spreadable. If needed add remaining tablespoon of milk .

Use a knife or a piping bag to frost cooled cupcakes. Serve.
Keywords:
apples, caramel apple cupcakes, caramel apples, cupcake, cupcakes, dessert, Food, halloween, Recipe, spiced cupcakes, sweet, treats