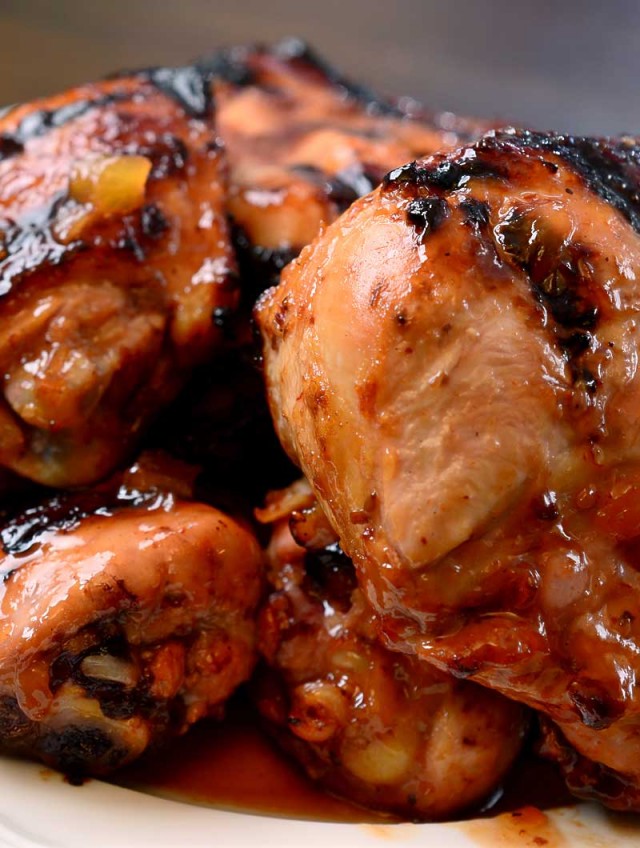 Spicy Grilled Sweet and Sour Chicken
Sauces.
I love sauces.
I love sauces that take all day to cook. You know, the perfect BBQ sauce. Or the perfect spaghetti sauce. The sauce you spend all day over the hot stove cooking. Layering seasoning after seasoning until it is just right. Until it tastes like it's been simmering all day, exactly like you want it to.
Yes, I love these sauces.
But I only make them once a week. Usually on Sundays because I just don't have the time to simmer and layer and simmer and layer during the rest of the week. But guess what, the nice people over at Kraft have the perfect way to help with their new line called Kraft Recipe Makers.
What are Kraft Recipe Makers you ask? Well, they are a way for you to get that same taste you love in the simmered all-day sauce in a weeknight meal because Kraft has made the sauces for you. All the simmering. All the layered seasoning. They did it all and they turned it into nine different products for you to use at home. A few examples are New England Pot Roast, Asian Fish Tacos, Tex-Mex Fajita and Chicken Bruschetta Pasta. Sounds good, no? They are, but let me explain a little bit more because you're not getting a box with a pot roast or a fish taco in it. You're getting something better.
Each box of Kraft Recipe Makers has two complementary sauces. For instance, for this recipe I used the Sweet and Sour Chicken Recipe Maker. It came with a Sesame Ginger Simmering Sauce and a Sweet and Sour Pineapple Finishing Sauce. There were also three different recipes included in the box. The recipes looked good, but you know me, I like to think outside the box (hah! See what I did there?). But that is what is great about these; you can use the recipes provided or you can get creative and do your own thing.
I did my own thing.
I like to do my own thing.
It's fun.
And lately, as you know, my own thing has been grilling. So I thought why not make a grilled Sweet and Sour Chicken? I mean, it is summer.
So what did I do? Well first, I marinated the chicken in the sesame ginger simmering sauce with some sliced onion. I did this first thing in the morning. You could even do it over night. And because I like a little spice, I added some garlic chili sauce, but that is totally optional. Then after the chicken and the sesame ginger sauce got to know each other a bit better, I grilled it and when it was just about done I basted it with the Sweet and Sour Sauce.
Friends, it was one of the best BBQ chickens ever.
Then, if that wasn't enough, I took a cue from my Balsamic Rosemary Flat Iron Steak, and cooked the marinade down until it made a delectable sauce, and poured that over quinoa.
Quinoa ain't your thing? Try rice. Or potatoes.
Just do your own thing.
As you can see, it's kinda fun.
What could you do with these sauces for a weeknight dinner? Share your own recipe inspired by Kraft Recipe Makers.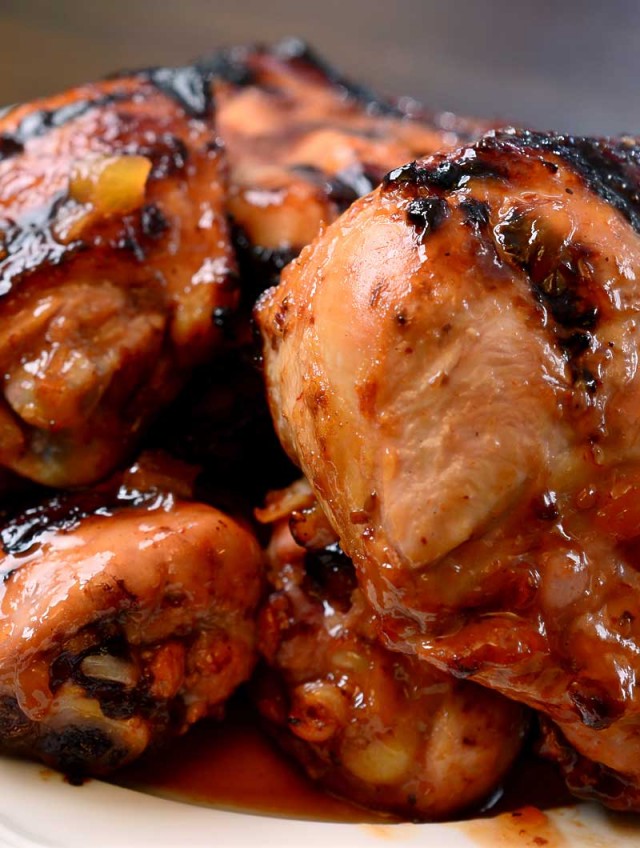 Spicy Grilled Sweet and Sour Chicken
Perfectly grilled chicken with a tangy sweet n' sour glaze with just a little kick.
Ingredients:
1

package Kraft Recipe Makers Sweet and Sour Chicken

1

medium yellow onion

1

tablespoon

chili garlic sauce

optional

1

whole

4 pound cut up chicken (or 8 chicken pieces of your choice)

1/2

cup

quinoa
Combine the sesame ginger simmering sauce, yellow onion and chili garlic sauce in a resealable plastic bag. Place chicken in bag and shake to coat. Let marinate in the fridge 6 - 8 hours or overnight.

Preheat your grill to medium heat.

Remove chicken from the marinade but reserve the marinade.

Place chicken breasts on grill first. Cook, over medium heat, for 5 minutes on each side. Then place the remaining pieces of chicken on the grill. Cook those for 5 minutes on each side. Then cover the grill and continue to cook until the chicken is cooked through, 20 - 25 more minutes.

Cook quinoa according to package directions.

While the quinoa and chicken are cooking, pour the reserved marinade into a skillet and cook over medium-high heat until the sauce reduces by half and the onions are soft. Turn heat to low and keep warm until ready to use.

Once the chicken is cooked through, pour half of the sweet and sour sauce into a bowl. Reserve the remaining sweet and sour sauce for serving.

Use a basting brush to brush the chicken with the sweet and sour sauce. Cover and let cook an additional 5 minutes.

Transfer to a serving plate. Serve alongside reserved sweet and sour sauce and quinoa topped with the reduced mariande.
Keywords:
4th of July Recipes, bbq, chicken, dinner, entree, Food, grilled chicken, Kraft recipe makers, Labor day recipes, Memorial Day recipes, Recipe