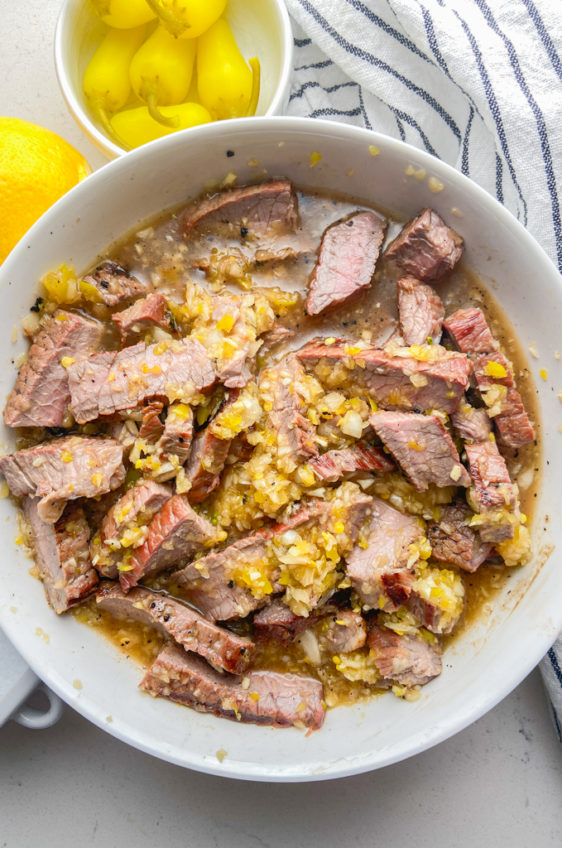 Spicy Pepper Steak
Spicy Pepper Steak is a family favorite! Perfectly cooked steak with hot chili peppers, onions, garlic and lemon. Perfect for BBQs!
Do you have a dish that you must make for all of your family BBQs and get togethers? You know what I mean. The one dish that, when people hear you are having a party, pretty much expect to be on the table. In my family it is "hot meat". But in the world of the internets, titling a recipe hot meat, didn't strike me as the best move ;)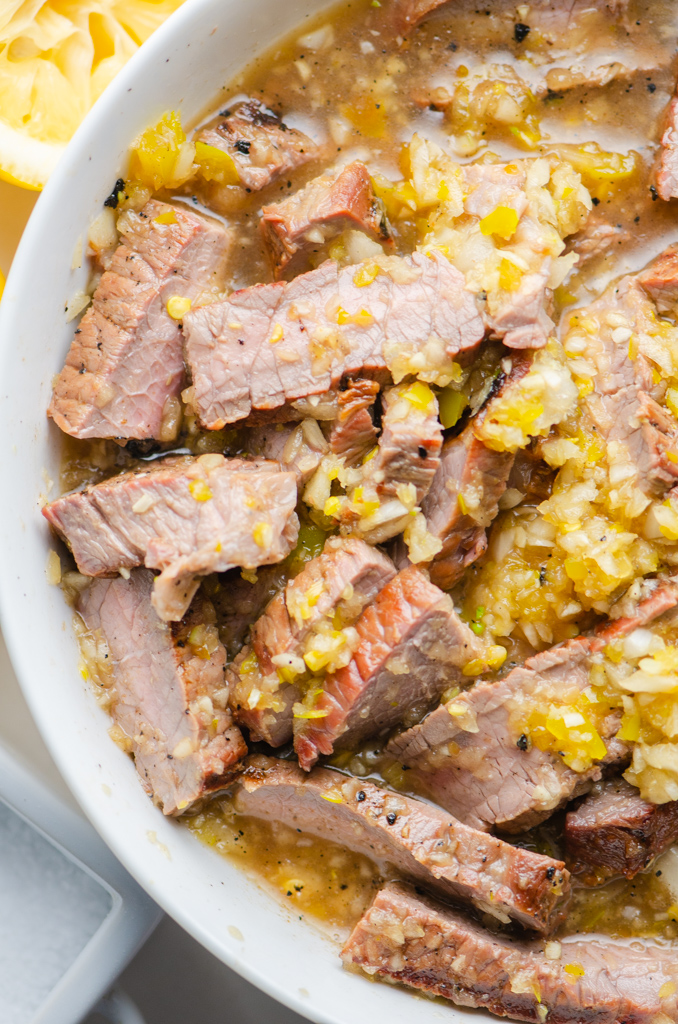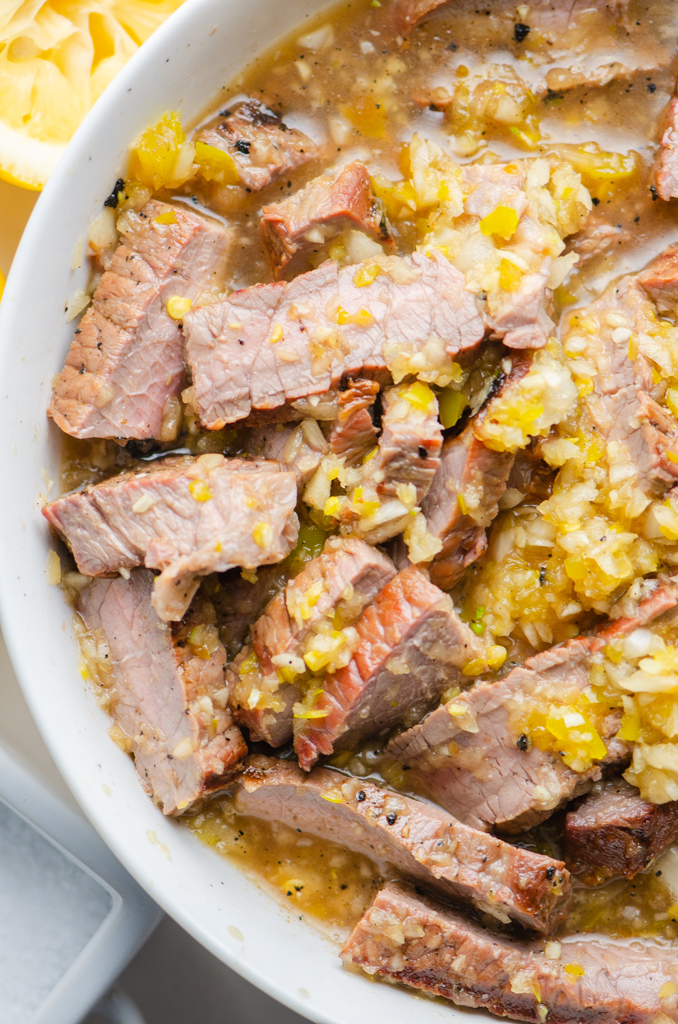 Instead, this family favorite is now dubbed Spicy Pepper Steak. And it is wonderful. It gets rave reviews each and every time I make it. If you're a spicy food lover, you've got to try it. I know you'll love it too!
It is the perfect dish to bring to BBQs and potlucks too because you can make it a day in advance. In fact, it is the thing that I, myself, bring to all the BBQs.
What ingredients do you need?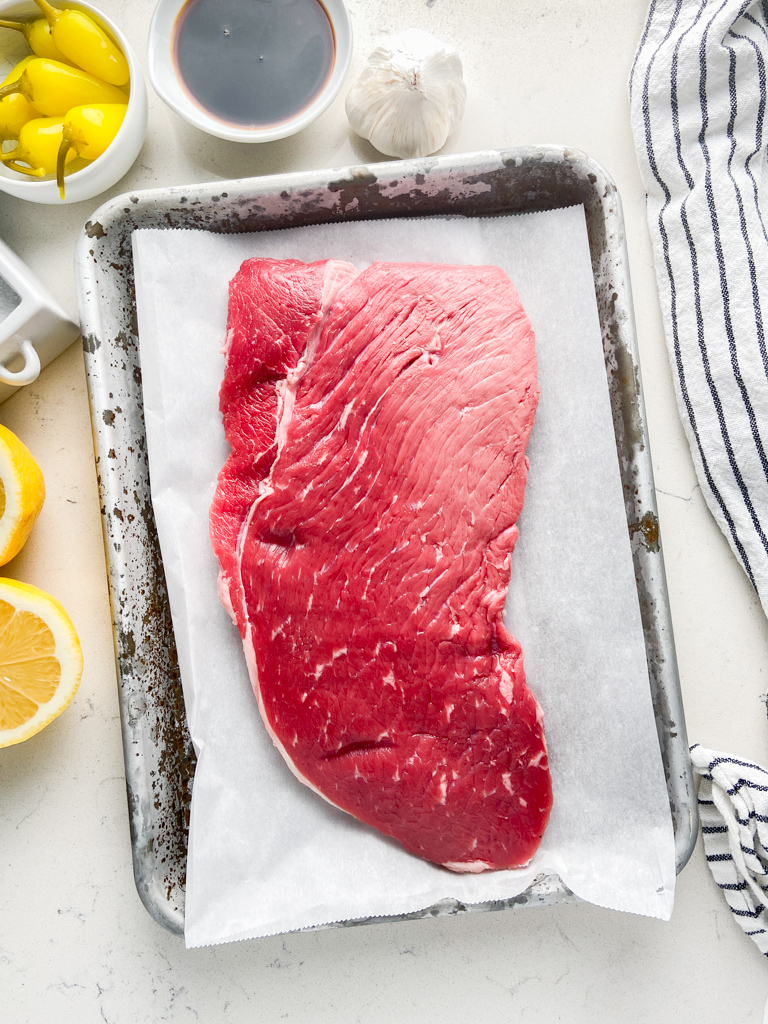 STEAK: Originally my family made this recipe with round steak, over the years I have discovered that top sirloin is my favorite cut to use. It is lean but stays tender thanks to the marinade. 
HOT CHILI PEPPERS: My family has always used Mezzetta Hot Chili Peppers for recipe. (FYI: This is not a sponsored post. We are huge Mezzetta Chili Pepper fans) and they are a must. I've never made it with anything else and can't recommend it. In addition to the peppers, you'll also need some of the juice that the peppers are in.
SOY SAUCE: Helps tenderize the beef as well as add saltiness to the dish.
ONION
GARLIC
LEMON JUICE: This helps brighten up the whole dish.
How do you make spicy pepper steak?
First you start by marinating the steak in soy sauce. I recommend marinating it for at least an hour although you can do longer than that. If I'm going to cook it after that first hour I simply let it marinate on the counter. If I am going to cook it later than that,  I let it marinate in the refrigerator.
After it's done marinating it, grill the steak (or you can cook it in a screaming hot pan on your stove). I usually cook it 5 minutes  per side for medium rare and then let it rest before slicing it.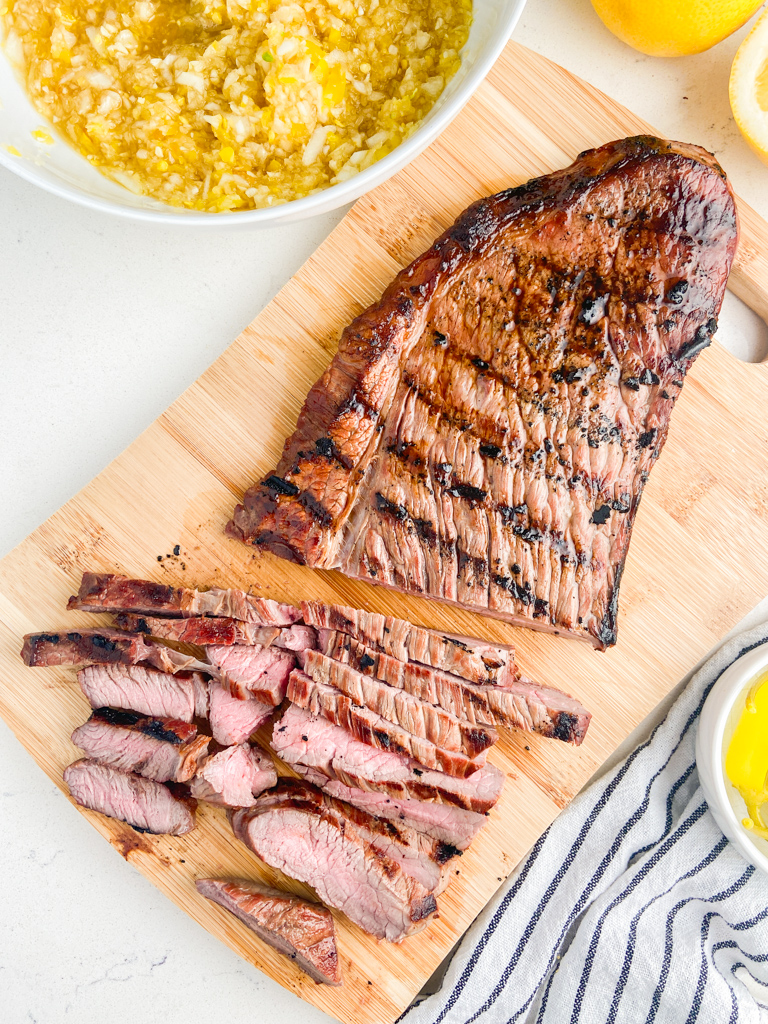 There has been much argument in my family over how to serve this dish, one side of the family likes to simply slice the peppers and onions while the other side prefers to blend the peppers and onions together. And while both are good, you can probably guess by the picture, I am on the side that prefers the blended version. To me, blending the mixture allows it to completely coat the meat giving you more flavor and making the dish much more spicy.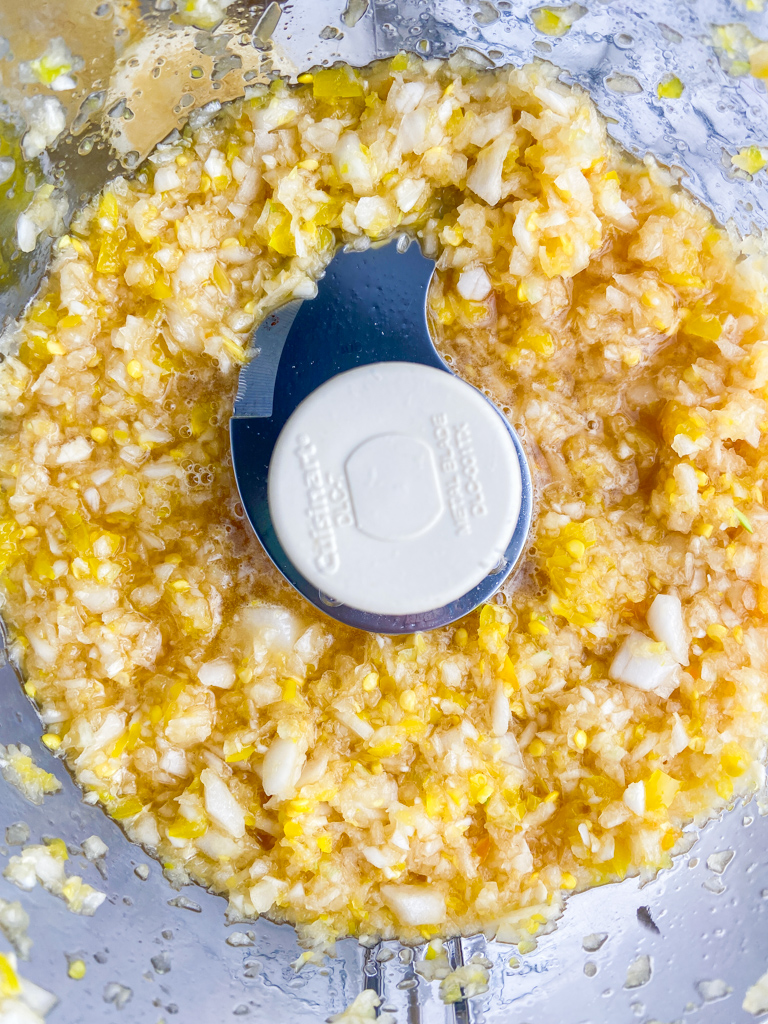 Another thing that kicks up the spiciness of this dish is making it a day in advance. Letting the cooked steak marinate overnight in the spicy chili blend gives it an extra level of heat.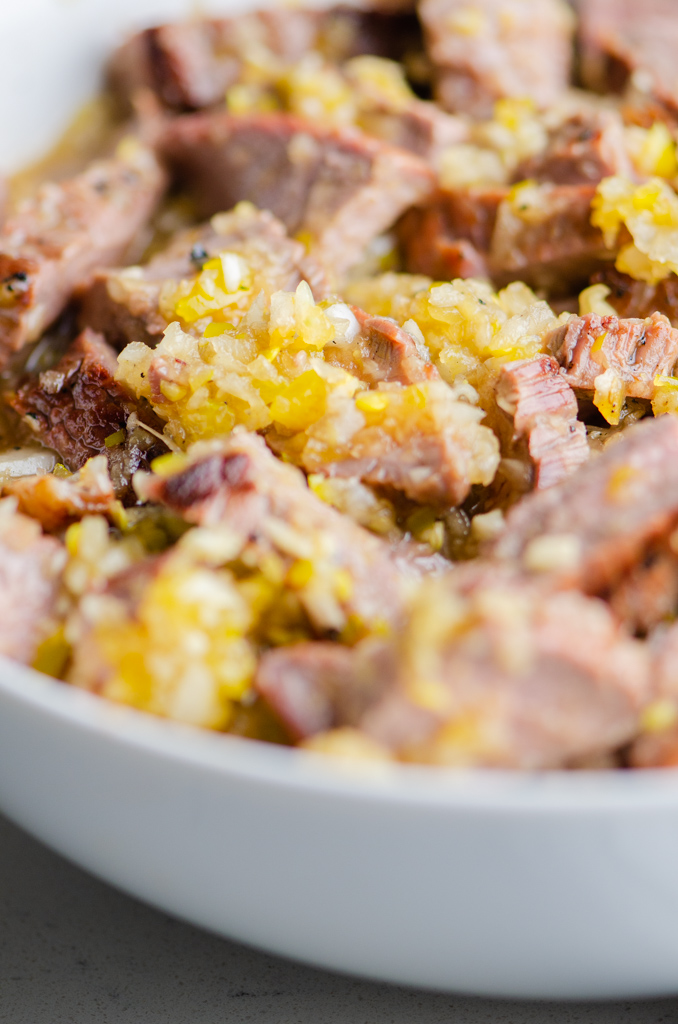 And, since I'm a self-proclaimed chili head, I'm all about the heat.
Obviously.
Either way, this Spicy Pepper Steak is sure to become a favorite for the chili lovers in your family!
RECIPE  NOTES:
Like any time you are preparing meat, make sure to let the steak rest before slicing it.
The peppers are spicy so you'll  want to make sure to wash your hands after handling them. Or use gloves.
If you want to keep the heat down a bit you could use less chili peppers. Or, like the other half of my family, simply slice the peppers and onions instead of blending them together. You'll get the same taste just a little less heat.
Note: This post was originally written in 2009. It was updated with new photos, step by step photos, nutrition facts and recipe notes in 2021.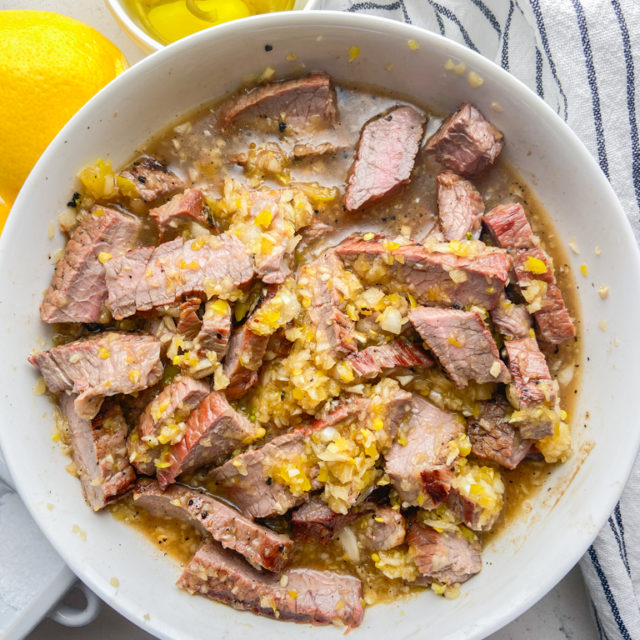 Spicy Pepper Steak
Spicy Pepper Steak is a family favorite! Perfectly grilled steak with hot chili peppers, onions, garlic and lemon. Perfect for BBQs!
Ingredients:
1 1/2

pounds

top sirloin steak

3

tablespoons

soy sauce

divided

1

medium onion

5

cloves

garlic

10 - 15

Mezetta hot chili peppers

stems removed

1/2

cup

of the liquid the peppers are in

Juice of one lemon

kosher salt to taste
Place steak in a plastic resealable bag with 2 tablespoons soy sauce. Marinate for 1 hour.

Grill marinated steak over medium-high heat, about 3-4 minutes per side. Transfer to plate and allow to rest for 10 minutes. Slice into bite size pieces and transfer to a bowl.

In a blender or food processor combine remaining tablespoon soy sauce, onion, garlic, peppers, pepper liquid and lemon juice. Process for about 30 seconds or until well blended.

Pour blended mixture over the top of sliced steak. Cover and refrigerate for at least 1 hour.
Nutrition facts for estimation purposes only.
Calories:
241
kcal
Carbohydrates:
5
g
Protein:
40
g
Fat:
6
g
Saturated Fat:
2
g
Polyunsaturated Fat:
1
g
Monounsaturated Fat:
2
g
Cholesterol:
100
mg
Sodium:
851
mg
Potassium:
691
mg
Fiber:
1
g
Sugar:
1
g
Vitamin A:
1
IU
Vitamin C:
3
mg
Calcium:
53
mg
Iron:
3
mg
Keywords:
4th of July Recipes, appetizer, beef