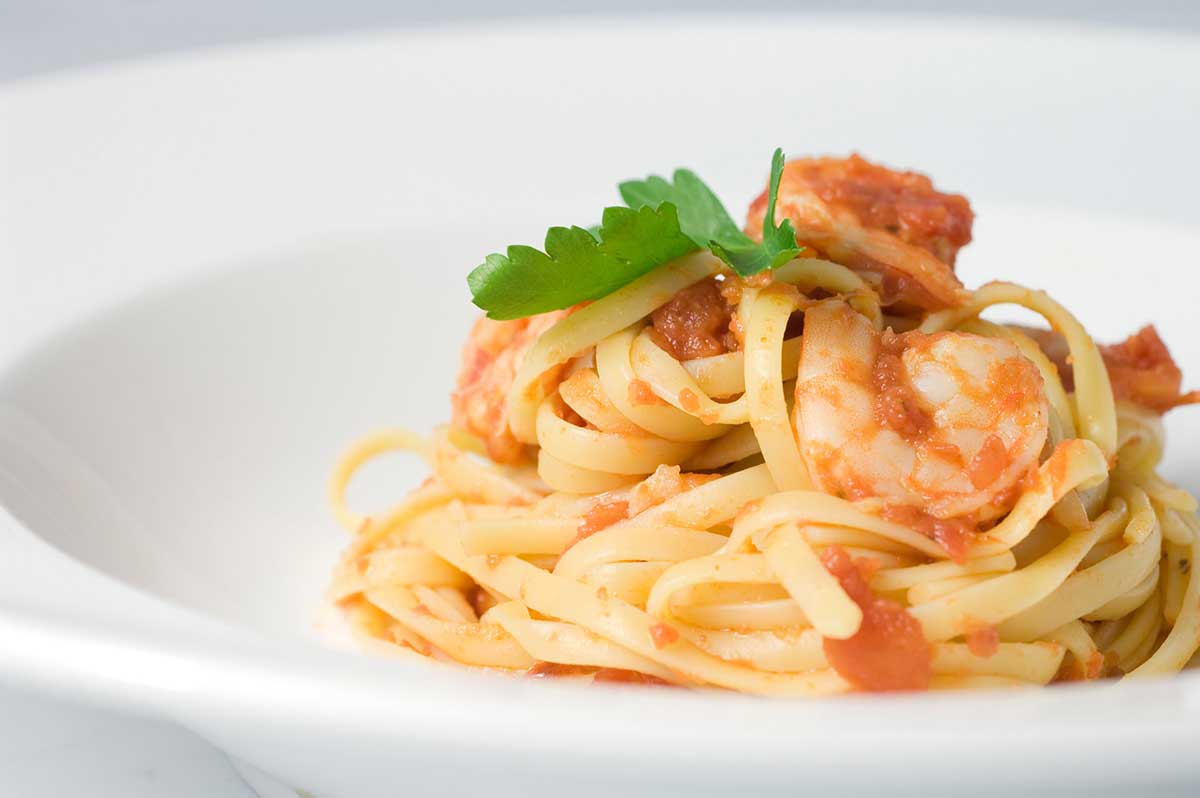 Spicy Prawn and Tomato Pasta
Garlic is a wonderful thing. Not only does it taste good, but it is also a natural antibiotic.  Throughout my childhood whenever I would feel like I was getting sick my mom would always make me eat tons of garlic. Some people may be skeptical, but I have to admit,  I spent very little time at the doctors office when I was a kid. Now as an adult, I cook with garlic on a regular basis and aside from a mild cold every once in awhile, Ryan and I don't get sick that often. In light of recent headlines I figured it was time to give our immune systems a little boost so I decided to make this prawn pasta that is loaded with garlic. In addition to the garlic, there are flavors of shallots, basil, crushed red pepper, white wine, and tomatoes. What's not to love?
Once again you may notice that there is quite a bit of spice in this recipe. With that said, if I was making this for my friend who doesn't like spice at all, I wouldn't have omitted the crushed red peppers completely because they do add a nice flavor. Instead,  I would've used about 1/8 teaspoon.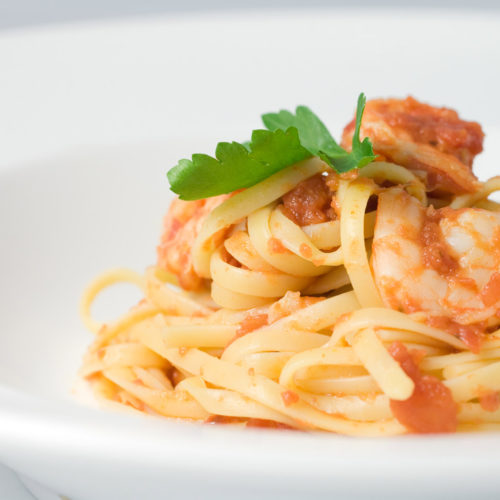 Spicy Prawn and Tomato Pasta
Prawn pasta loaded with garlic, shallots, basil, white wine and crushed red pepper for a little kick.
Ingredients:
2

tablespoons

olive oil

1

shallot

minced

5-6

garlic cloves

minced

1/4

teaspoon

dried basil

1

teaspoon

crushed red pepper

1/4

cup

dry white wine

1

28 ounce can crushed tomatoes

pinch

of granulated sugar

kosher salt to taste

1

pound

51-60 count prawns, peeled and deviened

1

pound

dried linguine
Start heating your pasta water.

In a large skillet heat olive oil over medium heat. Cook shallots and garlic 3-5 minutes or until slightly softened.

Stir in basil and crushed red pepper. Cook 1 minute.

Stir in white wine to deglaze the pan. Cook 5 minutes. Stirring occasionally.

Add crushed tomatoes, pinch of sugar, and kosher salt to taste. Bring to a boil, reduce to low and let simmer while you cook your pasta.

Once your pasta water starts to boil. Cook according to package directions. Remove, strain.

After you have strained your pasta, add shrimp to tomato sauce. Cook 5-6 minutes or until shrimp are cooked through. They will turn pink.

If the pasta has stuck together in the strainer run some water over it. Make sure to strain all water and add pasta to tomato sauce. Toss to coat. Cook about 5 minutes or until noodles are warmed through. Serve.
While it may not be the best for first dates, it certainly does make a quick and easy weeknight meal and the immune boost is just a perk. Enjoy! :)
Keywords:
Food, garlic, garlic a natural antibiotic, italian, linguine, pasta, Prawns, Recipe, shallots