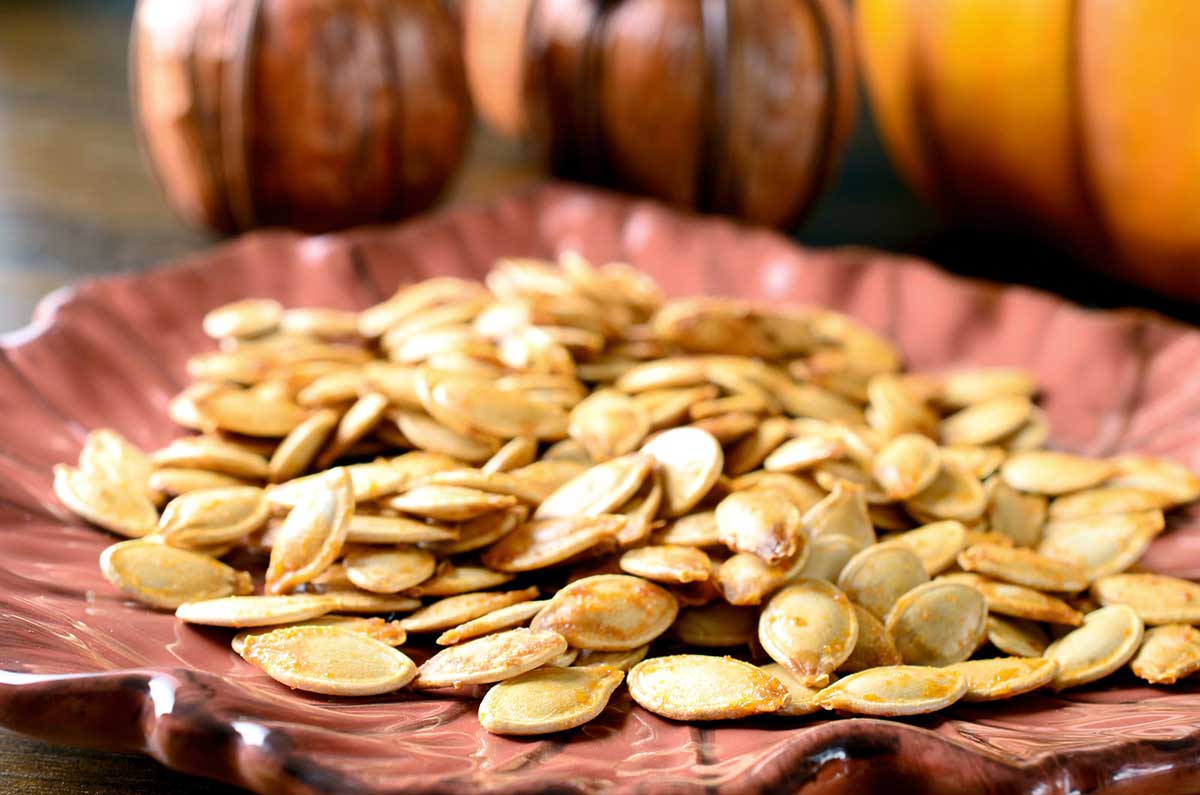 Spicy Sriracha Pumpkin Seeds
Happy Halloween everyone! I'm super excited because today we are taking Kellan trick or treating for the first time. But before we head out, and while we're out, we're going to need something to snack on. These Spicy Sriracha Pumpkin seeds are going to be perfect. They are nutty, salty and they've got a hint of heat at the end. I just might have to carve pumpkins more than once a year so I can make them more often.

Like I said on Monday, pumpkin seeds are my favorite part of Halloween. I wait all year for them. I usually simply roast them with olive oil, salt and pepper. And while that is all fine and dandy, this year I decided to try a little something different. First of all, I decided to forgo the olive oil and use butter. Good choice. Next I decided to mix in some sriracha. Best. Choice. Ever. If you like spicy snacks you'll love these too.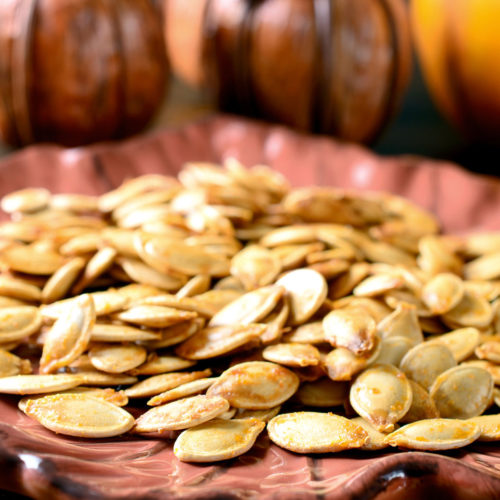 Spicy Sriracha Pumpkin Seeds
Roasted pumpkin seeds get spiced up with a spicy sriracha butter sauce.
Ingredients:
2

tablespoons

butter

2

teaspoons

sriracha

1/4

teaspoon

ground ginger

1/4

teaspoon

granulated garlic

1/2

teaspoon

kosher salt

2 1/2

cups

raw pumpkin seeds

rinsed and pat dry
Preheat oven to 350 degrees.

In a saucepan melt butter. Once melted stir in sriracha, ginger, garlic and kosher salt. Mix well.

Pour sauce over pumpkin seeds and toss to coat well. Lay seeds in a single layer on a baking sheet and bake in preheated oven for 1 hour or until crisp to the bite.

Season with more salt if desired. Serve.
Keywords:
appetizer, fall, Food, halloween, pumpkin seeds, Recipe, seeds, snack, spicy snack, sriracha