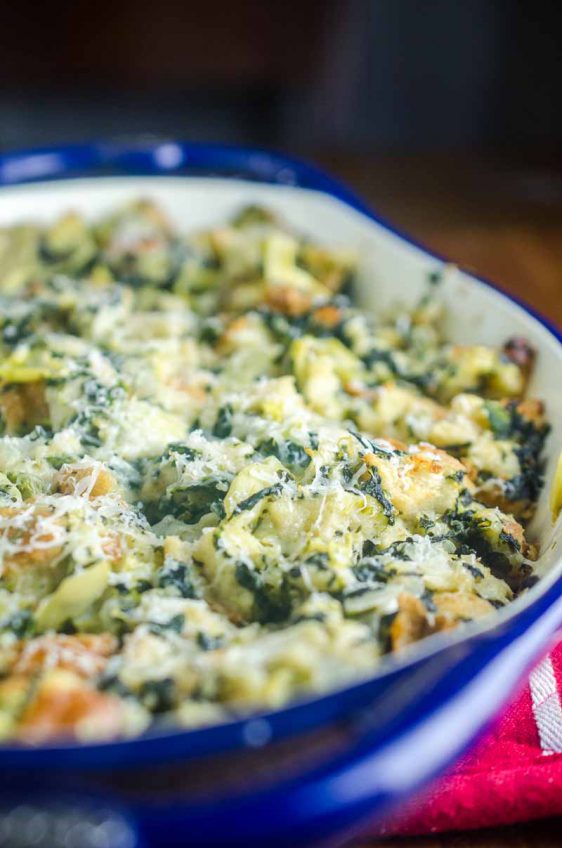 Spinach Artichoke Stuffing
Spinach Artichoke Stuffing is a mashup of everyone's favorite party dip and everyone's favorite Thanksgiving side. It's loaded with spinach, artichokes and parmesan cheese. It's a must for your holiday table!
When it comes to Thanksgiving, what is your favorite bite? Is it the appetizers beforehand? Is it the mashed potatoes, stuffing, or veggies? Or is it the bird itself?
Can I say all of the above? Because I love all food.
Obviously.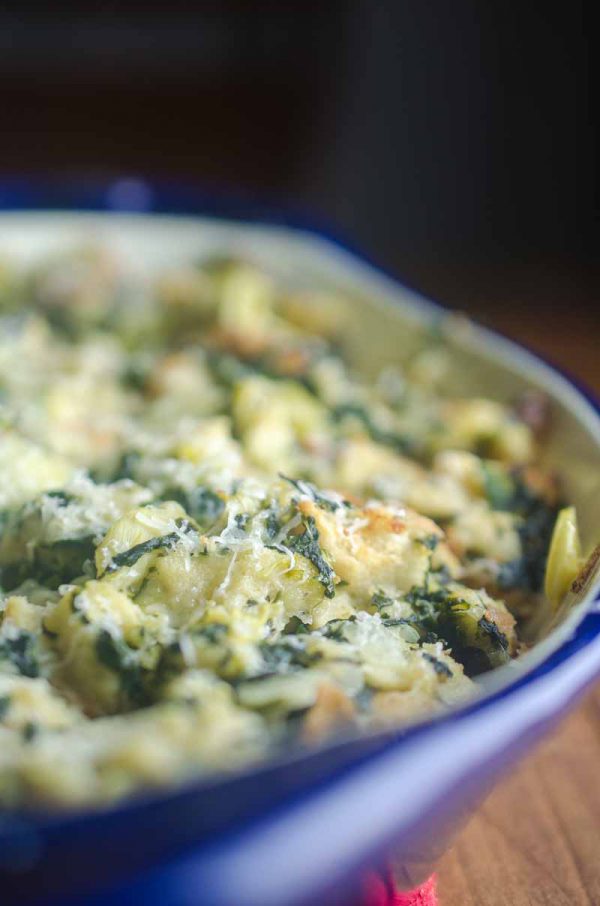 When I ask most people this question they will say that turkey is ok but where the real fun is, is the sides. I can totally see where they are coming from. Especially when it comes to mashed potatoes and stuffing, I could live on the stuff. Mashed potatoes I eat year round, but for some reason I reserve stuffing for the holidays.
I'm totally going to have to change that because this Spinach Artichoke Stuffing needs to make more appearances on our dinner table.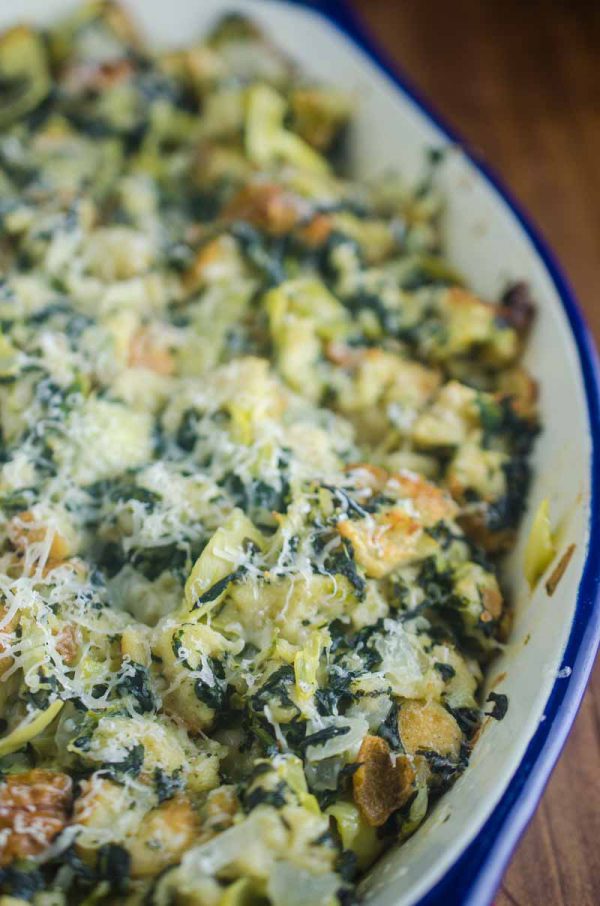 I got the idea to make this Spinach Artichoke Stuffing after eating way too much Spinach Artichoke Dip while looking at Thanksgiving recipe ideas. Funny how that happens right? I just thought to myself, I love spinach and artichoke dip on bread so why don't I mix it with bread.
And this Spinach Artichoke Stuffing was born.
For this recipe, I used canned artichoke hearts. Not marinated artichoke hearts. You don't want to use the marinated ones in this recipe because it will give it a different flavor. Frozen artichoke hearts are a great substitute if you can't find canned.
When it comes to cheese in this recipe, I didn't want it to be overly cheesy. But I mean some cheese is good, right? So I threw in some cream cheese (because duh) and Parmesan (also duh). The result is a stuffing that is a little creamy, a little cheesy and loaded with flavor.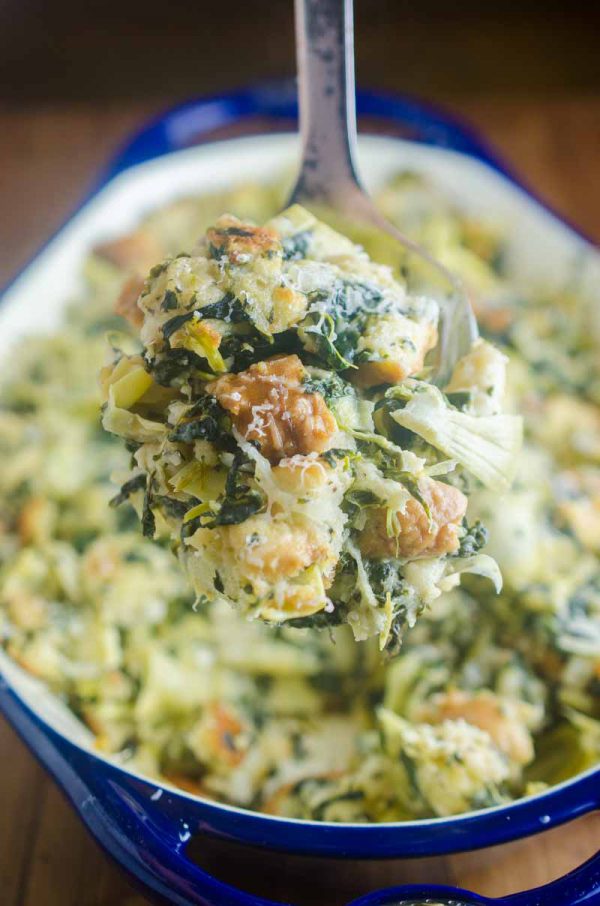 If you're a fan of spinach artichoke dip then this Spinach Artichoke Stuffing will be your new favorite holiday side dish.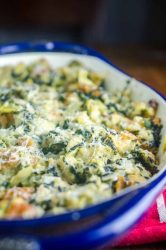 Spinach Artichoke Stuffing
Spinach Artichoke Stuffing is loaded with spinach, artichokes and Parmesan cheese. It is a must make for your holiday dinners!
Ingredients:
4

tablespoons

butter

1/2

yellow onion

diced

3

cloves

garlic

minced

1

14 ounce can artichoke hearts, chopped

12

ounces

chopped spinach

thawed if frozen, excess water removed

2

ounces

cream cheese

softened

1/4

cup

sour cream

1/2

cup

parmesan cheese

divided

1/4

teaspoon

ground nutmeg

10

cups

sourdough bread cubes

1 - 1 1/2

cups

chicken stock

salt and pepper
Preheat oven to 375 degrees. Butter a 2 quart casserole dish.

Melt butter in a skillet over medium heat. Cook onion and garlic just until softened. Add in artichoke hearts and spinach. Mix well. Add in cream cheese and sour cream. Cook just until cream cheese has melted. Stir in 1/4 cup Parmesan cheese and nutmeg.

In a large bowl combine bread cubes and spinach mixture. Mix well. Pour chicken stock in 1 cup of chicken stock and mix well. If stuffing seems dry add remaining 1/2 cup of chicken stock. Season to taste with salt and pepper.

Spoon stuffing into prepare casserole dish and cover with aluminum foil. Bake in preheated oven for 30 minutes.

Remove from oven, remove aluminum foil. Sprinkle with remaining parmesan cheese and broil for 1 - 2 minutes or until cheese is melted and top has browned. Serve immediately.
Keywords:
artichoke, side dish, Spinach, stuffing, thanksgiving