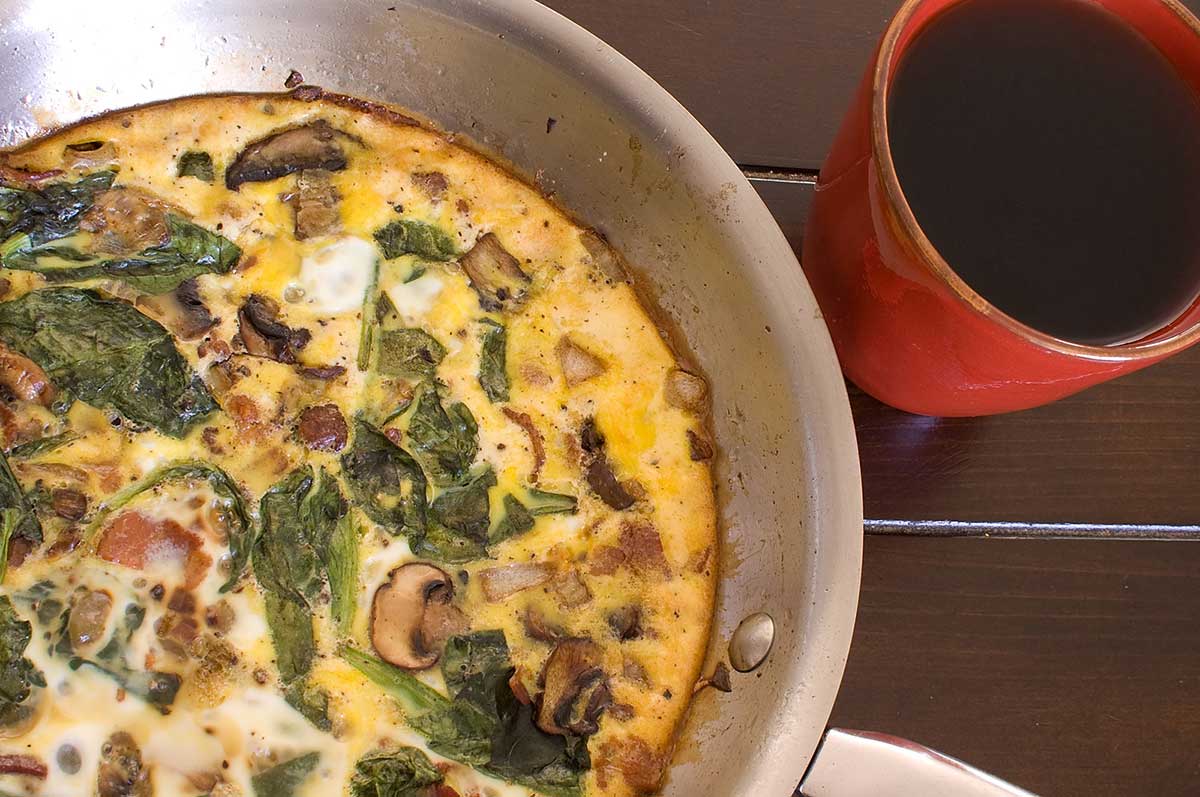 Spinach, Mushroom and Bacon Frittata
It's finally Friday! I am very much looking forward to this weekend, not that I am doing anything too out of the ordinary. I plan to just relax, maybe spend some time in the sun, catch up on some reading and maybe even a Mariner game. But no matter what we decide to do, I will probably make this breakfast at least one of the days. I love this because it's a one pan dish that incorporates many of my favorite flavors: eggs, bacon, mushrooms, onions and spinach.
I struggled with whether or not to call this an omelet or a frittata, but as you can see frittata won. I chose this because, it is more similar to a frittata then an omelet, the only difference being that for this breakfast I didn't broil it like you would normally do for a frittata, I actually cook it in the oven for 15-20 minutes or until the eggs are set. Then like a frittata, I cut it into wedges and serve. But regardless of what you call it, it is a delicious and filling breakfast. :)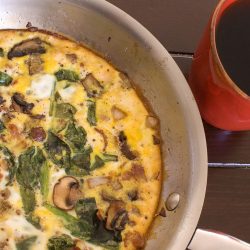 Spinach, Mushroom and Bacon Frittata
A delicious breakfast for two with eggs, bacon, mushrooms and spinach.
Ingredients:
4

eggs

2

tablespoons

milk

1/2

teaspoon

kosher salt

1/4

teaspoon

fresh cracked pepper

5

slices

bacon

cut into 1 inch pieces

1/2

cup

chopped onion

1

cup

sliced mushrooms

1

cup

packed spinach leaves
Preheat oven to 350 degrees.

In a bowl whisk together eggs, milk, salt and pepper. Set aside.

In an 8-inch skillet, fry bacon. Transfer to a paper towel lined plate. Reserve 1 teaspoon pan drippings.

In the same 8-inch skillet with the pan drippings, cook onion until soft, about 3 minutes. Add mushrooms and cook 3 more minutes. Add spinach leaves and cook just until the spinach wilts. Return the bacon to the pan.

Pour eggs over the spinach mixture. Bake for 15-20 minutes or until the eggs are set.

Remove from the oven, allow to cool 5 minutes, the eggs will continue to cook. Cut into wedges, serve immediately.
It is important to use an 8-inch skillet, I used a bigger one once on accident and although it was scrumptious, my frittata was very flat. Enjoy!
Keywords:
bacon, Breakfast, breakfast in bed, eggs, Food, frittata, Mushrooms, omelette, Recipe, Spinach