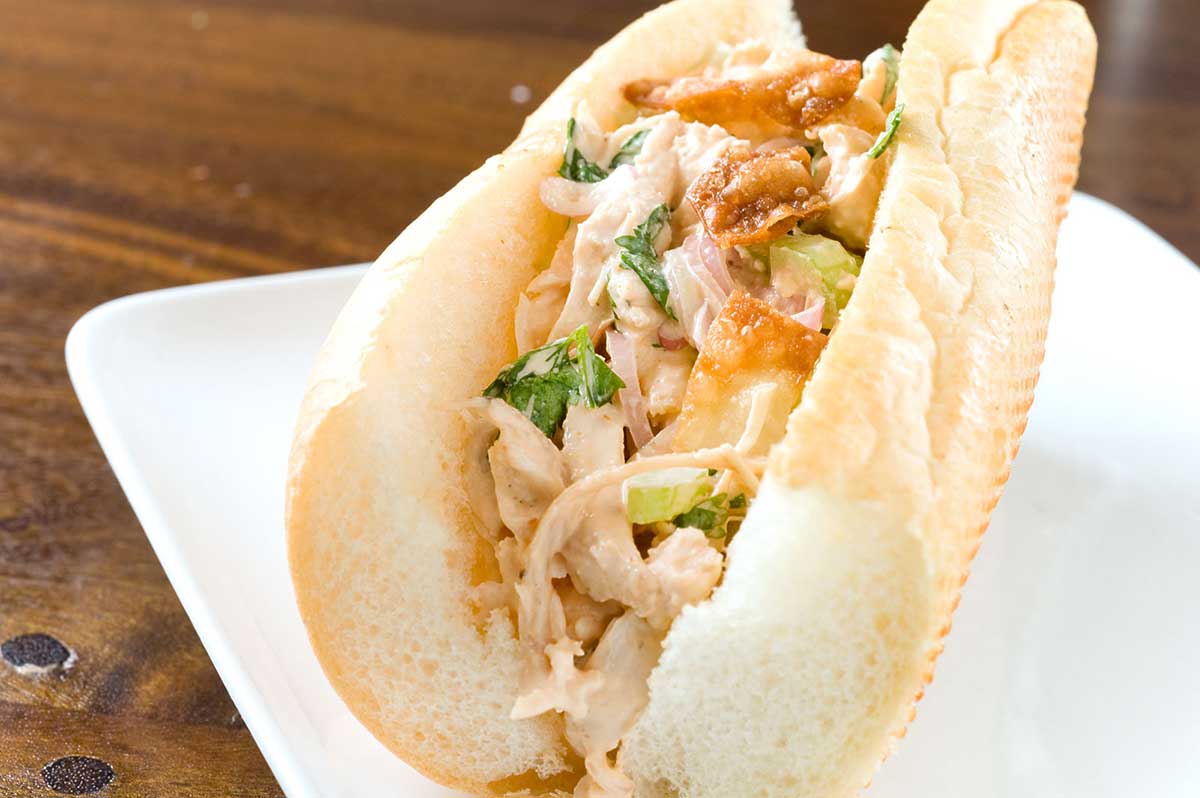 Sriracha Chicken Salad Sandwich
These days just about everything gives me heartburn. I kid you not I drink water and I get heartburn. Water. However, surprisingly, spicy food does not seem to bother me. I eat something slathered in sriracha and no heartburn what so ever.  As a result, I am going to continue adding it to as many things as possible, like this chicken salad, that also happens to be the perfect "man food" dish for football parties, and for tech support husbands.
You may or have may not noticed that the blog has been up and down, up and down, up and down the past couple of days. I thank you for your patience. I think we've got it handled now, but it sure does cause some stress on my part. I don't like the idea of someone coming to visit looking for something for dinner and not being able to access the recipe. So when something happens like this, I turn to my web developer/designer/tech support/husband for help. Luckily he seems to know exactly what to do to get it fixed. As a show of appreciation, I decided to make him these spicy chicken salad sandwiches. He devoured them, as did I. How could we not with the tangy sriracha dressing, celery, shallots, cilantro and crispy wonton slices.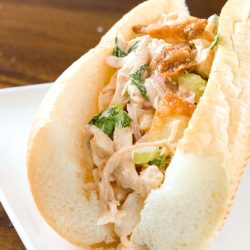 Sriracha Chicken Salad Sandwich
Sriracha chicken salad sandwiches with celery, shallots, cilantro and crispy wonton slices.
Ingredients:
1/3

cup

mayonnaise

2

teaspoons

sriracha

1

teaspoon

rice vinegar

1

small shallot

finely sliced

1

rib celery

diced small

1/4

cup

chopped fresh cilantro

2

cups

cooked

shredded chicken

pinch

kosher salt

4

wonton wrappers

sliced into strips

oil for frying

2 - 3

hoagie rolls
Combine mayonnaise, sriracha and rice vinegar in a bowl. Mix well.

Stir in shallot, celery, cilantro, chicken and salt. Toss until coated in the dressing. Cover and refrigerate for at least 1 hour.

When you are ready to make the sandwiches, heat a 1/4 inch of oil in a skillet. Once hot fry wonton wrappers until golden brown, 30 seconds to 1 minute. Use a slotted spoon to transfer to a paper towel lined plate.

Slice the hoagie rolls down the middle lengthwise. Spoon the chicken salad into the hoagie rolls. Top with wonton wrappers and serve.
Keywords:
chicken salad, man food, sandwich, sriracha, super bowl food, superbowl party