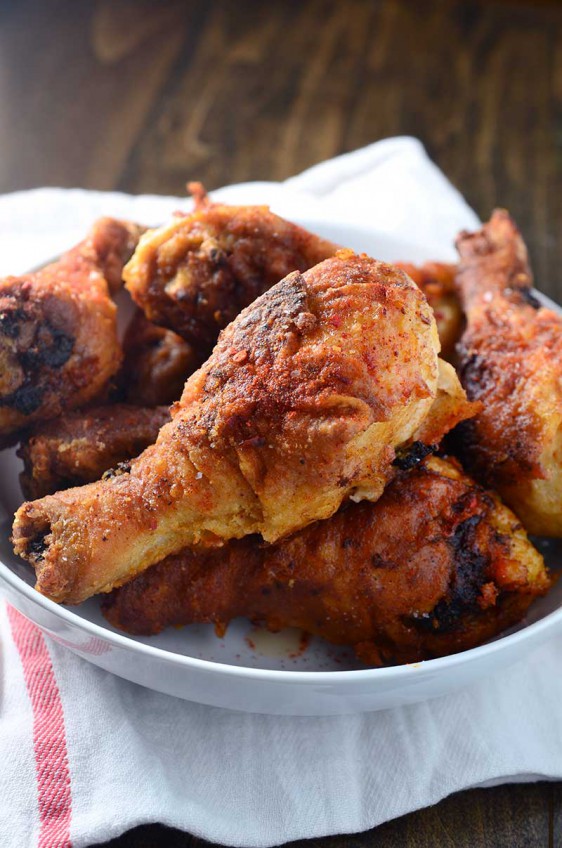 Sriracha Fried Chicken
I know I talk about Sunday dinners a lot on this blog. I think it's just because I always think of Sundays as a lazy day where you spend the time doing what you want, and in my case, that is making my family a down home, stick to your ribs comfort food meal. And to me, nothing says that more than a crispy plate of perfectly fried chicken. For this recipe, I decided to spice things up a bit and threw some sriracha into the mix and made Sriracha Fried Chicken. It's crispy, a little spicy and perfect for Sunday dinner.
I made this chicken the same way I have been making fried chicken for a little over a year now:
Step one: BRINE. BRINE. BRINE.
I cannot stress this enough. Brining your chicken makes all the difference in the world. It's succulent and juicy. It takes time, yes, but its totally worth it. For this brine, I did the basic brine with salt, brown sugar and water but I also added in some garlic powder and some sriracha seasoning that I found at Costco. It's not the same as sriracha sauce but it's a dry seasoning powder that has the same vinegary chili taste.
Step two: After 2 – 4 hours in the brine I rinsed it, pat it dry and let it sit uncovered in the refrigerator for a couple more hours to dry completely.
Step three: Fry covered.
Yep, you read right. I cover my chicken when I am frying it. This allows it to cook on the inside and while being perfectly brown and crispy on the outside. Because seriously, nothing is worse then over done chicken skin with raw chicken on the inside. Frying covered totally helps solve that problem.
With these three steps, I have made batch after batch of fried chicken that my family totally gobbles up. Don't take my word for it though, make it yourself this weekend!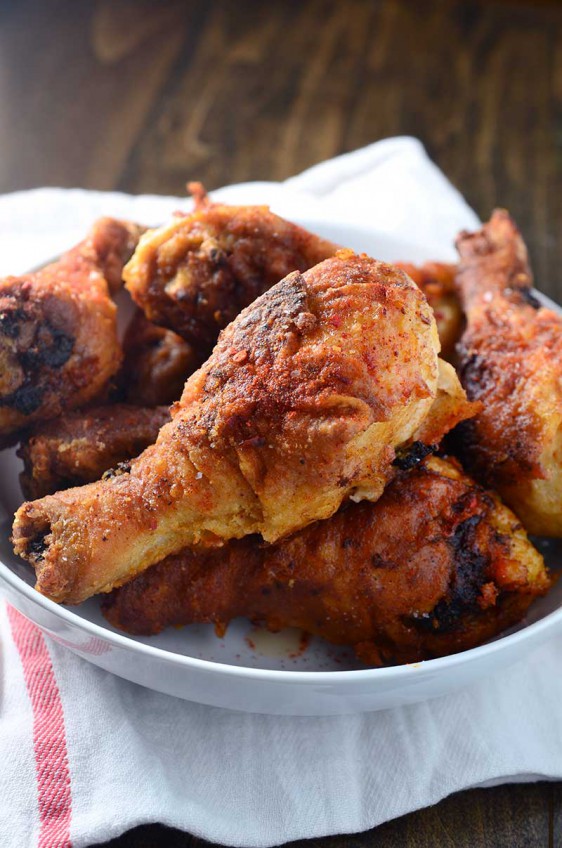 Sriracha Fried Chicken
Brined and Crispy Sriracha Fried Chicken. Succulent, crispy and perfect for sunday dinner.
Ingredients:
2

quarts

cool water

1/2

cup

plus 1 teaspoon kosher salt

1/4

cup

dark brown sugar

2

tablespoons

plus 1 teaspoon sriracha seasoning

divided

1

tablespoon

garlic powder

8

chicken drumsticks

1 1/2

cups

all purpose flour

oil for frying
In a large bowl combine water, 1/2 cup kosher salt, brown sugar, 1 tablespoon sriracha seasoning and garlic powder. Whisk together and allow salt and sugar dissolve.

Place chicken pieces in a gallon size bag. Pour brine over the chicken. Seal and refrigerate for at least 2 hours but not more than 4. You can also complete this step in a non-reactive bowl with a lid.

Rinse and pat dry the chicken. Allow to chill for at least 2 hours in the refrigerator.

When ready to fry, combine flour remaining salt and sriracha powder together in a gallon size plastic bag. Place chicken in bag and toss to coat. Allow to set for 15 minutes.

Turn oven to warm setting. Cover a baking sheet with paper towels and place a cooling rack over the top.

Heat 1 inch of oil in a 12 inch skillet over medium heat. Once the oil is hot lay 4 pieces of chicken in the oil, skin side down, and cover for 6 - 7 minutes or until browned. Turn the chicken and cook another 6 - 7 minutes. Remove the lid and cook an additional 2 minutes or until it is golden brown. Use tongs or a slotted spoon to transfer the chicken to the prepared cooling rack. Place in the warmed oven to keep warm while you cook the remaining chicken.

Once finished with the second batch, transfer all chicken to a serving platter, sprinkle lightly with salt and more sriracha seasoning and serve.
Keywords:
chicken, comfort food, fried chicken, sriracha