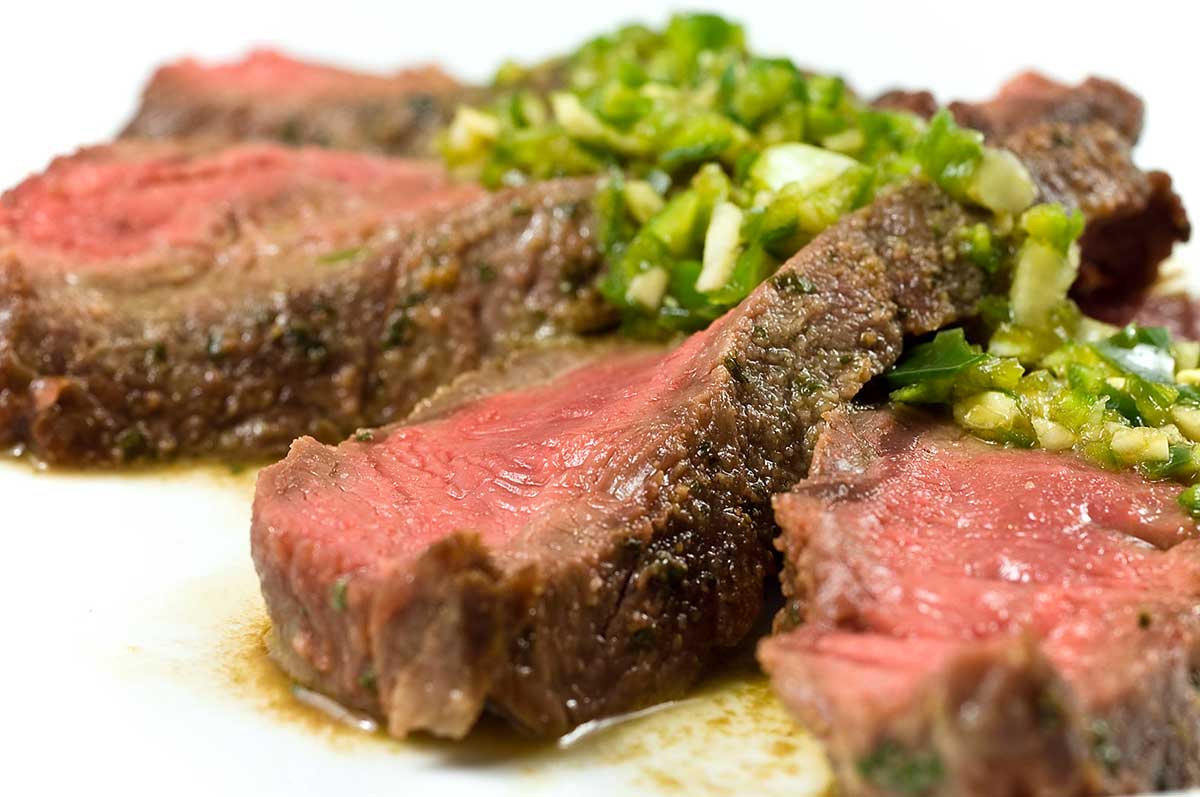 Steak with Chili-Lime Sauce
I get my recipe inspiration from a lot of places. Sometimes friends and family. Sometimes restaurants. Sometimes I get a craving for something that I just can't kick. This recipe is a result of the latter. I wanted something spicy. I wanted something (surprise) garlicky and I wanted a steak. So what better way to satisfy this craving then with a perfectly cooked steak with a spicy chili-lime sauce poured over the top? It's spicy, yet full of flavor and pairs nicely with some jasmine rice.
I'm not gonna lie, this chili-lime sauce is spicy. After all, I use 4 serrano peppers.  But it's spicy in a "my mouth is warm but I just can't stop eating it" kind of way. In other words, I wouldn't eat a spoonful of it, but when it is poured over the top of a perfectly cooked steak it is down right irresistible.
To cut the heat out a little bit I removed the seeds from 2 of the peppers, if you wanted to cut the spice even more you could remove the seeds from all 4 of the peppers. If you want it extra spicy and play like you are on an episode of Man vs Food, then by all means leave in all the seeds, but I am not responsible for the tears that will ensue.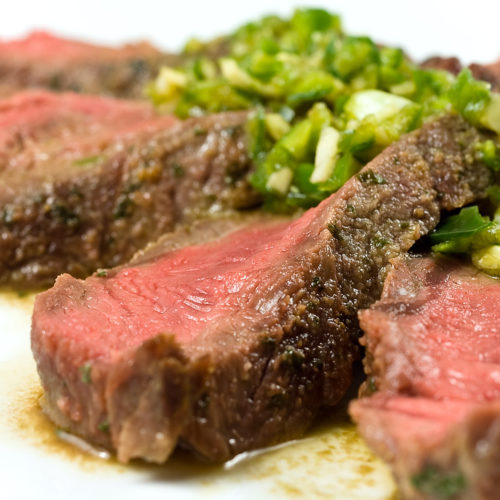 Steak with Chili-Lime Sauce
Perfectly seared steak with a spicy chili-lime sauce.
Remove the seeds from two of the serrano peppers. Add peppers, garlic, soy sauce, fish sauce, lime juice and rice vinegar to a food processor. Pulse until finely chopped. Transfer to a bowl. Cover and refrigerate for 30 minutes.

In another bowl combine garlic powder, dried cilantro and kosher salt. Rub mixture over steak. Allow to rest for about 20 minutes.

Heat sesame and olive oils in a large heavy bottom skillet over medium heat. Cook steaks 3-4 minutes per-side for medium rare. Transfer to plate. Cover and allow to rest for 10 minutes.

Slice and transfer to a serving platter. Spoon chili-lime sauce over the top. Serve immediately.
Serve with plenty of jasmine rice to soak up the spicy sauce and steak juices. Enjoy!
Keywords:
asian, beef, chili, chili peppers, dinner, entree, fish sauce, flat iron steak, Food, garlic, hot, lime, man food, meat, Recipe, serrano, serrano peppers, spicy, steak