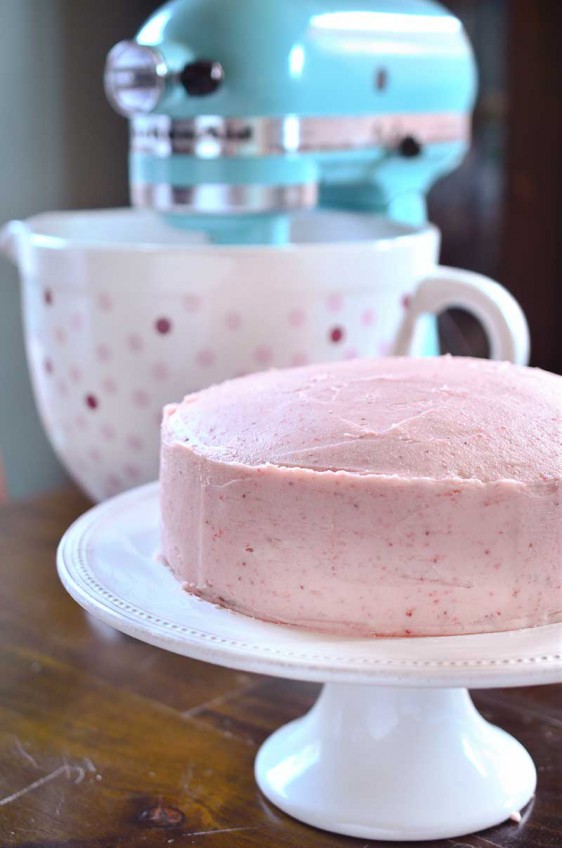 Strawberry Buttercream
I don't know if you have noticed but the strawberries are gorgeous right now. Red. Ripe. Juicy. They are perfect for snacking, tossing in smoothies, salads and this strawberry buttercream.
So why strawberries? Why today? Because, today I have teamed up with KitchenAid for their 14th annual Cook for the Cure Program. During the last 14 years, KitchenAid and Susan G. Koman have raised $10 million for the help in the fight against breast cancer with this program. From pink products and celebrity chef auctions to home-based fundraising events, this program is supporting this meaningful cause.
KitchenAid is also releasing this gorgeous polka dot ceramic bowl to go with their stand mixers to help raise awareness for breast cancer. You can't actually buy the bowl just yet, this is kind of a sneak peak. It will be available in late summer/early fall and would make a fun, bright addition to any kitchen all while helping a great cause.
KitchenAid was kind enough to send me one so I could use it to make my pink recipe. I decided to do a strawberry buttercream because it is a great way to make just about any dessert pink :)
It's also super easy to make. All you need are some fresh strawberries, butter, sugar and vanilla.
If you're counting, that's less than 5 ingredients.
Then, after you whip them all together in your stand mixer, all you have to do is slather it on your favorite baked good and you are good to go! Easy, peasy, strawberry deliciousness.
And also please don't forget to check out the KitchenAid Cook For The Cure Program to see how you can help.
Disclosure: I was provided the ceramic bowl but I was not compensated in any other way. My opinions are my own.

Strawberry Buttercream
Luscious strawberry buttercream with fresh strawberries, butter, vanilla and sugar.
Ingredients:
2/3

cup

fresh strawberry puree

1

cup

2 sticks butter

1

teaspoon

vanilla extract

3 1/2 - 4

cups

powdered sugar
Cook strawberry puree in a pot over medium heat until it reduces to 1/4 cup, about 25 minutes. Remove from heat and allow to cool.

In the bowl of a stand mixer with paddle attachment, cream together butter and 3 1/2 cups powdered sugar until light and fluffy. Beat in vanilla. Beat in cooled strawberries and continue beating until frosting becomes thick and spreadable. If too soft, add remaining 1/2 cup powdered sugar.

Use to frost cakes, cupcakes and other desserts.