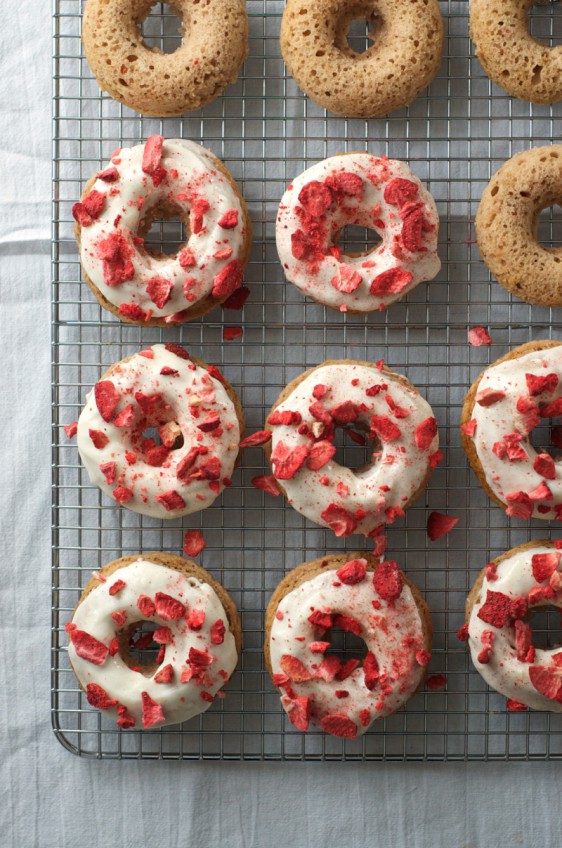 Strawberry Doughnuts with Cream Cheese Glaze
Hey guys! I am SO SO SO excited because today I get to introduce you to Lucy from Turnip the Oven. She has joined Life's Ambrosia as a contributor and I couldn't be more happy to have her. I mean seriously guys, today she's brought with her these Strawberry Doughnuts with Cream Cheese Glaze. It doesn't get much better than that am I right?! -Des
My husband and I recently bought our first house (!) and when we moved, I discovered that I was somehow the owner of not one, but two identical doughnut pans. I vaguely remember buying one of them, but I thought I had given it away years ago when we were still living in Brooklyn. Our apartment was tiny, and every so often I would go on crazy "throwing out" sprees in an effort to make space.
 But now that I have two doughnut pans, and ample cabinet space in which to store them, I'm really excited to bake some doughnuts!
 These strawberry doughnuts with cream cheese glaze were dreamed up with my son in mind. He is three years old and he loves his berries (seriously, I've watched him put away an entire package of raspberries and then ask for more). Like every three-year-old, he also loves his doughnuts—especially frosted ones.
 I wanted to bake healthy(ish) doughnuts I could feel good about feeding him—not too much sugar, and definitely no artificial colors or ingredients. The strawberry flavor in these doughnuts comes from a full 1/2 cup of strawberries that is blended up and stirred right into the batter.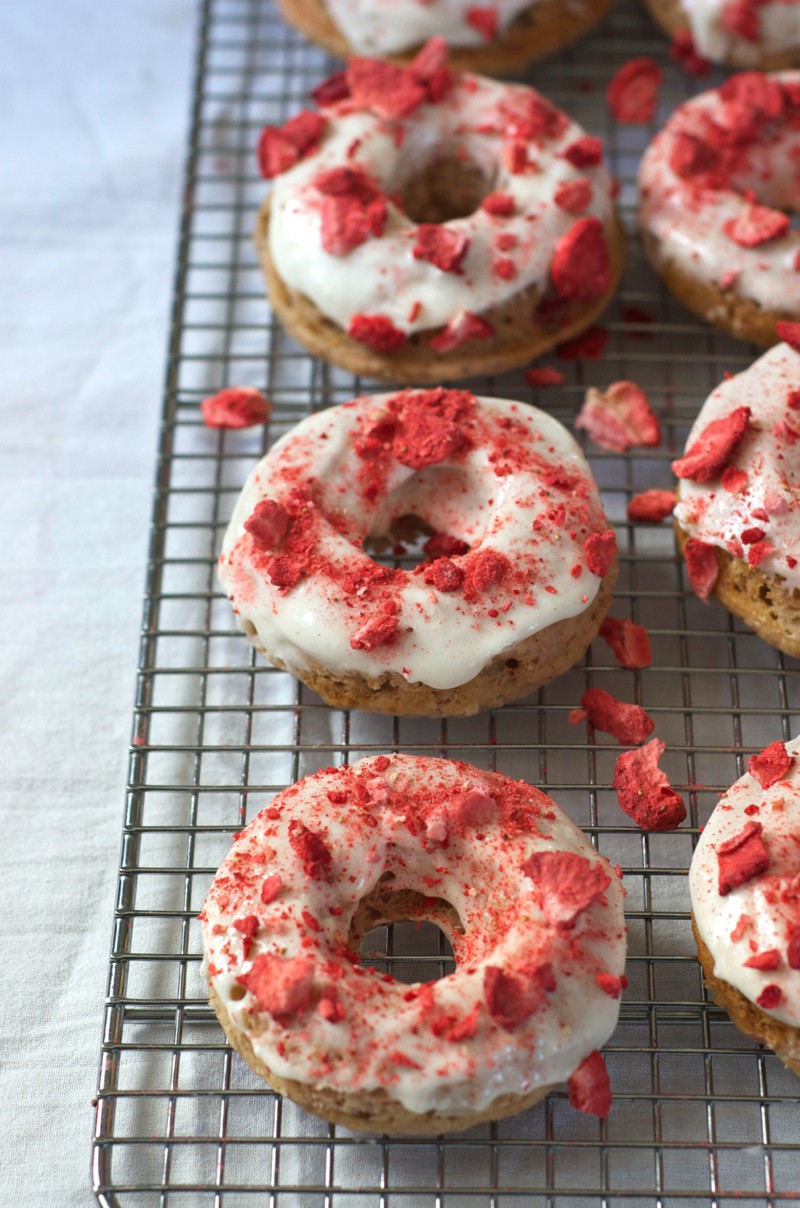 Because I didn't use any red dye, the doughnuts themselves aren't pink. But don't worry! That's why we're going to shower them with crushed freeze-dried strawberry "sprinkles." (I bought mine at Trader Joe's and I've also seen them for sale at CVS.) I think the end results look so pretty and perfect for spring.
 If you've never baked doughnuts before, here are a few simple tips. Most doughnut pans have a really well-treated nonstick surface, so you just need to spray them with a little nonstick spray (no need to flour them as well). Resist the urge to fill the donut "cups"—they should only be 1/3 to 1/2 of the way full. Otherwise, as they bake they will rise and fill the hole. If that does happen, use a small sharp knife to cut it out once the doughnuts have cooled.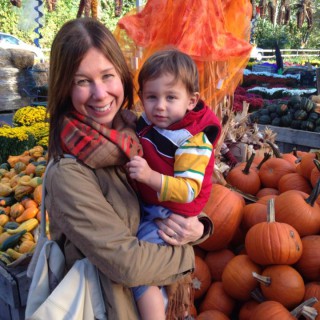 Connect with Lucy Blog ~ Facebook ~ Pinterest ~ Instagram ~ Twitter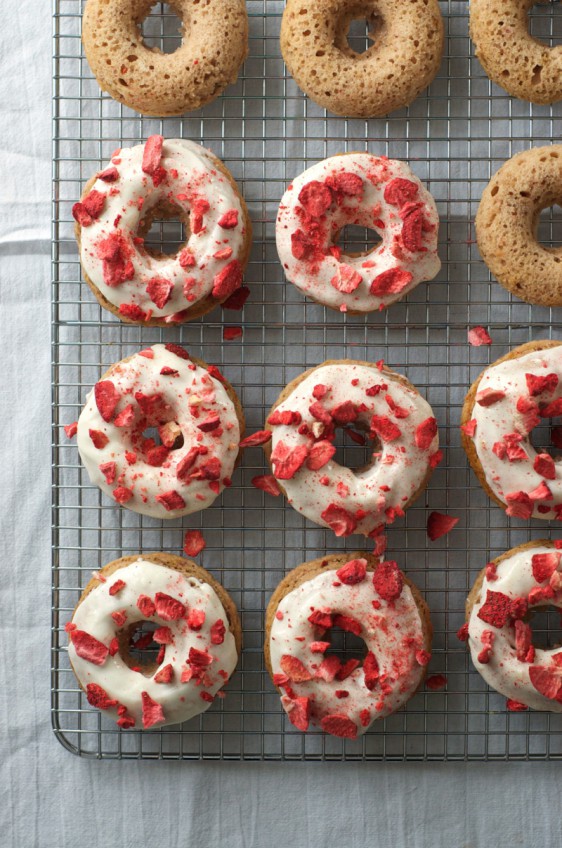 Strawberry Doughnuts with Cream Cheese Glaze
Baked strawberry doughnuts with cream cheese glaze are the perfect sweet treat to start your day!
For the Strawberry Doughnuts:
For the Cream Cheese Glaze:
1 1/2

cups

confectioners sugar

4-6

tablespoons

milk

2

tablespoons

cream cheese

softened

1/2

teaspoon

vanilla extract
Preheat the oven to 350°F. Lightly spray a doughnut pan with nonstick spray.

Put the strawberries in a food processor and process until pureed. Measure out 1/2 cup and set aside. (If you have any extra, save it and stir into yogurt!)

In a large bowl, whisk the flour, baking powder, baking soda, salt, and sugar.

In a medium bowl, whisk the melted butter, egg, buttermilk, vanilla, and strawberry puree. Pour the wet ingredients into the dry and stir until just combined.

Using a small spoon, dollop the batter into the prepared doughnut pan, filling each doughnut about 1/2 way full. Gently smooth the surface of each doughnut.

Transfer to the oven and bake until the doughnuts spring back when pressed gently, about 12 to 15 minutes. Remove from the oven and let cool 10 minutes. Transfer the baked doughnuts to a rack to cool completely. Repeat with remaining doughnut batter.

While the second batch of doughnuts is cooling, make the glaze. In a medium bowl, beat the confectioners sugar, 4 tablespoons of milk, and the cream cheese until thick and no lumps remain. If the glaze is too thick, beat in another 1-2 tablespoons milk. Beat in the vanilla.

Working with one doughnut at a time, gently dip the top into the glaze. Use a butter knife to smooth it evenly. Transfer to a rack and repeat with remaining donuts. Sprinkle the doughnuts with the crushed freeze-dried strawberries. Let the doughuts stand until the glaze has set, about 1 hour. Doughnuts can be stored in an airtight container at room temperature for up to 1 day and in the refrigerator for up to 3 days.
Note: Unless you have two doughnut pans, simply bake these in batches. Enjoy!
Keywords:
baked doughnuts, Cream Cheese, doughnuts, strawberry