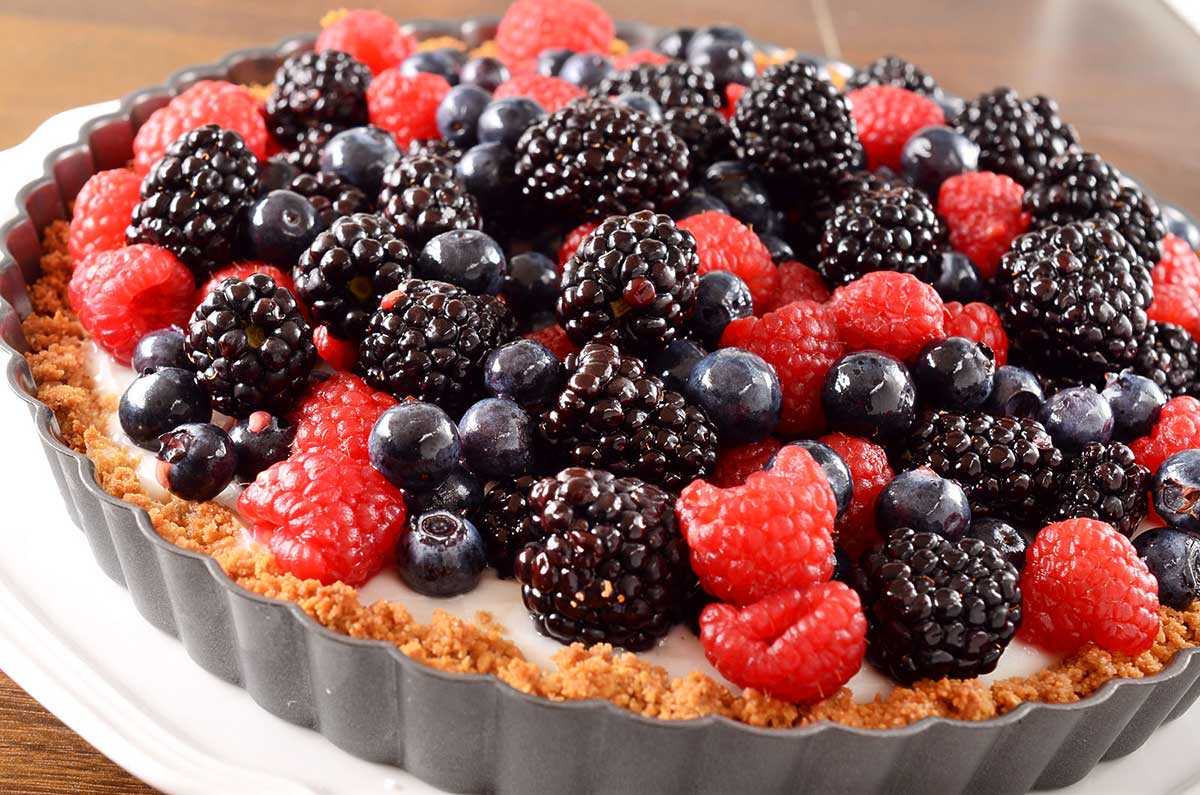 Summer Berry and Coconut Pudding Tart
As we get ready to celebrate the 4th of July in a couple of weeks, I thought now would be a good  time to share a dessert perfect for your BBQ.  It's delectable with a sweet, crumbly graham cracker crust, creamy coconut pudding and tart summer berries. Seriously, this may be my new favorite summer dessert.
I don't have much experience making pudding so I did some research and discovered that it is actually really simple. For this recipe I used five ingredients that I always have on hand including canned coconut milk. Most pudding recipes call for cow's milk but since I am still avoiding dairy, I decided to give coconut milk a try. The result is a thick, scrumptious pudding that I could eat by the bowl full and one that worked unbelievably well in this dessert.
Summer Berry and Coconut Pudding Tart Recipe
Ingredients:
1 1/2 cups graham cracker crumbs
5 tablespoons coconut oil, melted
1/4 cup plus 1 tablespoon baker's sugar
2 tablespoons cornstarch
1/4 teaspoon kosher salt
1 (13.9 ounce) can coconut milk (not fat free)
1 teaspoon vanilla
6 ounces fresh raspberries
6 ounces fresh blackberries
6 ounces fresh blueberries
Instructions
1
Preheat oven to 350 degrees.

2
Combine cracker crumbs, melted coconut oil and 1 tablespoon baker's sugar together in a bowl. Mix well. Press into the bottom of a tart pan. Bake for 10 minutes or until slightly browned. Remove from oven and allow to cool while you prepare the pudding.

3
Combine 1/4 cup sugar, cornstarch and kosher salt in a bowl.

4
Heat coconut milk in a pan over medium heat just until the edges begin to bubble. Slowly whisk in 1/4 of the cornstarch mixture. Mix until dissolved, being careful of clumps. Repeat until all of the cornstarch mixture is mixed in. Continue cooking, over medium low heat until thickened , 5- 7 minutes. Do not boil. Remove from heat and stir in vanilla.

5
Pour pudding mixture into cooled crust. Cover, pressing plastic wrap against the top of the pudding and refrigerate for 4 - 5 hours until set.

6
When ready to eat, mix berries together in a bowl. Scatter over the top of the pudding. Serve chilled.