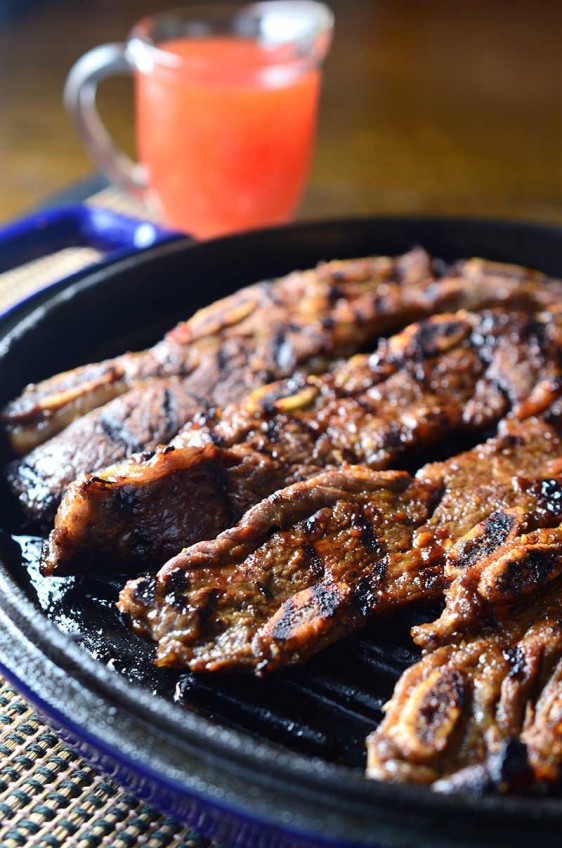 Sweet Chili Flanken Ribs
It's only April and we've already broken out the grill a few times. We've made burgers, dogs, steaks. Grilled veggies and fruit. It's basically grilling season here in the Life's Ambrosia household and these Sweet Chili Flanken Ribs are a new favorite.
All of this grilling, you'd think that one would check the level in the propane take before she started to grill.
And you'd be wrong.
You see, I planned to make these a few weeks ago. The night before I wanted to cook them, before I went to bed, I whisked the ingredients for the marinade together, put it all in a bag, gave it a good shake and refrigerated it. I knew they were going to be good. I could already tell.
Fast forward to the next night when it was time to grill. I preheat the grill, removed the ribs from their sweet chili sauce bath, placed them on the hot grill and anxiously awaited perfectly cooked flanken ribs.
Then, I kid you not, not 1 minute after I set the last rib on the grill, my grill made a lovely puft puft puft psssss sound.
Flames. Gone.
Yep, I didn't run of out propane as the grill was heating. I didn't run out of propane right after I pulled the food off. I ran out of propane about halfway through the cooking process.
I saw my vision of tender, marinated, perfectly grilled flanken ribs fly out the window.
I thought maybe I could salvage it and shut the grill really fast in hopes that, since they are thin, the flanken ribs would cook with just the heat that was leftover in the grill.
No such luck.
I was scrambling, trying to figure out how I would finish these. This recipe, after wall, was 10 hours in the making and I didn't just want to give up on it. Then, I remembered that I had a grill pan.
HALLELUJAH!
It saved the day! The ribs tasted fantastic. Sweet, a hint of spicy and perfectly cooked.  Sure using a grill pan, is not EXACTLY like using an outdoor grill. But it totally works. I still got those lovely grill marks I was looking for and that little bit of char.
I'm so glad I had the back up of the grill pan. Next time though, to save myself the frantic running around with a plate of half cooked ribs, I think I'll just remember to refill the propane tank.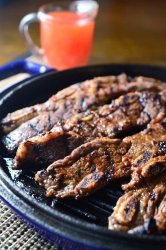 Sweet Chili Flanken Ribs
Flanken Ribs marinated overnight in sweet chile sauce and then grilled to perfection.
Ingredients:
3/4

cup

sweet chili sauce

2

tablespoon

soy sauce

2

tablespoons

rice vinegar

3

cloves

garlic

minced

2 3/4 - 3

pounds

flanken cut beef ribs
Whisk chile sauce, soy sauce, rice vinegar and garlic together in a bowl.

Place ribs in a resealable plastic bag. Pour marinade over the top and seal. Shake to coat ribs in marinade. Refrigerate 8 - 10 hours or overnight, turning once to redistribute the marinade.

Preheat grill (or grill pan) to medium-high heat. Remove ribs from marinade and grill 2 - 3 minutes per-side. Transfer to a plate and serve.