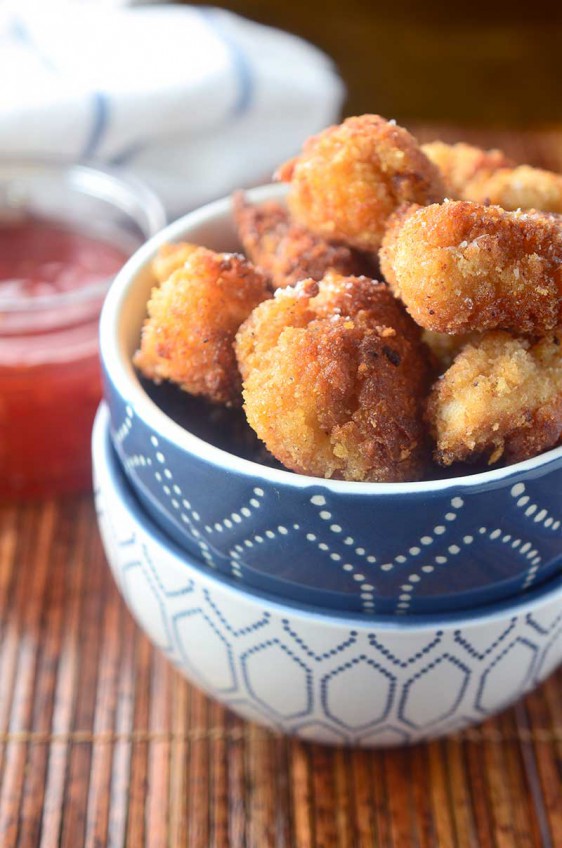 Sweet Chili Popcorn Chicken
Are you a fan of crispy, crunchy chicken? A fan of sweet chili sauce? If you answered yes to both of these you are absolutely going to love this Sweet Chili Popcorn Chicken. It was a huge, huge hit in our house and I'm pretty confident it'll be a huge hit in yours too.
Let's be honest, when it comes to eating with kiddos, things can be…difficult. I always knew though that it would be a rule in our house that I make one thing for dinner and you eat that. If you don't there is no dessert or snacking later. It's kind of tough but so is making a different meal for everyone. But because I am not one that likes seeing my little guys hungry,  I am always looking for crowd pleasers. By crowd pleasers, I don't just mean a meal that everyone takes a little bite out of here and there. I mean meals where my little guys gobble down their first plate and ask for more. That is exactly what happened with this Sweet Chili Popcorn Chicken.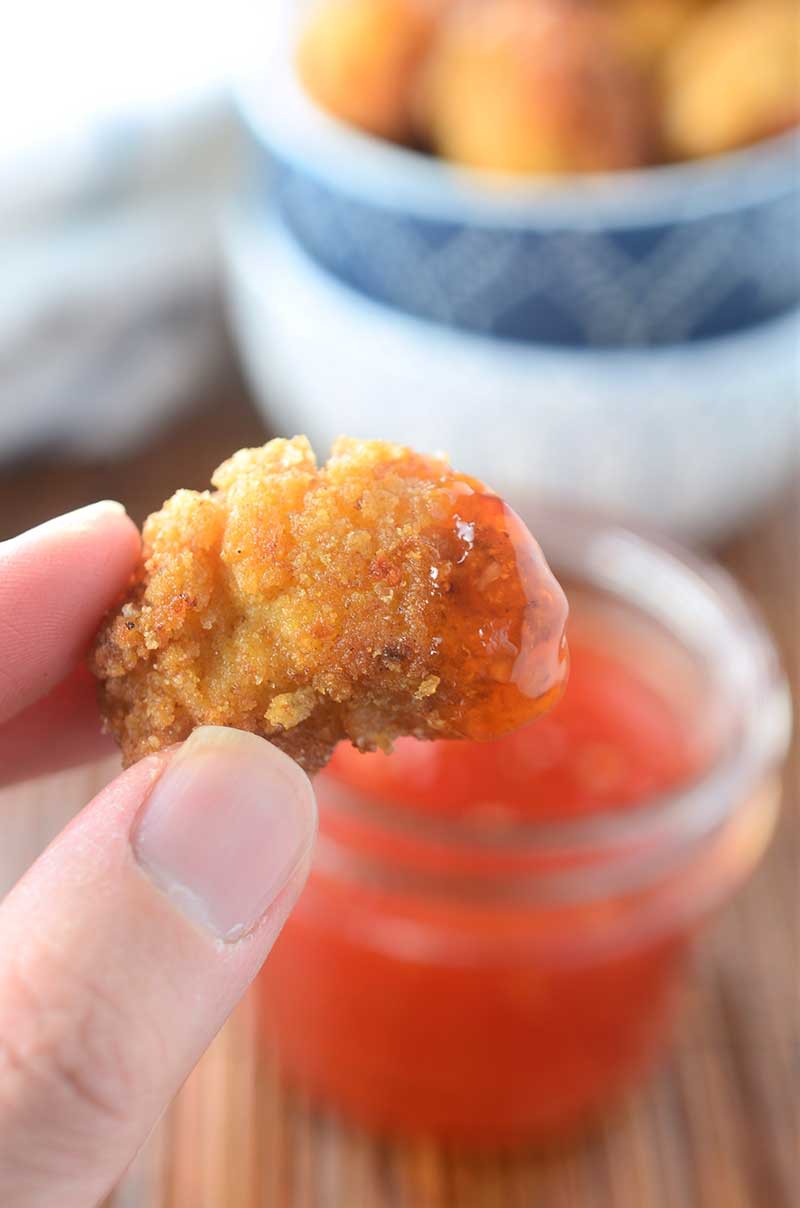 The first thing that makes this popcorn chicken a winner, especially for the little ones, is the fact that it's in bite size pieces. Easy for little hands to old and little mouths to bite.
The second thing that makes it a winner, is the sweet chili marinade. It's simply sweet chili or Thai sweet chili sauce, soy sauce and rice vinegar. The hard part is that you do have to marinate it for at least 6 hours, so plan ahead. You want to do this because you really want that sweet chili flavor to work it's way into the chicken.
The final thing that makes this Sweet Chili Popcorn Chicken a total winner is the coating that you get from the combo of plain and panko bread crumbs. It is crispy, crunchy and all kinds of delicious.
Seriously guys, popcorn chicken does not get much better than this.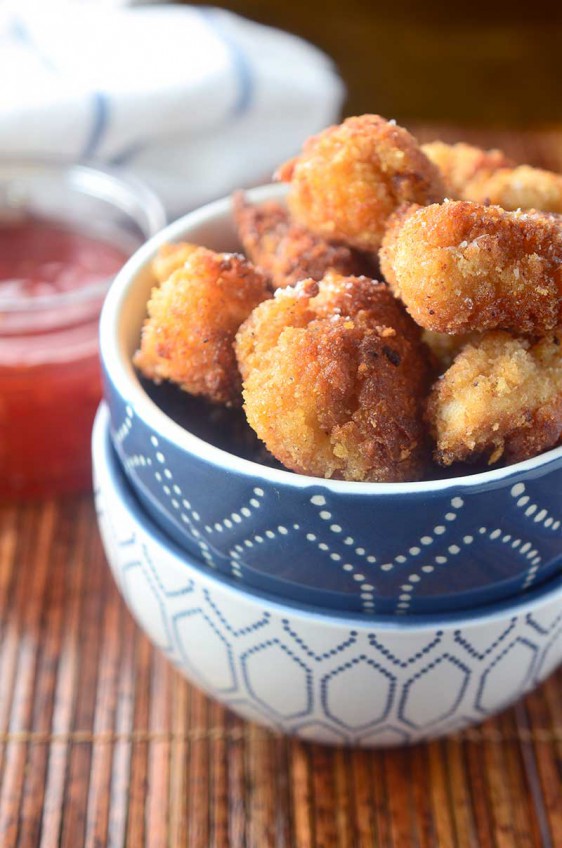 Sweet Chili Popcorn Chicken
Bite sizes chicken marinated in sweet chili sauce then coated in bread crumbs and fried until golden. This Sweet Chili Popcorn Chicken is a crowd pleaser!
Ingredients:
1/2

cup

sweet chili sauce

or Sweet Thai Chili Sauce

1

tablespoon

soy sauce

1

tablespoon

rice vinegar

1

pound

about 2 boneless skinless chicken breasts, diced into bite size pieces

1

cup

all purpose flour

1/4

cup

milk

1

egg

1

cup

panko bread crumbs

1/2

cup

plain dry bread crumbs

1/2

teaspoon

salt

1/2

teaspoon

granulated garlic

oil for frying

such as avocado or canola
Whisk together sweet chili sauce, soy sauce and vinegar. Place chicken in a container and pour sauce over the top and toss to coat. Cover and refrigerate for at least 6 hours or overnight.

Set up an assembly line. Place flour on one plate. Whisk together egg and milk in a bowl. Combine panko, plain bread crumbs, salt and granulated garlic on another plate.

Remove chicken from marinade and shake off excess. Dredge pieces in flour, dip in egg/milk wash and then dredge in bread crumbs. Repeat until all chicken pieces are coated.

Heat a 1/4 inch of oil in a skillet over medium heat. Drop a couple bread crumbs in oil and if they sizzle it's ready. Fry chicken, in batches about 2 minutes per side or until golden brown and cooked through. Use tongs to transfer to a paper towel lined plate. Sprinkle with salt. Repeat until all chicken is fried. Serve immediately.
Keywords:
chicken, chili sauce, popcorn chicken