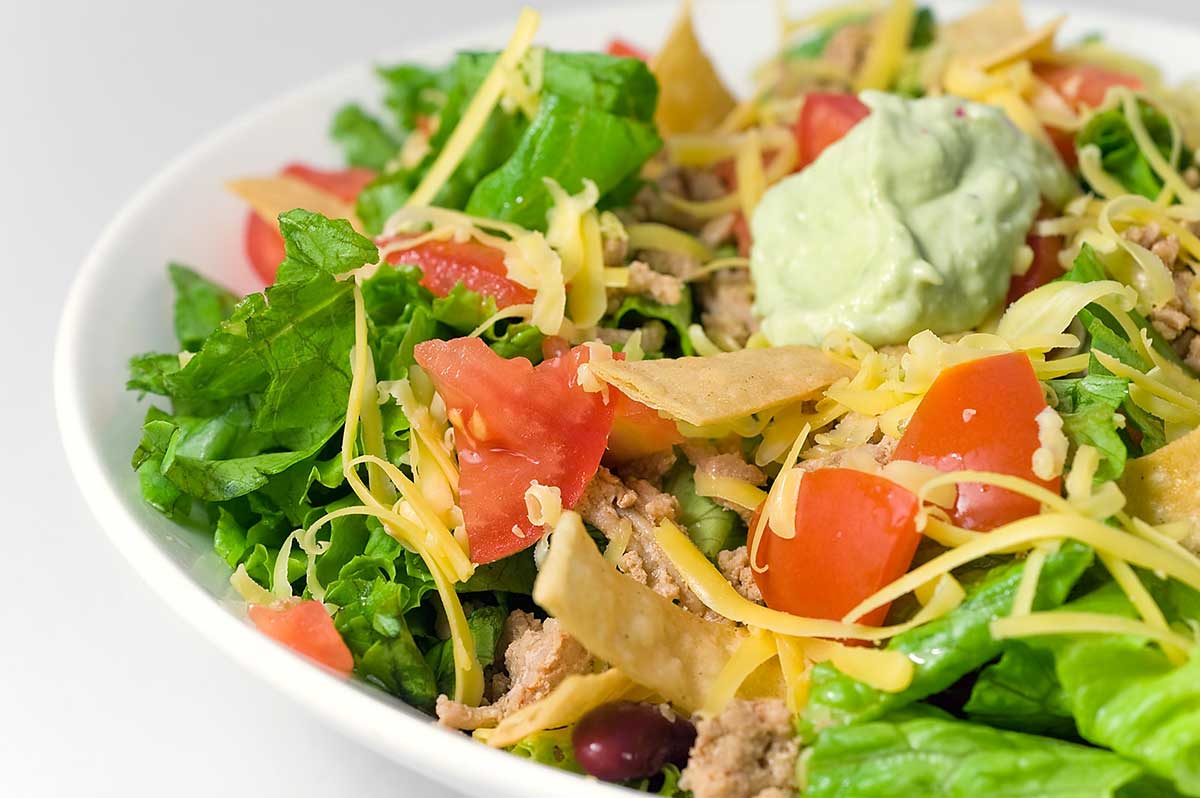 Taco Salad with Spicy Avocado Dressing
Taco salad with spicy avocado dressing is a filling, flavorful, healthy main course salad. This taco salad recipe combines lean ground turkey, your favorite taco toppings, and homemade avocado salad dressing.
Ryan and I do not eat a lot of big salads. Sure we eat simple salads as a starter, but very rarely is salad all that we have for dinner. However, this week has been really busy, both at work and at home, so I was looking for some quick fix meals. This taco salad with spicy avocado dressing fits the bill perfectly. It is loaded with all of my favorite taco fixins, like beans, tomatoes, cheese, tortilla strips and seasoned ground turkey.
But the star of this easy main course salad is the spicy avocado dressing the taco salad is tossed in.
When it comes to salad dressings, more often than not, I am a vinaigrette kind of girl. But I got the idea for an avocado dressing after going to lunch with my mother-in-law a couple of weeks ago. We went to a favorite Tex-Mex style restaurant while we were visiting family. My mother-in-law ordered a salad that came with ranch avocado dressing. While I like the idea of avocado ranch, I've had a lot of ranch lately.
So, I decided to take the avocado element and make a spicy dressing for my taco salad. The dressing is thick, creamy and dresses this salad nicely. And I must confess, maybe now I am a spicy avocado dressing kind of girl.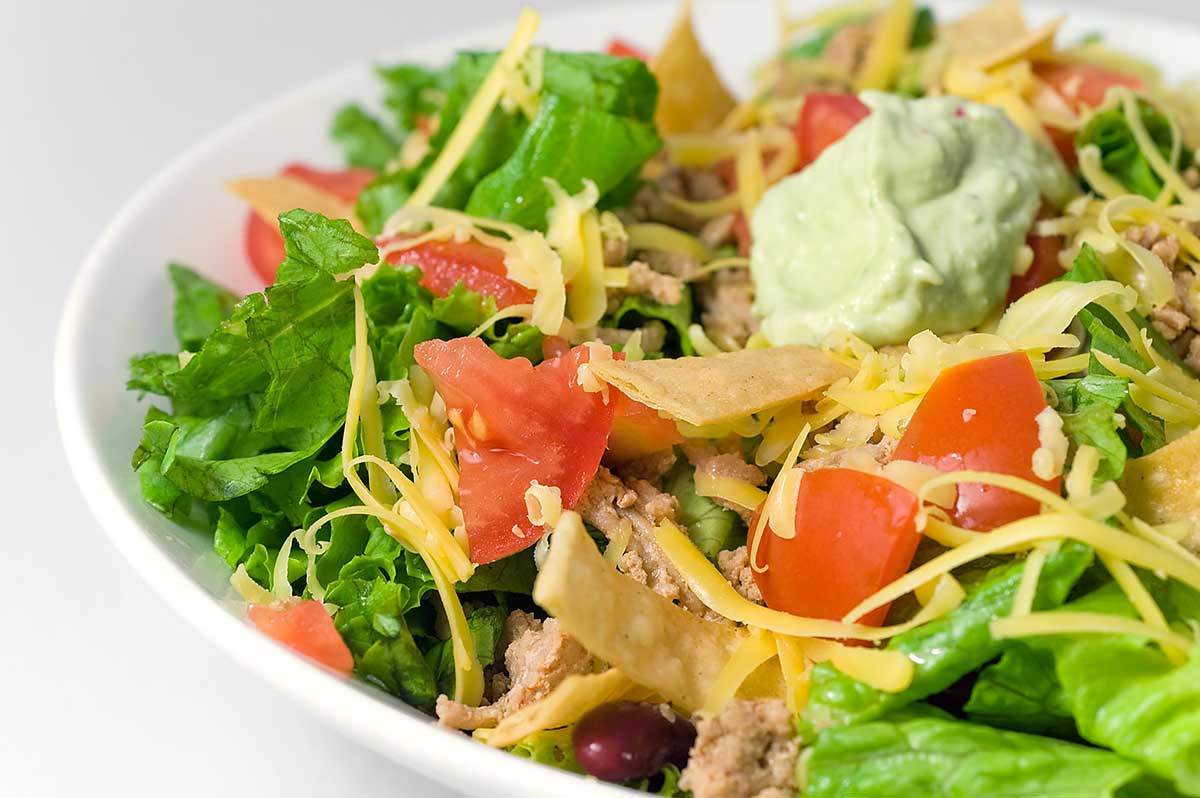 You can add whatever toppings you like to your taco salad, but don't skip the spicy avocado dressing!
Come over and visit my Facebook page and let me know what toppings you add to your taco salad!
Taco Salad with Spicy Avocado Dressing Recipe
Dressing Ingredients:
1 large avocado, pitted, skin removed
2 tablespoons minced red onion
2 tablespoons white wine vinegar
1/4 cup mayonnaise
1/4 cup sour cream
juice of 1/2 lime
1/4 teaspoon ground cumin
1 jalapeno, chopped
1/4 teaspoon garlic powder
salt to taste
Salad Ingredients
1/2 pound ground turkey

1/4 teaspoon chili powder

1/4 teaspoon ground cumin

1/4 teaspoon garlic powder

salt to taste

2 corn tortillas cut into strips

oil for frying

1 head green leaf lettuce, washed and chopped

2 tomatoes, seeded and diced

1/2 (15 ounce) can kidney beans, drained

1 cup shredded cheddar cheese

2 green onions, chopped
Instructions
1
Combine dressing ingredients in a food processor. Process until smooth. Cover and chill for 30 minutes to 1 hour.

2
In a skillet brown ground turkey. Season with chili powder, cumin, garlic powder and salt to taste.

3
Heat 1/2 inch of oil in a saucepan. Once hot, fry tortilla strips until golden brown. About 3-5 minutes. Transfer to paper towel lined plate. Sprinkle with salt and set aside.

4
Depending on how much dressing you like spoon about 1/3 to 1/2 of the dressing in the bottom of a large salad bowl. Add lettuce, meat, tomatoes and kidney beans. Toss to coat. Top with tortilla strips, cheddar cheese and green onions. Serve.
Notes
If you don't want to make the tortilla strips, you can break up some tortilla chips over the top for a nice crunch. Enjoy!