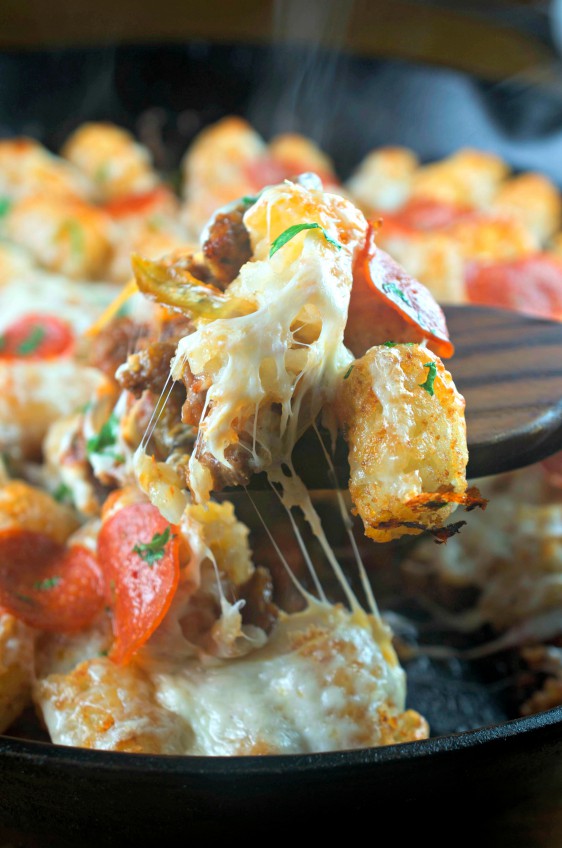 Tater Tot Pizza Casserole
Pizza Friday was a thing in our house for a long time. Every week we'd think of new toppings to add. It was something that we looked forward to each and every week. And while it was good and all, today I've got something that is giving it a run for it's money: Tater Tot Pizza Casserole. That's right. All of your favorite pizza toppings underneath a bed of crispy tater tots, melty mozzarella and spicy pepperoni. I'm not lying when I say that this is comfort in a skillet.
If you are a big fan of pizza and a big fan of tater tots you are going to L-O-V-E this Tater Tot Pizza Casserole. It is so scrumptious. First, I loaded it with Italian sausage, pepperoni, green bell peppers, onions and mushrooms. Then I topped the whole dang thing with tater tots and baked it until the tater tots were nice and crispy. Next, I layered on the mozzarella and even more pepperoni before finishing it off in the oven for just a few more minutes until it was nice, golden brown and bubbly.
And besides all the deliciousness, the other awesome thing about this casserole is that it uses ONE skillet. That's right ONE dish.
Busy weeknight night dinners don't get any better than this so head on over to my dear friend Carrian's blog, Oh Sweet Basil, where I am sharing the recipe for this Tater Tot Pizza Casserole.
Have a great weekend, friends!