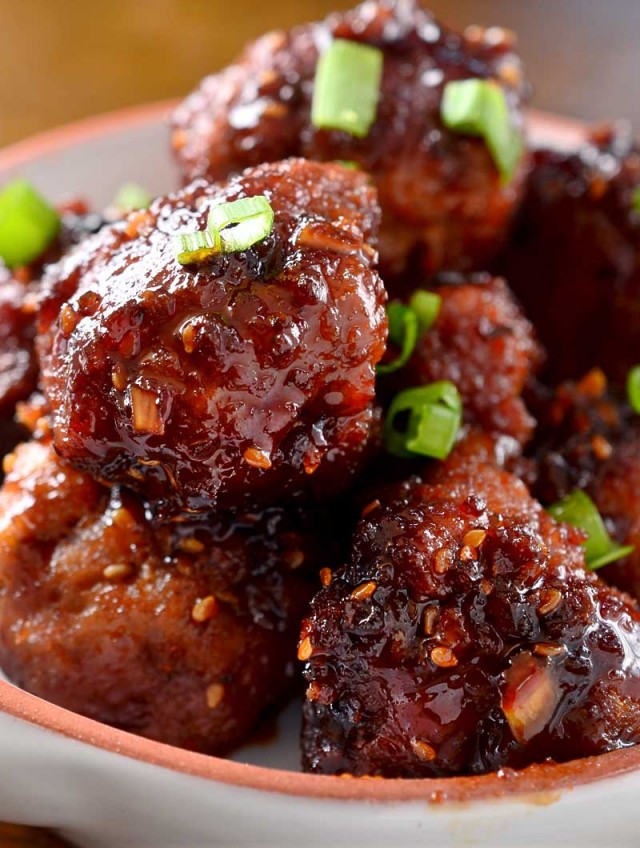 Teriyaki Turkey Meatballs
I made these meatballs the other night for dinner when I was wondering what to do with some ground turkey I bought.  In this recipe ground turkey is combined with garlic, green onions, ginger, hot oil and sesame oil. The mixture is rolled into bite size meatballs, browned and then simmered in a teriyaki sauce.

Teriyaki Turkey Meatballs Recipe
Ingredients:
1 pound ground turkey
2 cloves garlic, minced
3 green onions, diced
1 egg beaten
1/2 cup bread crumbs
1 teaspoon kosher salt
1/2 teaspoon ground ginger
1 teaspoon sesame oil
1 teaspoon hot oil
2 tablespoons olive oil
2 cloves garlic minced
1 cup teriyaki marinade (I like Veri Veri Teriyaki because it has sesame seeds in it)
1 teaspoon soy sauce
1 teaspoon siracha sauce (optional)
Instructions
1
Combine first nine ingredients together in a bowl. Mix well. Form into about 20 meatballs.

2
Heat olive oil in a skillet over medium heat. Brown the meatballs on all sides, about 6 minutes, they will finish cooking in the sauce. Depending on the size of your pan you made need to do this in batches.

3
Combine remaining ingredients in a bowl.

4
Once the meatballs have browned, return all of them to the pan. Pour sauce over and gently stir to coat. Cover and simmer for 20-25 minutes.
Notes
I served these over jasmine rice and topped with a little green onion, but now that I am thinking about it, you can stick them with toothpicks and they might also be a good appetizer. Enjoy!