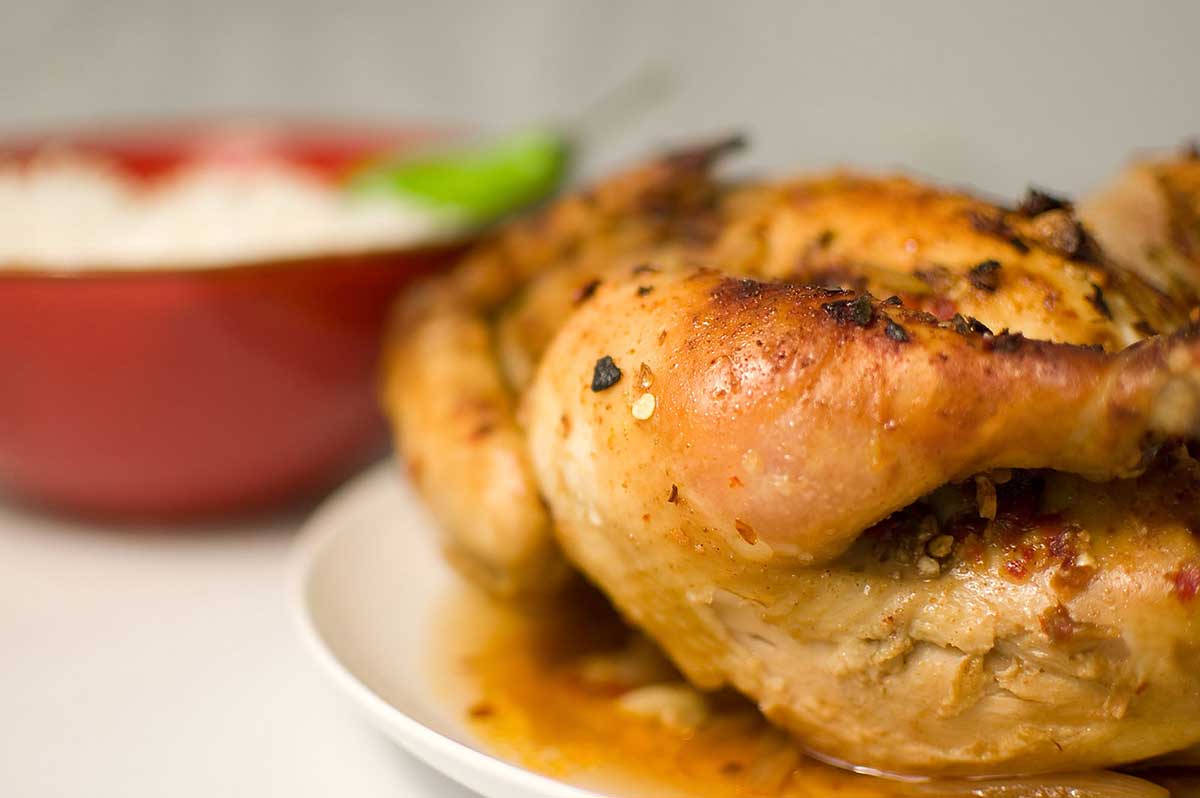 Thai Spiced Roasted Chicken
Whole chickens were on sale the other day at my local grocery store so I decided to pick one up. When it came time to cook it I was kind of at a loss for what I wanted to do. I wasn't sure if I wanted to go traditional and make something like my recipe for oven roasted chicken or if I wanted to spice it up a bit and try something a little different. When I am feeling indecisive like this, which  can actually happen quite often, I ask Ryan what he would like and as you can see, we decided to go with something a little different. First I coated the chicken with a blend of Thai seasoning, serrano peppers, fresh ginger, fresh garlic and some kosher salt. Second, I sliced some onions and a few more cloves of garlic and sprinkled that around the chicken. Third, I mixed a little chicken broth with chili paste and soy sauce and poured that over the chicken before roasting. The result was a succulent roasted chicken with just a little kick.
Another great thing about this dish is that the roasting chicken, sliced onions, garlic and seasonings make the perfect sauce to ladle over some steaming jasmine rice.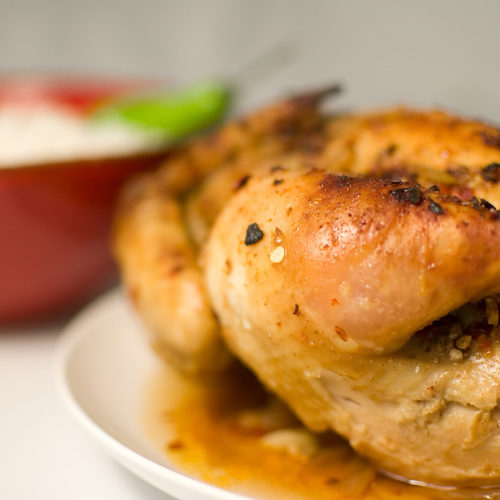 Thai Spiced Roasted Chicken
A spicy twist on roasted chicken with Thai seasoning, sambal oelek and serrano peppers.
Ingredients:
1

3.5 pound chicken, neck and giblets removed (usually wrapped inside the body cavity)

2

tablespoons

Thai seasoning blend

found in the spice aisle of your local grocery store

1-3

serrano peppers

minced (I say 1-3 depending on the amount of spice you would like, I like spicy so I used 3)

1

teaspoon

freshly grated ginger

3

garlic cloves

minced, plus 4 cloves chopped

1

teaspoon

kosher salt

1

tablespoon

olive oil

1

cup

chicken broth

2

tablespoons

sambal oelek chili paste

found in the Asian section of your local grocery store

1

tablespoon

soy sauce

1/2

onion sliced

3

cups

prepared jasmine rice
Preheat oven to 425 degrees.

Rinse the chicken and pat dry. The drier the better.

In a bowl combine Thai seasoning, serrano peppers, ginger, minced garlic and salt. Rub 1/4 of the seasoning mixture inside the cavity of the chicken. Gently separate the skin from breast of the chicken and rub about 1/4 of the seasoning mixture under the skin, being careful not to tear the skin. Brush the outside of the chicken with olive oil. Rub the remaining seasoning mixture over the outside of the chicken, the chicken will turn a reddish color.

In another bowl mix together chicken broth, sambal oelek and soy sauce.

Place the chicken in a dutch oven or roasting pan. Pour chicken broth mixture over the chicken. Lay sliced onions and chopped garlic around the chicken. Roast for 45-60 minutes or until a meat thermometer inserted into the thigh registers 175 degrees, baste every 20-25 minutes. Remove and let rest for 10-15 minutes. Chicken will continue to cook, chicken is done when internal temperature is 180 degrees.

While the chicken is resting use a spoon to skim the fat from the top of the sauce.

Once the chicken has rested, carve. Serve on a bed of jasmine rice and spoon the sauce over.
If you are not a huge fan of spicy food, you can always tone down the amount of spice by eliminating the serrano peppers and sambal oelek, it is still just as delicious. Enjoy!
Keywords:
chicken, comfort food, Food, jasmine rice, Recipe, roasted chicken, sambal oelek, serrano peppers, spicy food, Thai seasoning