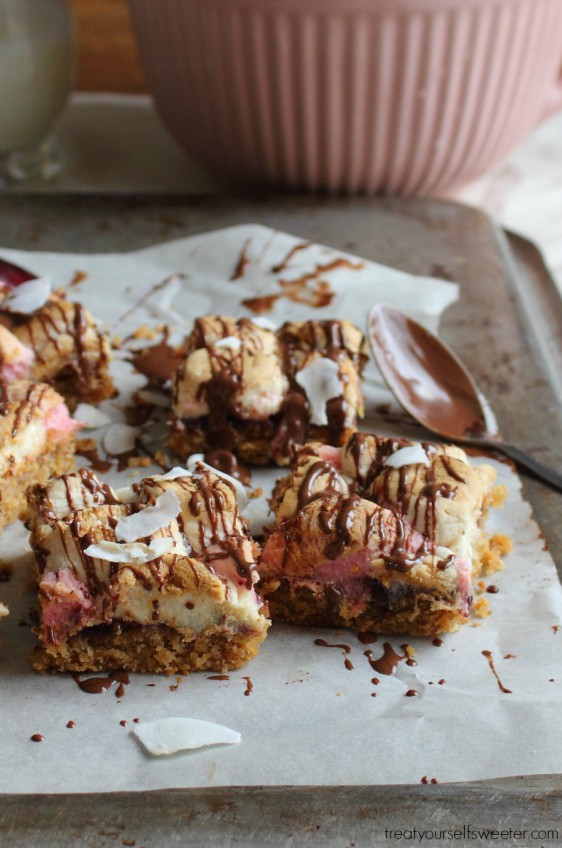 Toasted Marshmallow Bars
Hi guys! I'm so happy that Kirsten is back to share another scrumptious recipe! These Toasted Marshmallow Bars are absolutely gorgeous and would make the perfect dessert to bring to any potluck this summer. I hope you enjoy them and don't forget to visit Kirsten's blog for more amazing dishes! ~ Des
Things are meant to get easier the more you do it… but it isn't working for me…
Last week was seriously a blur, between a public holiday, an all day meeting in the city and the control freak in me who needed to make sure EVERYTHING was perfect when I left my class for the replacement teacher…  I eventually packed up and walked out of the classroom on Thursday.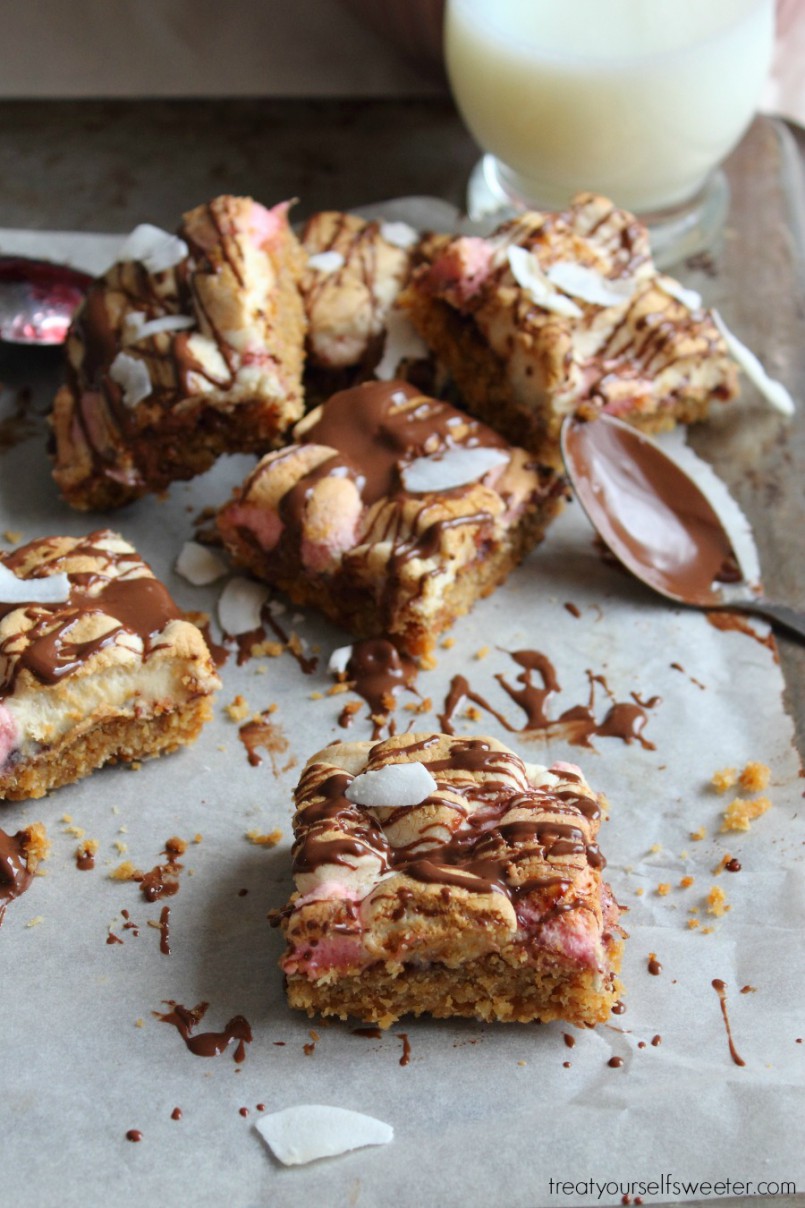 I headed home. Home home… the place I was born, where my family is… in the country. The drive is long and boring, but no matter how much I am not looking forward to it–whenever I get home… the drive was totally  worth it.
I spent the days taking both my Grandmas out for coffee, shopping with my Mum, eating cheese, drinking tea and 'discussing' things with my complete – opposite but wonderful sister… big sisters are ALWAYS right, yeah? ;) Something never change…
So after a belly full of coffee, bacon and some of Grandma's cakes… it was time to hit the road. Again.
Leaving is always hard… and with a squeeze from Mum and a kiss from Grandma, my trip was over.
When I got home, I took out my cookbook that I have been putting together since I was a kid. It is filled with handwritten recipes from my Mum, grandparents and friends… I love how food can transport you to  a time, place or make you feel close to people…
So here is memory from me to you… Toasted Marshmallow Bars. Pretty good memory to have too ;)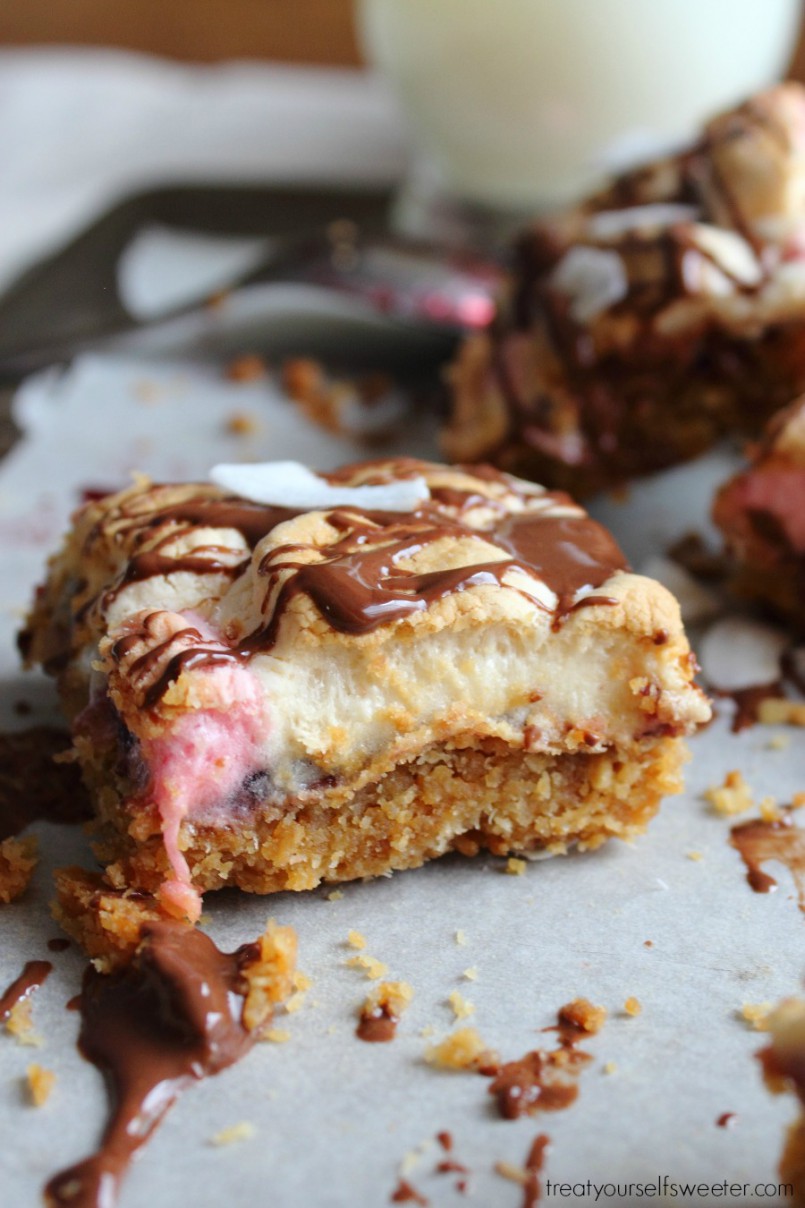 If you want to change it up, replace the jam (or to those on the other side of the world to me, jelly… jelly here is something different… so it sounds weird to me!) with Nutella …. So. Freaking. Good!
Do you have a home-sick food cure? I'd love to hear about it!
Love bars? Check out these no bake cookies and cream bars and no bake chocolate coconut bars.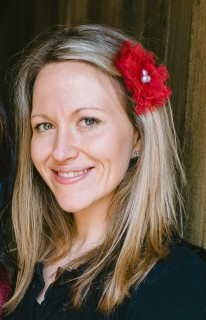 Connect with Kirsten Blog ~ Facebook ~ Twitter ~ Instagram ~ Pinterest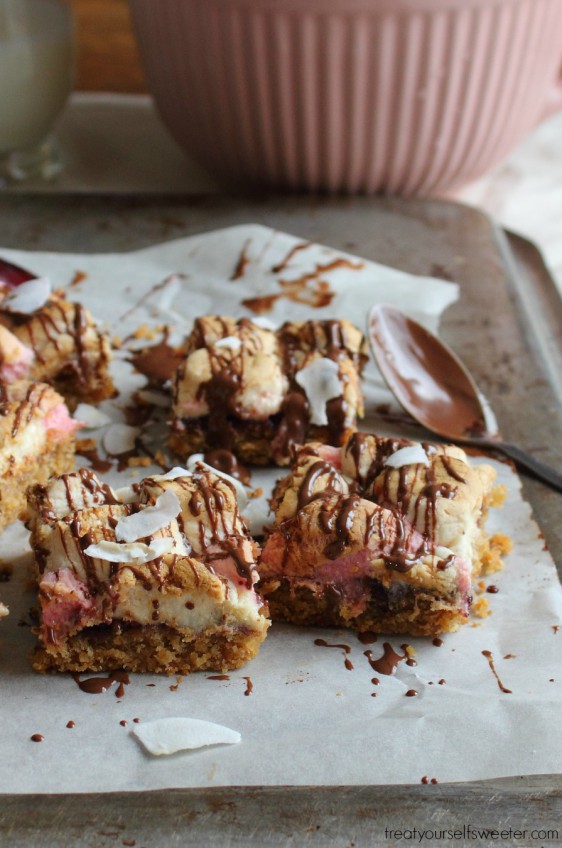 Toasted Marshmallow Bars
Toasted Marshmallow Bars; crispy, cookie base with a layer of sweet jelly and finished with oh so good toasted marshmallows.
Ingredients:
1

cup

self raising flour –sifted

1

cup

desiccated coconut

½

cup

brown sugar

1

cup

crushed cookie crumbs

ones that you would use for cheesecake base

1 ½

sticks of butter – melted

if using Australian, Canadian or UK cups which are bigger. Use 180 grams butter

3

tablespoons

of berry jelly/jam

4

cups

marshmallows

¼

cup

of milk chocolate

melted.
Preheat oven to 180 degrees Celsius/360 degrees Fahrenheit.

Mix the flour, coconut, brown sugar and crushed cookies in a bowl.

Add the melted butter and mix until all the dry ingredients are wet.

Line a baking tin (7 x 11 inch) with baking paper and then pour in the cookie mixture. Press into the tin firmly and bake in the oven for 20 minutes or until golden and cooked.

Take it from the oven and while it is still warm, spread an even layer of the jelly/jam and then arrange the marshmallows over the surface so they fit closely together. Bake for another 10-12 minutes until the marshmallows have melted, spread and toasted on top.

Drizzle with melted chocolate.

Leave to cool completely before slicing with a knife into squares (a hot knife will make this easier) store in an airtight container.
Keywords:
bars, marshmallow, sweets, toasted marshmallows