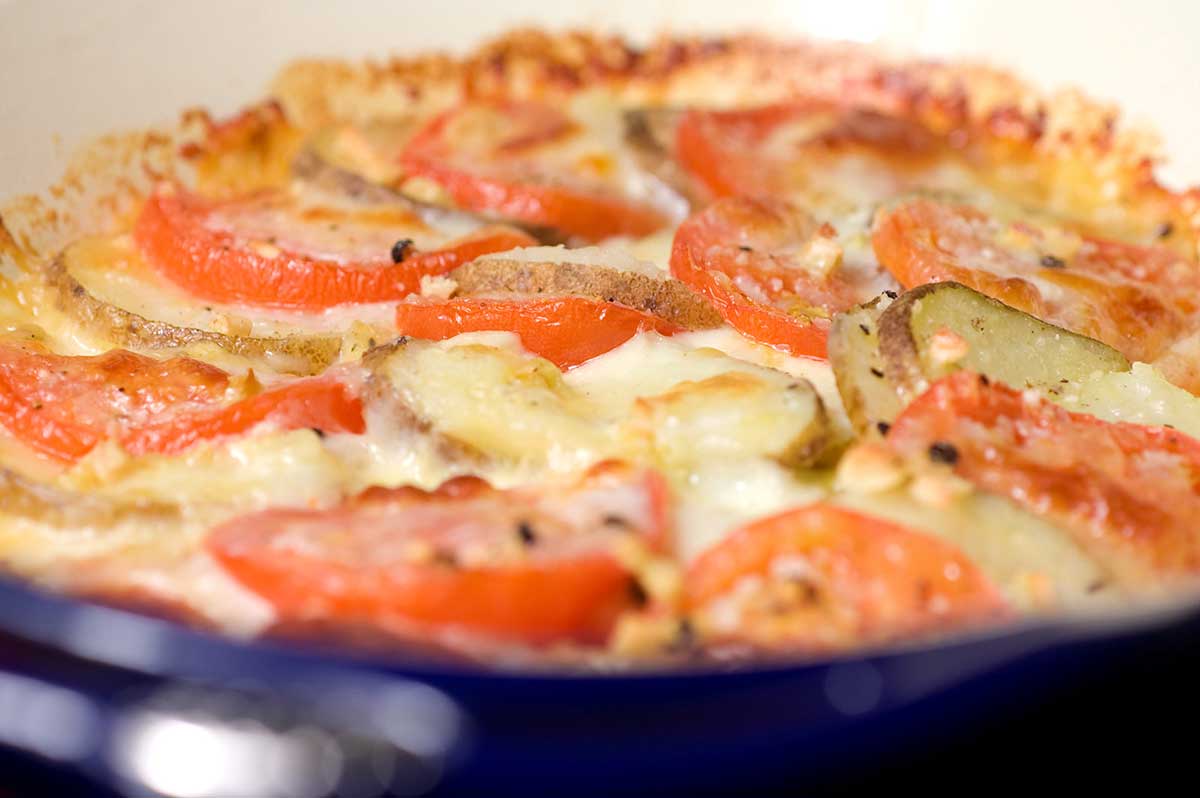 Tomato, Potato and Mozzarella Bake
I was trying to think of a side dish for dinner last week, and this simple tomato, potato and mozzarella bake came to mind.  First, I layered thinly sliced tomatoes, potatoes and mozzarella in a casserole dish. Then I sprinkled them with some minced garlic, salt and pepper, and grated Romano cheese before drizzling a little extra virgin olive oil over the top.  I then baked the dish until the mozzarella was melted and bubbly.  It was hard for me to keep from eating the whole thing!
This would be great served with Roasted Pork Tenderloin or Mushroom and Spinach Stuffed Flank Steak.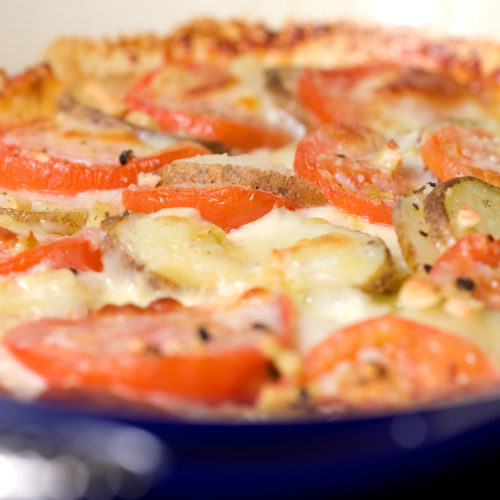 Tomato, Potato and Mozzarella Bake
Potatoes, mozzarella and tomatoes layered and baked until the mozzarella is golden and bubbly.
Ingredients:
8

cups

water

3

russet potatoes

sliced 1/4 inch

3 to

matoes

sliced 1/4 inch thick

8

ounces

mozzarella

sliced 1/4 inch thick

2

cloves

garlic

minced

2

tablespoons

grated Romano cheese

kosher salt and pepper to taste

extra virgin olive oil for drizzling
Preheat oven to 350 degrees.

Bring water to boil, add potatoes and parboil for 5 minutes. Strain. (Note: you want these to be a little underdone so that they wont get too mushy when you bake them in the oven).

In a large casserole dish, layer potato, tomato, mozzarella. While you will only have one layer, you'll want to overlap these so that the mozzarella melts over the potato and tomato. Sprinkle with Romano cheese, garlic, salt and pepper. Drizzle lightly with extra virgin olive oil.

Bake 20-25 minutes. Cheese will be melted and slightly golden. Serve hot.
Keywords:
baked potatoes, fresh garlic, fresh mozzarella, mozzerella, russet potatoes, tomato