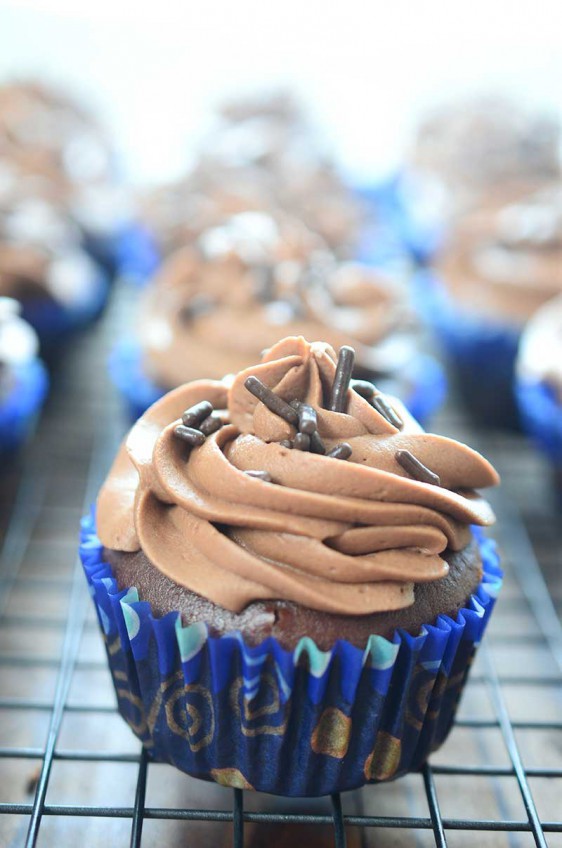 Triple Chocolate Cupcakes
Triple Chocolate Cupcakes are decadent.They are sweet and sinful. In other words, they are downright heavenly. How could they not be?! Not only are they homemade chocolate cupcakes made from scratch, but they have a dose of bittersweet chocolate chips thrown in. And then to top it all off (literally) they are frosted with a silky, creamy, homemade chocolate frosting. So when you sit down to eat the whole batch, like I imagine you might, just make sure that you have a glass of milk or two.
I haven't had many desserts around the house lately but yesterday, when I was sitting on my couch catching up on some Lifetime movies, I decided it was time to make one. I began looking in the pantry to see what I could throw together and noticed one thing: chocolate, chocolate and more chocolate. Since Ryan is always asking me to make cupcakes and I had a rather disastrous experience attempting to make cookies a couple of weeks ago, I decided to try my hand at some chocolate cupcakes.
Judging by Ryan's reaction after trying these triple chocolate cupcakes, I am confident I made the right choice.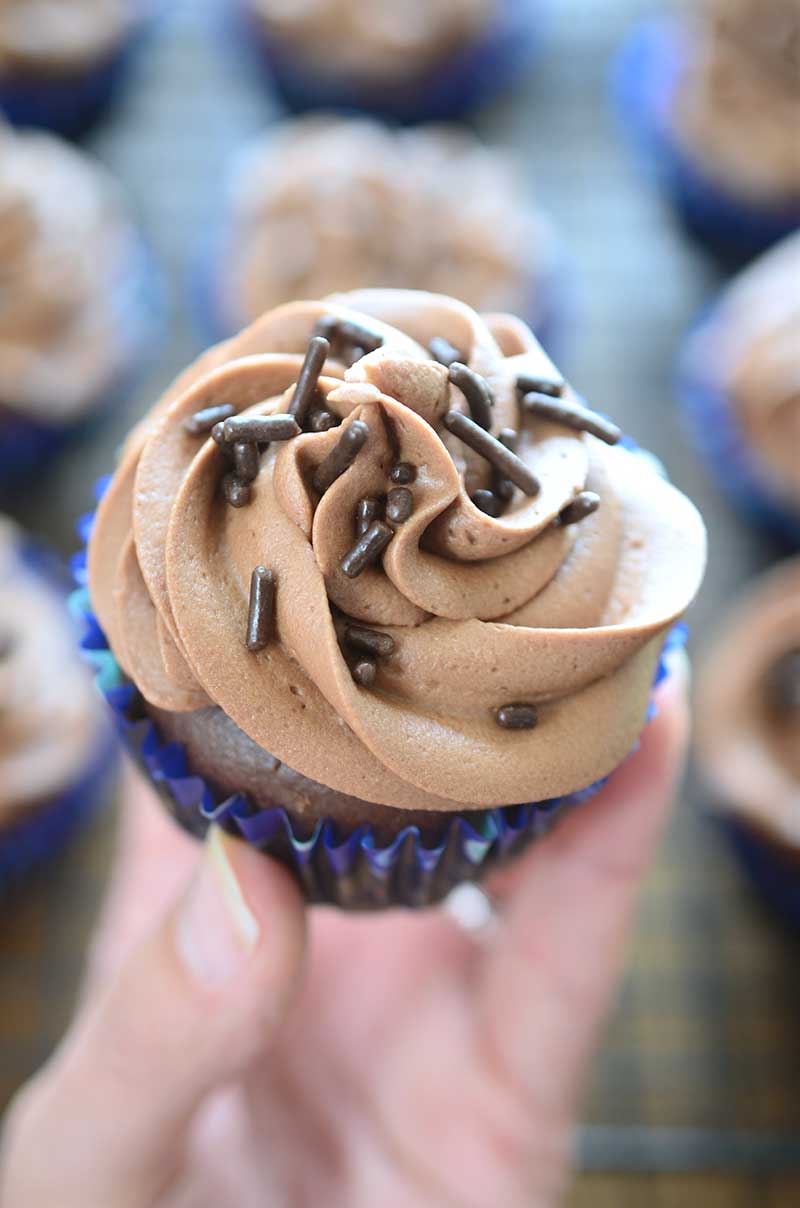 Update: This post was originally posted in 2011. I decided that it was time to update the photos in 2016.
I tweaked the original triple chocolate cupcakes recipe a bit, substituting buttermilk for regular milk in the recipe.
I also upped the amount of cocoa in the chocolate frosting, because obviously these decadent cupcakes needed MORE chocolate. These changes made these Triple Chocolate Cupcakes even better! And when I wrote this original post back in 2011, there weren't two other little taste testers around. They are here now though, and they love these triple chocolate cupcakes too! How could you not?
Speaking of triple chocolate, I can't wait to try these triple chocolate cookies, these triple chocolate brownies, and this triple chocolate brownie pie!

Triple Chocolate Cupcakes Recipe
Cupcake Ingredients:
1/4 cup unsweetened cocoa powder
1 1/2 cups all purpose flour
1/4 teaspoon salt
1 1/2 teaspoons baking powder
2/3 cup granulated sugar
2 large eggs, at room temperature
1 teaspoon vanilla extract
1/2 cup canola oil
1/2 cup buttermilk
1 cup bittersweet chocolate chips
chocolate sprinkles
Frosting Ingredients
1/2 cup unsalted butter

2 1/2 cups powdered sugar

3 tablespoons unsweetened cocoa powder

1 teaspoon vanilla

3 - 5 tablespoons milk
Instructions
1
Preheat oven to 350 degrees. Line a cupcake tin with cupcake liners.

2
In a bowl combine cocoa powder, flour, salt and baking powder.

3
In another bowl beat together sugar, eggs, vanilla and canola oil. Once combined, alternate adding the dry ingredients and the milk to the egg mixture. Mix well. Fold in the chocolate chips.

4
Fill the cupcake liners 2/3 of the way full. Bake in preheated oven for 15 - 20 minutes or until a toothpick inserted comes out with just a few crumbs on it. Allow to cool completely.

5
Meanwhile, to make the frosting, beat together butter and powdered sugar until smooth. Add in cocoa powder, vanilla and 3 tablespoons of milk. Frosting should be stiff but spreadable. If needed add remaining 2 tablespoons of milk.

6
Frost cooled cupcakes, sprinkle with chocolate sprinkles if desired and serve.