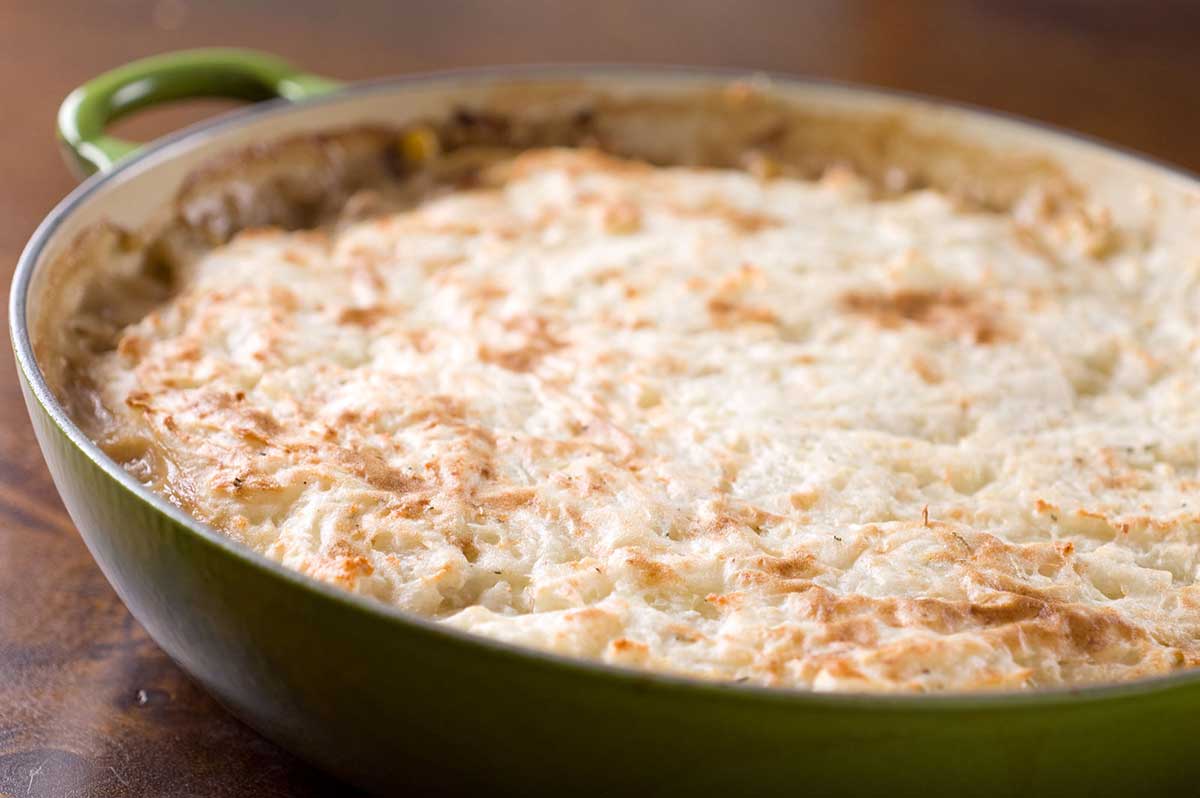 Turkey and Mushroom Shepard's Pie
I am realizing now that I probably shouldn't have asked what your favorite comfort food was for the Le Creuset Giveaway. Not because it is a bad question. Or an uninteresting question. But because reading all of your responses has made this pregnant lady crave even more comfort food, as if she wasn't craving it enough. But oh well a girl's gotta do what a girl's gotta do and this girl just had to make this Shepard's Pie variation with ground turkey, mushrooms, onions, corn and rosemary mashed potatoes.
There is a bit of work to this dish. I like to think of comfort food as food that might take a bit longer to prepare but is worth every minute spent on it. Dishes that are perfect for those cold, rainy, October Sundays. Dishes that make the house smell amazing. Dishes that warm your tummy and your soul. At least that is what comfort food is to me. And this dish is exactly that. So while you're making the mashed potatoes and sauteing the vegetables and waiting for it all to bake up to bubbly goodness just know that it's worth it. And it's also worth knowing that you'll want a nap afterward so keep a pillow close by.
Note: I used an stove to oven pan for this recipe and it made things quite easy. With that said if you don't have a pan that is big enough simply make each component separately and then layer it in a casserole dish.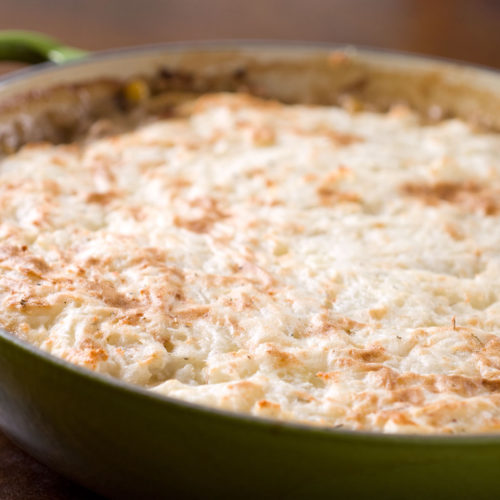 Turkey and Mushroom Shepard's Pie
Comfort food heaven creamy mushrooms, onions, corn and turkey topped with rosemary mashed potatoes
Ingredients:
6

medium russet potatoes

2

tablespoons

unsalted butter

1/2 - 2/3

cup

milk

1 1/2

teaspoon

kosher salt

plus more as desired

1/2

teaspoon

black pepper

plus more as desired

1

teaspoon

dried rosemary or 1 tablespoon fresh rosemary

2

tablespoons

olive oil

1

pound

ground turkey

1

yellow onion

sliced

2

cloves

garlic

minced

10

crimini mushrooms

sliced (about 2 1/2 cups)

1

tablespoon

all purpose flour

1 1/4

cups

mushroom broth

1

tablespoon

Worcestershire sauce

2

ounces

softened cream cheese

1

cup

frozen corn
Preheat oven to 325 degrees.

Place potatoes in a large pot of water and bring to a boil. Cook until fork tender and drain.

Return the potatoes to the pot add in butter and milk. Whip with a hand held mixer or use a potato masher. Once creamy, stir in salt, pepper and rosemary. Reduce heat to low and cover while you prepare the rest of the dish.

In a large skillet heat 1 tablespoon olive oil over medium heat. Cook turkey until cooked through and no longer pink. Drain and set aside.

In the same skillet heat the remaining tablespoon of olive oil, stir in onions, garlic and mushrooms. Cook until onions are softened and mushrooms have browned slightly, about 7 minutes. Stir in flour. Allow to cook 1 minute and slowly whisk in the mushroom broth. Continue cooking until sauce thickens slightly, about 3 minutes. Stir in cream cheese and Worcestershire. Once the cream cheese has melted return the turkey to the pan and stir in corn. Mix well. Season to taste with salt and pepper.

If your pan is oven proof, at this time spread the rosemary potatoes over the top. If you are transferring to a casserole dish, transfer the turkey mixture to a 9 x 13 baking dish. Spoon the mashed potatoes over the top.

Bake the Shepard's Pie in the preheated oven for 25 minutes. Turn on the broiler and broil for 3 - 4 minutes or until potatoes brown slightly. Remove from oven and let stand for 10 minutes. Serve.
Keywords:
casserole, comfort food, dinner, fall, Food, ground turkey, mashed potatoes, mushroom, Recipe, rosemary mashed potatoes, shepard's pie