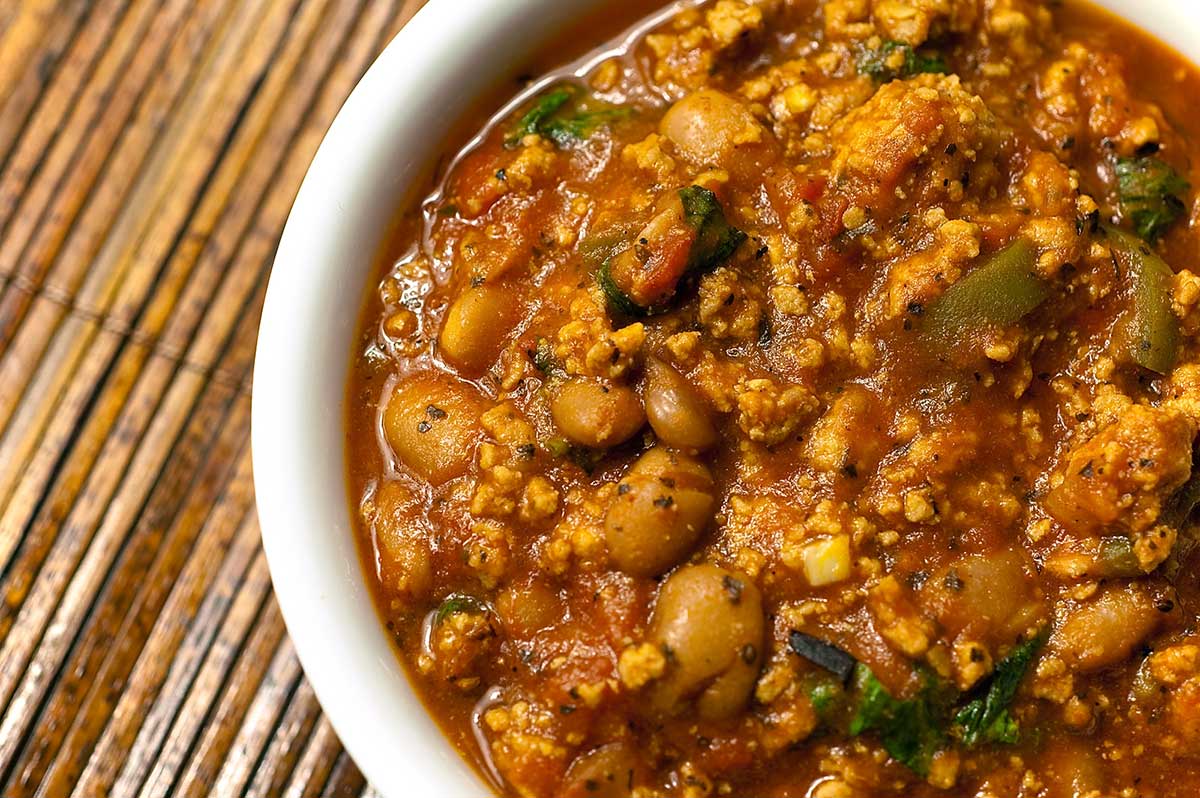 Turkey Basil Chili
To be honest January is one of my least favorite months of the year. It's rainy, its cold and it's gray. The only good thing about January, aside from my mother in-law's birthday, is that this rainy, cold, gray weather is perfect for making chili. Which is exactly what I did this past weekend. However, in the spirit of eating healthier in the New Year this scrumptious tummy warming chili is made with turkey instead of ground beef and gets a little touch of sweetness from some basil and a kick from some jalapeno.
I got the idea to make this chili after trying some chicken chili at a local lunch spot. It is important to note that I did not have my heart set on chicken chili when I went to get my lunch. You see, I crave the old fashioned chili at this particular place. But a couple of weeks ago when I went in to get my weekly chili, they weren't serving it. Instead along side split pea and chicken noodle, they had a chicken and basil chili.
At first I hesitated. Where was my chili? I had been craving that chili all day. I did not want chicken in my chili. Let alone any basil, who puts basil in chili anyway? This was supposed to be a quick run in and grab kind of lunch, but now I had to make a decision. A decision that could change the whole rest of the day.
Okay, so maybe I am over dramatizing it just a tad. It really didn't take me more than a couple of minutes before I determined that I wasn't really in a split pea or chicken noodle kind of mood, I opted to try the chicken and basil chili. And I'm pretty glad I did. It was absolutely delicious and I was surprised that I had never thought to add basil to chili before.
When I decided to make this at home, I was going to use ground chicken, but alas my grocery store did not have any so I opted for ground turkey. If you have ground chicken you can use that instead.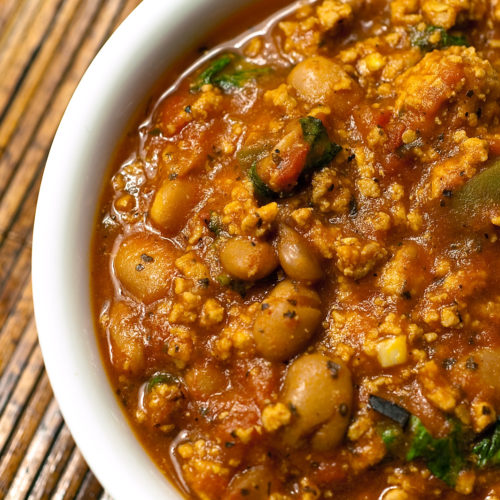 Turkey Basil Chili
Nothing warms up a cold January day like a pot of chili simmering on the stove. Try this lighter version with ground turkey and basil.
Ingredients:
1

pound

ground turkey or ground chicken

1/2

teaspoon

kosher salt

plus more to taste

1/2

teaspoon

chili powder

3/4

teaspoon

ground cumin

divided

1/4

teaspoon

garlic powder

1

tablespoon

olive oil

1/2

medium onion

diced

2

jalapenos

diced (optional)

1

clove

garlic

minced

1

14.5 ounce can fire roasted diced tomatoes

1

15.5 ounce can chili beans in zesty tomato sauce

1

15 ounce can tomato sauce

2

teaspoons

dried basil

5

fresh basil leaves
In a large soup pot or dutch oven, combine ground turkey, 1/2 teaspoon kosher salt, chili powder, 1/4 teaspoon cumin and garlic powder. Cook over medium heat until turkey is cooked through. Strain and set aside.

In the same pot heat olive oil over medium heat. Add onion, jalapenos and garlic. Cook for 5 minutes or until softened. Return turkey to pan. Stir to combine.

Pour in fire roasted tomatoes, chili beans and their liquid, and tomato sauce. Stir in dried basil. Bring to a boil. Reduce heat and let simmer for 2 hours. Stirring and tasting occasionally. Adjust seasoning with salt if needed.

Just before serving, roll basil leaves tightly together and then chop to make basil chiffonade. Sprinkle into chili and stir to combine.

Ladle chili into soup bowls. Serve.
Keywords:
chili, comfort food, ground turkey, turkey chili