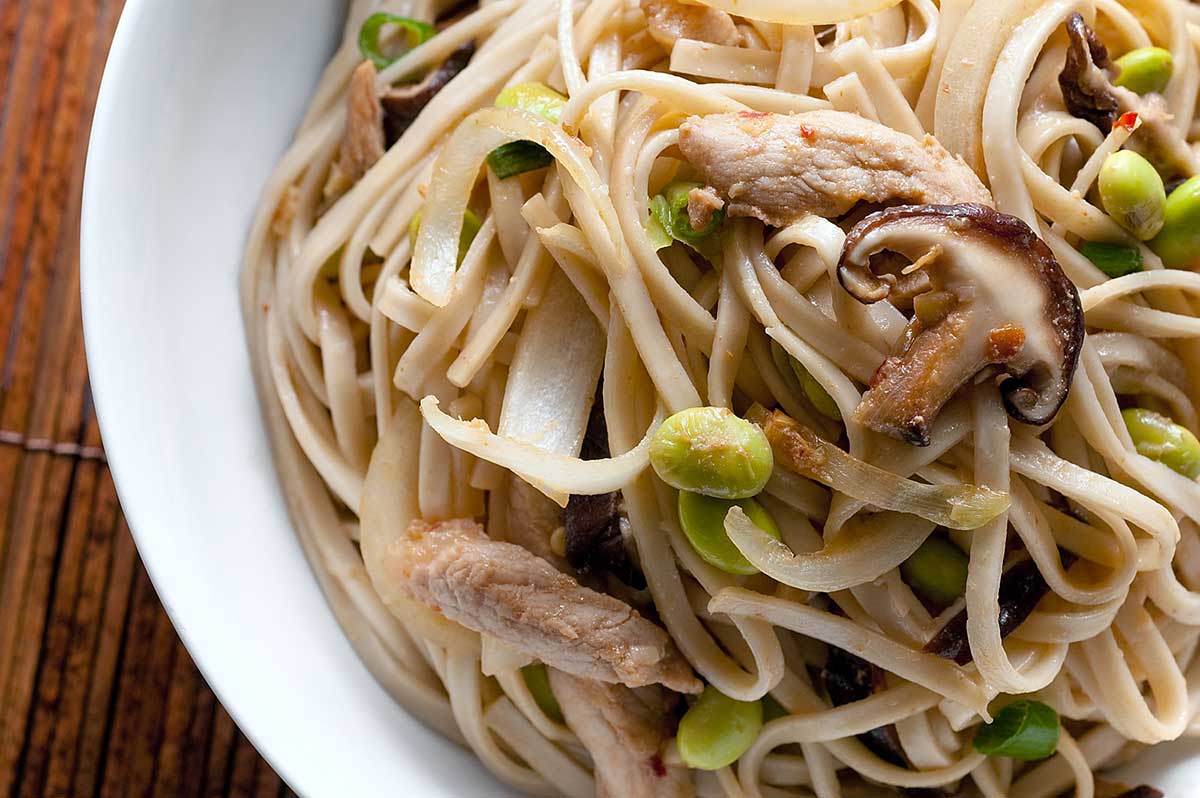 Udon Noodle Stir-fry with Pork and Edamame
After making edamame hummus a few weeks ago, a whole new world of possibilities seemed to open up. I immediately started thinking of more recipes that I could add some edamame too. Enter this quick and easy stir fry. Its loaded with marinated pork, shitake mushrooms, onions, garlic, edamame and my new favorite stir-fry noodle: Udon.
I decided to use Udon noodles for this recipe after trying Udon noodle soup at a Japanese restaurant a few weeks back. These noodles are thick and made with wheat flour, salt and water. You can find them cooked in the refrigerator section but I often find them dried in the Asian food aisle at my local grocery store. From what I hear these noodles are also wonderful served cold in a variety of dishes during the summer, I can't wait to give it a try!
Udon Noodle Stir-fry with Pork and Edamame Recipe
Ingredients:
3/4 pound pork, thinly sliced
2 tablespoons soy sauce
2 teaspoons sambal oelek
1 teaspoon sesame oil
1 teaspoon rice vinegar
1 teaspoon minced fresh ginger
2 cloves garlic, minced and divided
1 (10 ounce) package udon noodles, cooked according to package directions
1 cup shelled edamame, cooked according to package directions
1 tablespoon peanut oil
1 cup sliced shitake mushrooms
1/2 medium onion, sliced
3 green onions, chopped
Instructions
1
Place pork in a bowl. In another bowl whisk together soy sauce, sambal oelek, sesame oil, rice vinegar, ginger and 1 minced garlic clove. Pour marinade over the top of the pork and toss to coat. Cover and refrigerate for 30 minutes.

2
While your pork is marinating, cook udon noodles and edamame according to package directions. Set aside.

3
Heat peanut oil in a large skillet over medium-high heat. Add mushrooms and onions and cook until onions start to caramelize, about 5 minutes. Add in edamame and noodles. Stir to combine. Transfer to a plate.

4
In the same skillet, add pork and marinade. Cook until pork is cooked through, about 5 minutes. Return noodle mixture to the pan. Add green onions. Toss to combine well.