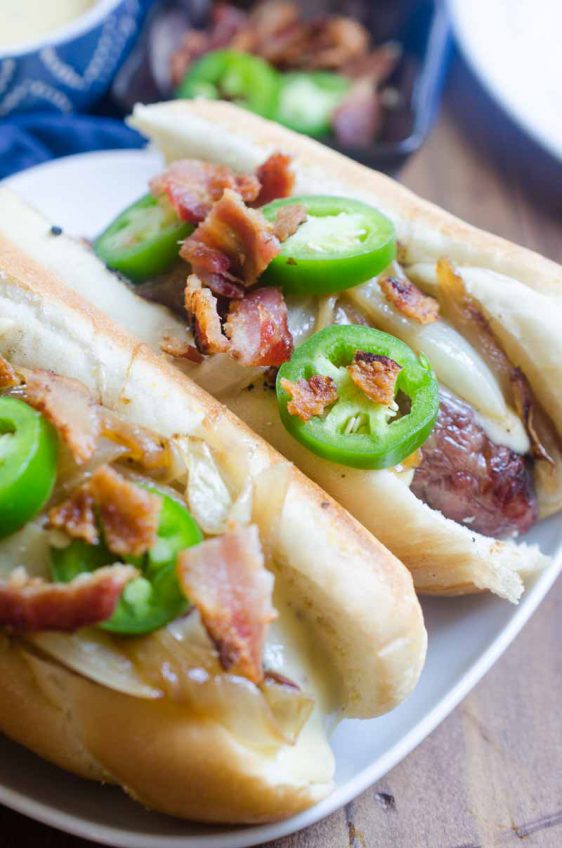 Ultimate Cheesy Brats
Ultimate cheesy brats are loaded with caramelized onions, cheese sauce, jalapeños and bacon. They are the perfect way to celebrate National Bratwurst day! 
This post is sponsored by Johnsonville. We are grateful for our sponsors as they allow us to bring you delicious, free content every week! 
One look at social media and you'll notice that it's now pretty cool to be totally into food. It's every where. Videos on Facebook. Mouthwatering photos on Instagram. Food is everywhere. And I don't hate it. Obviously.
One of my favorite things about this surge of all things food is all of the National (insert delicious food) Days that we get to celebrate. The next one to mark your calendars for is National Bratwurst Day, AKA Bratsgiving. Bratsgiving is happening on August 16th and I am here to share with you this recipe for Ultimate Cheesy Brats as the perfect way to celebrate.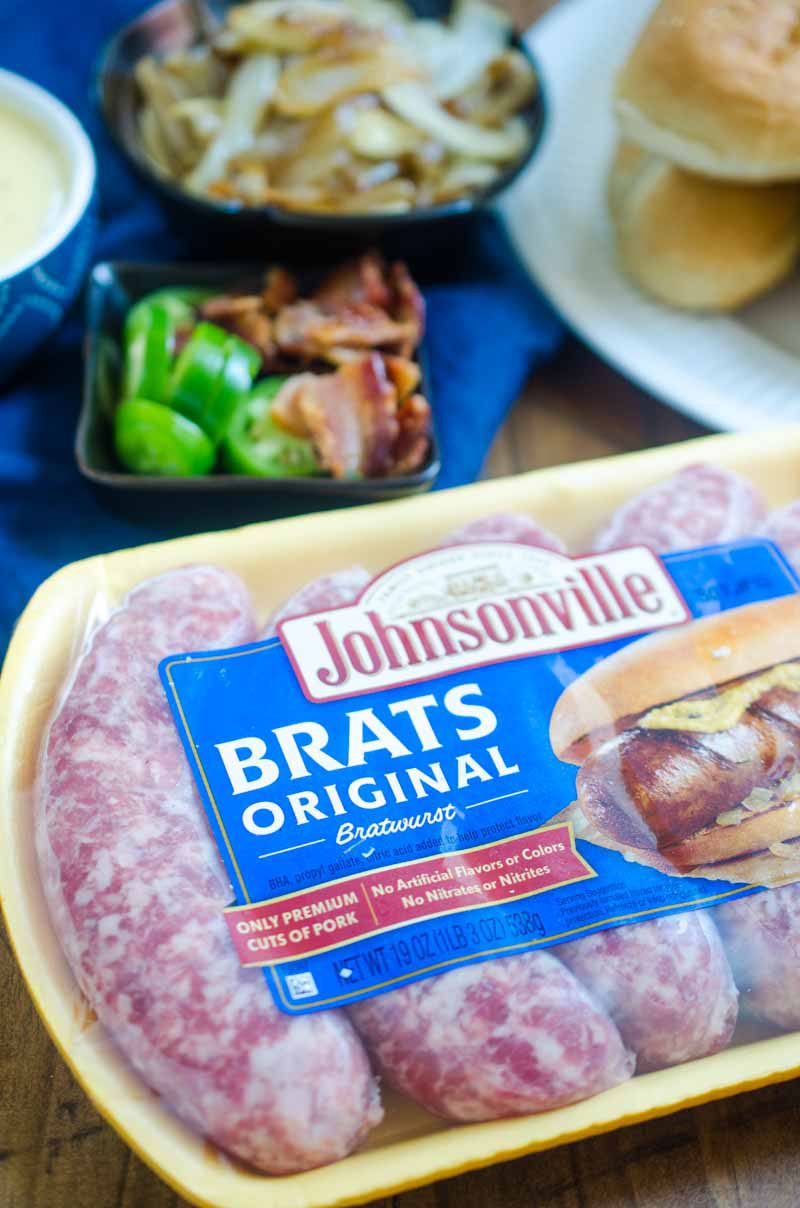 When you're making a dish to celebrate a holiday, you've got to go all out. That is exactly what I did with these Ultimate Cheesy Brats. To be honest, when it comes to brats, I would totally be fine with just a squirt of stone ground mustard and some sauerkraut. But again, it's Bratsgiving and we've got to up the ante a bit.
And up the ante, I did.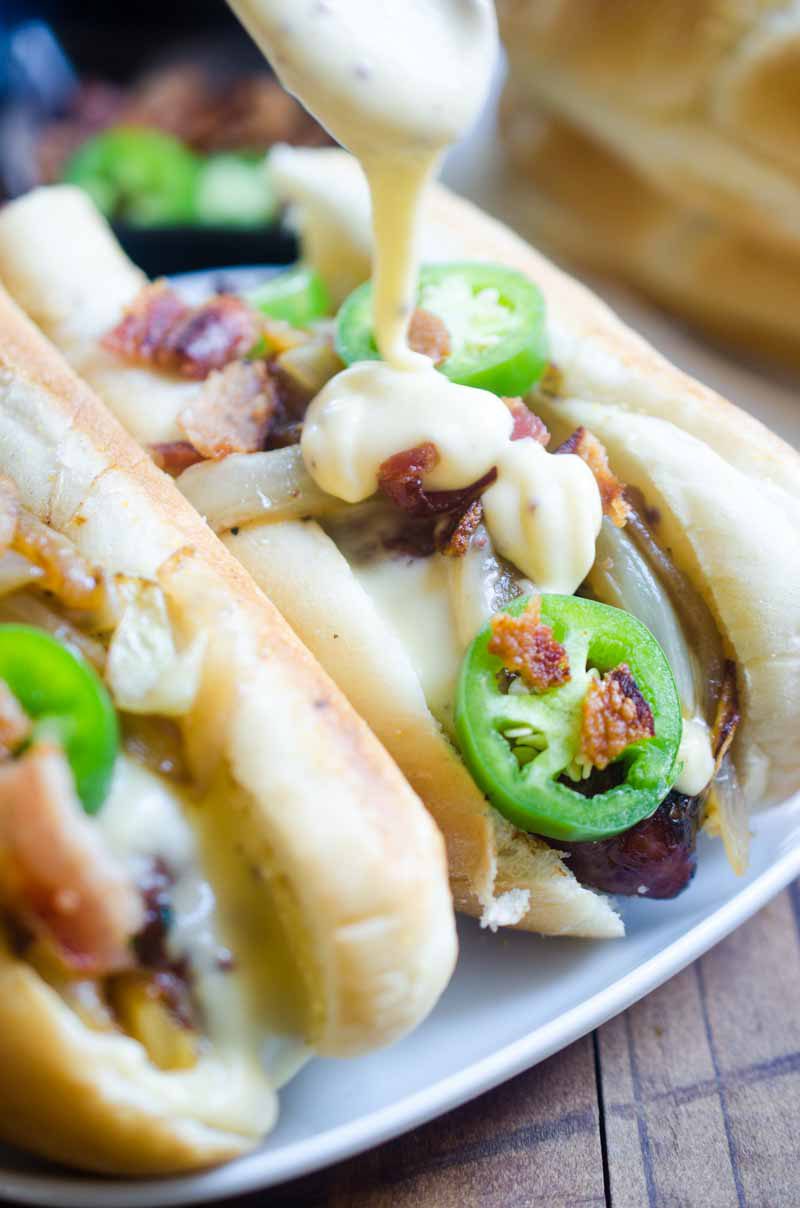 These brats are loaded. First, there is a perfectly grilled Johnsonville Original Brat. Next, it's topped with a delectable mustard cheese sauce, sweet caramelized onions, crispy bacon and spicy jalapenos. Then, for good measure, a bit more cheese sauce. Ultimate Cheesy Brats, indeed.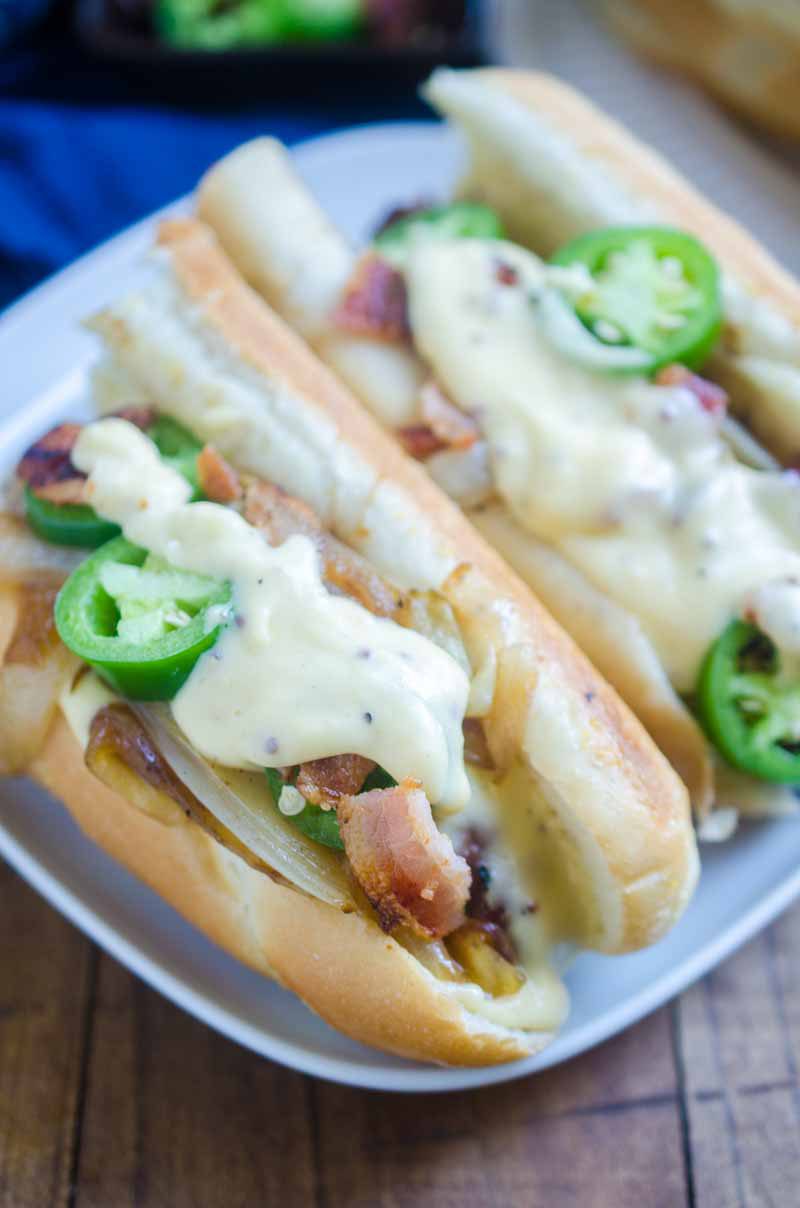 For all of my friends living in the Seattle area, we get to celebrate Bratsgiving a little bit early! The celebration is kicking off July 29th at Seafair. The nice folks from Johnsonville and Carl the Great Bratsgiver will be there to get the celebration rolling.
Who is Carl the Great Bratsgiver you ask? Well every good holiday also needs character to go with it, so the creative folks at Johnsonville have given us Carl the Great Bratsgiver. Legend has it that on Bratsgiving Eve, Carl goes from house to house leaving delicious brats to help spread the joy of Bratsgiving. I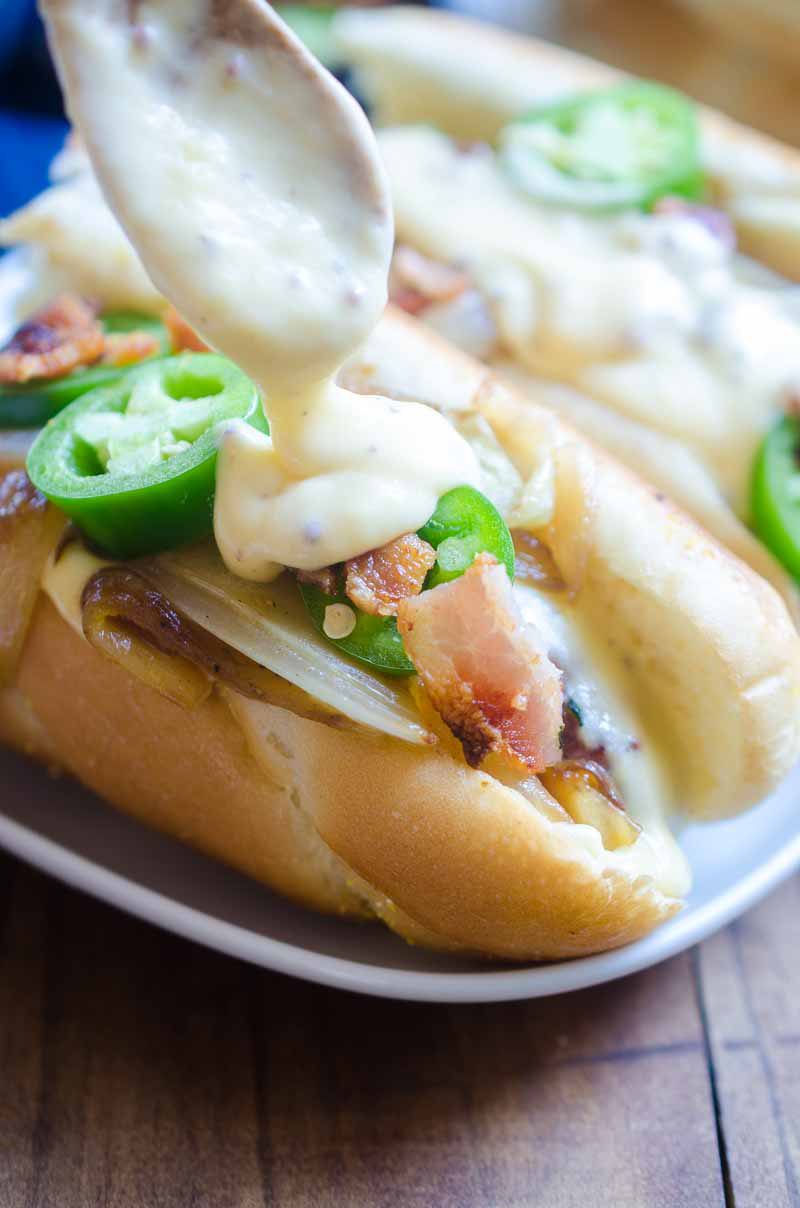 Carl will be participating in the Torchlight Run and in the parade. Finally, to add even more fun, there will be a "Where's Carl?" competition on social media that will allow people to find him at landmarks throughout the city for a chance to win Bratsgiving Swag and a pair of Seafair Tickets. It's going to be fun so if you're around you should totally come out!
But if you're not around, and even if you are, don't forget to get a jump start on celebrating Bratsgiving by making these Ultimate Cheesy Brats!

This is a sponsored conversation written by me on behalf of Johnsonville. The opinions and text are all mine.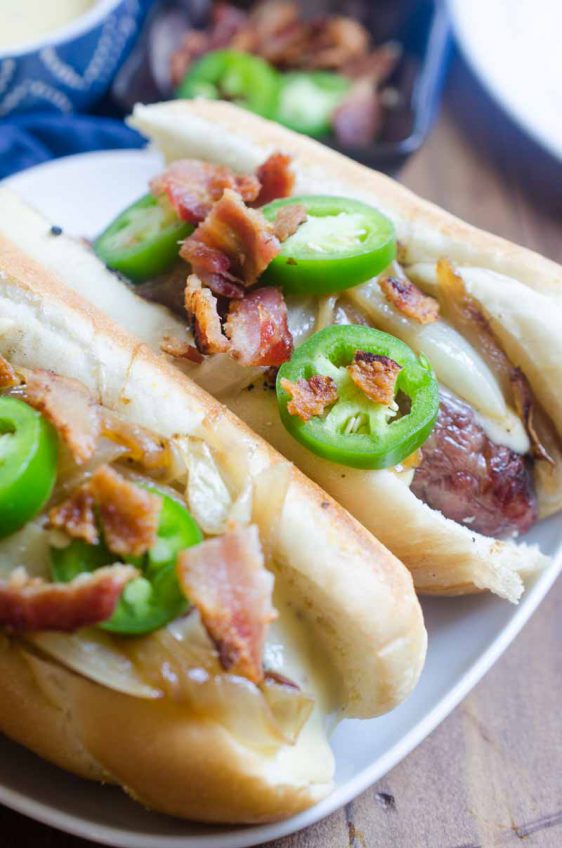 Ultimate Cheesy Brats
Ultimate cheesy brats are loaded with caramelized onions, cheese sauce, jalapeños and bacon. They are the perfect way to celebrate National Bratwurst day!
Mustard Cheese Sauce
2

tablespoons

butter

2

tablespoons

all purpose flour

1/2

cup

heavy cream

1/2

cup

whole milk

2

teaspoons

stone ground mustard

1

cup

shredded extra sharp cheddar cheese

1

cup

shredded medium cheddar cheese

salt and pepper
Preheat grill.

To cook the onions, heat butter and oil in a skillet over medium heat until butter melts. Add in onions and cook, stirring occasionally until brown and caramelized, about 15 minutes.

Cook bacon until browned and cooked through. Chop into pieces.

To make the cheese sauce, melt butter in a medium saucepan. Whisk in flour, cook 1 minute. Slowly whisk in heavy cream and whole milk. Whisk in mustard. Once milk starts to steam, add in cheese. Cook until cheese melts. Season to taste with salt and pepper. Turn heat to low to keep warm while you cook the brats.

Cook brats on preheated grill for 5 - 7 minutes or until cooked through.

To assemble the Ultimate Cheesy Brat: Place brat in a hot dog bun. Top with cheese sauce, caramelized onions, bacon, sliced jalapeños and another drizzle of cheese sauce. Serve immediately.
Keywords:
brats, grilling, sponsored