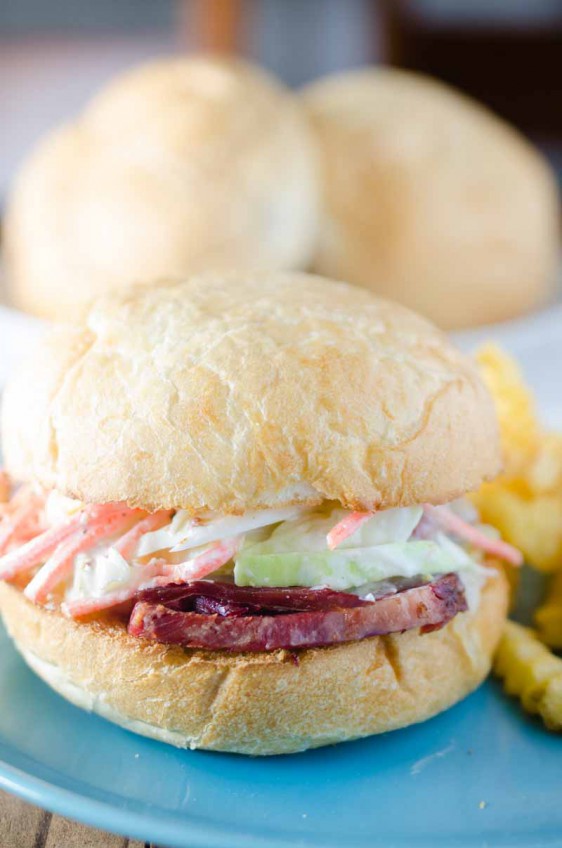 Ultimate Corned Beef Sandwiches
Ultimate Corned Beef Sandwiches topped with melted Swiss cheese and a creamy horseradish slaw. 
St. Patrick's Day is right around the corner and that means that corned beef is popping up in all the grocery stores. I am personally a huge fan of corned beef and wish it was a bit easier to find throughout the year. Alas, we really only ever eat it around St. Patrick's day, but I be sure to buy a big one so we can make all kinds of leftovers with it. Like hash, tacos and these Ultimate Corned Beef Sandwiches.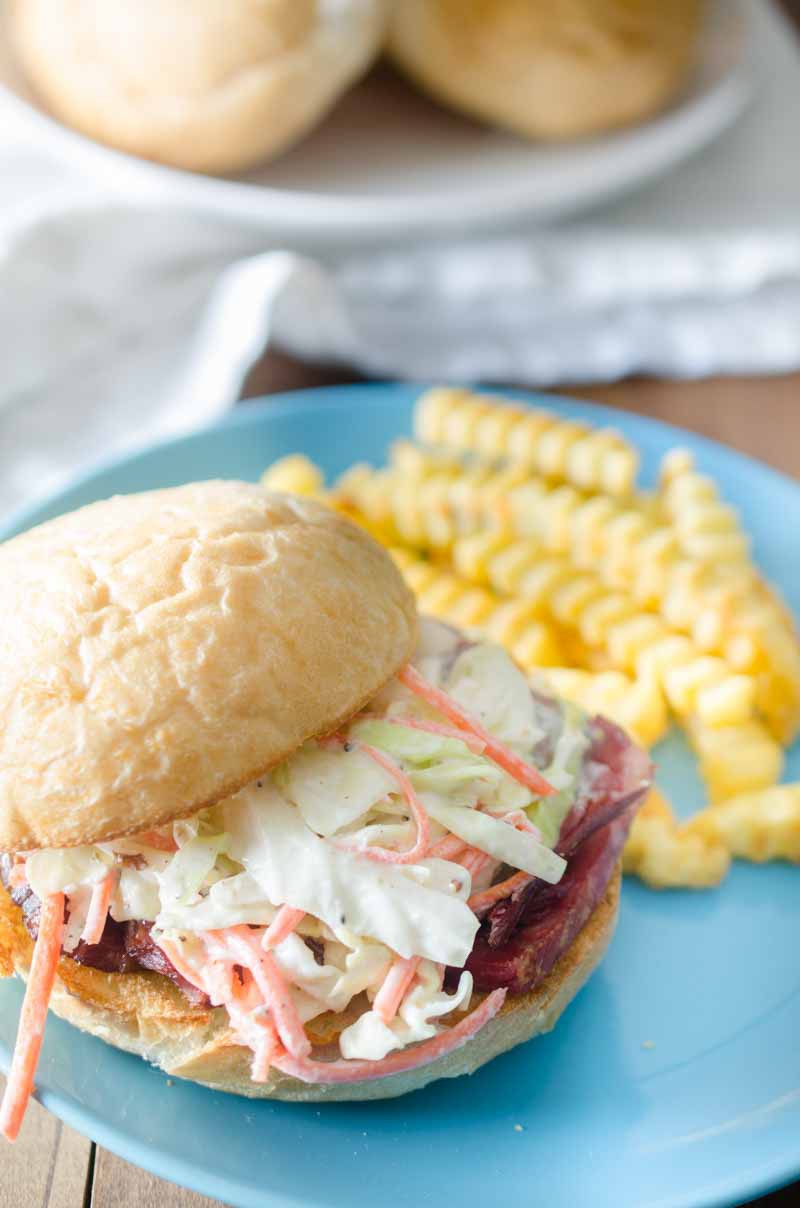 I have always been a fan of the combination of beef and horseradish together. I love dipping my steak or prime rib in sour cream horseradish sauce. I even, ehem, love the "horsey" sauce at Arby's. The two just go really well together. That is why when I make these Ultimate Corned Beef Sandwiches, making a creamy horseradish slaw to put on top is the logical choice.
If you aren't used to using horseradish know that things can get pretty spicy pretty quickly. Great for sinus clearing, not so great if you aren't a fan of the heat. For that reason, I recommend starting out with about 1 1/2 teaspoons and work your way up to the heat level you like. For us, I ended up using 2 1/2 teaspoons total. It wasn't too spicy but the horseradish flavor shined through.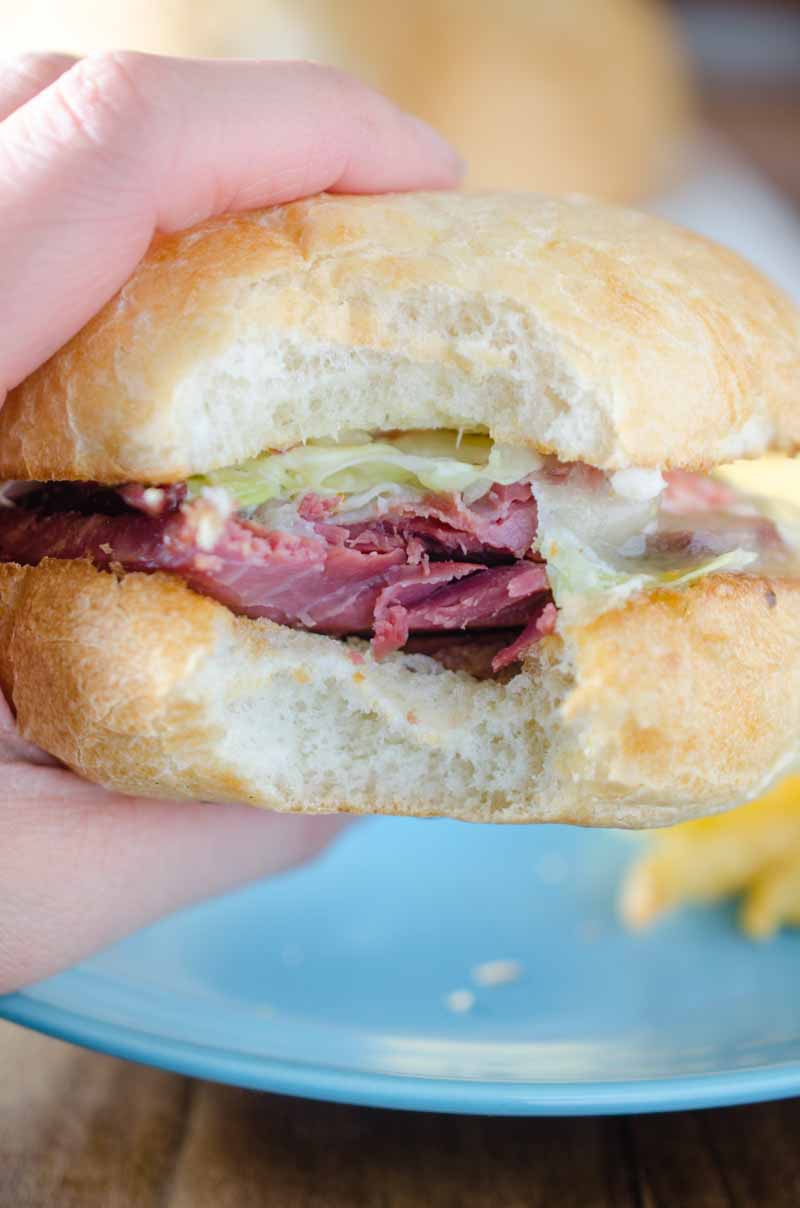 And while I am a huge corned beef fan, the coleslaw may have been my favorite part. I might have to start putting it on more things like steak sandwiches or tacos.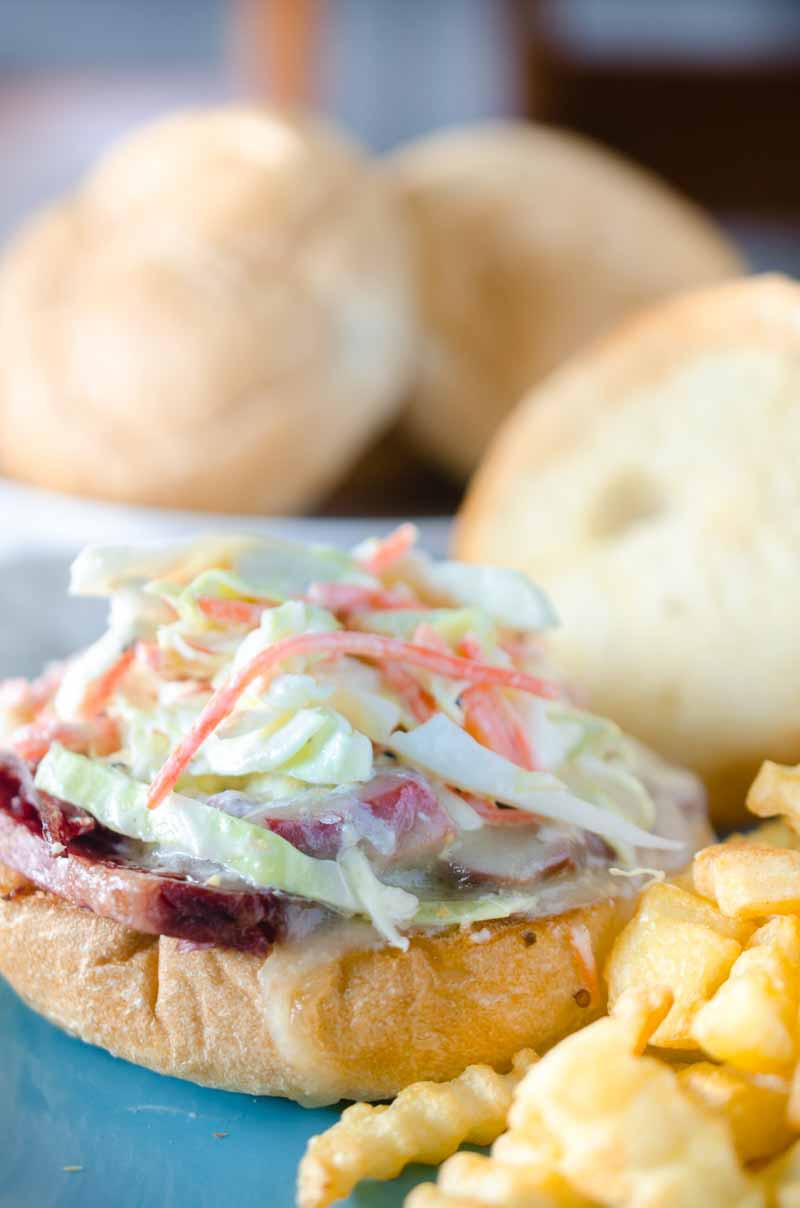 So if corned beef is on your menu next week as you celebrate St. Patrick's day, be sure to save some leftovers so that you can make these Ultimate Corned Beef Sandwiches. You may just be wishing for corned beef all year like me!

Ultimate Corned Beef Sandwiches Recipe
Ingredients:
1/4 cup mayonnaise
1 tablespoon apple cider vinegar
1 1/2 - 2 1/2 teaspoons creamy style horseradish
1 teaspoon stone ground mustard
1/2 teaspoon granulated garlic
salt and pepper
3 cups shredded cabbage
1 cup shredded carrots
3/4 pound sliced corned beef
4 kaiser buns
butter
4 slices Swiss cheese
Instructions
1
Whisk together mayonnaise, apple cider vinegar, horseradish, stone ground mustard and granulated garlic. Season to taste with salt and pepper.

2
In a bowl combine cabbage and carrots. Pour horseradish sauce over the top, mix well. Cover and refrigerate for at least 30 minutes.

3
Cook leftover corned beef in a skillet over medium heat just until warmed through, about 3 minutes.

4
Butter the top and bottom buns of the kaiser buns and place under broiler for about 1 minute or until toasted.

5
To assemble a sandwich: Place a few slices of corned beef on the bottom bun, top with Swiss cheese. Place under the broiler once more to melt cheese. Remove from oven, top with slaw and toasted top bun and serve. Repeat with remaining ingredients until four sandwiches are made. Serve immediately.