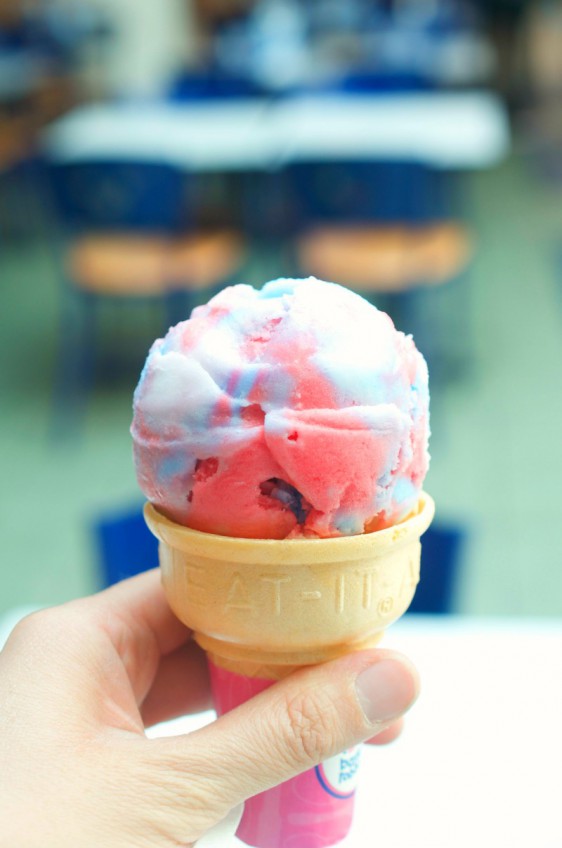 USO Patriot Pop Ice Cream at Baskin-Robbins
Disclosure: This post is sponsored by Baskin-Robbins in conjunction with Blog Meets Brand and I have been compensated for my participation. All opinions are my own.
Did you know that July is National Ice Cream Month? I know there are lots of food holidays out there, but National Ice Cream Month is something I think we can all get behind. That is why when Baskin-Robbins contacted me to check out how they are celebrating National Ice Cream Month, I was all for it.
When afternoons are hot and the boys and I are looking for something to do, running to the ice cream shop is always at the top of the list. During National Ice Cream Month, that ice cream shop has got be Baskin-Robbins because they are celebrating in three different ways:
1.The launch of the Polar Pizza. It is an ice cream cake that you can eat like a pizza. How perfect would that be for parties this summer?!  It comes in four different flavor combinations: OREO® Cookies 'N Cream, Peanut Butter 'n Chocolate and REESE'S® Peanut Butter Cup, Jamoca® Almond Fudge and HEATH®, and Chocolate Chip Cookie Dough.
2. A donation program to support the USO and new flavor USO Patriot Pop.
3. And finally, July Flavor of the Month is Oreo Birthday Cake. Which is chocolate cake flavored ice cream with Birthday Cake OREO® cookie pieces, frosting bits, and a candy confetti ribbon. And guys, you can totally get it as a milkshake. SWOON.
Delicious things are happening at Baskin-Robbins, friends. Delicious things. 
When the boys and I ventured to Baskin-Robbins this week, we all decided that we wanted to try the USO Patriot Pop flavor. It was a warm day and an ice based sweet treat sounded like the perfect way to cool down.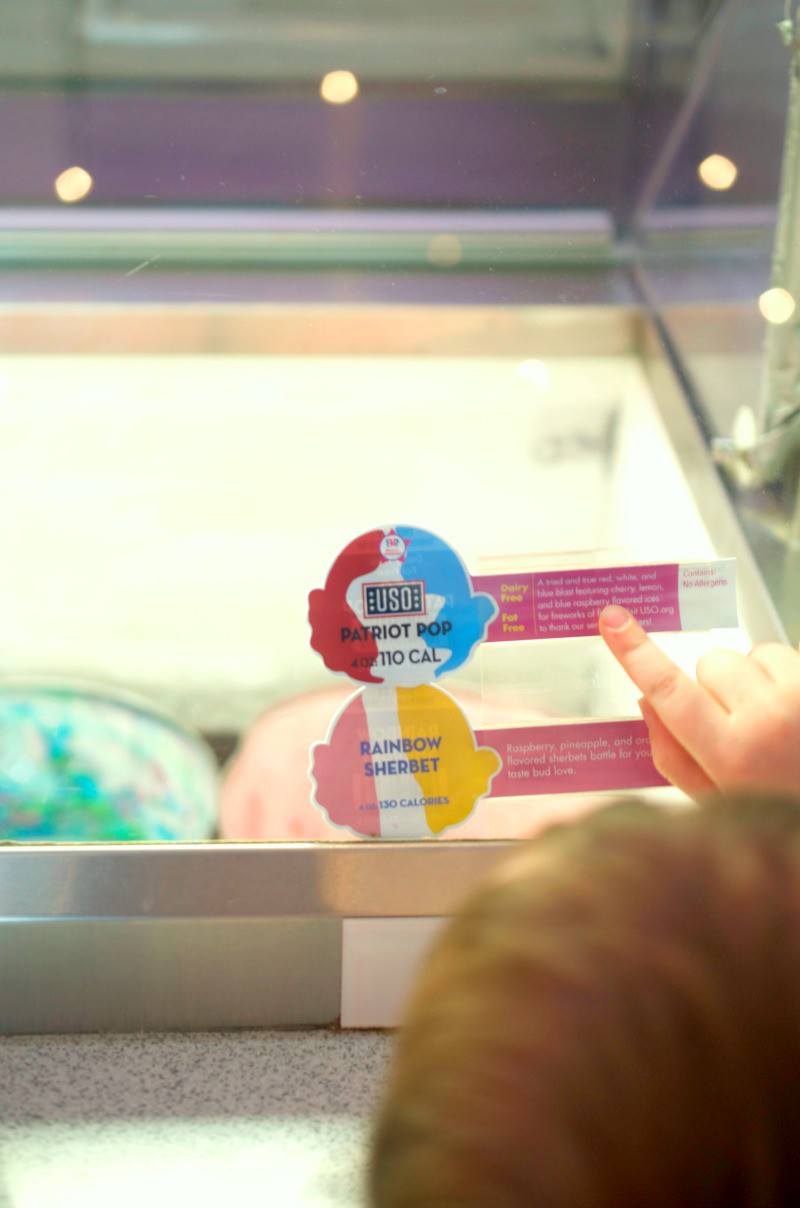 The USO Patriot Pop Flavor is a blend of cherry, lemon and blue raspberry flavored ices. You can enjoy it as a scoop, in a cone or in a float. And those of you that are dairy free, you can enjoy it too!
We picked scoops and cones when we tried the USO Patriot Pop.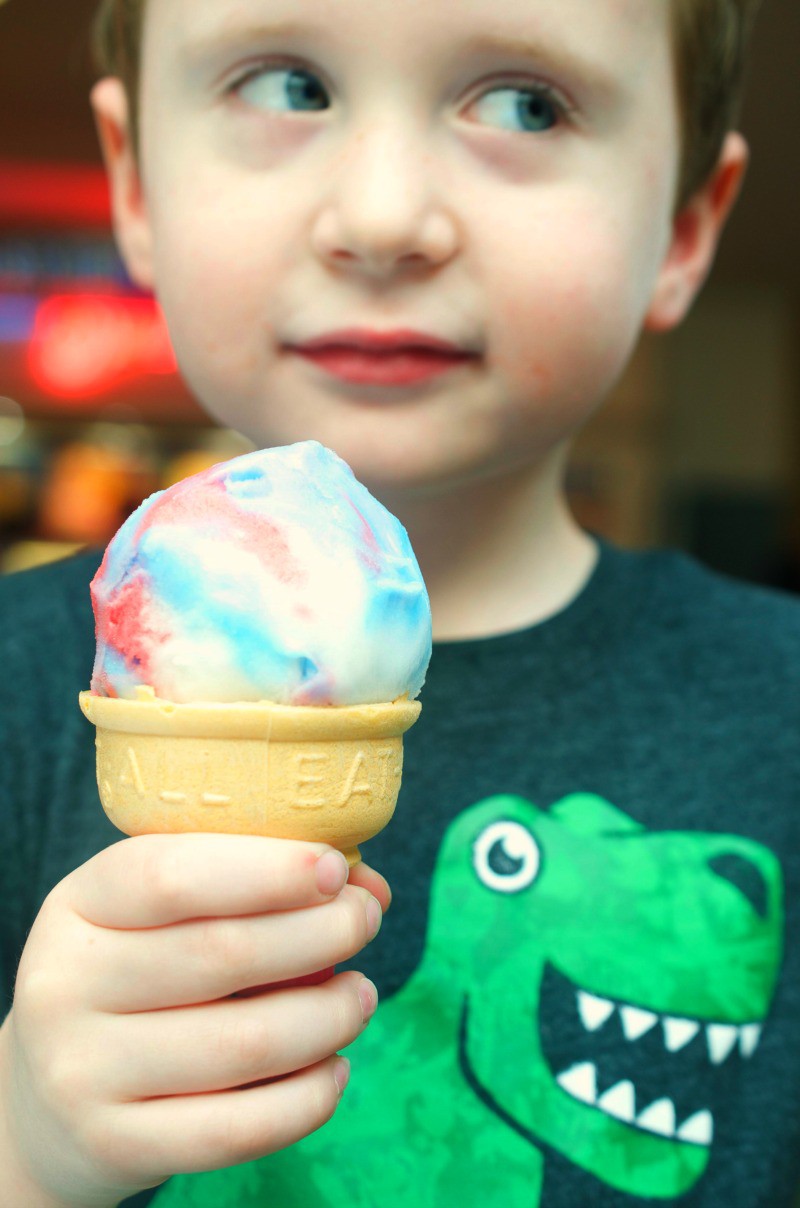 Although, I must say that next time, I am definitely getting one of these USO Patriot Pop floats.
Photo Courtesy of Baskin-Robbins
 Speaking of floats, in honor of the USO's 75th anniversary, Baskin-Robbins will donate 75 cents from every ice cream float sold on National Ice Cream Day (July 17, 2016) to the USO in honor of all service members, veterans and their families. The donations will go towards helping the USO with it's mission of keeping the US Military connected to their family, home and country throughout their service to the nation from the moment that they join, to deployments, to transitioning when they return.
Baskin-Robbins also hopes to send 1 MILLION messages of support to active duty service members around the globe.
So take the family out for ice cream this Sunday, grab a USO Patriot Pop float and help support the USO. It's a win for everyone :)