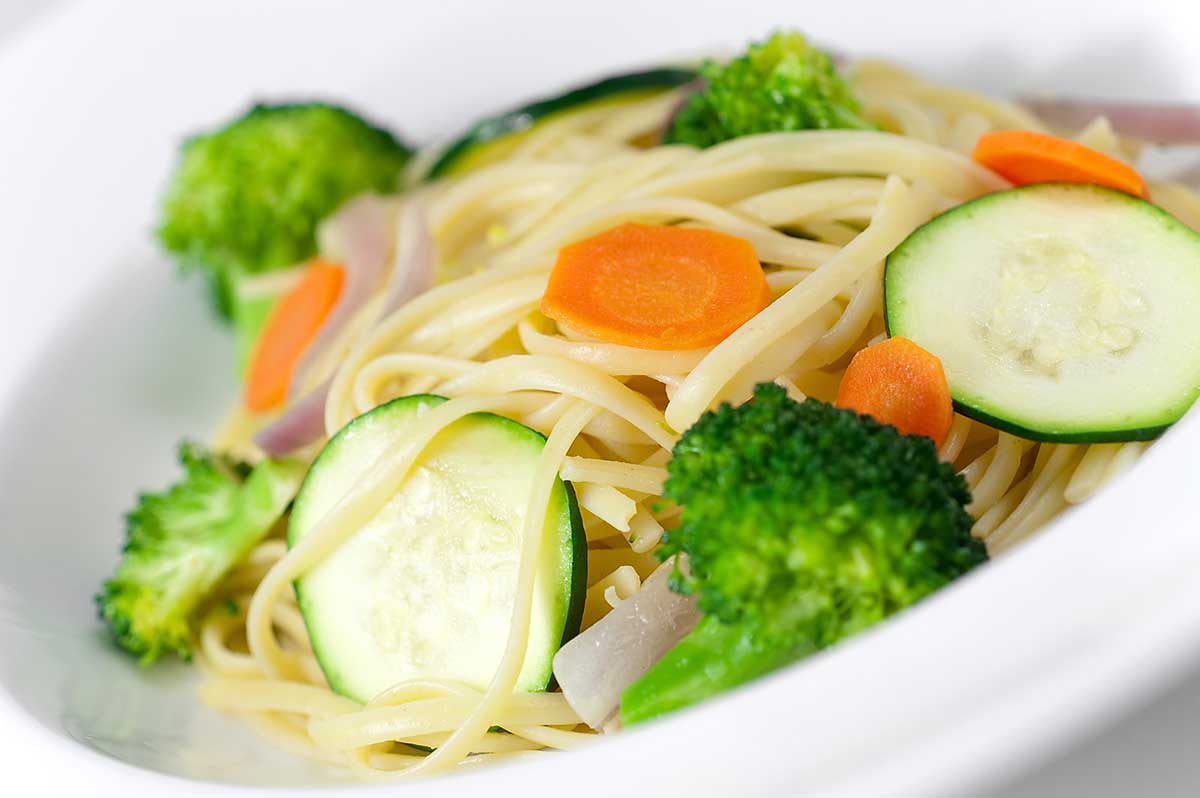 Vegetable Linguine
I've been keeping things pretty light this first week of the new year, and I figured I'd keep it going for at least one more day with this vegetable linguine. Its light but full of flavor. There's broccoli, carrots, garlic, red onions, zucchini, crushed red pepper and white wine. Adding all of these veggies makes me feel a little bit better about my, probably excessive, pasta consumption.
This is another one of those dishes that I remember eating frequently at the restaurant I worked at. Surprisingly it was not a big seller among the customers, but a few of us employees loved it. One of the reasons we loved it so much was because it was so easy to modify to suit our tastes. You can add just about any vegetable that you would like to it. If I remember correctly the restaurant version served it with baby corn, I'm not to big of that so I simply omitted it from my recipe.  If you're not keen on the vegetables that I've chosen go ahead and add some of your favorites. Just remember to cook the vegetables that take the longest first.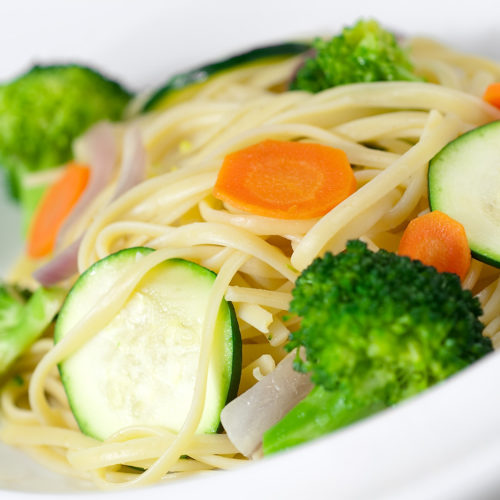 Vegetable Linguine
Loaded with veggies, garlic and a little wine. The perfect light pasta dish.
Ingredients:
1/2

pound

dried linguine

2

tablespoons

olive oil

4

cloves

garlic

minced

3

cups

fresh broccoli florets

1

cup

sliced carrots

1

cup

sliced red onion

1

cup

sliced zucchini

1/4

teaspoon

crushed red pepper

1/4

cup

dry white wine

fresh cracked pepper and kosher salt

freshly grated Parmesan cheese
Cook pasta according to package directions. Strain but reserve 1/4 cup pasta water.

While the pasta is cooking, heat olive oil over medium heat in a skillet large enough to fit the cooked pasta. Once hot add garlic cook just until its fragrant about 30 seconds. Add broccoli. Cook 3 minutes. Stirring occasionally. Add carrots, red onions and zucchini. Cook 3 minutes. Sprinkle with crushed red pepper and pour wine over the top and continue cooking for 5 minutes or until veggies are softened.

Add cooked noodles to the pan. Toss to combine. If pasta seems dry, add reserved pasta water. Season to taste with salt and pepper.

Transfer to a serving platter and top with Parmesan cheese.
Keywords:
broccoli, carrots, Food, garlic, pasta, Recipe, red onions, vegetable pasta, vegetables, Vegetarian, white wine, zucchini