Whiskey mushroom Dubliner cheese burger – to know it is to love it! Guys, boy do I have a gourmet cheeseburger recipe for you. If someone ever asks you to make them a man's burger, this Whiskey Mushroom and Dubliner Cheese Burger would be it. With its toasty brioche bun, juicy burger, soft spreadable Dubliner cheese and whiskey caramelized mushrooms and onions, there is so much umami flavor going on here I can barely handle it. It's perfect for all of those tailgating parties that are just around the corner.
I can't even believe I just typed that. I can't even believe that August starts tomorrow and that football season is just around the corner. Holy smokes this year has gone by fast!
I must say though, that I am ready for football season. Well, kind of, I'm ready for all that football season has to offer, you know cooler fall weather and delicious game day snacks. But what I am not ready for is the stress every Sunday, and I am definitely not ready for heartbreaking moments like the last play of the Super Bowl. But let's just focus on the food for a moment.
Football food like this cheese burger. This burger recipe is my entry for a giveaway contest for members of the Kerrygold Blogger Loyalty Program. The challenge this month was to come up with a mouthwatering burger using their cheese. My monthly cheese package included a product new to me, that I absolutely fell in love with: Soft and Creamy Dubliner Cheese. That's right, the delicious Dubliner cheese is now spreadable. And guys, it's kind of amazing.
I've been spreading the cheese on bread, crackers and most recently, a whisky mushroom Dubliner cheese burger.
And if the creamy spreadable Dubliner cheese wasn't enough, this cheeseburger gets taken to a whole other level with whiskey caramelized onions and mushrooms and a brioche bun. It's the perfect burger for a weeknight meal, a bbq and a tailgate party. Trust me.
And even if we are in for some heartbreaking football moments this season, this burger is sure to comfort us through it. Right?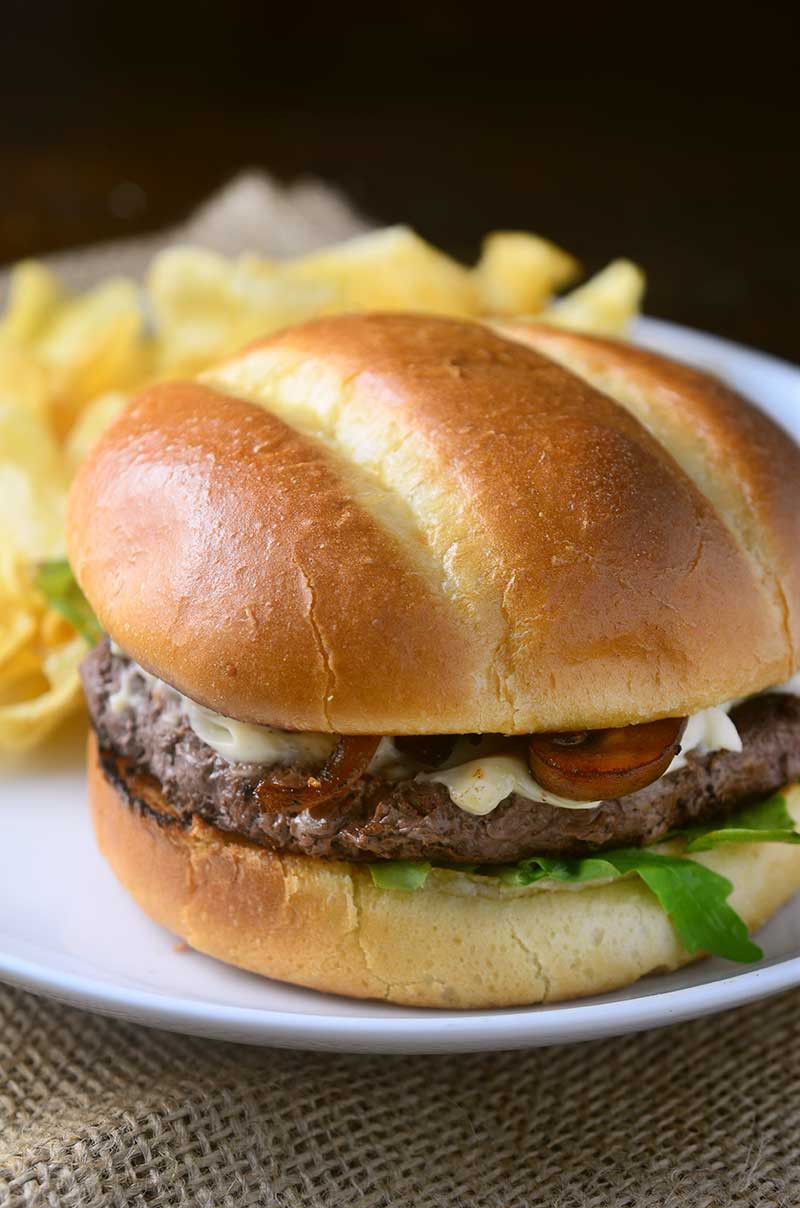 Disclosure: I was sent the cheeses by Kerrygold and this post is my entry for a giveaway for members of the Kerrygold Blogger Loyalty Program. All opinions are my own.
Ingredients:
1 tablespoon butter
1 tablespoon olive oil
3 cups sliced crimini mushrooms
1 medium yellow onion, sliced
3 tablespoons whiskey
salt and pepper
4 hamburger patties
4 brioche buns
8 wedges Dubliner Soft and Creamy Cheese Wedges
mayonnaise
lettuce
Instructions
1
Place butter and olive oil in a skillet over medium heat until butter melts.

2
Cook mushrooms and onions over medium heat for 15 minutes or until they start to brown and caramelize. Pour in whiskey. Continue cooking for another 5 minutes. Season to taste with salt and pepper.

3
Meanwhile, cook burger patties until desired doneness is reached.

5
To assemble a burger: Place lettuce on bottom bun, place burger on top, spread 2 wedges of dubliner soft and cream cheese wedges on top of burger patty, spoon caramelized mushrooms and onions over the top. Spread a mayonnaise on top bun and place on top of mushrooms. Repeat with with remaining ingredients until 4 burgers are made. Serve immediately.