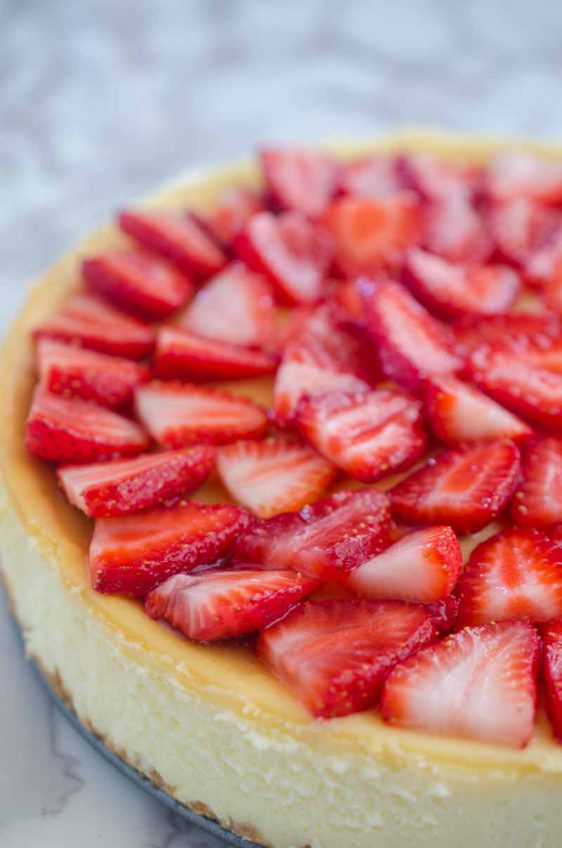 White Chocolate Strawberry Cheesecake
White chocolate strawberry cheesecake is the perfect cheesecake recipe for strawberry lovers! Get my tips for baking the perfect cheesecake and enjoy this decadent strawberry cheesecake recipe!
There is just something about the smell of fresh spring strawberries that makes me want to buy them whenever I walk past them in the grocery store. And that is exactly what I did last week. I could say that I bought them not knowing what I was going to do with them, but that would be a lie. I bought them knowing exactly what I was going to do with them. I knew I was going to sprinkle them with sugar and pile that sweet strawberry mixture over the top of a silky smooth cheesecake. A silky smooth cheesecake with just a hint of white chocolate to be exact.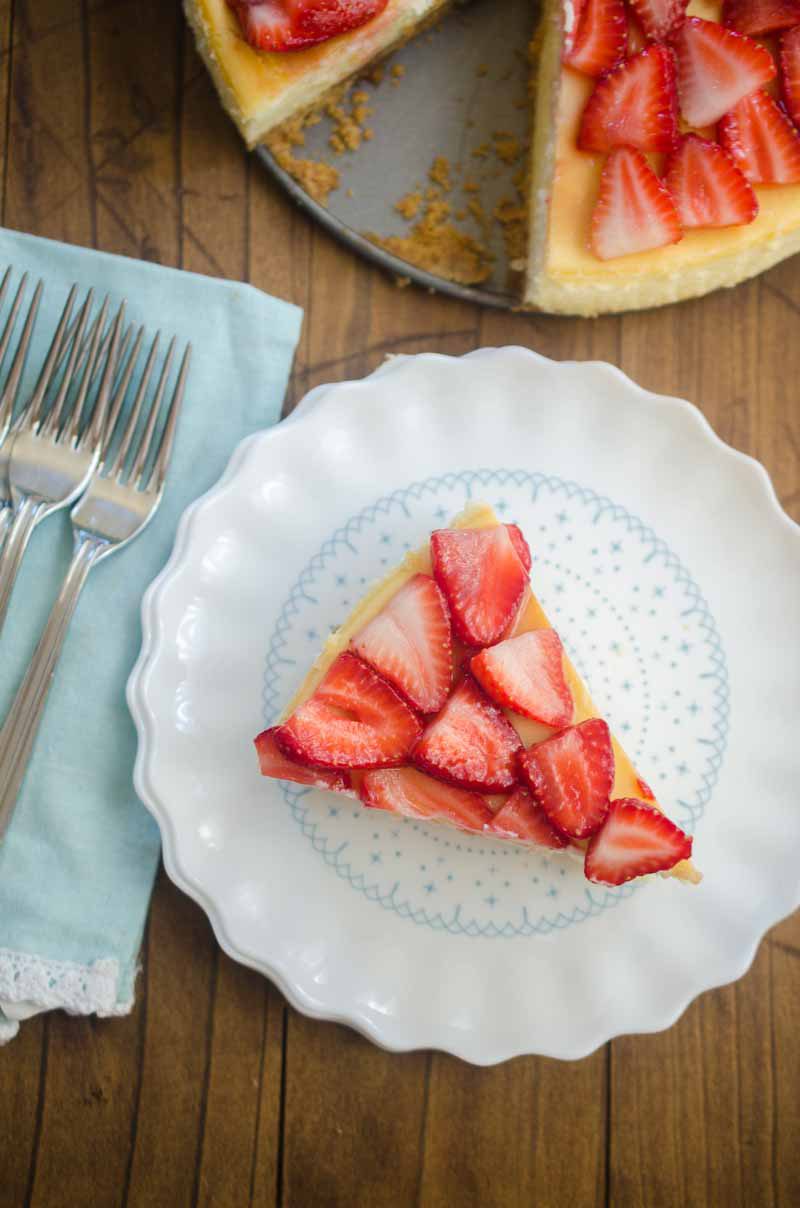 For the longest time I had a hard time making cheesecakes. I'd always have cracks or I'd over cook them. I wouldn't whip them enough, making them chunky. But after many trials and errors, I have discovered a few keys to making the perfect cheesecake.
Tips for making the perfect cheesecake:
First up, key number 1: The water bath. It is a must. But you also must wrap the springform pan in foil like your life depends on it. You can't really over do it here. You need it to be airtight so that no water can get in. Because, lets face it, making a cheesecake is a lot of work, and nothing ruins a cheesecake more than a soggy crust.
Except for lumps. Lumps are no fun.  Which brings me to key number 2: The cream cheese needs to be room temperature.  It is essential, because if it is too cool, it will not smooth when whipped and you'll end up with lumps in the mixture. These lumps will not cook out so your final product will have little lumps of cream cheese throughout. No bueno.
Finally, key number 3: Plan ahead because baking cheesecakes takes time. A lot of time.
Not active time, mind you, but your white chocolate strawberry cheesecake will need to cook for about 45 minutes.
While you wait for the cheesecake to bake, slice up some strawberries and make a strawberry jalapeno margarita to sip on.
Once your cheesecake is baked, it needs to cool down. Slowly. I prefer to do this by simply turning off the oven and letting it cool in there for an hour. But that's not all. Cheesecakes need to finish cooling in the refrigerator for at least 6 to 8 hours, or overnight.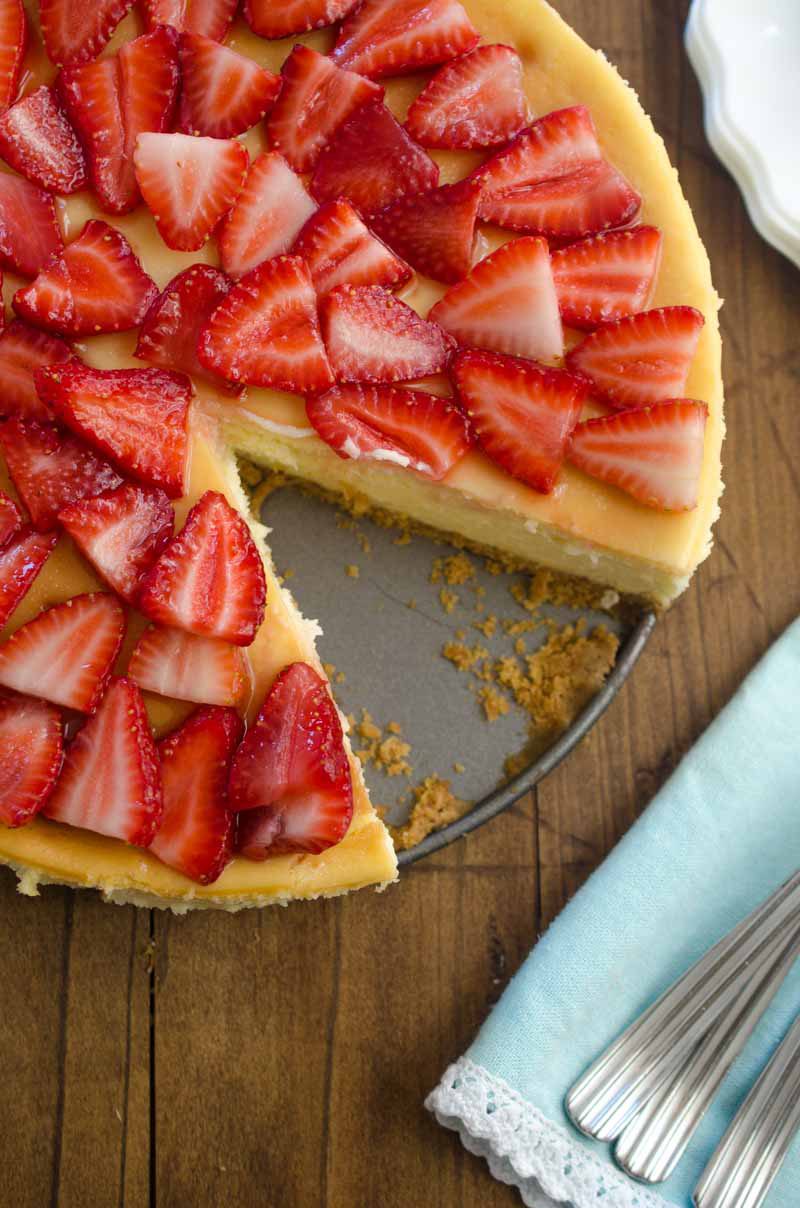 I know it seems like a lot of work, but one bite of perfectly smooth, delectable white chocolate strawberry cheesecake and you'll know that it is worth it.
Because I know your finished cheesecake will be beautiful, take a photo of it and share it on my Facebook page!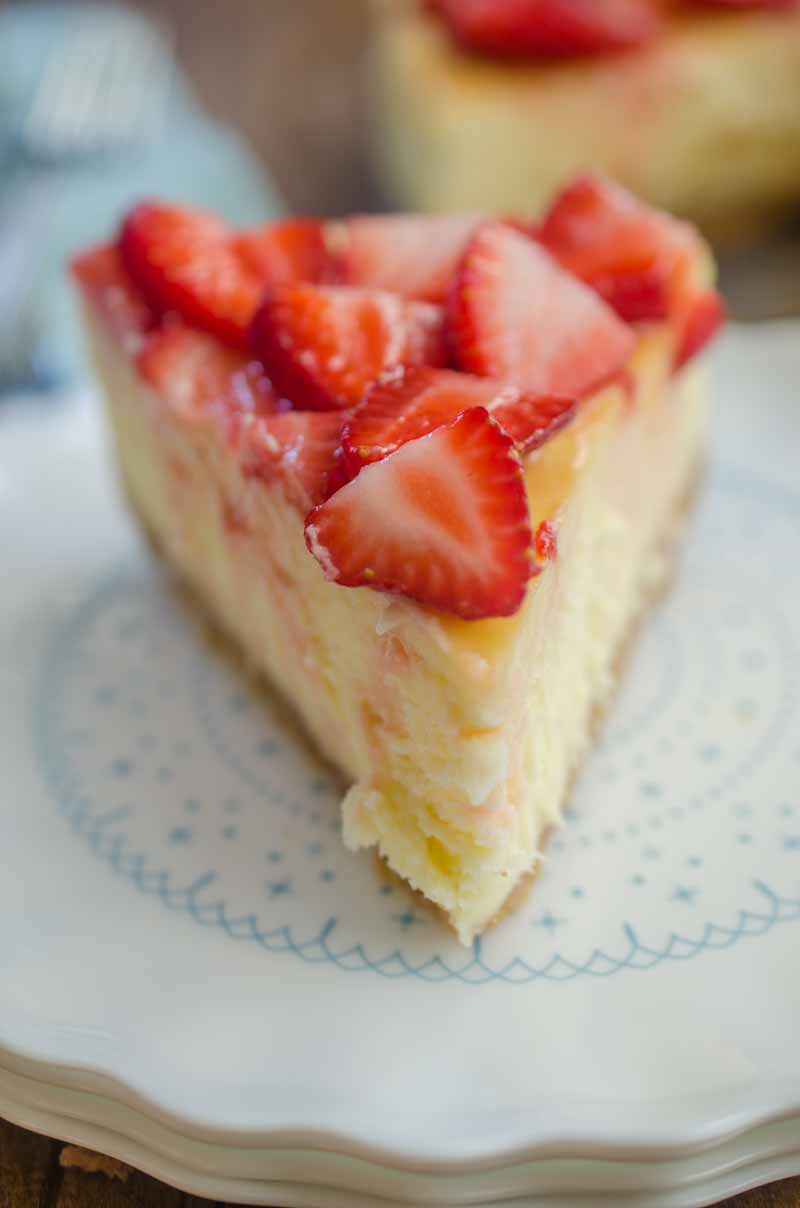 Note: This post was updated on August 21,2013 with a different way to prepare the strawberries. Instead of cooking them, they are simply sprinkled with sugar, allowed to set and then poured over the cheesecake. A delicious, and fresh way to enjoy them.
Check out the video to see how this gorgeous cheesecake comes together!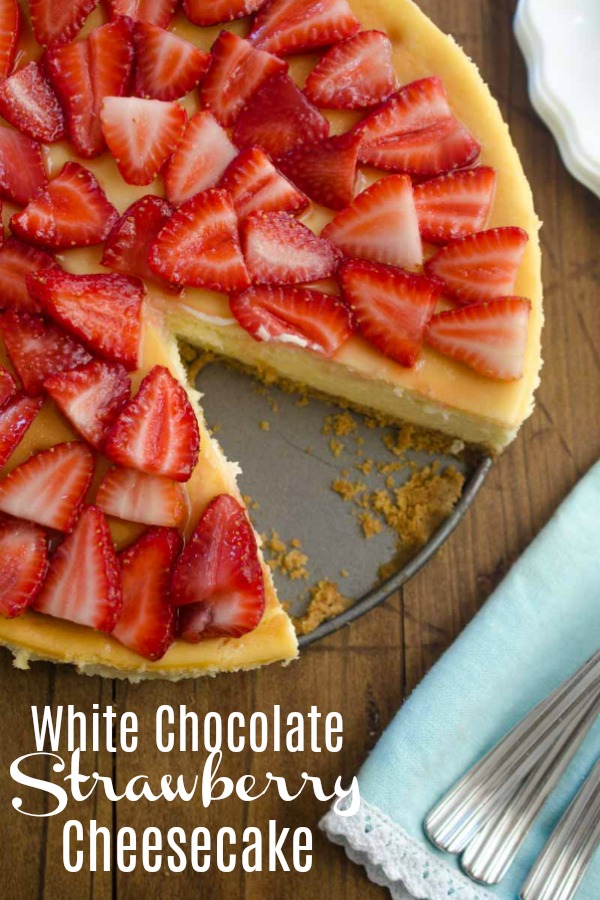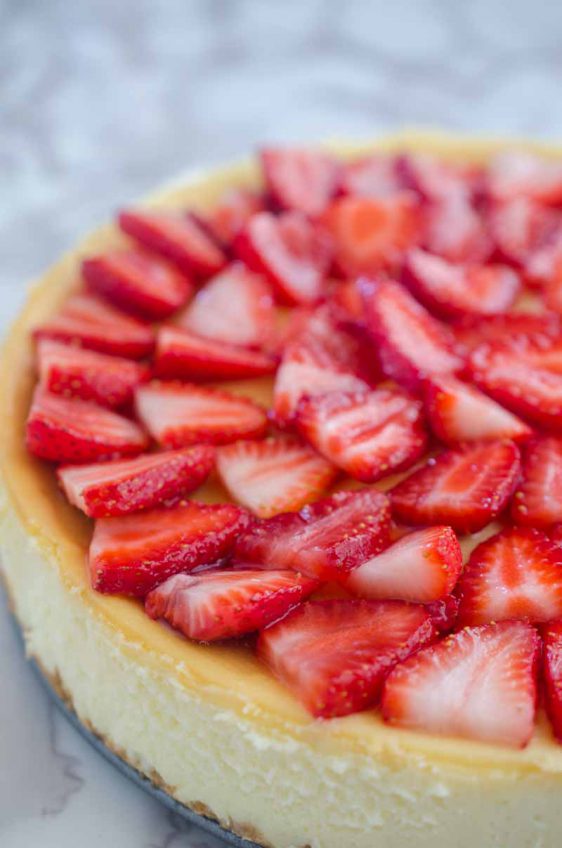 White Chocolate Strawberry Cheesecake
White chocolate strawberry cheesecake is the perfect cheesecake recipe for strawberry lovers! Plus tips on how to make the perfect cheesecake!
Preheat oven to 350 degrees. Place the spring form pan in the middle of two large pieces of heavy duty aluminum foil. Bring the foil up the sides of the pan. Crimp the pieces together around the pan. Make sure it is tight and secure so no water gets in during the baking process.

Begin to boil a pot of water.

Combine graham crackers and melted butter together in a bowl. Mix well.

Press graham crackers into the bottom of the springform pan. Bake for 10 minutes. Remove and allow to cool.

While the crust is cooling, beat cream cheese and 1 cup of sugar together in the bowl of a stand mixer until smooth. Beat in eggs 1 at a time being sure to scrape down the sides of the bowl after adding each egg. Beat in vanilla extract, heavy cream and sour cream. Beat in cooled, melted white chocolate chips. Continue mixing on medium speed until the mixture is silky and smooth. Pour mixture into cooled crust.

Place cheesecake into a roasting pan. Place in the oven and pour the boiling water into the roasting pan, quickly close the door. Bake for 45 - 55 minutes or until the cheesecake is set. The middle will still be jiggly. Turn off oven, keep oven door closed and allow cheesecake to cool 1 hour in oven. It will finish cooking during this time.

Remove cheesecake from oven, carefully remove it from the water bath. Remove the aluminum foil, being careful of any water that may have worked its way in.

Chill cheesecake in the refrigerator 6 to 8 hours or overnight.

The next day, combine remaining 2/3 cup sugar and 3 cups of strawberries together in a bowl. Allow to set for 30 minutes. Spoon the berries over the top of the cheesecake.

Use a knife to gently loosen the sides of the cheesecake from the pan. Remove the sides of the pan. Slice and serve.
Keywords:
cheesecake, dessert, Food, fresh strawberries, memorial day, Recipe, strawberries, sweet, treat, white chocolate