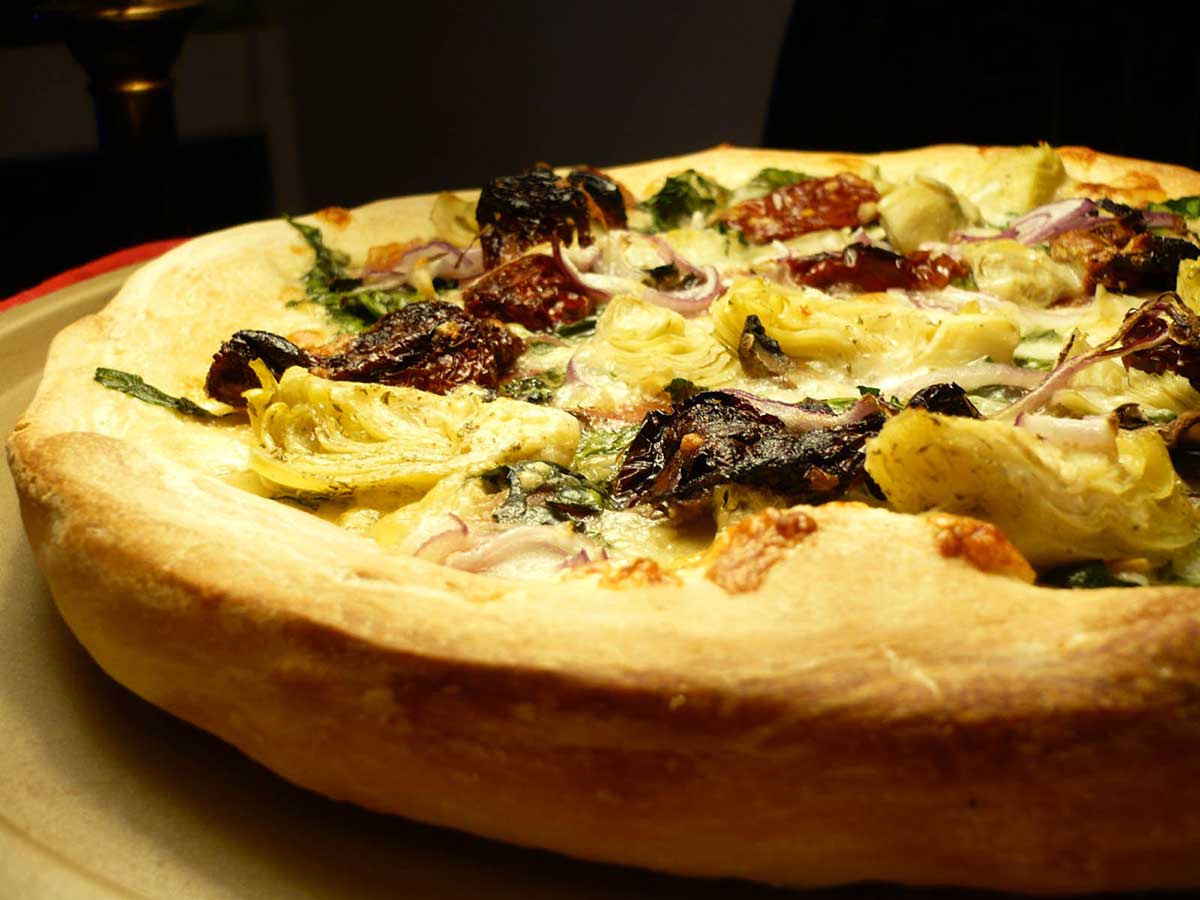 White Pizza
Now don't get me wrong,  I love a good traditional American pizza with pepperoni, sausage, extra cheese and lots of tomato sauce, but every once in awhile I crave something a little different. This recipe for white pizza is very similar to some of the pizzas that Ryan and I had when we were in Italy, where there is NO pepperoni, that's right, NONE. Believe me I was just as shocked as you.  If you go to Italy and try to order a pepperoni pizza, you will get a pizza topped with peppers. But you know, not having pepperoni wasn't such a bad thing, it allowed us to experiment by ordering different types of pizza. Those pizzas are what inspired me to create this recipe when we got home.
Now you can certainly take the time to make your own homemade pizza dough which allows you to add yummy things like basil, oregano and cheese, but for this recipe I chose to use a frozen dough that I found in the freezer section at my local grocery store and it worked pretty well. It was in a ball so I did have to thaw it and roll it out, but that was pretty easy.
White Pizza Recipe
Ingredients:
1 frozen pizza dough, thawed and rolled out to 15"
2 cups freshly grated Mozzarella cheese
1 cup fresh baby spinach leaves
12 slices of thinly sliced salami, halved
1 12oz jar of marinated artichoke hearts
10 sun dried tomatoes, oil packed
1 cup sliced mushrooms
1/2 red onion sliced
Extra virgin olive oil for brushing
1 clove of garlic
Instructions
1
Preheat oven to 400 degrees.

2
Meanwhile, roll out your pizza dough, and place it on a pizza pan.

3
Once the oven has heated, place the pizza dough on the middle rack. Cook for 10 minutes.

4
Remove the pizza dough, rub with the garlic clove and brush with extra virgin olive oil, be sure to brush the entire pizza, this will give the edges a pretty golden color. Next add 1/2 of the cheese, spinach, salami, artichokes, sun dried tomatoes, mushrooms, red onions and top with remaining cheese.

5
Cook until cheese is melted and crust is golden. About 15 minutes.