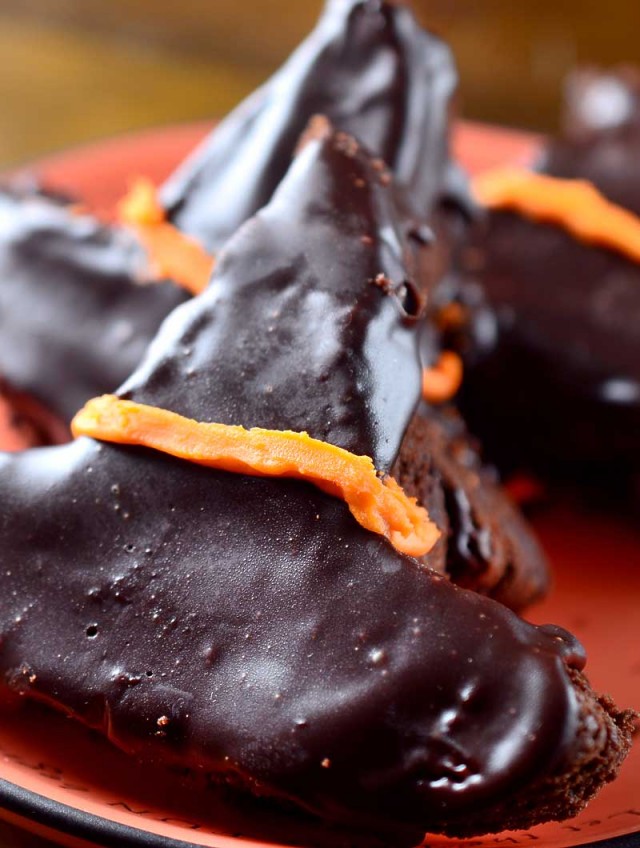 Witch Hat Caramel Brownies
I have always been a fan of Halloween. But I never knew how big of a fan I could be until this year when I put out the Halloween decorations and saw the smile on Kellan's face. He loves the little pumpkins, the skull lights, the ghost and the scary eyes that cling to our windows. And now I love them. And now I want to make all kinds of homemade decorations and fun Halloween treats with him. Halloween treats like these Witch Hat Caramel Brownies.
These brownies are pretty easy to make. That is one of my favorite things about most Halloween desserts. What makes them Halloween desserts is not the dessert themselves, but the little Halloween twist that they get. They might have some candy corn. Some extra red frosting. Maybe some candy knives or pumpkins. Or maybe they are in the shape of Halloween things like these. But the basics are the same.
Take these brownies for instance. They are chewy, fudgy, have a layer of caramel and a coating of dark chocolate ganache. They are everything a brownie should be, but today they are in the shape of a witch hat making them perfect for any Halloween celebration.
Witch Hat Caramel Brownies Recipe
Ingredients:
1 cup unsalted butter
1 cup unsweetened cocoa powder
1 1/2 cups granulated sugar
4 eggs
2 teaspoons vanilla extract
1 cup all purpose flour
2 teaspoons baking powder
1/4 teaspoon salt
1/3 cup heavy cream
1 (11 ounce) package caramel bits
1 can orange frosting
Ganache Ingredients
2/3 cup heavy cream

2/3 cup dark chocolate chips
Instructions
1
Preheat oven to 350. Line a 9x13 inch pan with aluminum foil. Spray aluminum foil with non-stick spray.

2
Melt butter in a skillet over medium heat. Once melted whisk in cocoa powder. Allow to cool 10 minutes.

3
Whisk in the sugar. Whisk in the eggs one at at time. Whisk in vanilla.

4
In another bowl combine flour, baking powder and salt. Slowly whisk into the cocoa mixture.

5
Make the caramel layer by heating the cream and caramel bits together in the microwave in 30 second increments, stirring in between, until the caramel has melted.

6
Spread 1/2 of the brownie mixture into the prepared pan. Pour the caramel over the top. Gently spread so it covers the brownie batter in a thin layer. Pour remaining batter over the top. Using the back of a spoon to spread it evenly over the caramel. It's ok if the caramel and brownie batter blends. Bake 25 - 30 minutes or until a toothpick inserted comes out clean.

7
Allow to cool completely.

8
Grab the edges of the foil and gently lift the chilled brownies out of the pan. Use a witch hat cookie cutter to cut into eight brownies (maybe more or less depending on the size of your cookie cutter).

9
Make the ganache by heating the cream in a saucepan just until it starts to steam. Add in chocolate chips and make sure they are covered by cream. Let set for 1 minute. Stir and let set another 2 minutes.

10
Place brownies on a sheet of parchment paper. Spoon the ganache over the top of the brownies. Using the back of the spoon to smooth things out. Allow ganache to harden and then use the can of frosting, fitted with a large round tip, to create the ribbon on the hat. Serve.