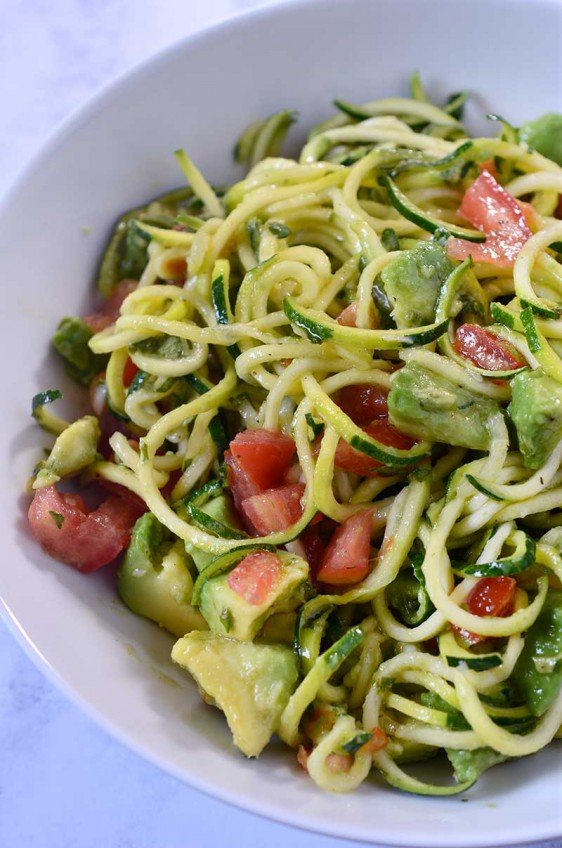 Zucchini Noodles Salad
Zucchini Noodles Salad. A fresh zucchini noodle salad with tomatoes, zucchini, and avocado tossed in a lemon basil vinaigrette. Perfect for summer!
Who's ready for all things summer? The grill. The beach. The sun. The BBQs and the s'mores. The pasta salads.  I am and I am also ready for all things fresh summer veggies. I can't wait for all the summer squash and sun ripened tomatoes so that I can make this Zucchini Noodles Salad over and over again. With fresh zucchini noodles, tomatoes and avocado all tossed in a lemon basil vinaigrette it is like summer in a bowl and will be your new go to salad this summer too. I just know it.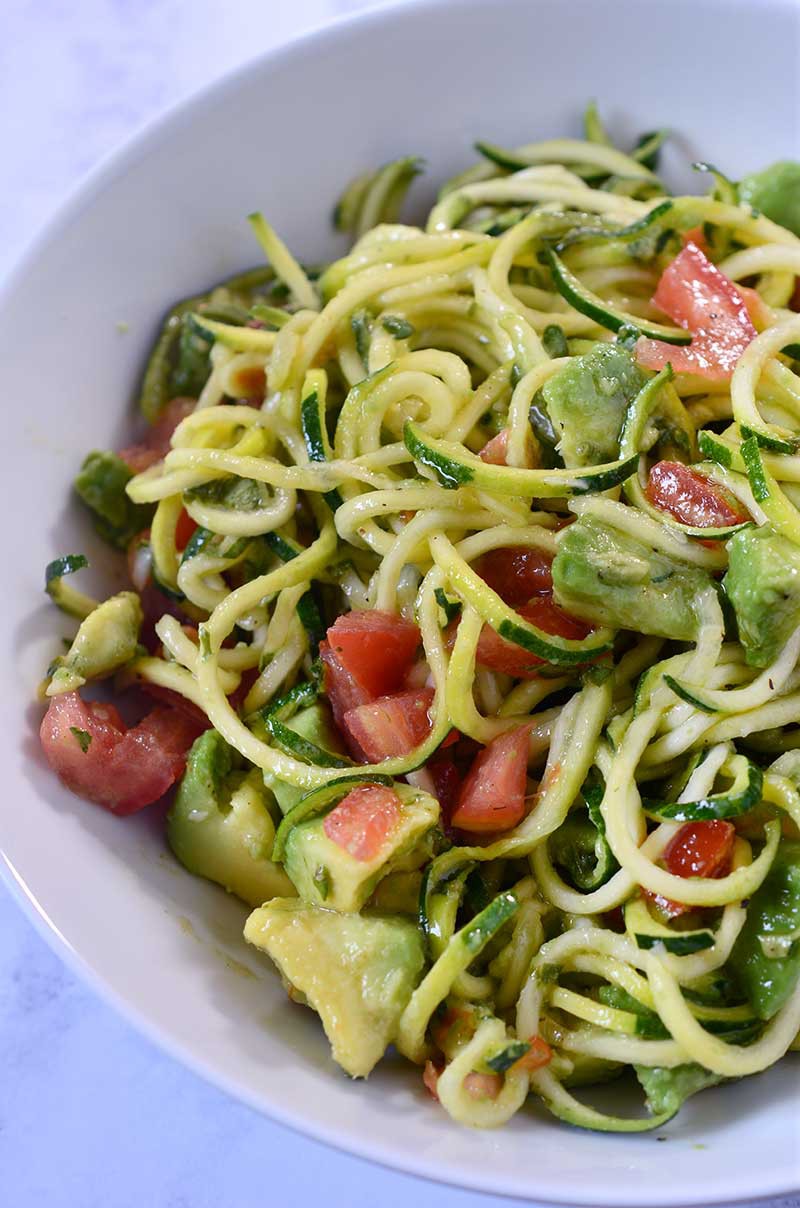 A lot of the recipes that I see for zucchini noodles involve cooking them for a short amount of time. But I wanted to try a recipe using raw zucchini noodles. After all, summer is coming and you've got to have some no cook recipes in your repertoire and this Zucchini Noodle, Tomato & Avocado Salad is perfect.
This Zucchini Noodles Salad Recipe uses my favorite new kitchen gadget: my spiralizer.
I first wrote about it when I made these Sweet Potato Noodles and I thought I loved it then. Truth be told, as much as I loved those sweet potato noodles, I could not wait for the chance to make some gorgeous summer salads with my spiralizer. I mean, after all, we eat with our eyes too don't we? And seriously, spiralized vegetables are so gosh darn pretty. 
Summer salads = delicious
Summer Spiralized Salads = delicious AND pretty.
But what if you don't have a spiralizer? Well, I'm going to solve that problem for one of you. Because I'm kind of obsessed with mine and think everyone should own one, I am going to give one away. A Paderno Tri-Blade Sprializer to be exact. It is the one I use in my kitchen and I love, love, love it.
All you have to do to enter is leave a comment in the comment sections below telling me your favorite summer vegetable and I'll pick a winner at random.
And, if you win, the first thing you are going to want to make is this Zucchini Noodle, Tomato & Avocado Salad. :)
Rules:
Open to US residents only.
Giveaway ends Friday May 29 at 5:00PM PST.
Winners will be picked at random and must respond within 48 hours or I will have to pick another winner.
Zucchini Noodles Salad Recipe
Ingredients:
1/4 cup extra virgin olive oil
2 tablespoons lemon juice
1 - 2 cloves garlic, minced
1/4 cup chopped fresh basil
salt and pepper
2 medium zucchini, cut in half, stems removed
1 cup halved cherry tomatoes
1 medium avocado, diced
Instructions
1
Combine olive oil, lemon juice, garlic and basil together in a food processor and process just until emulsified. Season to taste with salt and pepper. Set aside.

2
Using the 1/8 inch spacing blade, cut the zucchini into noodles.

3
Place zucchini, tomatoes and avocado together in a bowl. Drizzle dressing over the top. Cover and refrigerate for 20 minutes. Serve.
Nutrition information
Calories: 255 , Total Fat: 22.7g , Saturated Fat: 4g , Cholesterol: 0mg , Sodium: 27mg , Carbohydrates: 13.1g , Fiber: 5.8g , Sugar: 4.6g , Protein: 3.6g