Caramelized French onion dip is one of my favorite party foods! This easy dip recipe comes together in minutes, using just a few simple ingredients.
French onion dip, or F.O.D as Ryan calls it, is very popular in our home. Whenever I buy some at the grocery store it is usually gone in a couple of days. I have yet to catch him eating it out of the carton with a spoon, but I have my suspicions.
As a result, I am constantly picking up a carton while I'm at the store, but a recent look at the ingredients got me wondering if I could possibly make it at home. It didn't seem like making homemade French onion dip would be that hard, but I had no idea how easy it would actually be. Now when Ryan finishes the last bite, I just whip up some more.
I love onions as much as the next girl but I am not a huge fan of raw onion flavor. To me its the kind of flavor that just sticks with you all day. In an effort to avoid that I decided to caramelize the onions in this dip.
Caramelized French onion dip has a slightly sweet onion flavor that tastes great while eating it, but doesn't linger too long.
After you make this quick dip recipe, check out another twist on it, by making my Caramelized French Onion Dip Burgers recipe!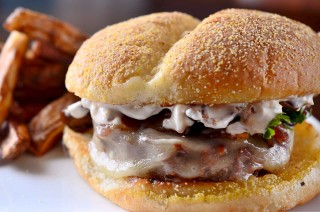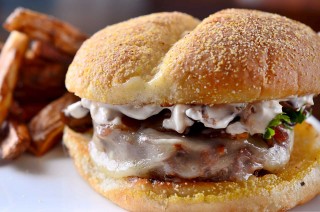 Ingredients:
1 tablespoon olive oil
1 cup finely chopped onion
1 clove garlic, minced
1/2 cup mayonnaise
1/2 cup Greek yogurt (or sour cream)
1/2 teaspoon Worcestershire sauce
1/4 teaspoon kosher salt
1/4 teaspoon white pepper
Instructions
1
Heat olive oil in a small pan over medium-low heat. Add onion and garlic and cook until they turn brown in color, stirring occasionally, about 20 minutes. Take care not to burn the onions. Remove from heat and allow to cool.

2
In a bowl combine cooled onion, mayonnaise, Greek yogurt, Worcestershire sauce, salt and pepper. Chill 30 minutes.