Garlic Pepper Chicken Wings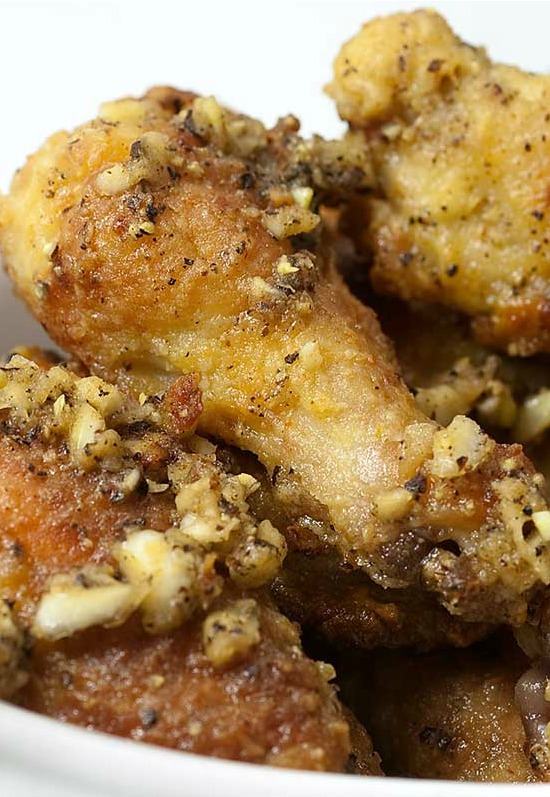 Happy Christmas Eve everyone! Now I know that this may not be traditional Christmas Eve food, but after your fill of turkey, mashed potatoes and stuffing I bet you will want something a little different come Saturday. In keeping with the appetizer theme that I mentioned yesterday, today I thought I would present a variation on another favorite: Chicken Wings. Whenever you hear the words "chicken wings" you probably imagine something like this. The red hot spicy wings that they have challenges for. These wings however, are a little different. They are still quite addictive but instead of a spicy hot sauce they are coated in a tangy sauce full of fresh cracked black pepper and fresh chopped garlic.
One of the first dinners that Ryan ever made me was chicken wings, because he knew how much I loved them. It was really sweet. I went over to his apartment after work and he was in the kitchen frying the wings. The first thing he said was "These are messy!" And he was right, grease was everywhere.  But despite nearly burning his hands off as he tried to turn the chicken wings with a fork, he kept cooking them for me. After we finished the wings, I offered to do the kitchen clean up and from that point on I have always baked my wings. Not only do they require less clean up but they are also better for you. And don't worry, they will still be crispy.