Lobster Nachos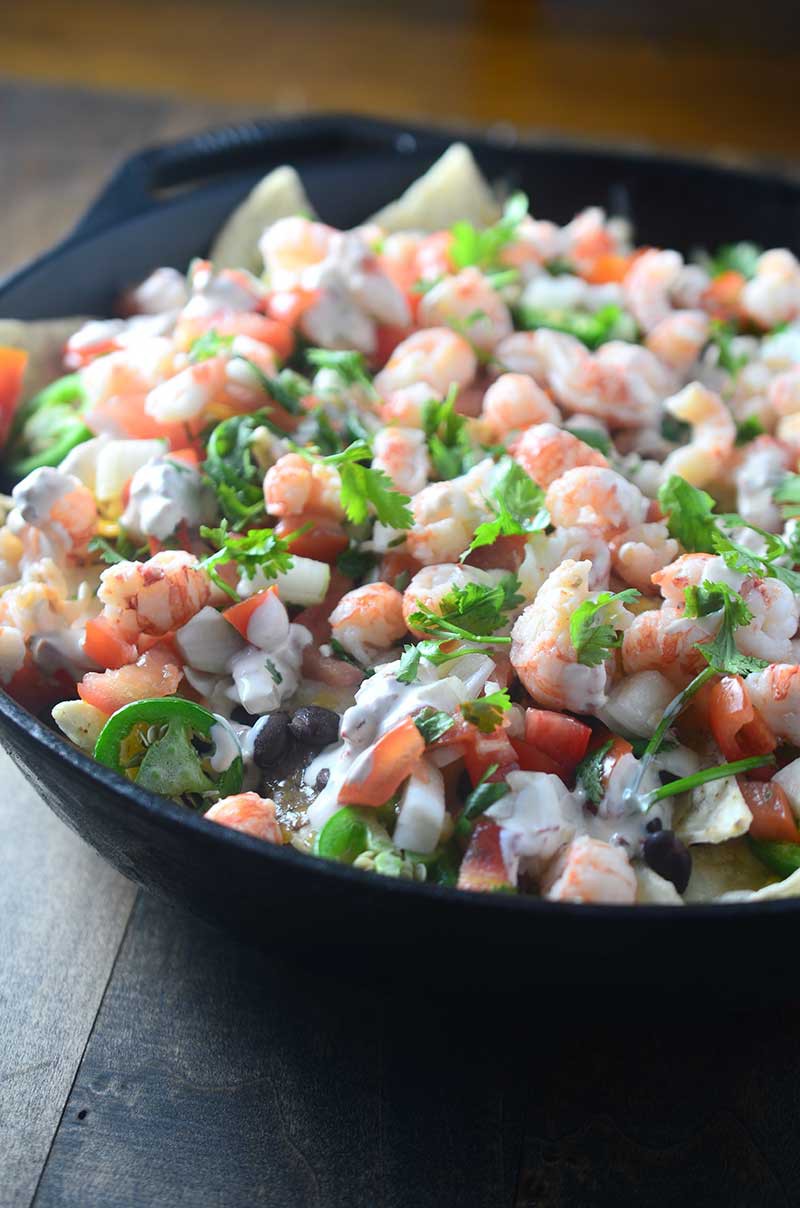 It has been a little over a month since we got back from Disneyland and frankly, I still miss it. I'm one of those crazy people that absolutely loves, loves, loves Disneyland. I never care about the the heat; we always go in the summer. I don't care about lines. I don't care about crowds. I simply love it. The lights. The sounds. The rides. The characters and, of course, the food. Theme park food ain't what it used to be. Sure there are hot dogs, burgers, ice cream sandwiches and churros but there is also fried green tomato sandwiches, macaroni and cheese hot dogs and lobster nachos. That's right. Lobster. Nachos.
Before we left for our trip, I asked Facebook what everyone's favorite Disneyland eats were. One stood out: Lobster Nachos.
Say wha???
I checked it out on the website. Read some reviews and I just knew that I had to have them. I talked about them in the days leading up to the trip. And every day while at the park I kept talking about my lobster nachos.
And guess what.
I didn't get my lobster nachos.
Wah Wah.
I didn't get my lobster nachos because they are only sold at the Cove Bar in California Adventure. It's a sit down place, the line was a little long and we were in Disneyland with 4 children ages 6 and under who couldn't care less about the fact that I really wanted some nachos with lobster on them.
One day, out of sheer hope, I even asked if I could get them to go. Alas I was told no.
So my trip to Disneyland ended without my lobster nachos but not one to give up quite so easy I did a little more research, read the menu description and made my own lobster nachos at home. They are loaded with langoustino lobster tails, two kinds of cheese, black beans, homemade pico de gallo, jalapeños, cilantro and a creamy chipotle sour cream.
And guys, they are SCRUMPTIOUS.
One final note: You'll notice that this recipe calls for langoustino lobster tails. If you aren't familiar with langoustino you can read about them here. I found the taste to be very similar to lobster, the main differences are the size and price. First, langoustino lobster tails are about 1 inch vs the much larger American lobster tails. Second, I found these in a 2 pound bag at Costco for about $25 and they worked perfect for this. I only used 1/2 pound of the tails and have been able to use the lobster tails in a few other recipes so far. It's kind of a steal in my opinion. But if you have access to fresh American lobster by all means, use that too!  :)