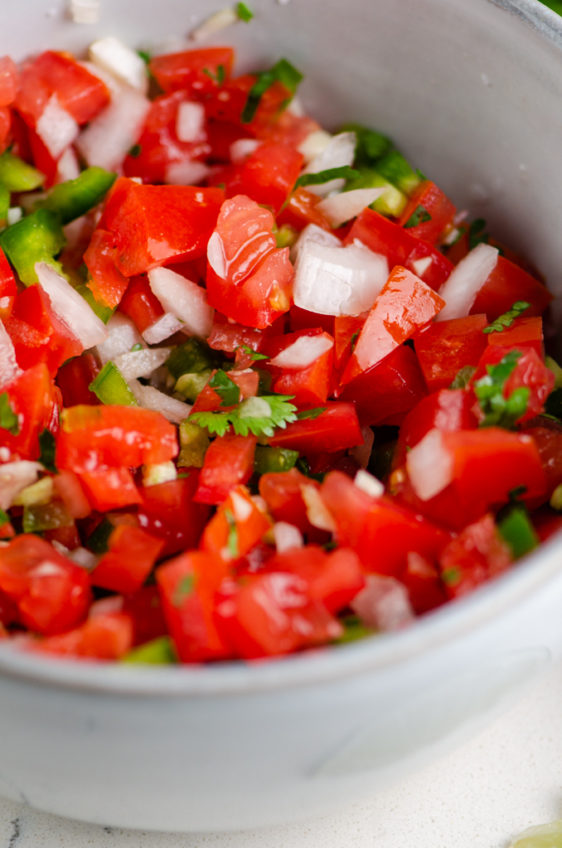 Easy Pico de Gallo Recipe
A quick and easy classic salsa! Pico de Gallo is perfect for dipping chips, and is a favorite taco topping. This flavorful recipe has just a handful of ingredients!
Whenever we have taco night, which is basically every Tuesday, aside from seasoned taco meat and easy guacamole, the other staple that must be on the table is fresh pico de gallo.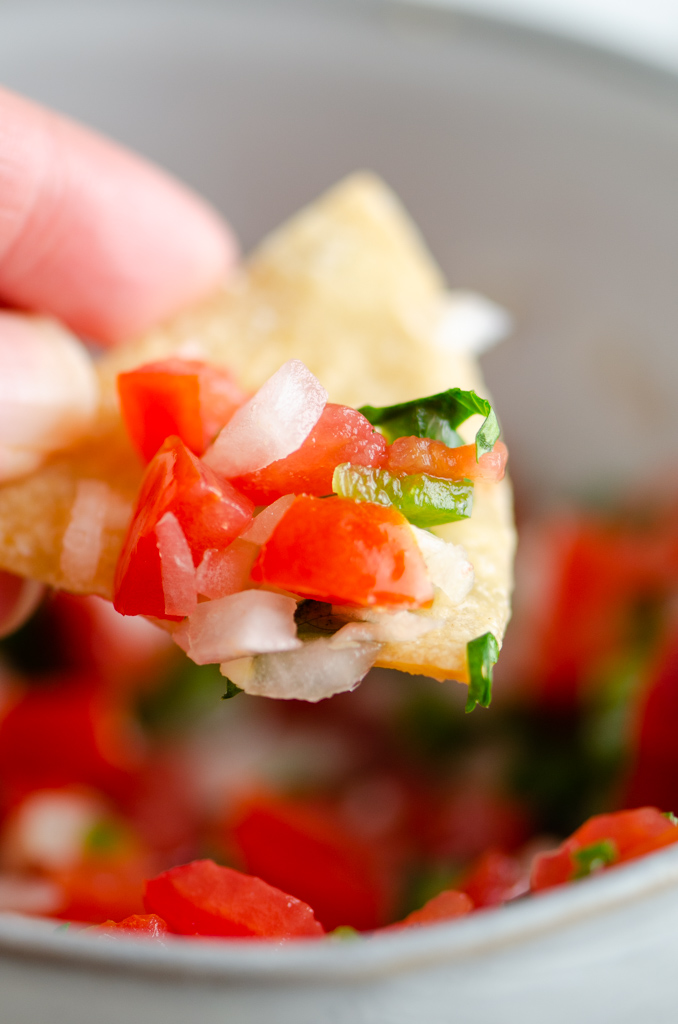 I know you can buy little containers of pico de gallo in the deli section of most grocery stores but from what I've found the quality can be a bit lacking, especially the tomatoes. That is why I started making my own. And guess what, making your own fresh pico de gallo is SO easy and has SO much flavor. Once you do it you'll wonder why you hadn't been doing it all along.
First let's talk about ingredients. Because this recipe only calls for a handful of ingredients you want to make sure they are the best. The flavor of each ingredient is important because of the way they meld together.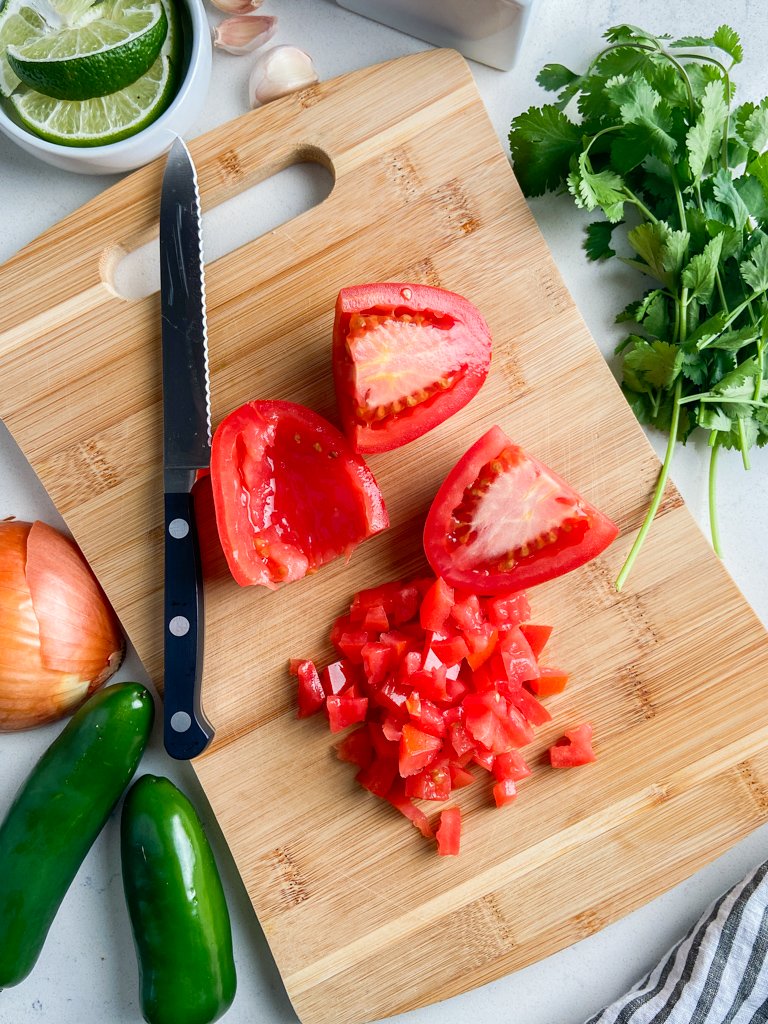 TOMATOES: Roma work best for this recipe. When you're picking your tomatoes make sure that they feel dense when you hold them in the palm of your hand. You also want them to give just a bit but not too soft or they will be mushy and mealy.
ONION: Use a milder onion in this recipe. White is the most mild. However, I tend to use yellow more because I keep them on hand more often.
GARLIC: Since this pico de gallo is raw, you don't want to overdo the garlic. Just a small clove or two will be enough to get garlicky flavor without overpowering it.
JALAPENO/SERRANO: You can use either or in this recipe. If you want this to be spicier, leave the seeds and veins intact. If you want this to be a bit more mild, remove them.
DES' TIP: Be sure to check out my guide to chili peppers for more info on how to handle them!
LIME JUICE: A bright citrusy flavor is always good in a salsa!
SALT: The only "seasoning" you need in this dish. A sprinkle of salt will bring out the flavor of each ingredient.
CILANTRO: Totally optional. I make it with and without all the time, just depends on if I have any on hand.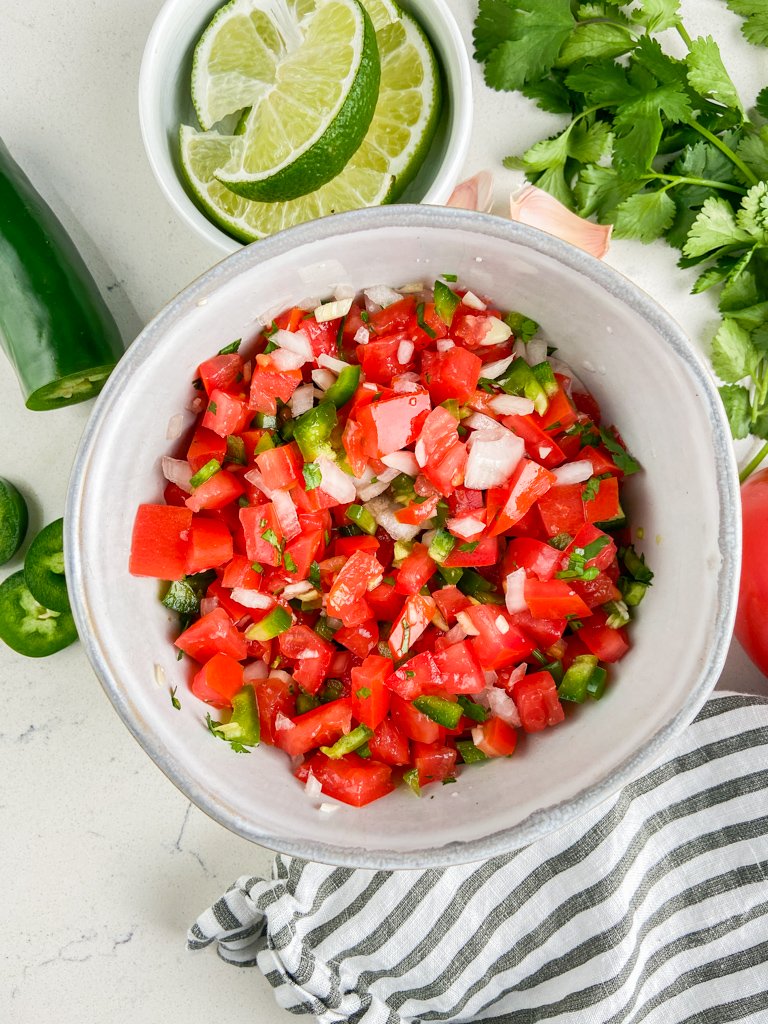 Tips for how to make simple pico de gallo:
Making homemade pico de gallo is crazy easy. Basically you just combine all of the ingredients together in a bowl and let them sit a bit so that the flavors can meld.
That being said, there are still a couple of tips I've learned along the way that really help get the best pico recipe.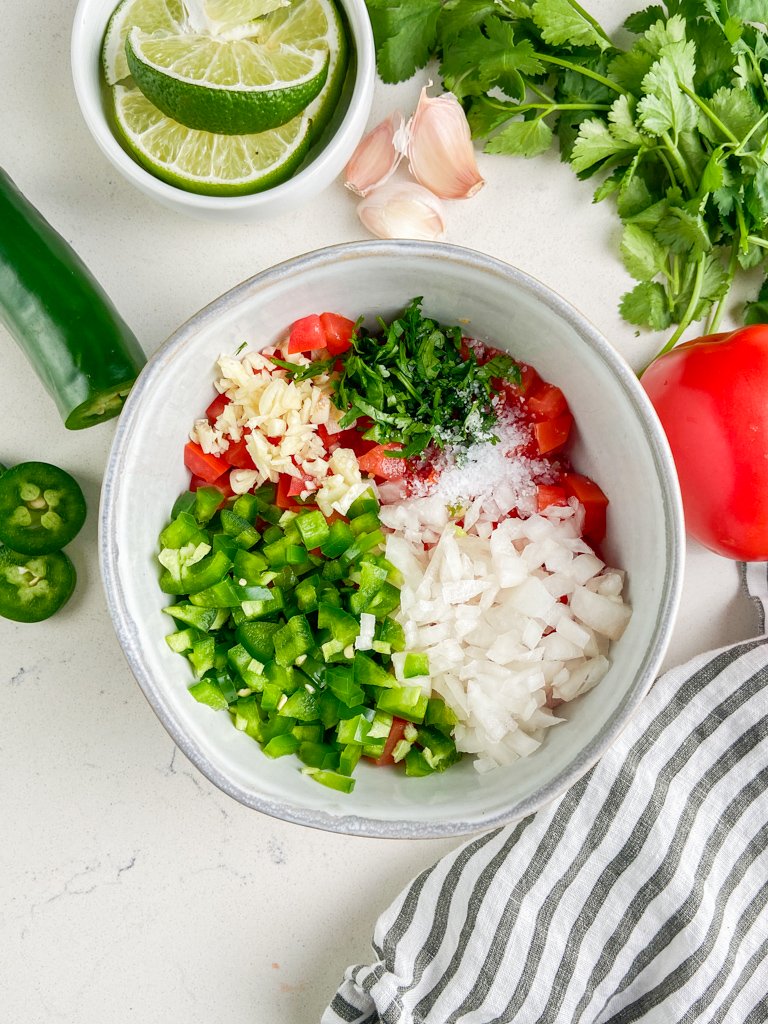 TIP #1 The key to making a pico that is chunky and fresh without too much juice is to remove the seeds and the flesh from inside of the tomato. Then just dice the outer part of the tomato for the pico.
TIP#2: Chop everything into relatively the same size. You don't need to be super precise but it is nice to have the pieces somewhat uniform for better dipping. No big chunks of tomatoes or onions!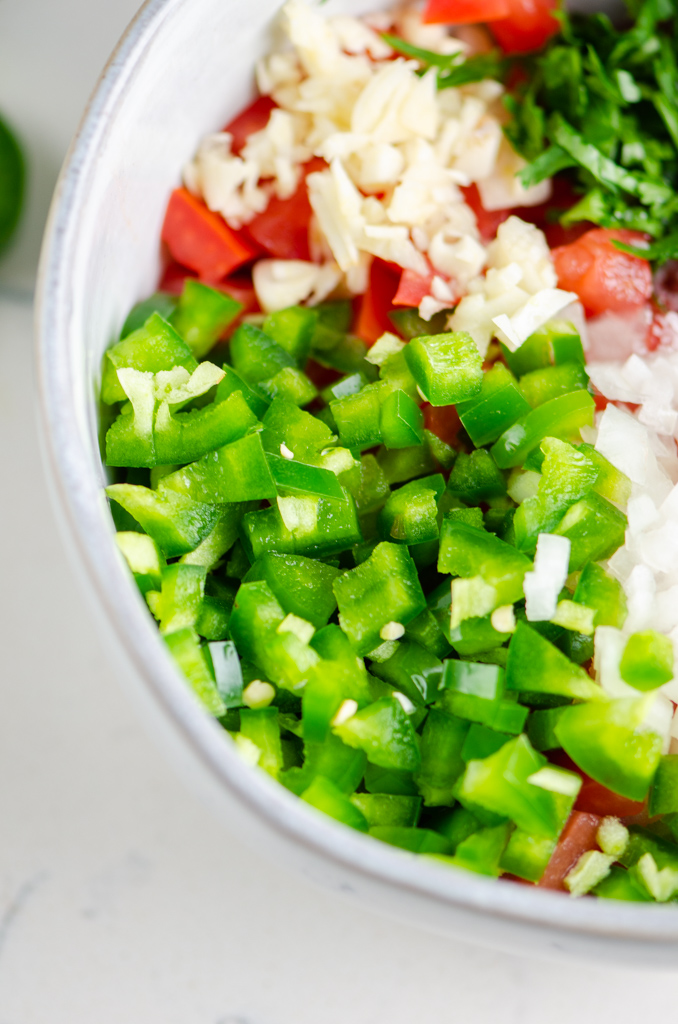 TIP #3: Let it sit. Preferably at room temperature for at least 30 minutes before you serve it. The added salt will make the tomatoes release some of their juice while letting all of the flavors of the ingredients meld together. I like to make the pico first while I am preparing my tacos. You'll want to store leftovers in the fridge and then bring them to room temperature before serving.
Since we are making our own pico de gallo here, maybe try your hand at your own homemade tortilla chips too. It is the perfect combo!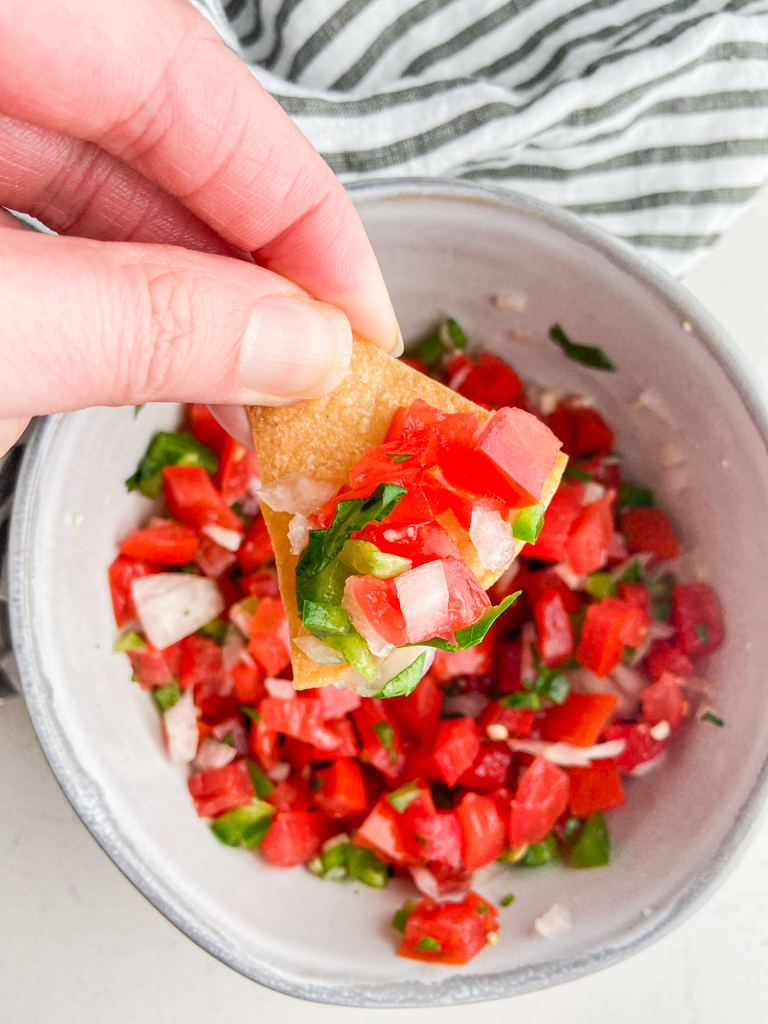 Looking for some taco recipes to serve along side?
Shrimp Tacos Recipe with Cilantro Lime Sauce
If you love this pico de gallo recipe, you'll want to check out some of my other salsa recipes as well!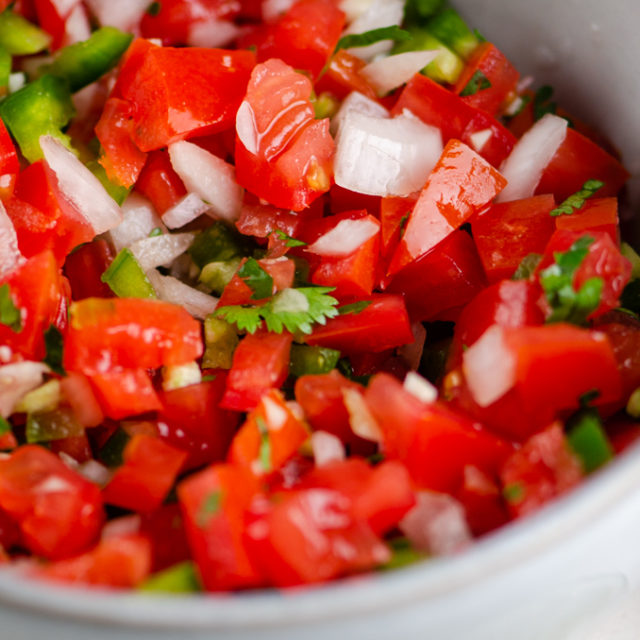 Easy Pico de Gallo Recipe
A quick and easy classic salsa! Pico de Gallo is perfect for chips, and is a favorite taco topping. This flavorful recipe has just a handful of ingredients!
Ingredients:
3 - 4

roma tomatoes

seeded and diced

1/4

cup

minced white or yellow onion

2

cloves

garlic

minced

1

jalapeno or serrano chili pepper

seeds removed if desired

1

teaspoon

fresh lime juice

1/2

teaspoon

kosher salt

plus more as desired

1/4

cup

chopped fresh cilantro
Nutrition facts for estimation purposes only.
Calories:
23
kcal
Carbohydrates:
5
g
Protein:
1.1
g
Fat:
0.2
g
Sodium:
296
mg
Fiber:
1.4
g
Sugar:
2.9
g