Homemade Tortilla Chips
All you need to make your own homemade tortilla chips is 3 ingredients and 15 minutes in the oven. They are great for dipping in all the things! 
Whether you're serving shrimp tacos, guacamole, Cheesy Refried Bean Dip, or all of the above, you're probably going to want some Tortilla Chips for snacking.
My family eats tortilla chips like they are the best thing ever. We go through bags so quickly, it's hard to keep them on hand.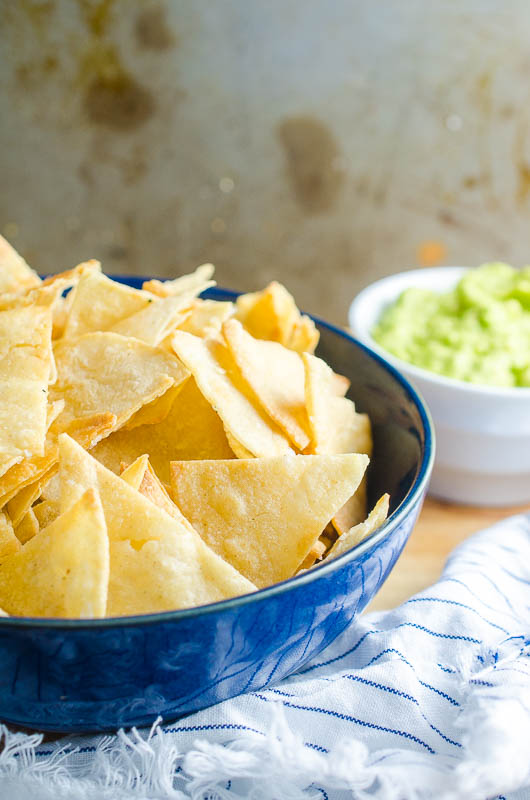 In fact, there have been several times when I have gone into the pantry on taco night and found that we had none. Houston we have a problem. I mean seriously, you can't have taco night without tortilla chips. You just can't.
But in a pinch, you can use the same tortillas that you use to make taco shells, and make homemade tortilla chips instead.
All you need is 3 ingredients and 15 minutes and you'll be on your way to snacking bliss.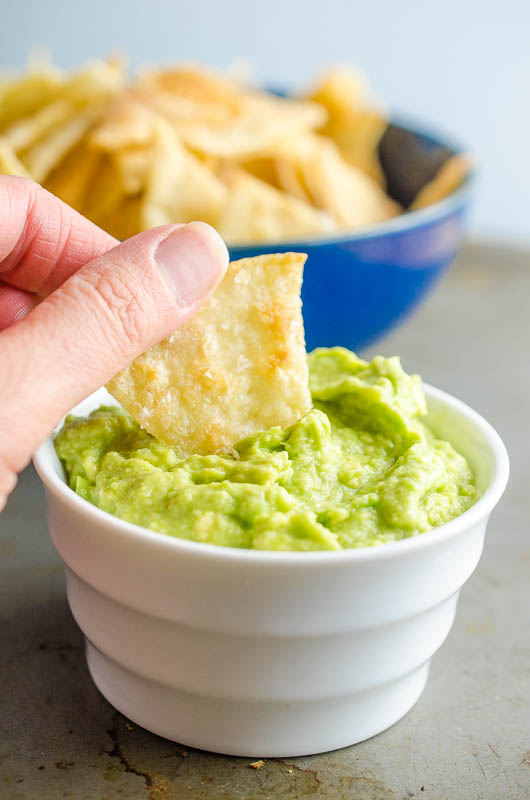 How to make Homemade Tortilla Chips:
First step to making homemade tortilla chips is picking which tortillas you'll use. I prefer to use white corn tortillas. I simply like white corn better. You could also use yellow corn if you like.
You'll need to cut the tortillas into chip shapes. I find that cutting the tortillas in half and then cutting each half into three wedges makes them the most even.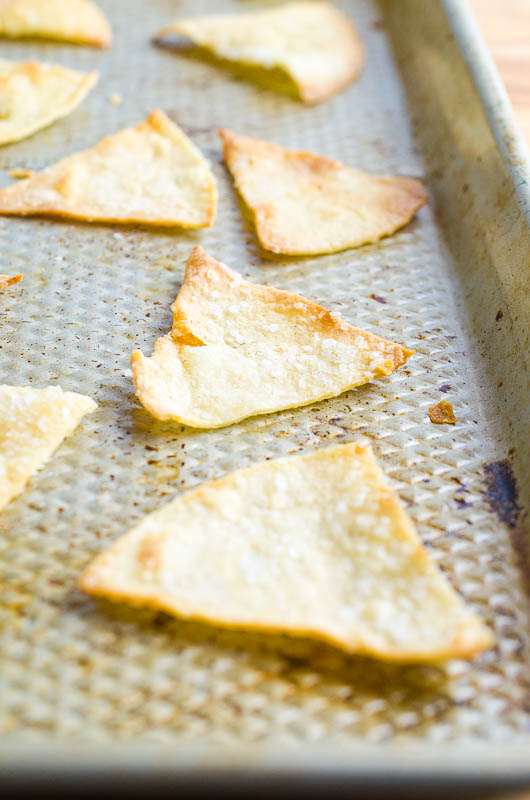 After you've cut them into chips, simply toss them with oil and salt.
Finally, I prefer baked homemade tortilla chips, because, honestly, it's so much easier than frying them. First, lay the tortilla chips on a baking sheet and bake in a 350 degree oven. You'll want to bake them for 8 minutes on one side, turn them and bake for an additional 6 – 8 minutes or just until they start to brown. Let them cool and enjoy.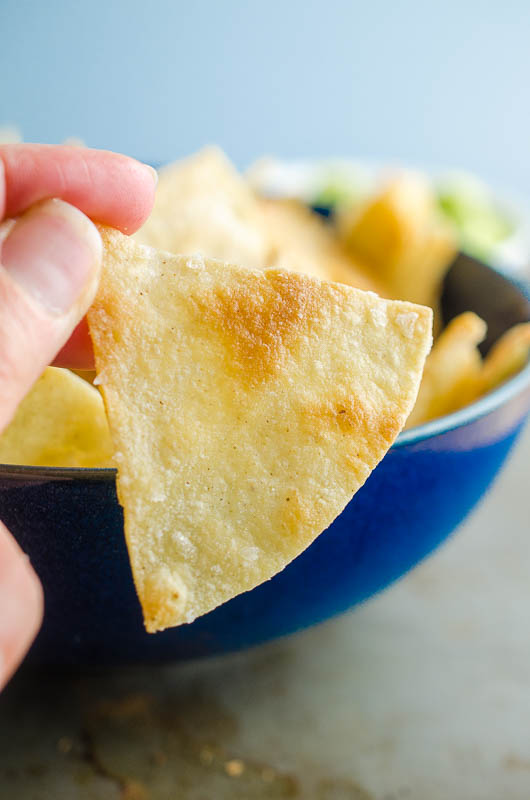 How easy is that?!
Variations on Baked Tortilla Chips:
I love my tortilla chips seasoned with a little salt but that being said, you could virtually do anything when it comes to seasonings. You could sprinkle them with taco seasoning. Or chipotle powder to make them a little spicy. Ranch seasoning might even be good! Cool Ranch Doritos anyone?!
Endless possibilities.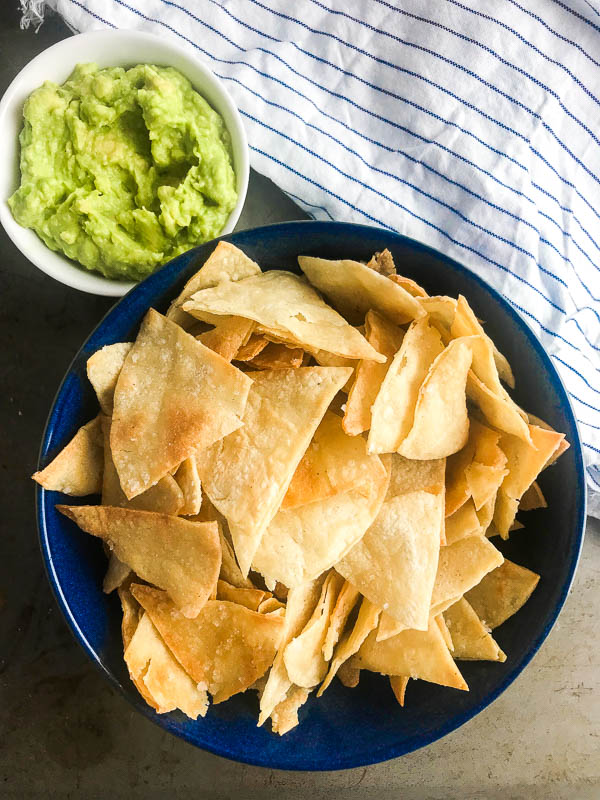 What do you serve with Homemade Tortilla Chips:
Obviously any kind of dip would be good or even use them as the base for your nachos!
Here are some of my favorites:
Cabbage Salsa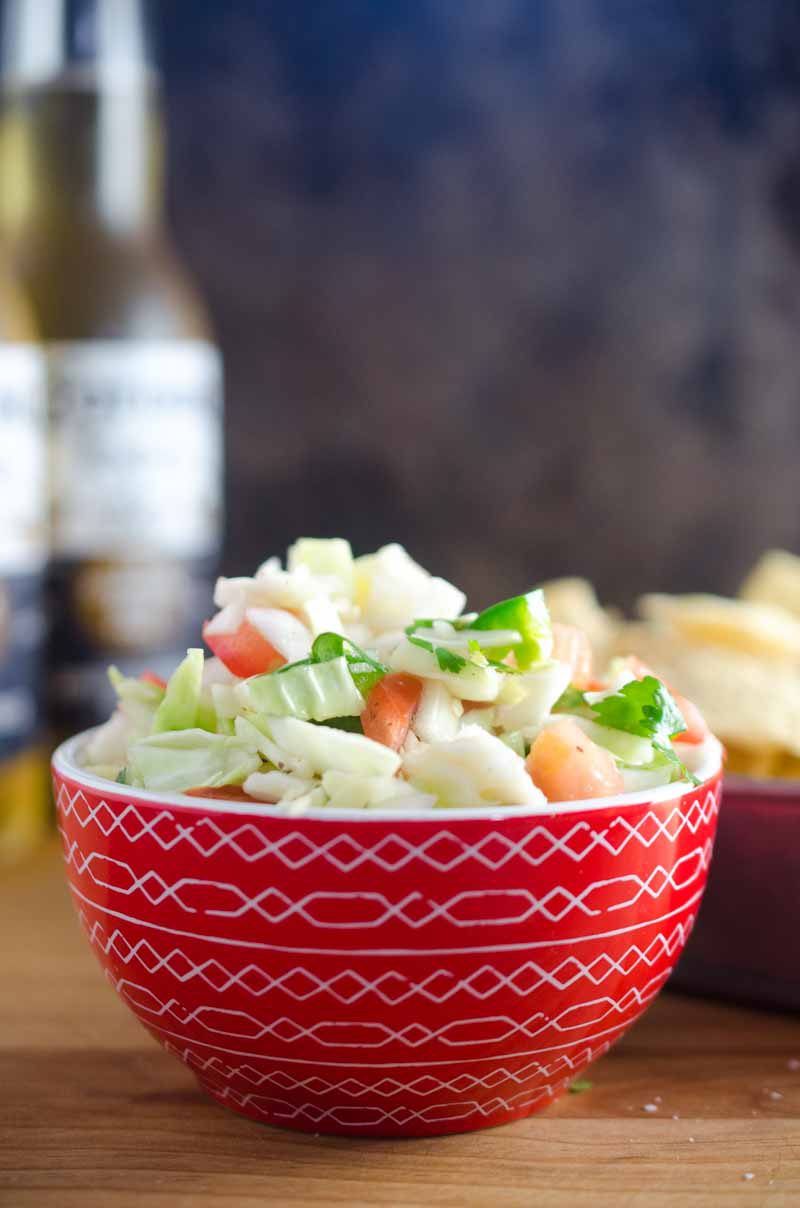 Restaurant Style Habanero Salsa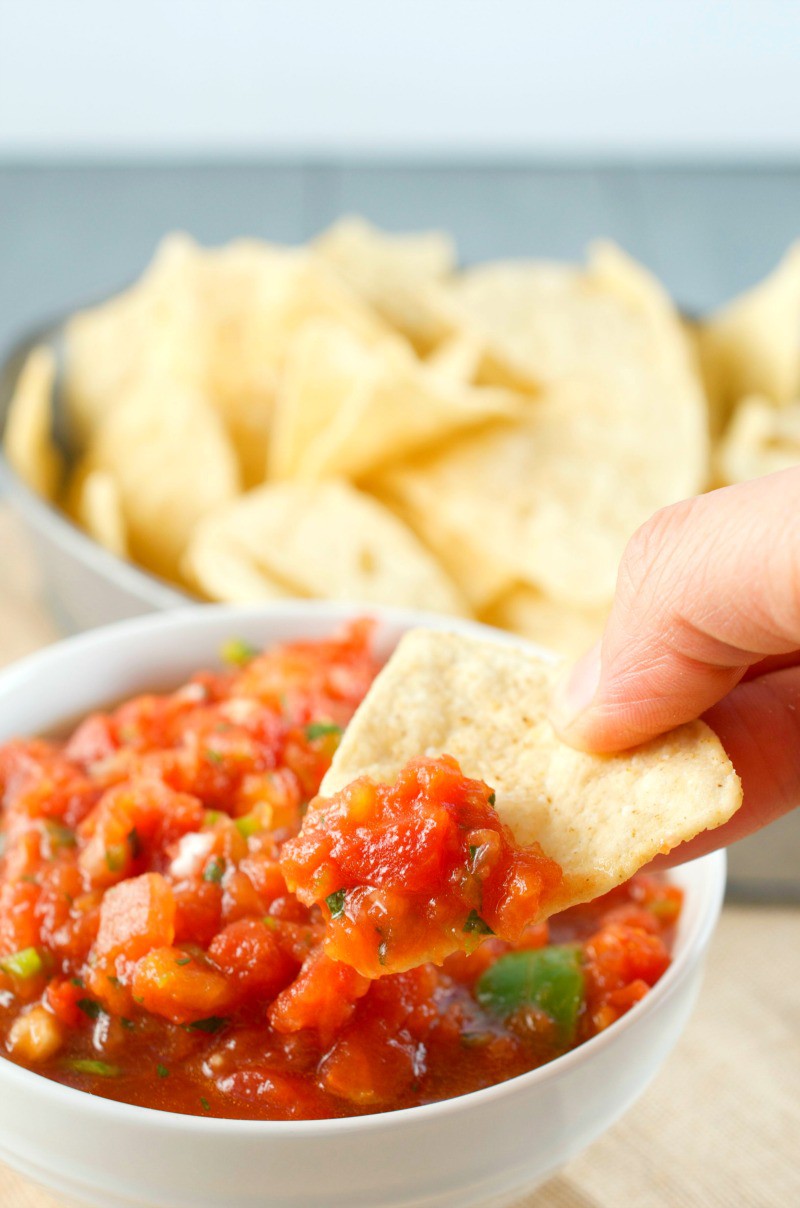 Also try these!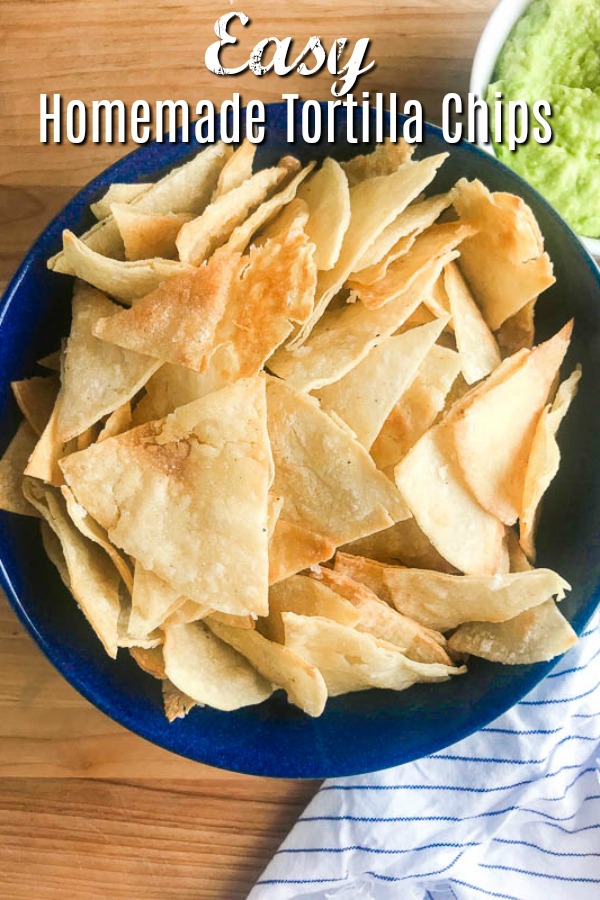 Homemade Tortilla Chips Recipe
Ingredients:
16 corn tortillas, cut into wedges
1/4 cup avocado oil (or other high heat oil such as canola)
3 teaspoons sea salt
Instructions
1
Preheat oven to 350 degrees.

2
Combine tortillas, oil and salt together in a bowl. Toss to make sure the chips are coated.

3
Lay in a single layer on a baking sheet (you may need to do this in batches or on multiple baking sheets).

4
Bake in preheated oven for 8 minutes. Turn and bake for an additional 6 - 8 minutes or until tortillas begin to brown.

5
Remove from oven and allow to cool completely. Serve with your favorite dip!

Notes
Nutrition facts not guaranteed.
Nutrition information
Calories: 152 , Total Fat: 3g , Saturated Fat: 0.5g , Cholesterol: 0mg , Sodium: 965mg , Carbohydrates: 29.1g , Fiber: 4.4g , Sugar: 0.6g , Protein: 3.8g