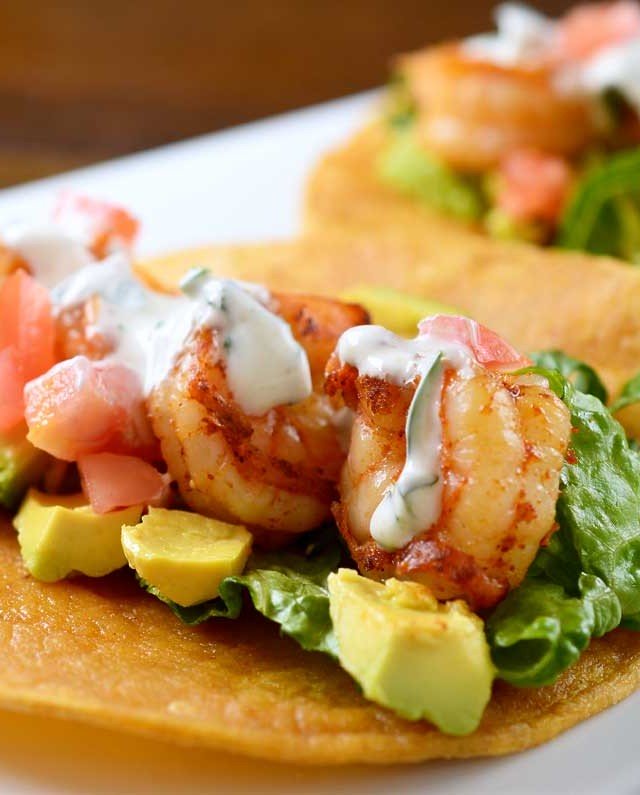 Shrimp Tacos with Cilantro-Lime Sour Cream
These Shrimp Tacos are an absolute flavor explosion! Loaded with spicy shrimp, tomatoes, fresh avocado and THE BEST Shrimp Taco Sauce they get rave reviews every time! 
Who doesn't love tacos? To me they just scream summer time. Perhaps it is all of the bright flavors or the fact that they go so well with a cold bottle of beer. Either way, these shrimp tacos are definitely the perfect summer time supper.
They are quick, easy and tasty. They also showcase some of my favorite flavors: cumin, chili powder, cilantro and lime.

The combination of spices in this seafood tacos recipe can make the shrimp a little spicy. Have no fear though; the coolness of the cilantro-lime sour cream sauce balances out the flavor nicely.
DES' TIP: If you do want to tone the spice down a little bit, you can cut the amount of chili powder in half and omit the cayenne pepper.

How do you make the BEST Shrimp Taco Sauce?
Finally, let's talk about THAT SAUCE shall we? The cilantro lime sour cream that graces the top of these tacos is scrumptious. It is simply sour cream, cilantro, cumin and a little lime. It couldn't be easier to make and is the PERFECT sauce for shrimp tacos.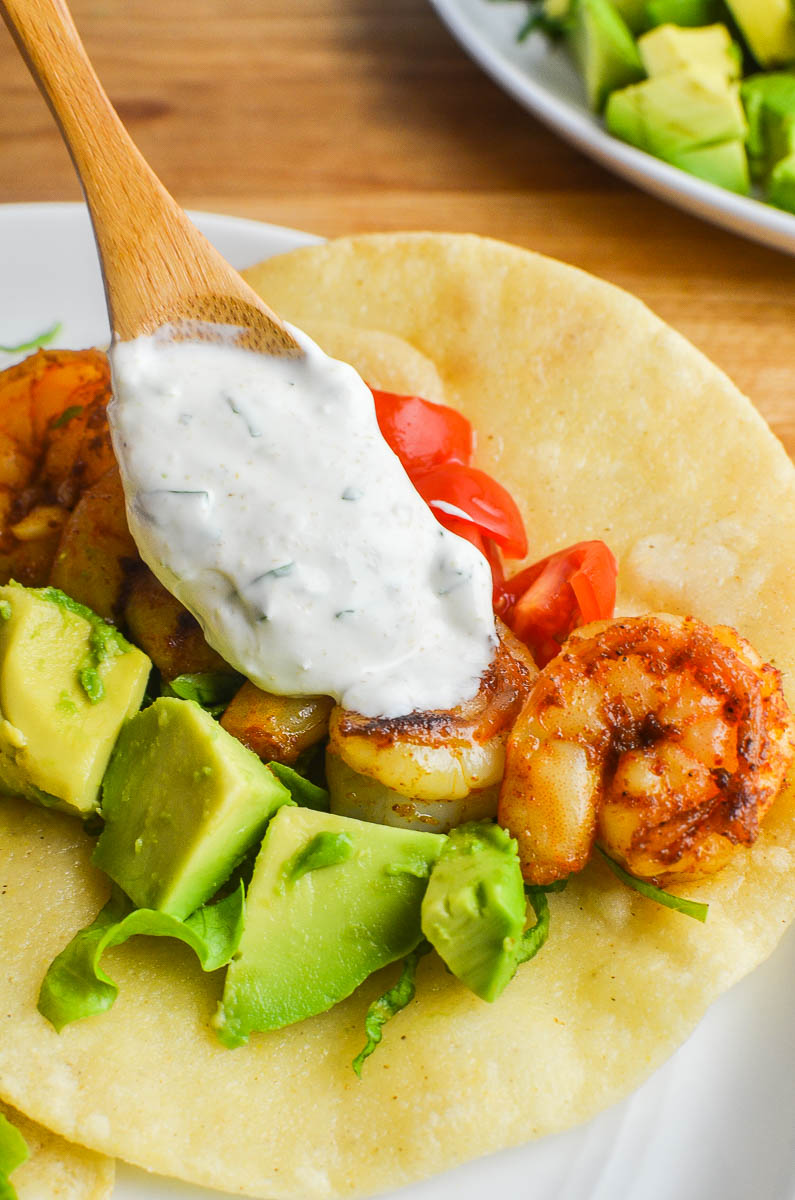 How do you make shrimp tacos?
Follow the step by step photos and instructions below to see just how easy these are to make!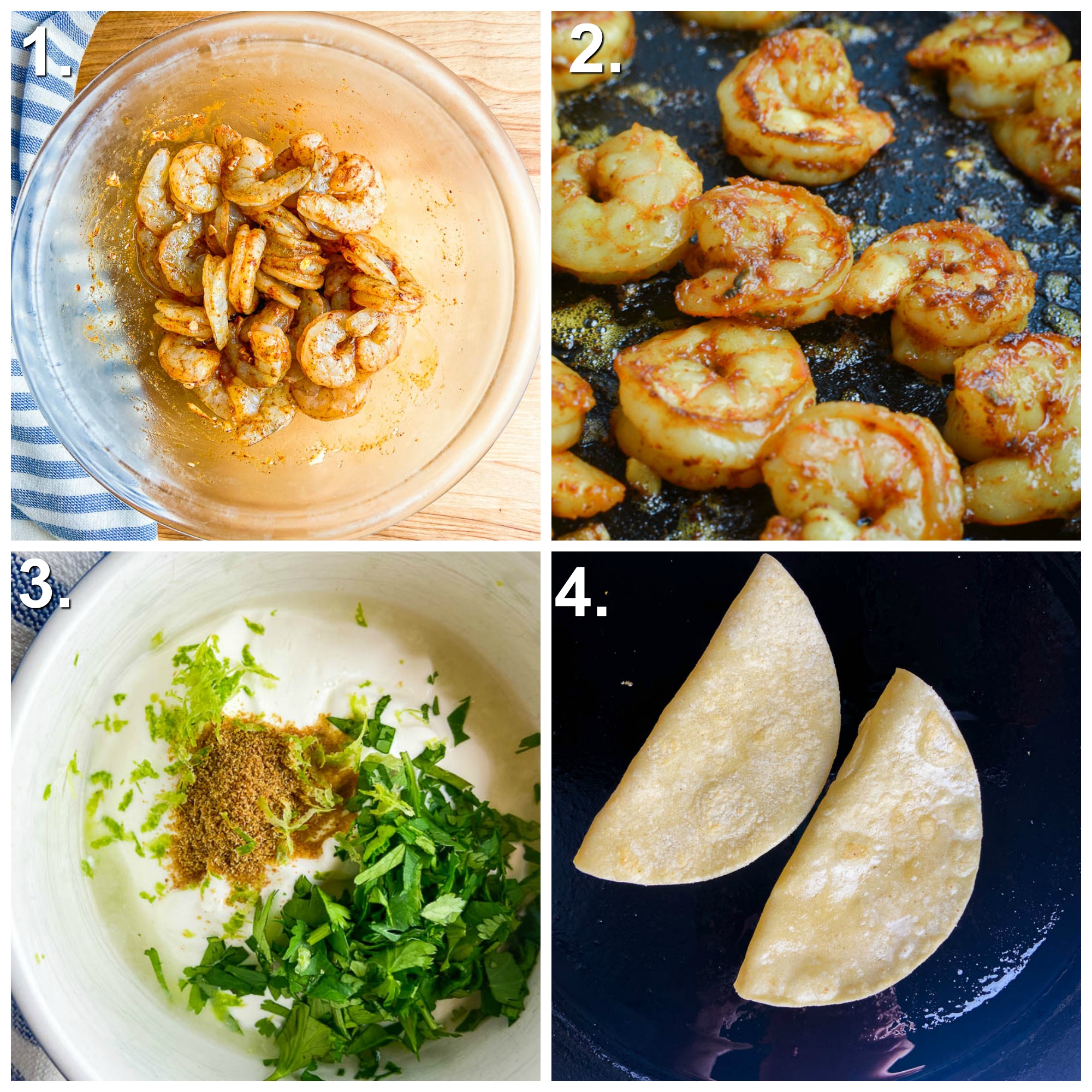 STEP 1: Season shrimp. Toss to make sure that all shrimp is coated in seasoning. Cover and refrigerate for at least 20 minutes.
STEP 2: Sauté shrimp until pink and opaque. This will take about 5 minutes. Be careful not to overcook the shrimp or it will be rubbery.
STEP 3: Make cilantro lime sour cream by mixing together all ingredients in a bowl.
STEP 4: Heat a thin layer of oil in a skillet over medium-high heat. Cook corn tortillas until soft. About 30 seconds per side. Fold into taco shape.
DES' TIP: You don't need a lot of oil to fry the tortillas, just enough to lightly coat the bottom of the skillet. Cooking them this way gives a subtle crunch.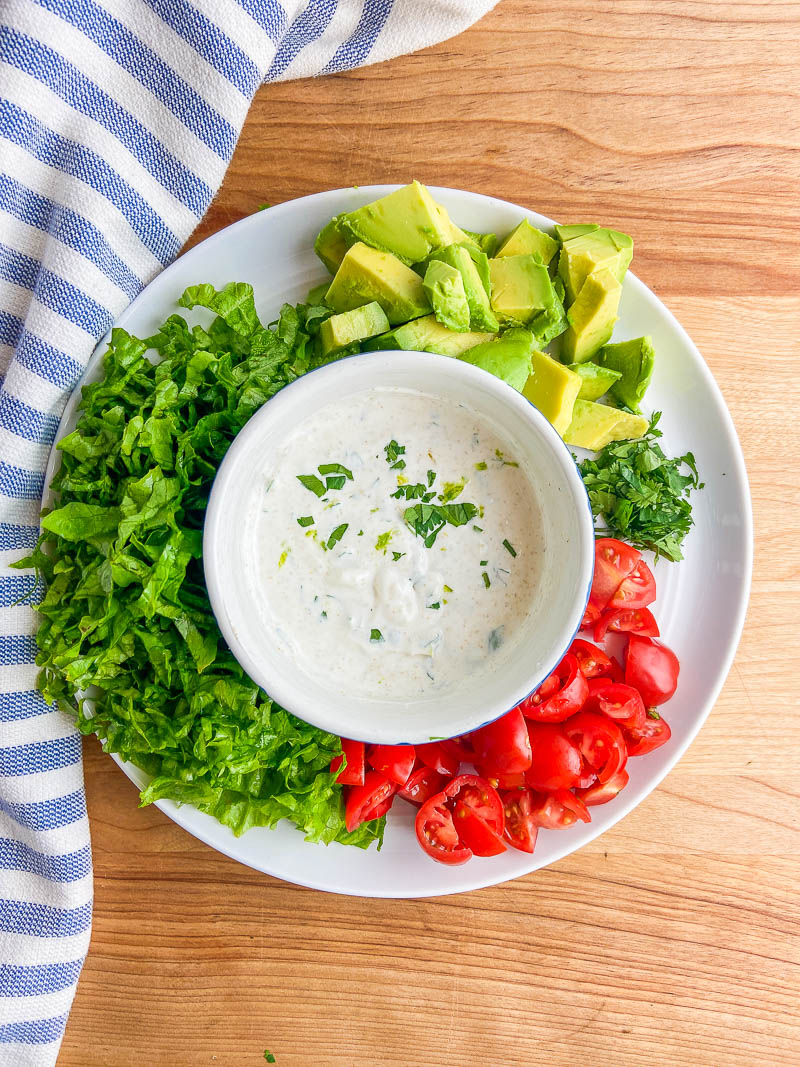 To assemble the tacos, I layer the shrimp and cilantro cream sauce with lettuce (you could top with with cabbage too for some extra crunch!), diced tomatoes and diced avocado. It really helps make these tacos the perfect summer time meal.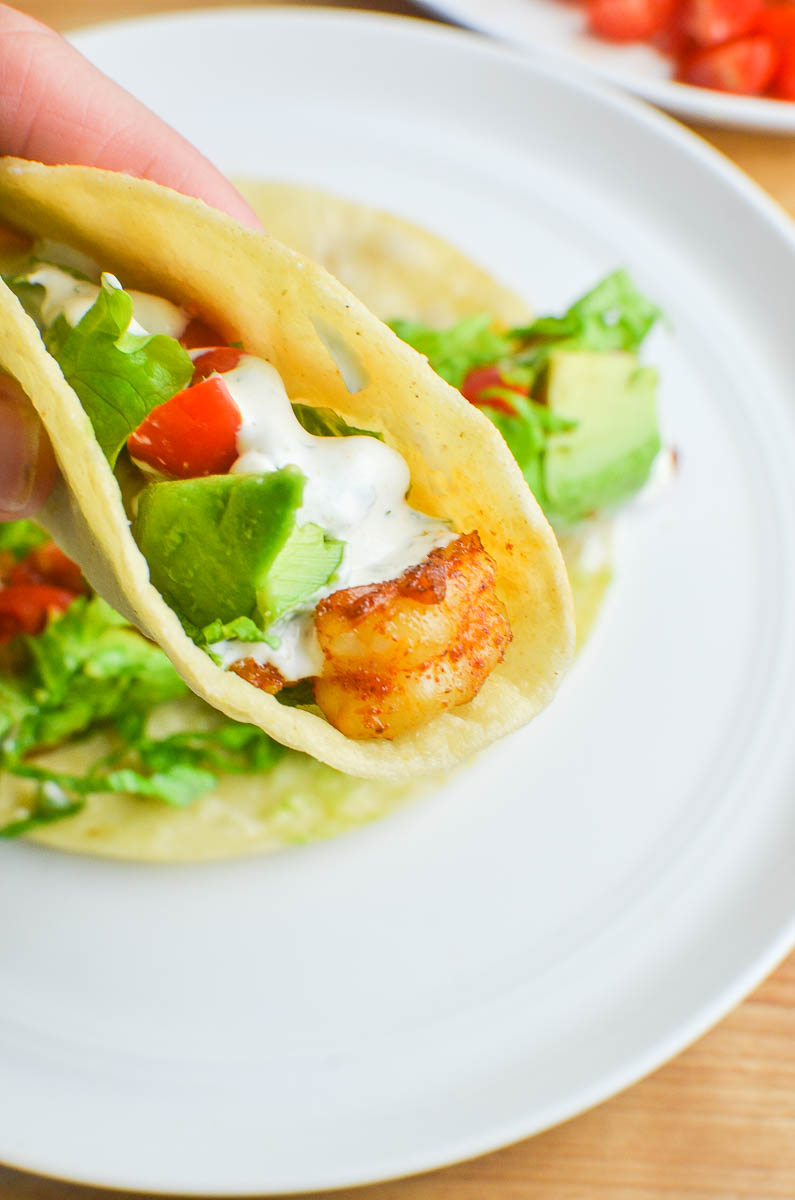 I have been making this easy tacos recipe for years, and they are a hit with the whole family and friends each and every time. A quick glance at the comments section and you'll see even more rave reviews like this one from Donna: 
"This was so delicious! Family loved it..the sauce is divine. Thank you..will definitely be a family favorite." – Donna
If you want to add even a little more summer flare, you could grill the shrimp in these tacos and make grilled shrimp tacos. It wouldn't take long to do. Just a few minutes on the grill and you're good to go.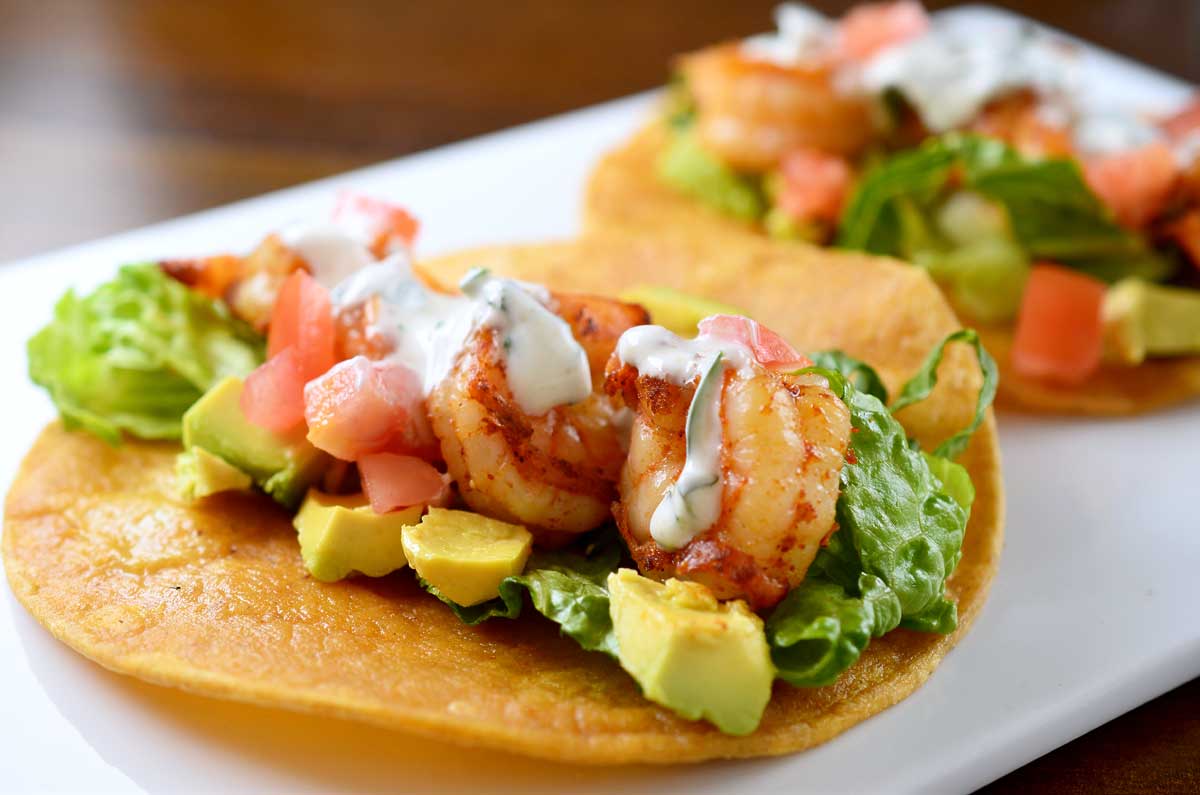 While these tacos are pretty hearty, if you're looking for a full on taco party, I mean who isn't? You'll want to serve some sides. Chips, salsa and guacamole  are always a must.
If you want to spice things up, you could drizzle some habanero hot sauce over the top. And of course, any good taco party is going to have beans. Black beans are one of our favorite options. Or if you have a little extra time, you could try these slow cooker refried beans.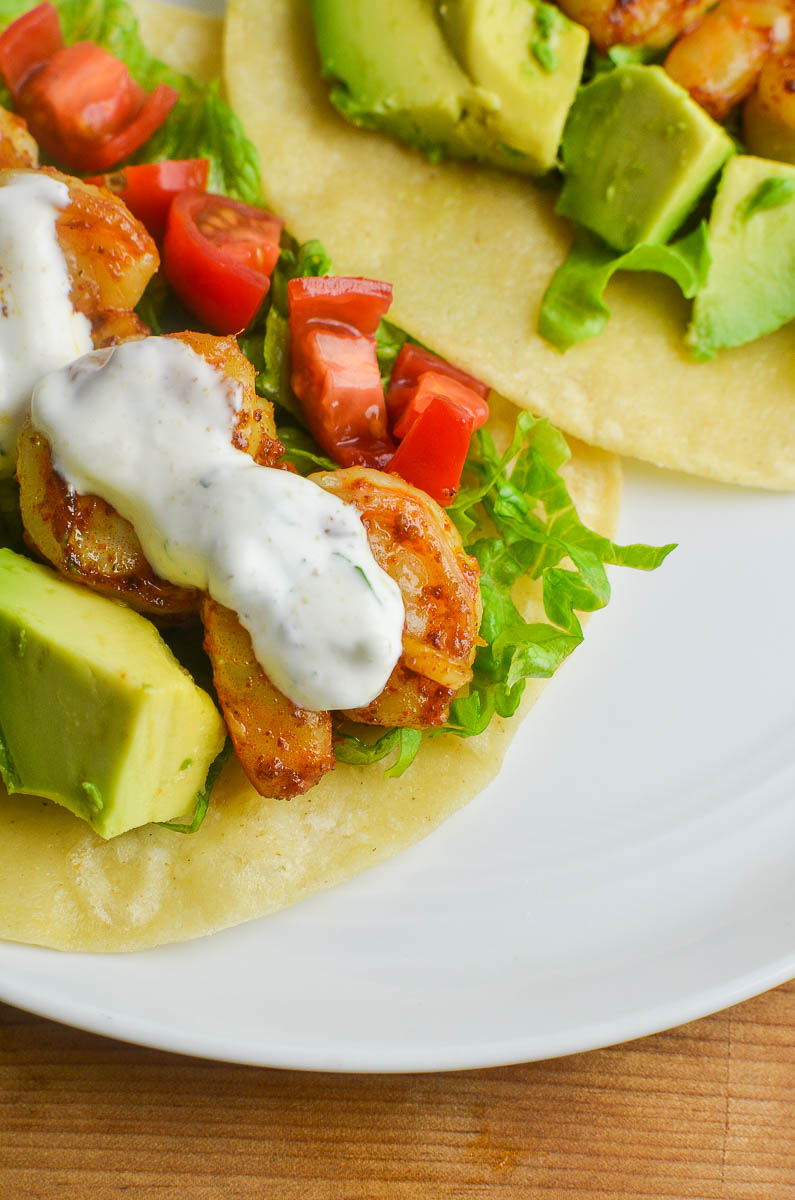 Finally, you'll need something to wash it all down with, right? How about some Strawberry Jalapeno Margaritas!
Don't forget to save this recipe for when Cinco de Mayo comes around. It's not Cinco de Mayo without them!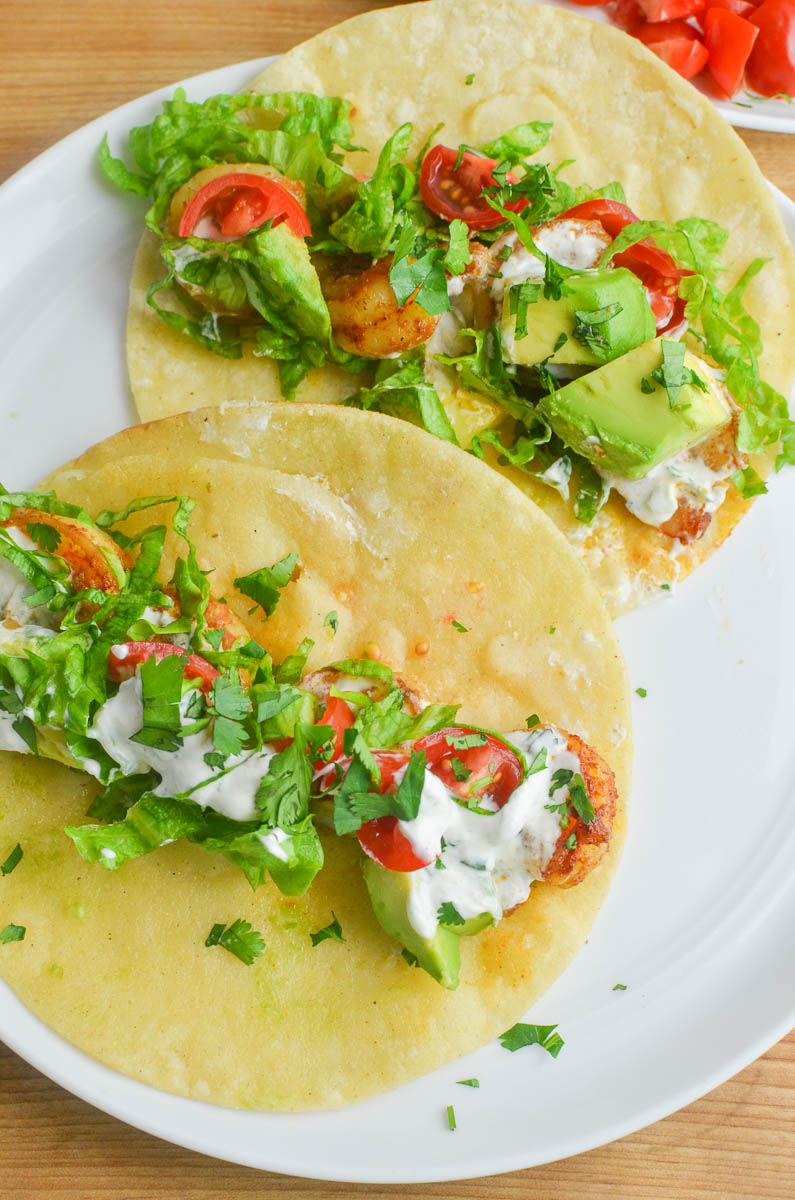 If you like seafood tacos, be sure to check out my recipe for Crispy Fish Tacos with Spicy Slaw too. You'll love them!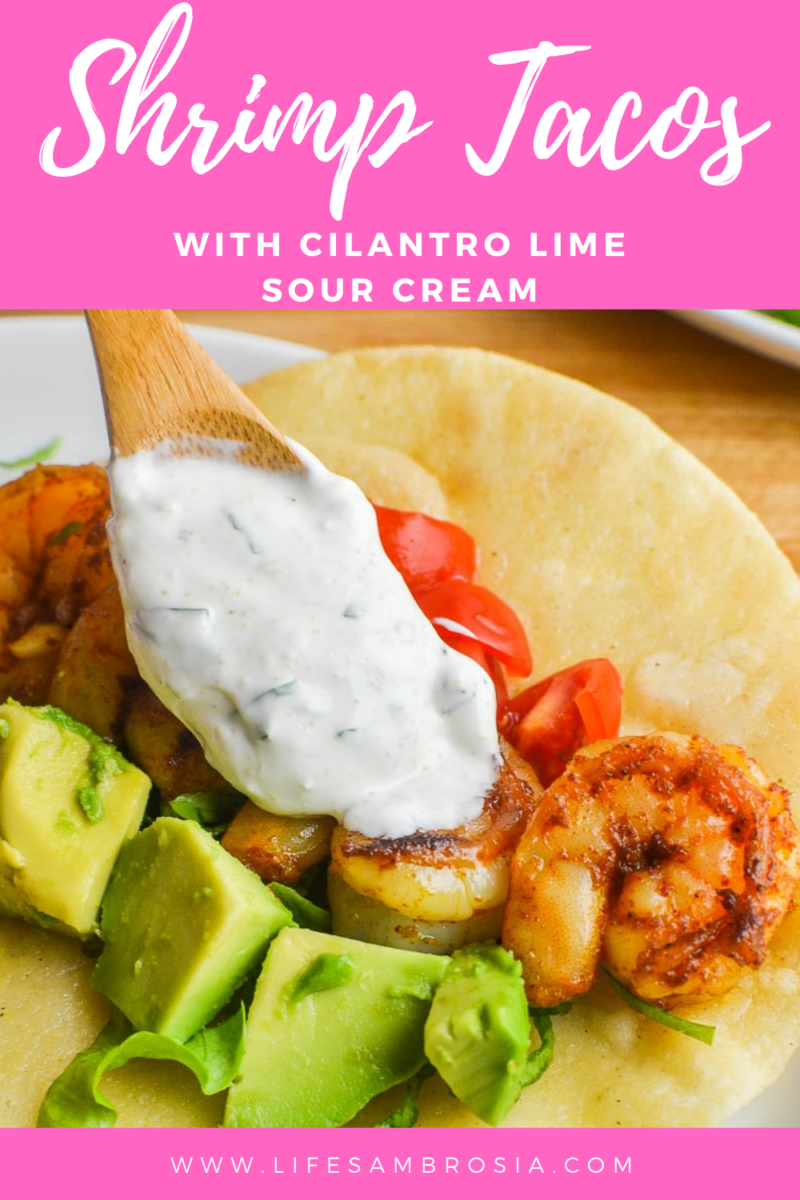 Note: This recipe was originally published in 2009. It was updated with new photos, tips, nutrition facts and a video in 2020.
Shrimp Tacos with Cilantro-Lime Sour Cream Recipe
Ingredients:
20 medium prawns, peeled and deveined
1 clove garlic, minced
1/2 teaspoon ground cumin
1/2 teaspoon chili powder
1/4 teaspoon kosher salt
1/4 teaspoon cayenne pepper (optional)
1 tablespoon olive oil
4 corn tortillas
oil for frying
shredded lettuce
diced tomatoes
sliced avocado
cilantro lime sour cream (recipe follows)
For the Cilantro-Lime Sour Cream:
1/4 cup sour cream

2 tablespoons chopped fresh cilantro

1/4 teaspoon cumin

1- 2 teaspoons lime juice

1/2 teaspoon lime zest

salt to taste
Instructions
1
In a bowl whisk together olive oil, garlic, cumin, salt and cayenne pepper (if using). Add in shrimp and toss to coat completely. Cover and refrigerate for 20 minutes to give the flavors a chance to marry.

2
Cook shrimp in a skillet on medium heat until pink and cooked through, about 5 minutes. Turn off heat and cover to keep warm.

3
Use enough oil to lightly coat the bottom of a small pan, about 2 tablespoons. Heat over medium-high heat. Cook tortillas until soft, about 30 seconds on each side. Fold over to make a taco shell. As you cook each tortilla, place them on paper towels to absorb any of the oil left over.

4
Stir all ingredients for the Cilantro-Lime Sour Cream together in a bowl.

5
Spoon 5 shrimp into each taco shell. Top with lettuce, tomato, avocado and cilantro-lime sour cream. Serve.
Notes
Nutrition facts for estimation purposes only.
Nutrition information
Amount per serving: 4 servings
Calories: 468 , Total Fat: 32.2g , Saturated Fat: 6.7g , Cholesterol: 227mg , Sodium: 430mg , Carbohydrates: 20.3g , Fiber: 6.2g , Sugar: 2.2g , Protein: 27.2g