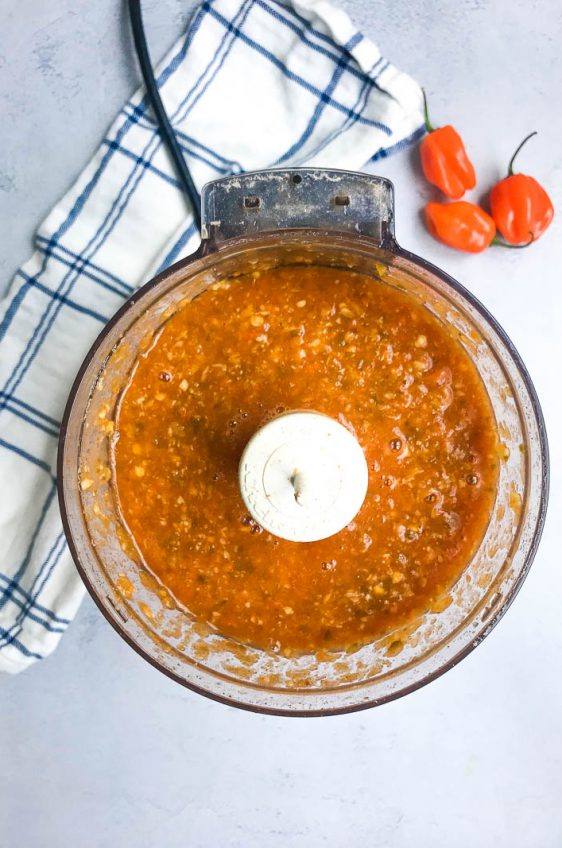 Habanero Hot Sauce
Habanero hot sauce is bursting with spicy flavor. If you can't handle heat, this one's not for you. But, if you love adding a spicy kick to everything, keep reading!
Whether you're looking to spice up your shrimp taco sauce or flat iron steak, this easy hot sauce recipe is for you. It's hot and spicy. It just might make your eyes water, but it is so flavorful you will want to keep it on hand at all times.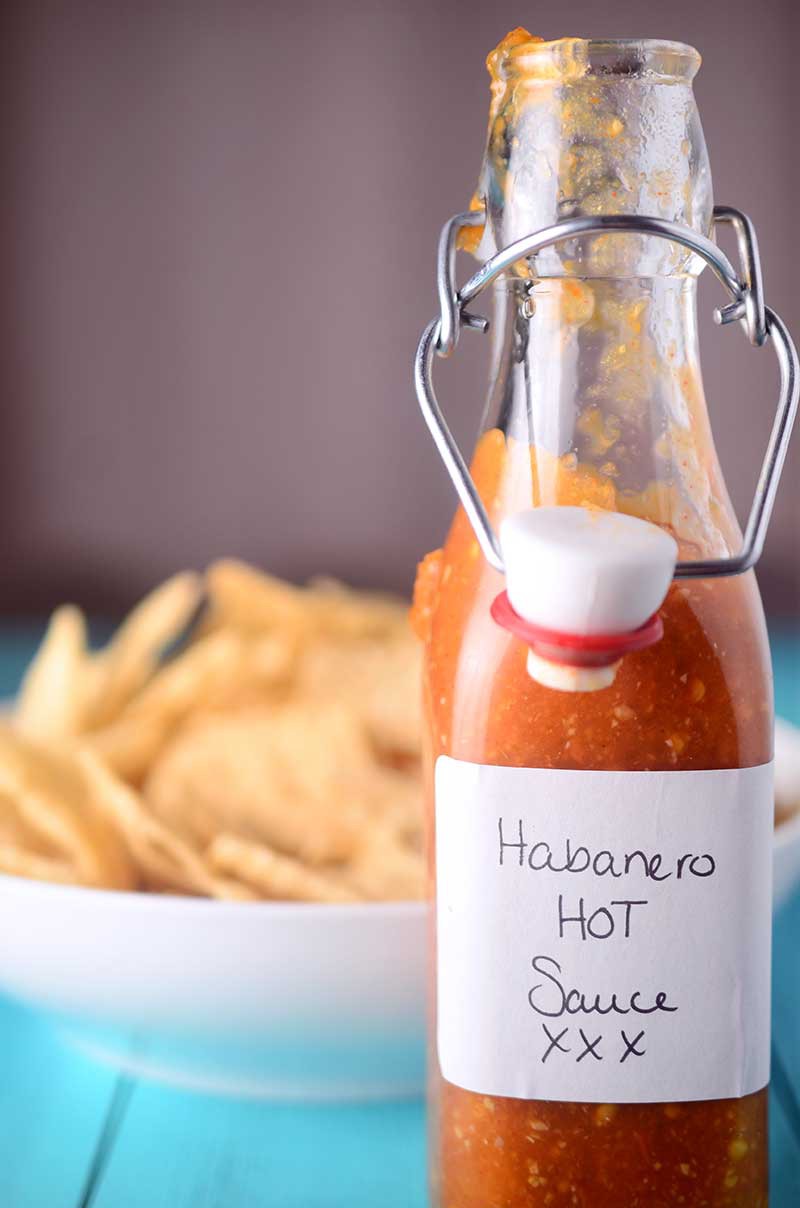 Review:

"I LOVE IT !!!
I made this and my roommate who cant do spicy said it smelled so good that she had to try it." – Wendy
Habanero Peppers 101:
When you're standing in front of the peppers at the grocery store, you'll be hit with a rainbow of colors. You can't miss the habanero though, it's the bright orange one.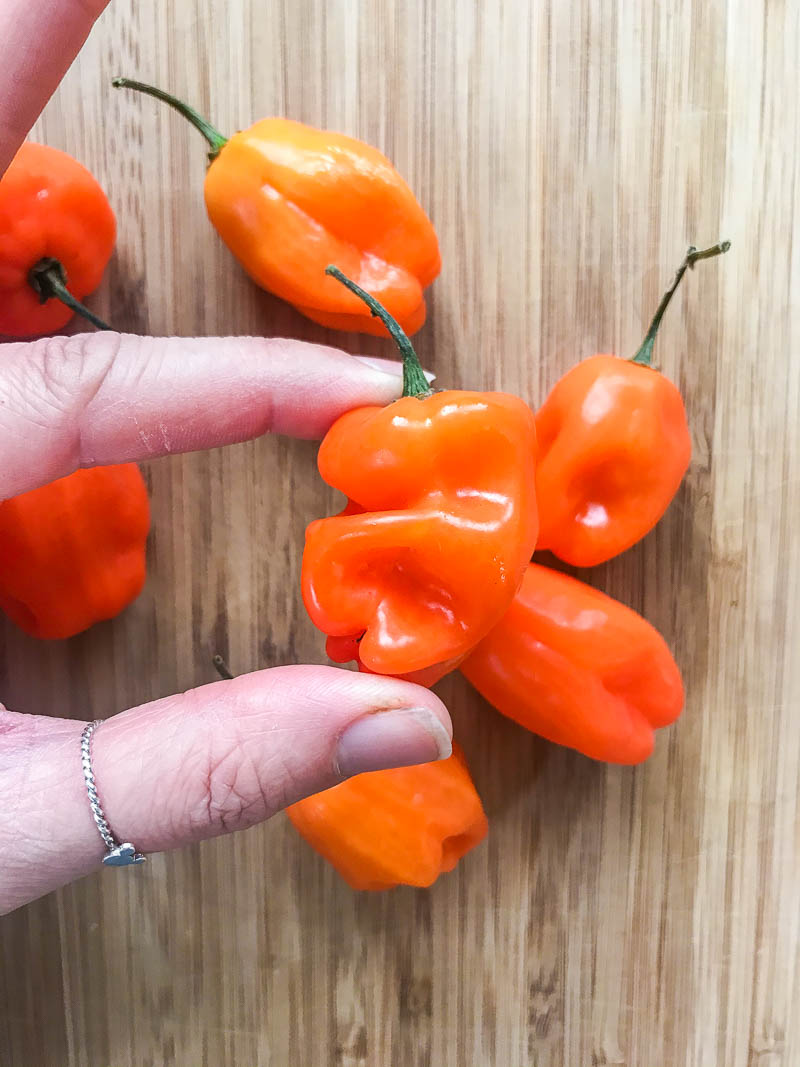 Habaneros originate in Mexico. They are typically 1 – 3 inches long and they have a sweet, smoky, tropical flavor.
But don't let the size fool you, habanero peppers are hot! hot! hot!
How hot is a habanero on the Scoville scale?
Heat is measured in scoville units. Bell peppers are 0 – 100. Jalapenos range from 2,500- 5,000. Habaneros range from 100,000 – 325,000. Ghost peppers go from 855,000 to a whopping 1 MILLION units. Here's a handy image to help you understand the scoville scale a little bit better: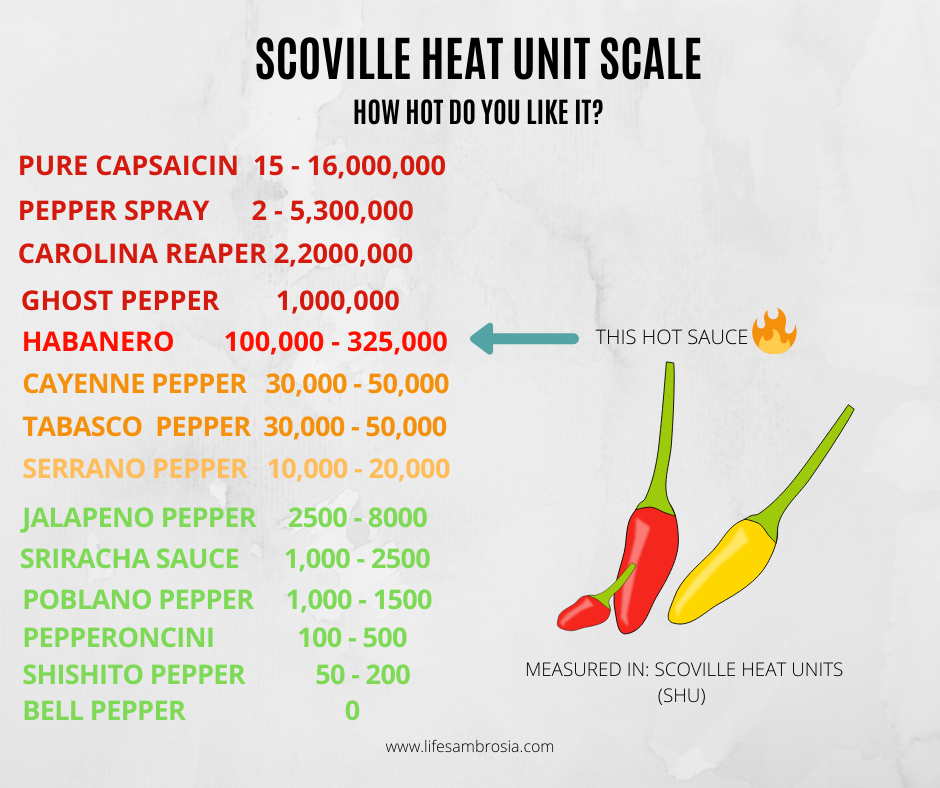 As you can see this beautiful bottle of orange peppery deliciousness is going to be higher on the scoville scale as it has 10 whole habanero peppers in it.
What ingredients do you need to make this Habanero Sauce Recipe?
When it comes to ingredients for homemade hot sauce the main ingredients are peppers, vinegar and water.
Other ingredients include aromatics like garlic and onion as well as spices. To get the traditional reddish orange color some recipes call for carrots. Personally, I like idea of getting even more heat from something spicy so this sauce gets additional red color from hot paprika.
How do you make homemade hot sauce?
Homemade hot sauce is pretty easy to make. You simply combine all of the ingredients you want in a pan and simmer them for about half an hour. After the sauce cools, put it in a blender and blend until smooth. Pretty easy huh?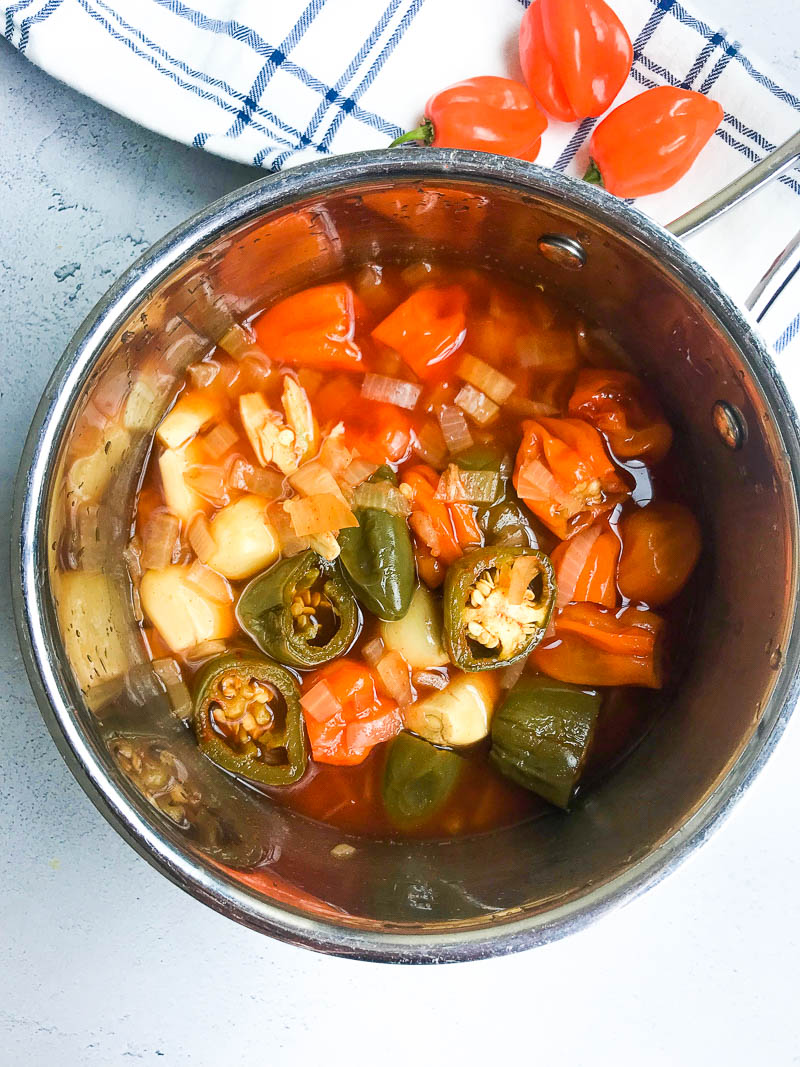 You can choose to strain your hot sauce if you want it a bit thinner. I prefer it a bit chunkier so I forgo the straining. The option is yours.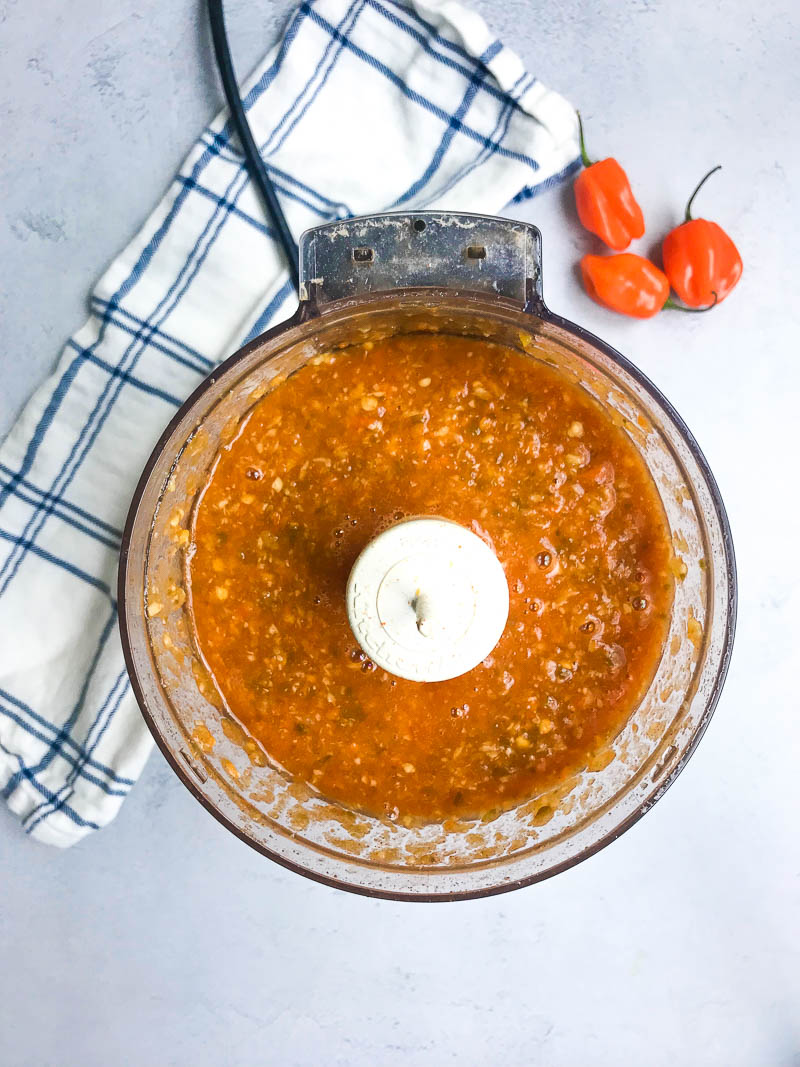 Now, what should you put habanero hot sauce on?
Well I have been putting it on all kinds of things. A drizzle on my shrimp tacos. A dab on sous vide flat iron steak.
Heck, the other day when I was craving something spicy I was straight dipping chips into this Habanero Hot Sauce. Yes, it's spicy but it has an awesome flavor that I just can't get enough of. So if you are a chilehead, or there is one in your life, you need to make this. Pronto.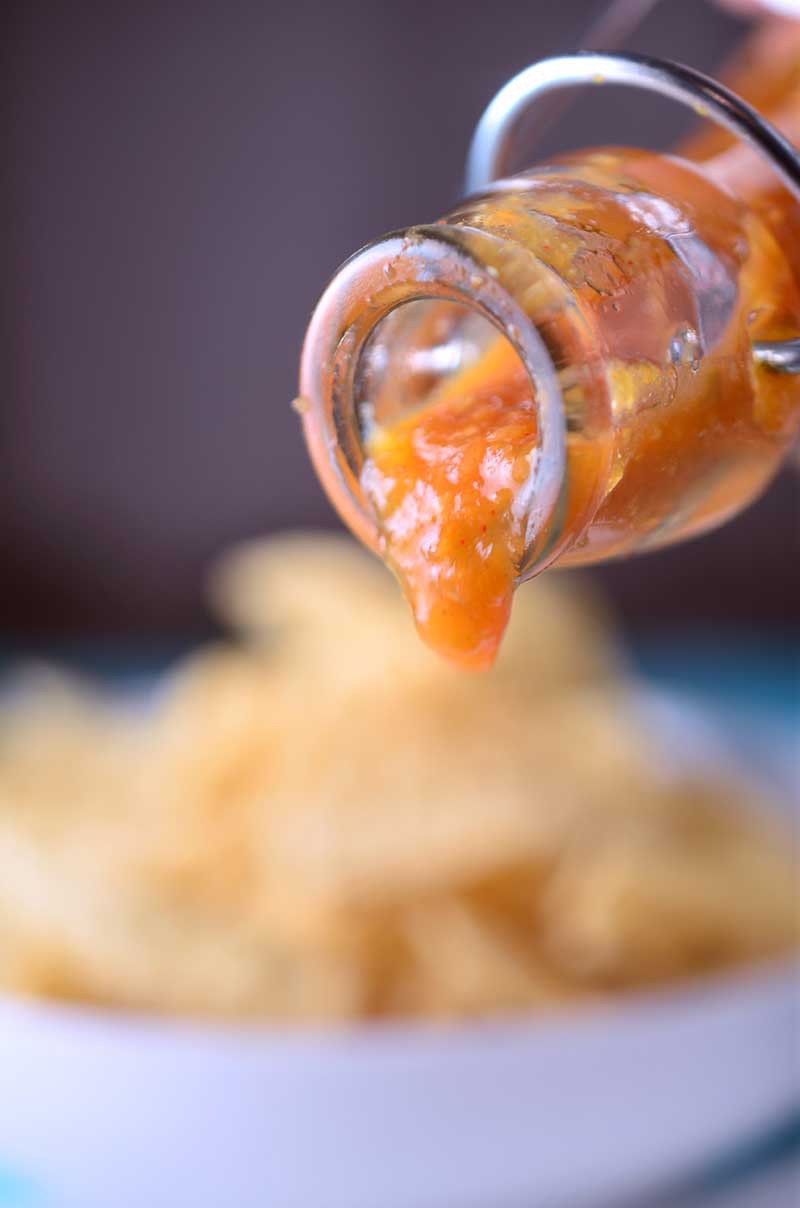 Can I use this habanero salsa to make chicken wings?
This is a question I've been asked a few times so I thought I'd add answer it in the body of the post too! Yes! You certainly can use this sauce to make chicken wings. I have before. All you need to do is melt about 3 tablespoons of butter with 1/4 cup of the sauce. And then toss some crispy chicken wings in it. This should coat about 1 1/2 to 2 pounds of wings. If you're having a party, or you like them extra saucy, you could easily double or triple the amount of sauce.
How long does homemade habanero hot sauce last?
When you set out to make this Habanero Hot Sauce (and you totally should), please keep in mind that the longer that it has to sit in the refrigerator, the more flavorful it gets.
I ate this as early the next day and it was pretty good, but guys, it was way better about a week later. The flavors and the heat just taste better after they have had more time to develop. Trust me.
DES' TIP: Like most sauce, hot sauce tastes better the longer that is has to set. I recommend waiting to eat it for at least 24 hours to get the best flavor.
The sauce will last in the fridge for several weeks.
Want to make more of your own condiments, sauces or dressings? Check out these recipes:
Other Spicy recipes for Chile Heads!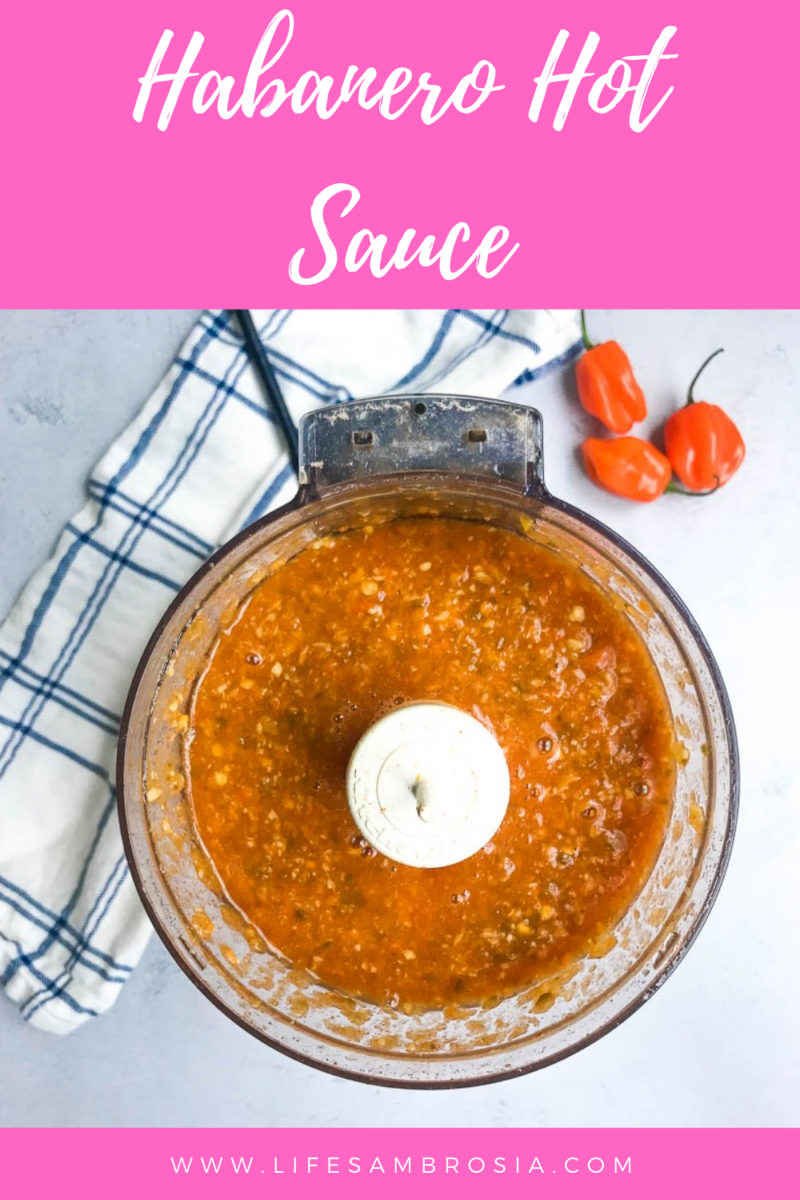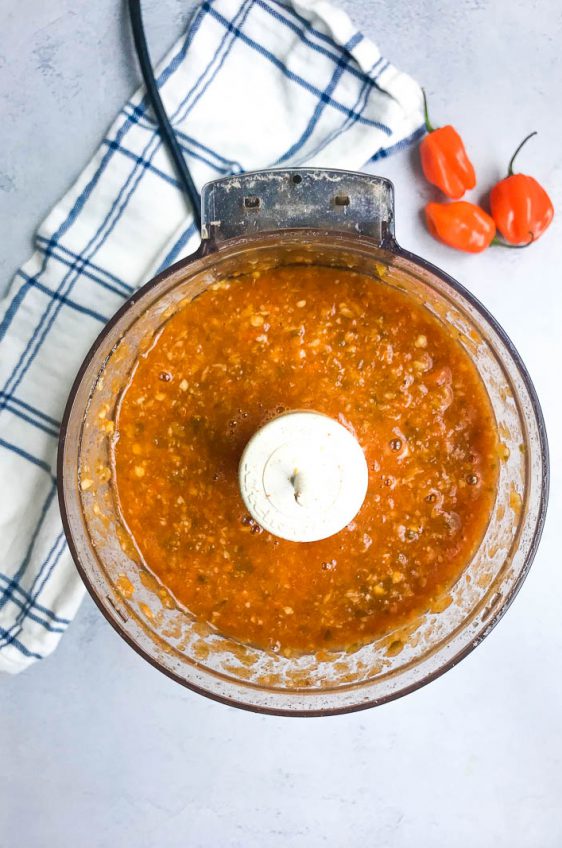 Habanero Hot Sauce
10 habaneros make this Habanero Hot Sauce crazy spicy. With step by step photos and a video, you'll be making your own in no time! Can you handle the heat?
Ingredients:
10

habanero peppers

stems removed

2

jalapeño peppers

stems remved

8

cloves

garlic

peeled

1/2

medium yellow onion

diced

1/2

cup

water

3/4

cup

distilled vinegar

2

teaspoons

salt

1

teaspoon

hot paprika
Combine all ingredients together in a small pot. Bring to a boil. Reduce heat and allow to simmer for 35 minutes.

Remove from heat and allow to cool.

Once cool, transfer to a food processor and process until peppers are minced fine. Sauce will be slightly chunky.

Transfer to an airtight container and chill for at least 24 hours but it gets better and hotter with age.

After 24 hours, adjust salt if desired. Use in a variety of dishes. Refrigerated sauce should last several weeks.
Nutrition facts not guaranteed to be correct.
Calories:
49
kcal
Carbohydrates:
9.6
g
Protein:
1.9
g
Fat:
0.5
g
Saturated Fat:
0.1
g
Sodium:
908
mg
Fiber:
1.7
g
Sugar:
4.7
g
Keywords:
chile, habanero, hot sauce