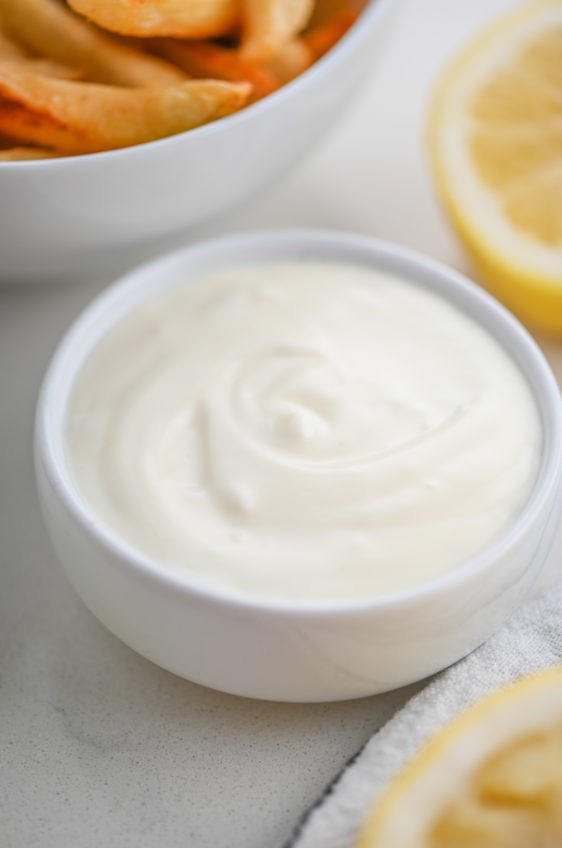 Truffle Aioli
Jump to Recipe
Step up your french fry dip game with this Easy Truffle Aioli. It is great on burgers, sandwiches, with potato chips and veggies too! 
There are so many things out there to dip your french fries in. Of course there is the classic tomato ketchup, which has held its own as everyone's favorite french fry accompaniment. Yet despite ketchup's prominence at every fast food restaurant and diner table, some may say there is no other dip more perfect for french fries than a creamy ranch dip. And further still, there are those that dip their fries in BBQ sauce or for spice lovers, sriracha. Today I am sharing my personal favorite dip for french fries: Truffle Aioli.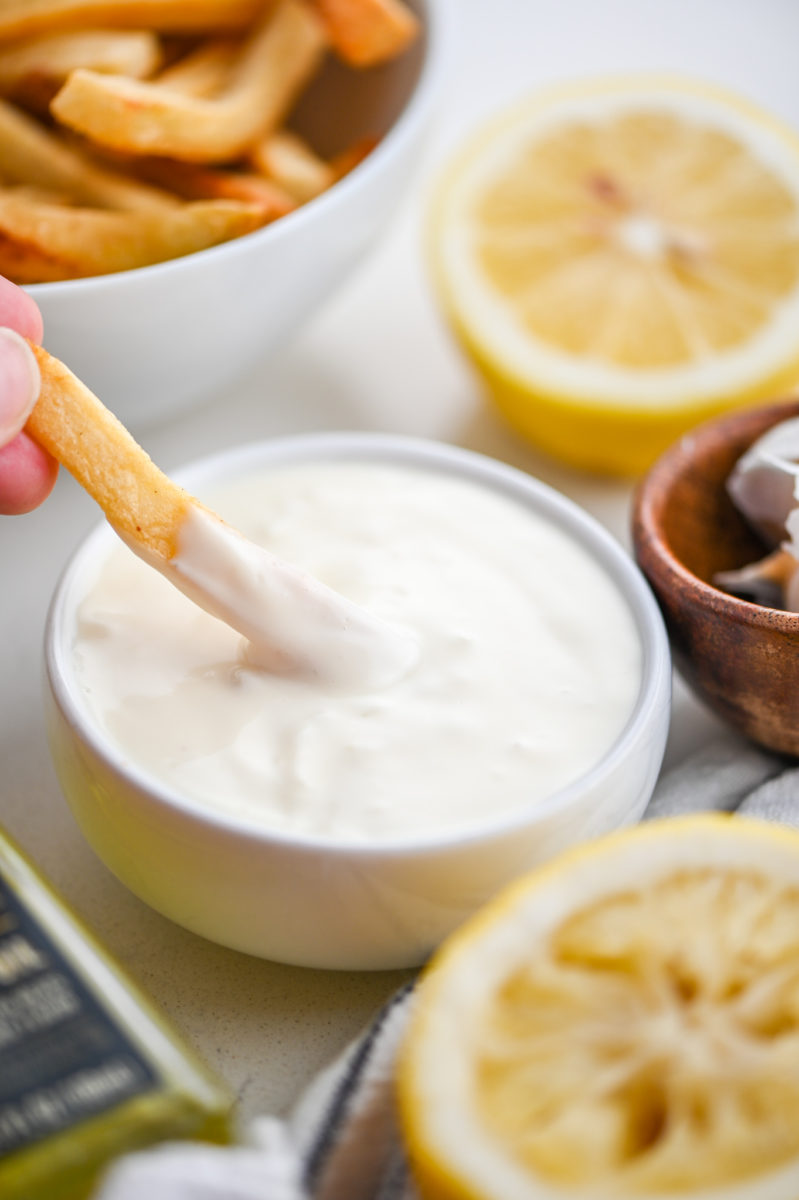 What ingredients you need to make it: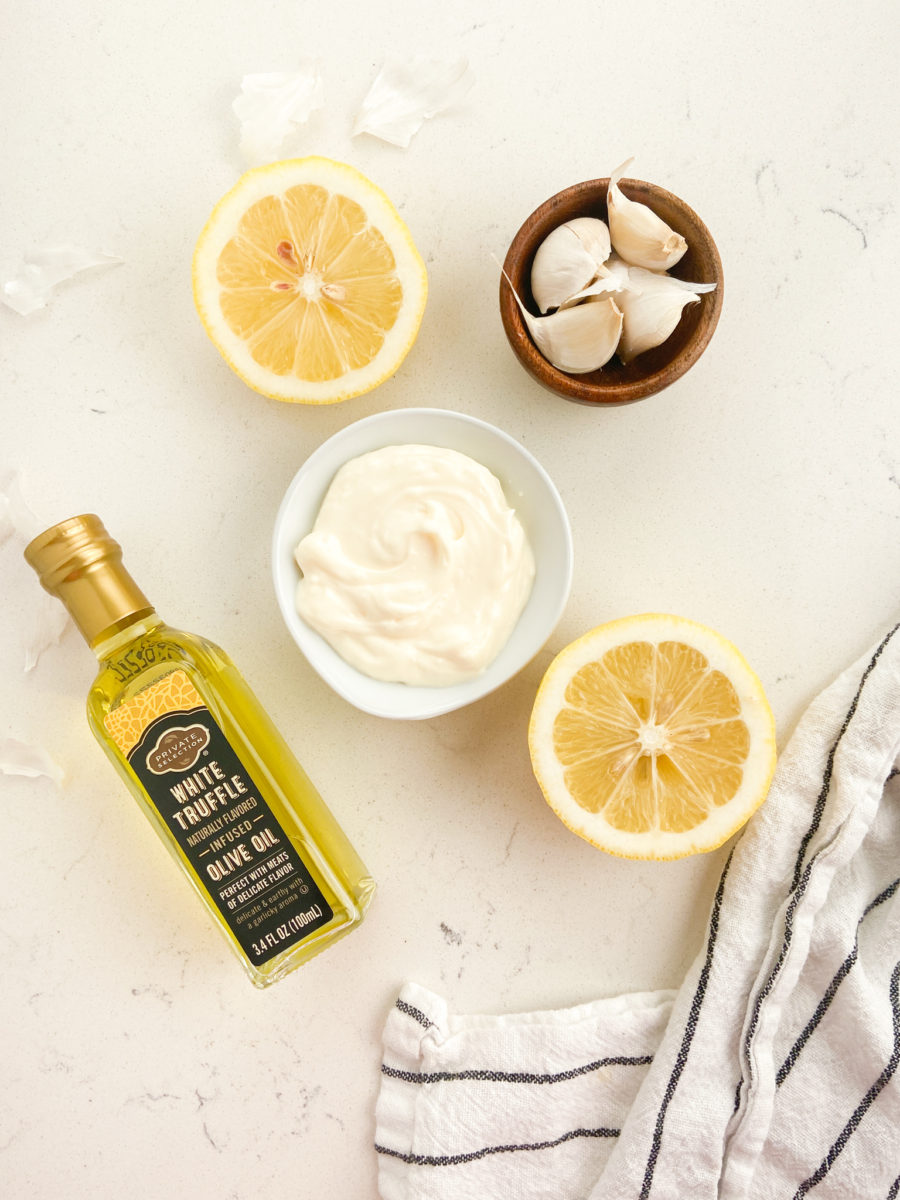 All this takes its a handful of ingredients, and aside from the truffle oil, you probably have all of them on hand.
MAYONNAISE: Traditional aioli is made with egg yolk. To save time and prevent any concern about the use of raw egg, this Truffle Aioli is made with mayonnaise instead. Since mayo is essentially what you are making when you make aioli, this is a great substitute.
GARLIC: You can't have aioli without it in my opinion. It is a must!
LEMON JUICE: This is going to add acidity to the aioli and will brighten the flavor and cut the creaminess a touch.
TRUFFLE OIL: Truffle oil is olive oil that has been infused with truffle. You can buy white or black infused oil. For this recipe I use white truffle oil because it is better with creamy dishes. You don't need a lot either because a little goes a long way. A small bottle will last you a while.
SALT: This is optional. I don't always use it.
How do you make truffle aioli?
Traditionally, aioli is made combining the ingredients in a mortar and pestle until they emulsify. Delicious? Yes. Time consuming? Also yes. The modern way is to use a food processor which makes it a bit easier. BUT you essentially end up with a dip similar to mayonnaise so using mayonnaise is a great time saver. (Not to mention arm saver if you try to make it with a mortar and pestle!)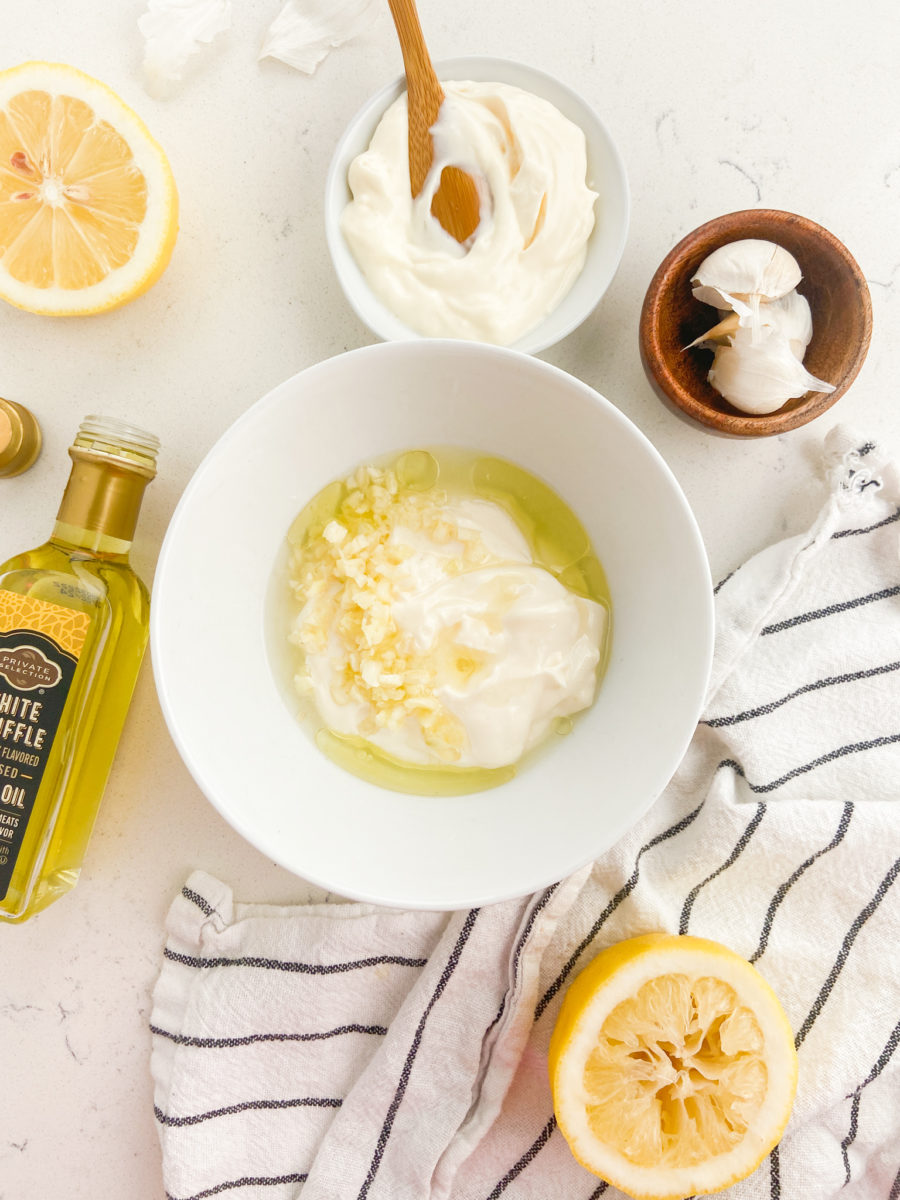 All you need to do to make the Truffle aioli is whisk all of the ingredients together in a bowl. Talk about easy!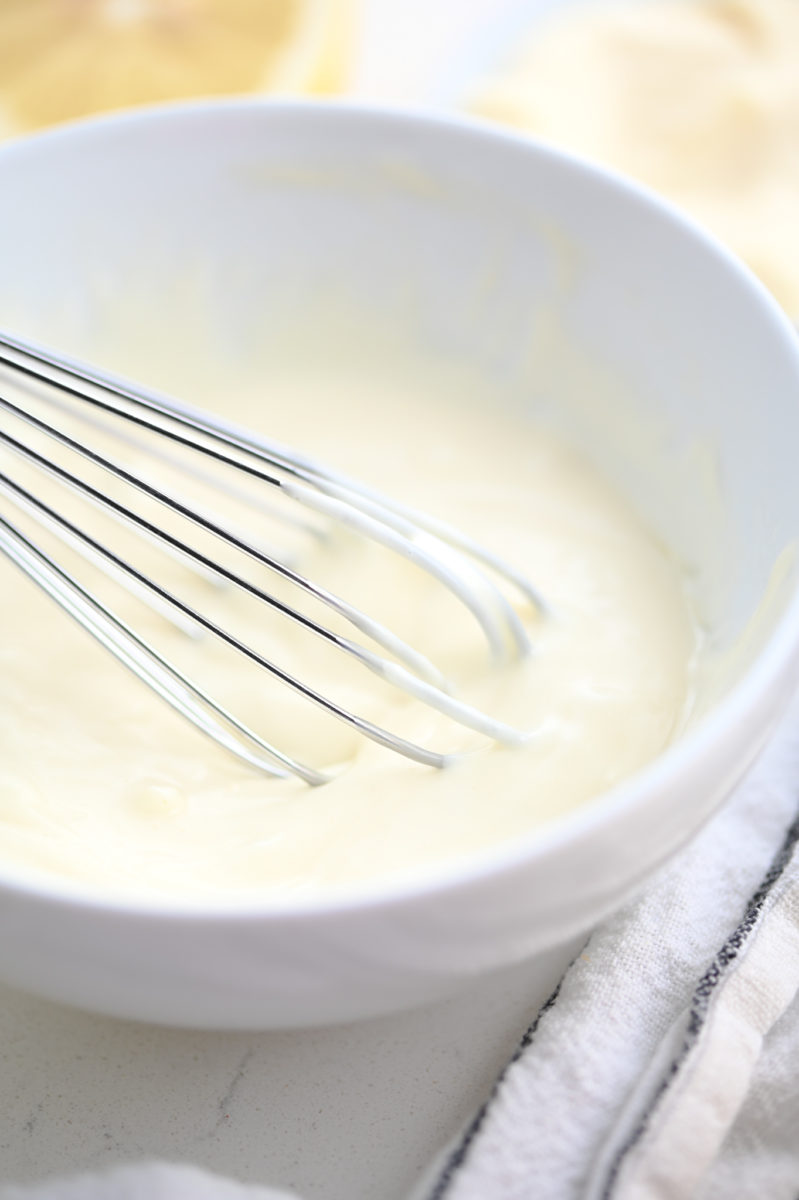 Storage and leftovers:
If I am being honest, this stuff doesn't last very long around here. And it's so easy to make we just make it right before we want to eat it. If you do have any leftovers store them in the refrigerator and use within a week.
Uses for Truffle Aioli:
Aside from being one of the most epic french fry dips around, this Truffle Aioli can be used as a dip for raw veggies or Air Fryer Artichoke Hearts. It is also divine with Maryland Style Crab Cakes!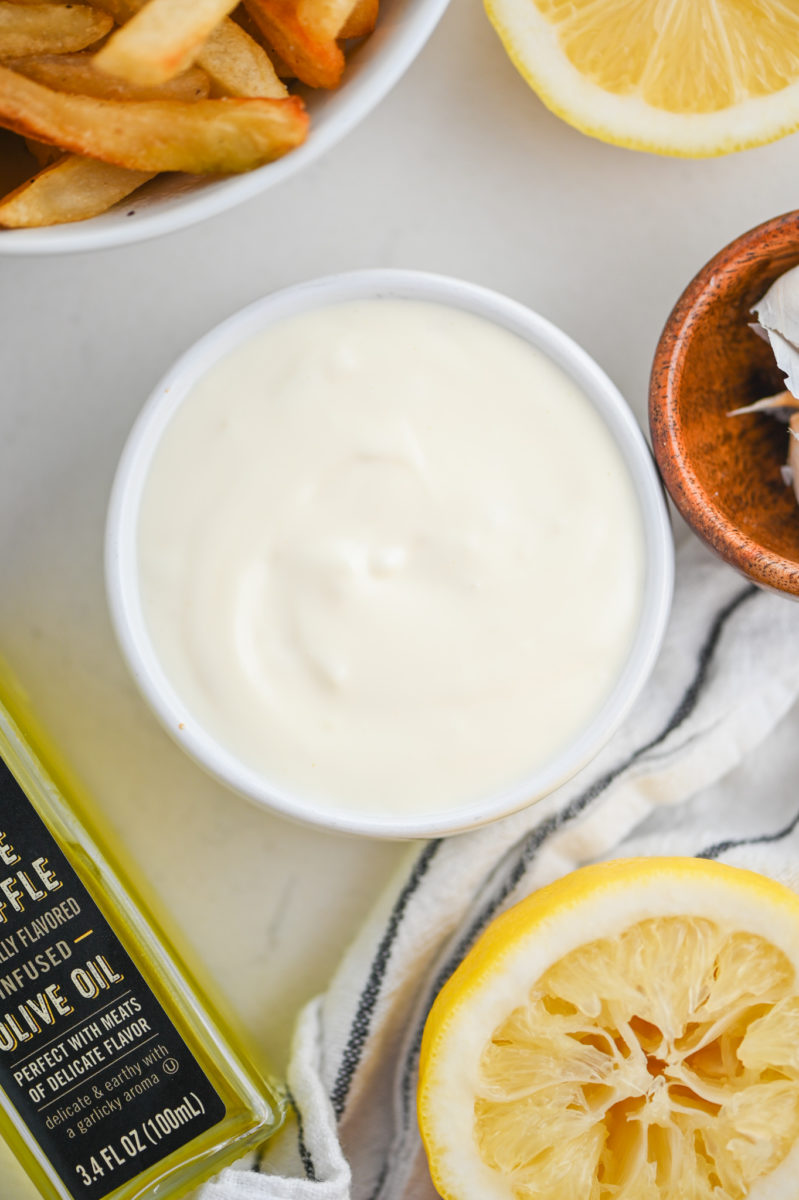 RECIPE FAQ:
What is the difference between white truffle oil and black truffle oil?
White Truffle Oil is better suited for dishes that are lighter and creamy. Use black truffle oil for heartier dishes.
What is truffle?
Truffles are edible fungi that grow underground. They only grow under certain trees and are forged by pigs that are trained to hunt for truffles.
What do truffles taste like?
They are earthy, nutty, savory and a little sweet. A little goes a long way when it comes to truffle as the flavor can be overpowering if you use too much.
Like making your own condiments? Here are some other Sauces, Dips and Dressing Recipes to try:
Note: This post was originally written in 2009. It was updated in 2022 with new photos, a new recipe, tips and nutrition information.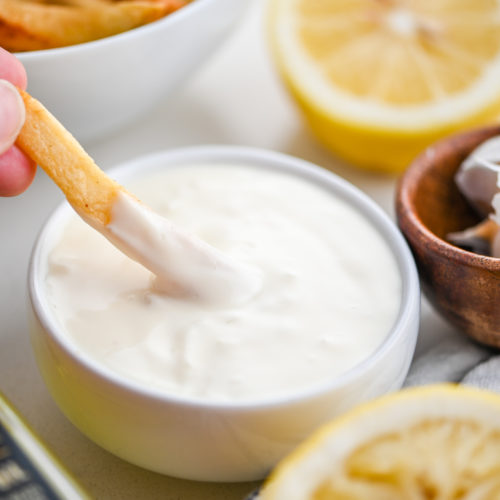 Truffle Aioli
Truffle Aioli. Move over ketchup there is a new french fry dip in down.
Whisk together all ingredients until well combined. Serve.
Store any leftover aioli in an airtight container and use within a week. 
This recipe can easily be doubled. 
Nutrition information for estimation purposes only. 
Calories:
195
kcal
Carbohydrates:
1
g
Protein:
1
g
Fat:
21
g
Saturated Fat:
3
g
Polyunsaturated Fat:
13
g
Monounsaturated Fat:
5
g
Trans Fat:
1
g
Cholesterol:
12
mg
Sodium:
178
mg
Potassium:
18
mg
Fiber:
1
g
Sugar:
1
g
Vitamin A:
19
IU
Vitamin C:
2
mg
Calcium:
7
mg
Iron:
1
mg
Keywords:
aioli, French, sauce, truffle, truffle oil