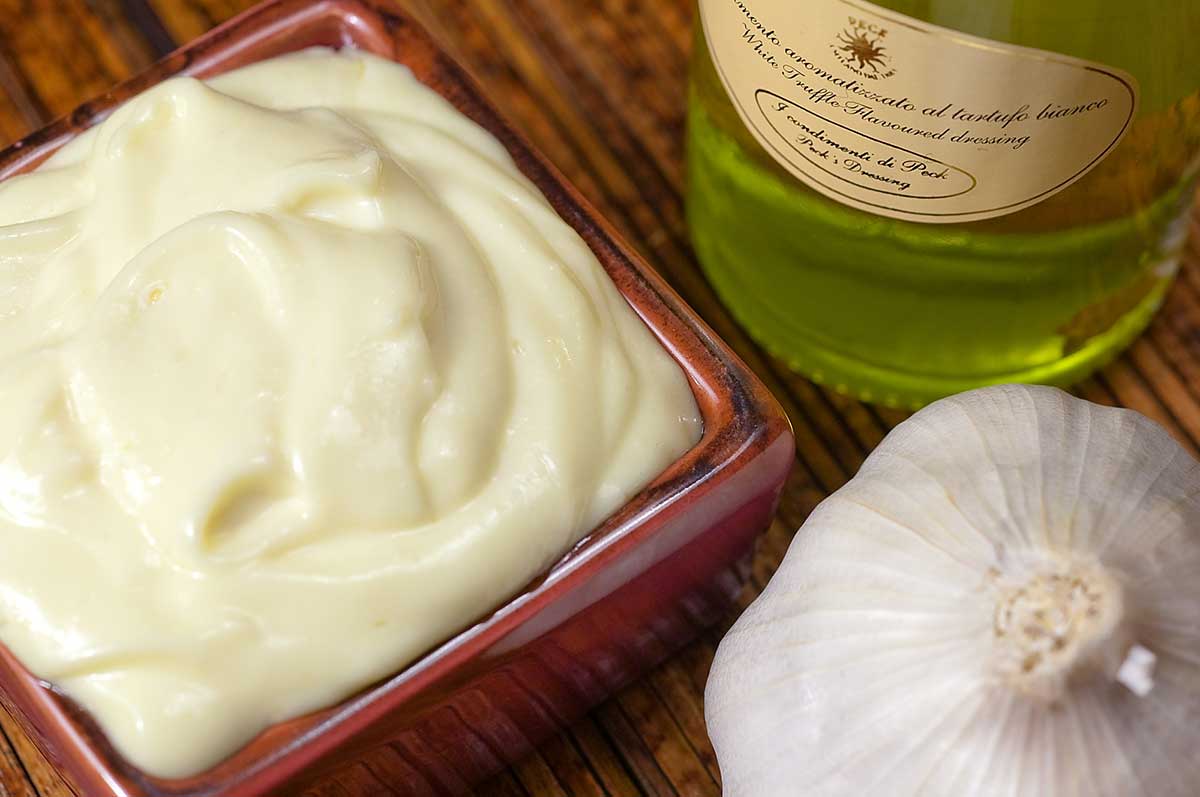 Truffle Aioli
There are so many things out there to dip your french fries in. Of course there is the classic tomato ketchup, which has held its own as everyone's favorite french fry accompaniment. Yet despite ketchup's prominence at every fast food restaurant and diner table, some may say there is no other dip more perfect for french fries then ranch. And further still, there are those that dip their fries in BBQ sauce or for spice lovers, sriracha. Today I am sharing my personal favorite dip for french fries: Truffle Aioli.

For those of you that are unfamiliar with aioli, aioli is a french sauce very similar to mayonnaise. The ingredients are quite simple: garlic, egg yolk , lemon juice, salt and oil. The traditional technique however, is not so simple. Traditionally aioli is made with a mortar and pestle and involves quite a bit of whisking as you slowly, very slowly, incorporate the oil into the other ingredients eventually creating a very smooth emulsified dip. For my sanity and because I don't want my right arm to be 3 times the size of my left arm, I decided to use a food processor for this recipe and it worked very nicely. As with the traditional recipe slowly drizzling the oil into the egg yolk mixture is the key, otherwise the aioli will separate.
As for the truffle oil in this recipe, you can find it at gourmet food stores or online. I have also found it in a couple of supermarkets. It can be a little on the pricey side but a little really does go a long way.
Note: This recipe does call for raw egg yolk. To help curb any health concerns use only grade A eggs. Also be sure that the eggs have been properly refrigerated and that the shells are intact and free of any cracks.
2019: After some feedback the recipe has been updated to use a neutral oil instead of olive oil.
Like making your own condiments? Here are some other Sauces, Dips and Dressing Recipes to try: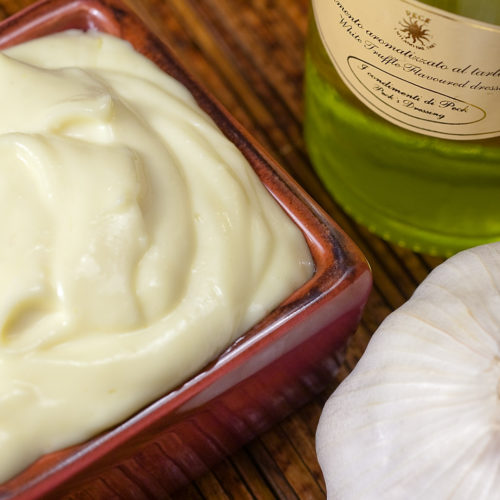 Truffle Aioli
Truffle Aioli. Move over ketchup there is a new french fry dip in down.
Ingredients:
3

cloves

garlic

1/2

teaspoon

kosher salt

juice of 1/2 lemon

2

egg yolks

3/4 - 1

cup

canola oil

3

tablespoons

truffle oil
In a food processor combine garlic, 1/2 teaspoon kosher salt, lemon juice and egg yolks. Turn processor on and process until garlic is minced. Turn off processor, scrape down the sides. Return lid to the top. Turn on processor and slowly pour in 3-4 cup of olive oil and then truffle oil until mixture emulsifies. Aioli should be smooth but somewhat thick. If too thin turn food processor back on and pour in remaining olive oil.

Transfer to bowl. Adjust seasoning with more salt if necessary.

Serve immediately.
Store any leftover aioli in an airtight container and use within a couple of days.
This isn't just a great dip for french fries. It's also delicious with artichokes or even as a dip for crab cakes.
Enjoy!
Keywords:
aioli, French, sauce, truffle, truffle oil